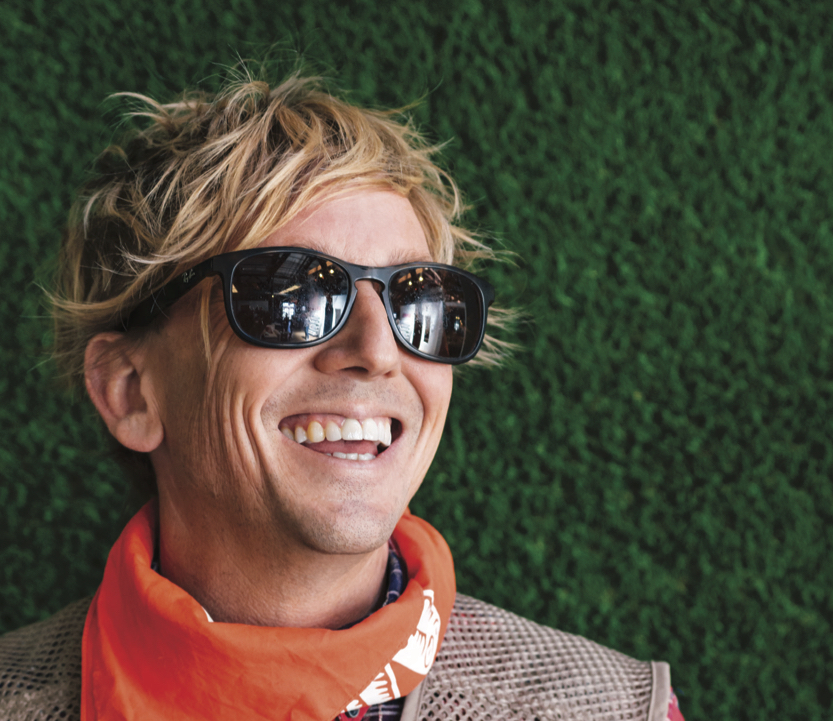 By Jeanne O'Brien Coffey
Photographs by Jonas Jungblut
When Eric Ryan was a kid, he used Legos to build little companies. Rather than forts or rockets, he stacked the bricks in the shape of his entrepreneurial dreams. He was always scheming to sell something, from hockey nets to buttons. In sixth grade, Ryan redesigned his school's store, dreaming up the best ways to merchandise popular items like erasers and Fruit Roll-Ups for maximum impact. The principal told the then- 12-year-old's parents he'd never seen a store run like that.
Few people think like Ryan, co-founder and CEO of Olly Nutrition. His knack for seeing past the way things have always been done brought the world Method, which turned cleaning from a chore to aspirational with a mix of high-design packaging and nontoxic ingredients. Now, he has launched a revolution in the vitamin aisle, with Olly's pretty bottles promising "Undeniable Beauty" and "Endless Energy," in grown up flavors like Grapefruit Glam and Lemon Zinger.
"We believe everything should be delightful," Ryan says, noting that the supplement aisle has typically been pretty uninspiring. "Everything was either very pharma sounding or very folksy. We thought the whole category wasn't very friendly."
"THE BIGGEST THING THAT SCARES ME IS NOT LIVING UP TO MY FULL POTENTIAL,"
So unfriendly that when Ryan was walking the supplement aisles at a Target in Boulder, Colo., doing research for the retailer's "Made to Matter" collection of products from organic and sustainable brands, people started asking him for advice on what to buy.
"I guess I looked like I knew something," Ryan says. "People are absolutely confused about how to navigate that nutritional aisle." This is especially true at the mass-market consumer level. At a health food store, there's usually someone knowledgeable to guide a shopper, but in a big retail store, folks are on their own.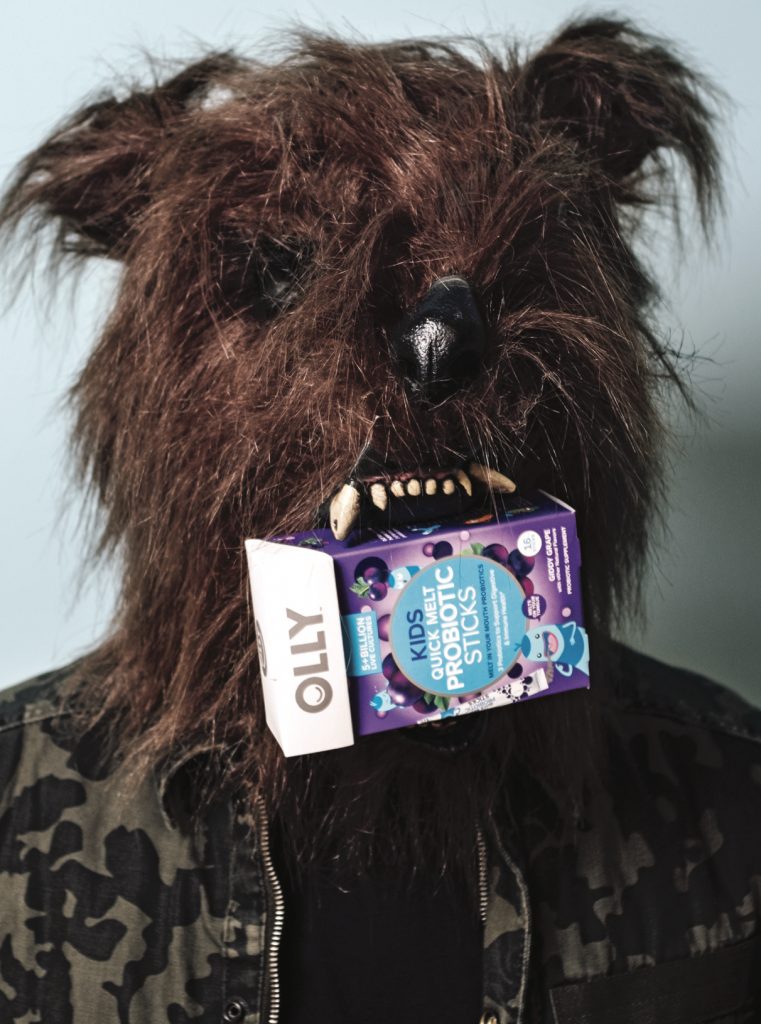 And that's how Ryan found his next start-up. The single dad—busy with three young kids—wasn't content to rest on his legacy of radically changing the cleaning aisle with Method. That line of unpolluted cleaning products in cool packages, which he founded with his then-roommate Adam Lowry in 2001 and sold to Ecover 12 years later, influenced an entire industry to explore safer formulations.
"The biggest thing that scares me is not living up to my full potential," says Ryan. Despite building Method into a $100 million company, he admits, "I'm driven, and it bugs me, because happiness comes from being satisfied with what you have and where you are, yet I find so much of my happiness comes from continually finding a new challenge to take on."
"EVERYTHING WAS EITHER VERY PHARMA SOUNDING OR VERY FOLKSY."
He found it with Olly. It seems like common sense now, but it took an entrepreneur like Ryan to streamline the benefits, rethink packaging, and turn the vitamin space from bewildering to inspiring. Products spell out exactly what they do in large print—Restful Sleep, Goodbye Stress, and Balanced Belly—making it easy to scoop up exactly what you seek.
Therein lies Ryan's genius, says James Joaquin, co-founder of Obvious Ventures, a venture fund focused on start-ups that combine profit and purpose. "He finds these nerdy or sleepy categories that are not aspirational or beautiful or designed in a way that brings delight to the customer, and he reimagines them."
When Joaquin heard that Ryan was jumping into supplements, he pursued the entrepreneur, begging to get in on the ground floor. Joaquin had been on the board of one of Method's biggest competitors, Seventh Generation, and saw Ryan's unique talents firsthand. "We joke that we were 'frenemies,'" Joaquin says, explaining that when he finally nailed Ryan down for a breakfast meeting to talk about Olly, the entrepreneur showed up over-caffeinated with a color printout of his Powerpoint presentation, complete with a custom bottle. "I was just marveling at how he took this category where everything had a round bottle and reimagined it with these square bottles that just fit together on the shelf, creating a beautiful rainbow of colors, which tied to the different products and became a whole family of nutrition products," Joaquin says.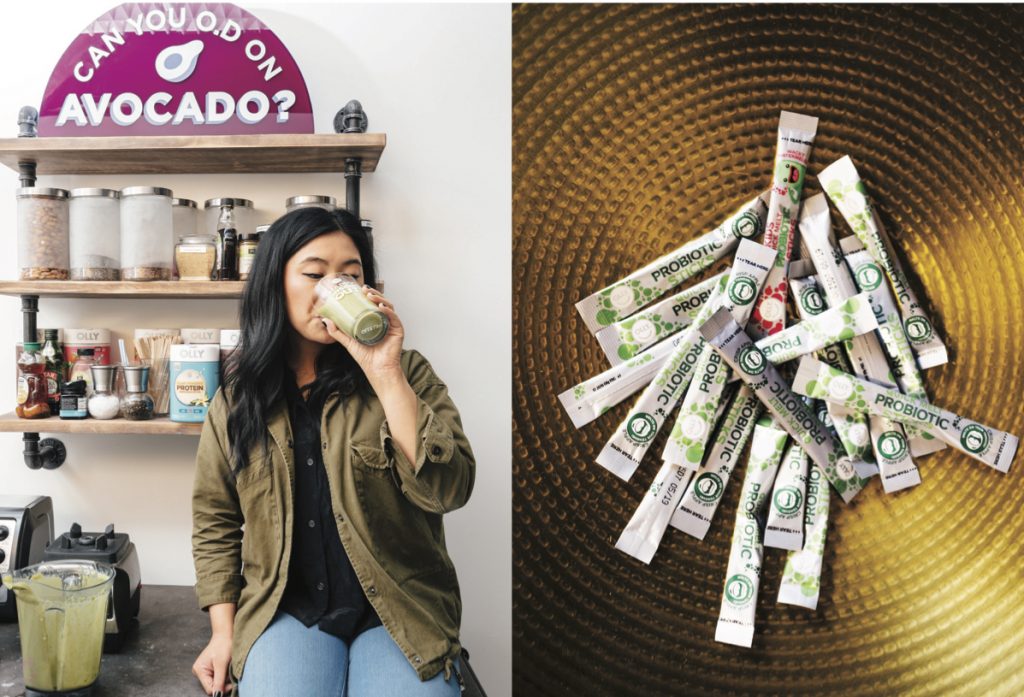 The bottle is intentional, Ryan explains. In much the same way Method upended cleaning products by putting them in dispensers you'd be happy to have on display—reminding you to clean—the Olly container is intended to sit out in the open. Before launching Olly, Ryan himself says he would occasionally purchase a men's multivitamin, take it for a few days, then toss it in a drawer. "One of the hardest things in the vitamin category is people remembering to take it," Ryan says. "If the packaging is beautiful enough that they will keep it on their counter, that is a visual reminder. And if they look forward to it, as a little treat, compliance goes way up."
While the similarities with Method abound, there is one big difference—with Method, Ryan didn't just change the packaging, he also changed what was inside the bottle, going up against a big bad that made people sick."Method would have been a much more successful business much faster if we had just gone with traditional chemistry, which would have been a toxic cleaner," Ryan says.
But once he started exploring the chemical makeup of traditional cleaners, that was off the table. "When we were getting into the actual formulation, we thought, 'Wow, you actually pollute when you clean,'" he says. "You're using poison to make your home healthier. Once we discovered how dirty the cleaning industry was, there was no conversation around doing anything but the right thing."
When you're talking supplements, the right thing is a little less clear— and that's something that Ryan misses. "With Method, we had toxicity in the home as this major monster that we were taking on, and there isn't that same issue in this category," Ryan says. "I miss that. Method was more about eliminating an unnecessary evil. Olly is more about helping you get the most out of yourself and your body."
Taryn Forrelli, a naturopathic physician and VP of Product at Olly,
is tasked with ensuring the Olly line keeps those promises. "These products really have to deliver," says Forrelli. "Eric and I talk a lot about never losing that credibility."
"WE THOUGHT THE WHOLE CATEGORY WASN'T VERY FRIENDLY."
Because the supplements are benefit-driven, rather than nutrient-driven, it gives Forrelli and her team of nutritionists leeway to combine ingredients that have been scientifically proven to work together for maximum benefit. So the Restful Sleep product (one of the company's best sellers, and one that Ryan himself takes every Sunday night to ward off start-of-the-week insomnia,) combines melatonin with L-theanine—a compound that is very calming—and botanicals like chamomile that have traditionally been used to help promote sleep and relaxation. "It's a unique blend," Forrelli says. "People will try other melatonin products and say Olly works much better. I think it's that combination of ingredients, and that's where the artistry really comes in."
Even more artistry comes from taking those ingredients and making them a delicious gummy. "It's very easy to make a product that you throw into a capsule or a tablet," Forrelli says. But taking the sometimes unpleasant avors and different properties of nutrients and making them taste and look appealing—using all natural colors and flavors—is tricky. Olly recently hired a confection scientist who used to work on Skittles to help improve the product, which is already selling well.
"The gummy is winning, not only for our consumers, but in the supplement category," Forrelli says. For most of us, it's a fun way to supplement our health routines, but for the 40 percent of people who can't or won't swallow pills, a gummy is a game changer, says Forrelli.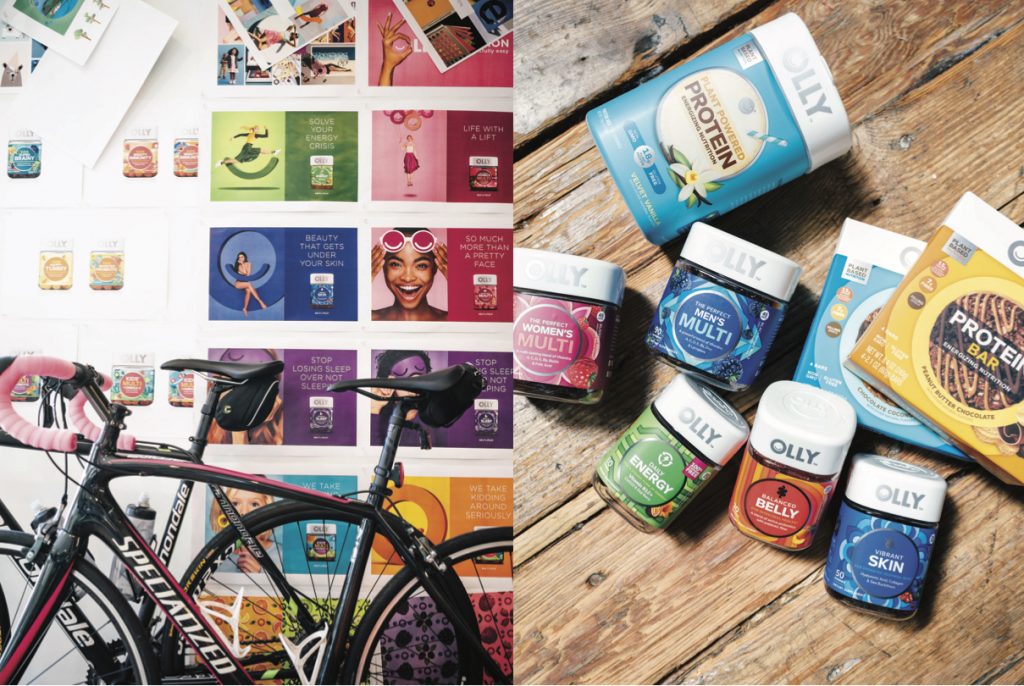 Not everyone agrees. Some argue that the candy-coated future that Olly is proposing is not the most efficient way to pursue good health. "If you look at cost per nutrient, it is pretty high," says Sonya Angelone, MS, RDN, CLT, and a spokesperson for the Academy of Nutrition and Dietetics, explaining that in order to get the gummy shape and consistency, consumers may have to take more of a gummy to get the same amount as they would in a pill. This can be expensive, and can tip quickly into a risk for overconsumption, "especially if you have a sweet tooth," says Angelone. Not to mention that sugar, even in the small amounts found in a gummy, can contribute to inflammation.
Still, looking at the bigger picture, Angelone says one size does not fit all when it comes to nutritional supplements. "The problem is, most people take supplements and they don't know what they're doing," Angelone says. "They don't know what they need, they don't know the forms they need, so there is a bigger overriding problem."
Ryan admits that one-size- ts all is difficult in the supplement space, and Olly is not a cure-all. "Because the majority of our line is sold around a promised benefit, either it's going to work or it's not going to work for them…you'll get a good night's sleep or you won't. The products speak for themselves," he says, adding that many of their products are built around things that are hard to get just through food sources. "Yep, it's got a couple grams of sugar in it. Yep, candy is a treat, but if it convinces people to keep taking something that is good for them, or to add vitamin D to their regimens, I think the collective good is much more impactful than putting it in a pill form that no one is ever going to take."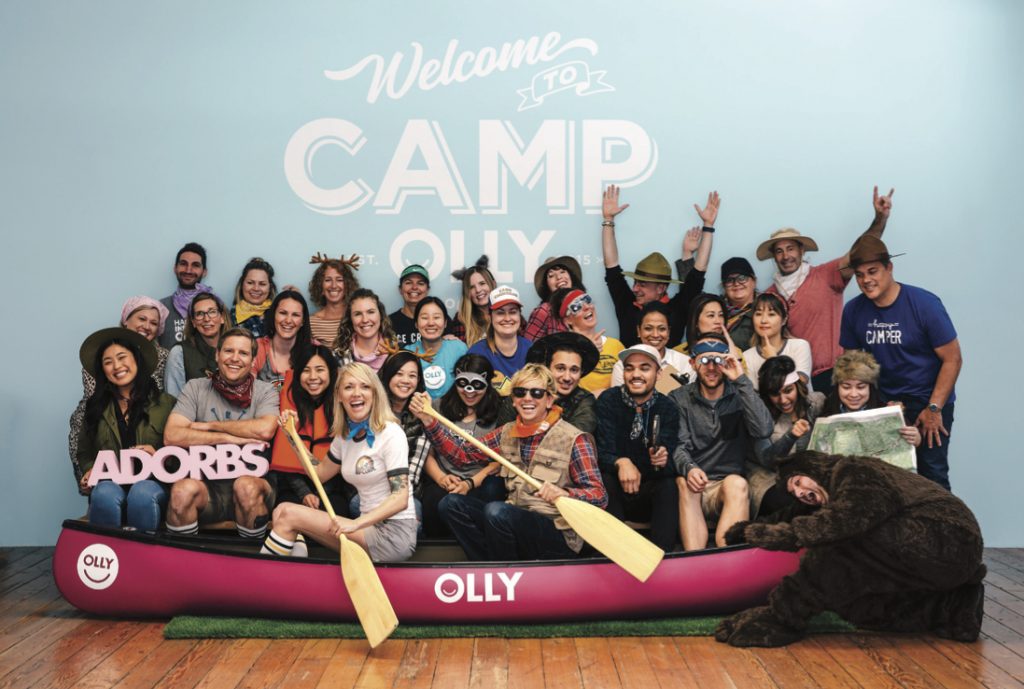 And vitamins are just the beginning. Olly is eyeing the functional food space as a whole. This spring, the company rolled out a line of plant-based protein bars—round like a cookie and delicious, but backed with the same commitment to all-natural ingredients and science-based nutrition.
Bringing something completely new every time is stressful—especially with the weight of expectations that came with the massive success of Method. The first shipment of Olly Protein was a million bars—a lot for a start-up that's just a few years old.
"We need to keep doing things in a way that has never been done before to be successful," Ryan says. "Usually it hasn't been done before because it's hard." But that's what Ryan lives for.
Baby Steps
Just considering launching a business can be daunting. But Eric Ryan says not to think about it all at once. When coaching wanna-be entrepreneurs, Ryan advises building upon small successes to get from idea to reality. "Only worry about one stage at a time," Ryan says. "Once you get through that stage, the next one opens up really easily. And before you know it, you have a company." Here are his steps.

Don't think about starting a business. Just come up with an idea you love.
Find out if anyone else loves the idea—talk to as many smart people as you can.
Create a product
Test it—put it on a shelf somewhere and see what happens