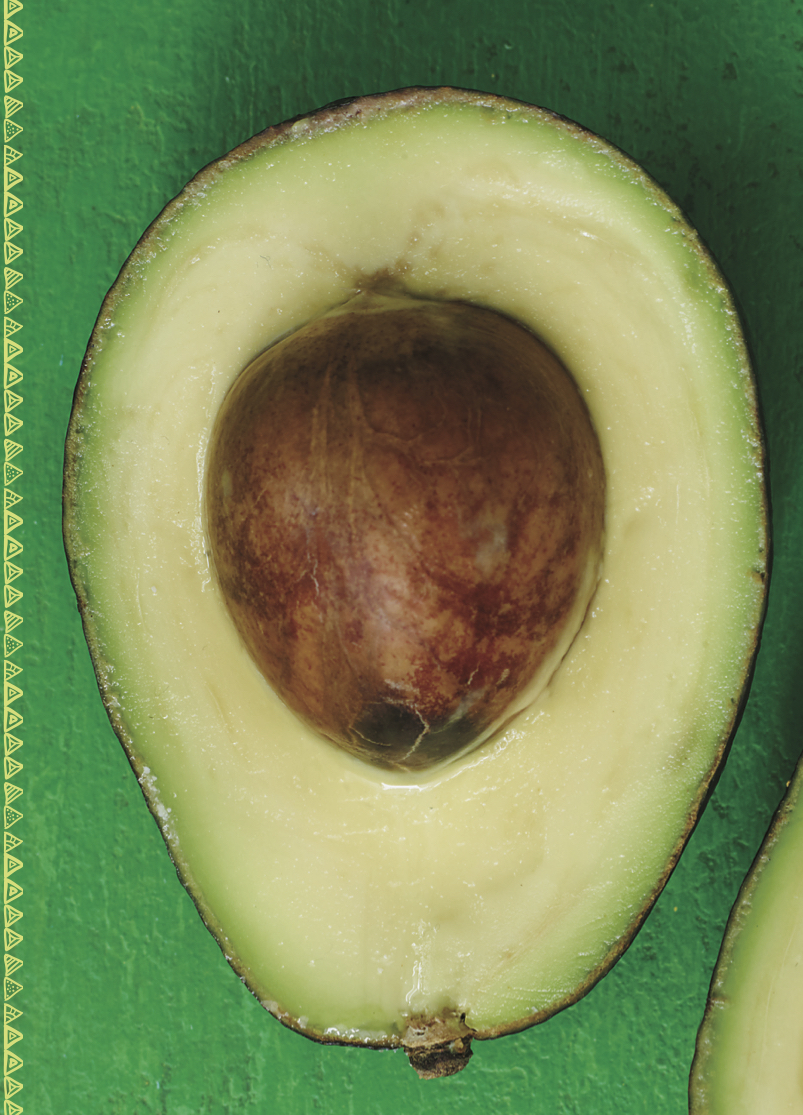 STORY BY Sara Schwartz PHOTOGRAPHS BY Alexandra Grablewski FOOD STYLING BY Corey Belle PROP STYLING BY Maeve Sheridan RECIPES BY Olivia Roszkowski
YOU ALREADY KNOW that avocados pack a powerful nutritional punch. Whether eaten alone or added to salads, sandwiches, and side dishes, this superfood brings a lot to the table—including fiber, potassium, magnesium, and vitamins A, C, E and K. Avocados are also chock full of heart-healthy monounsaturated fat, which can help lower blood cholesterol levels. Another benefit: They boost brain health.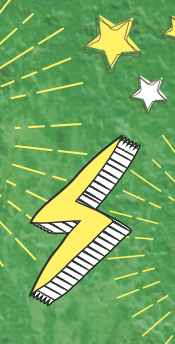 "Avocados are one of the top brain foods because of the high concentration of a number of vitamins and minerals that support the nervous system," says nutritional psychiatrist and author Dr. Drew Ramsey, who routinely prescribes the powerful, pitted hero to his patients. "Avocados are one of the top fruits."
One of the avocado's best attributes is its ability to enhance the absorption of other fruits and vegetables when eaten together. Pairing it with other vegetables, such as carrots and peppers, means you'll absorb more nutrients than if you eat it separately.
"Avocado is a good team player," Ramsey says. "It's like the ultimate nutritional wing-man." To make sure you're getting the biggest bang for your buck, don't leave the best part behind. The darker green flesh just underneath the rind is the richest, most nutrient-dense part, Ramsey says. "Really make sure you're scraping that out."
With its subtle taste and rich, silky texture, avocados can be implemented in all your meals—including dessert. Naturally's own culinary artist Olivia Roszkowski shares these six stellar recipes that start with an avocado base and work wonders from there, proving just how versatile the superfood is.
Avocado Coconut Lime Sherbet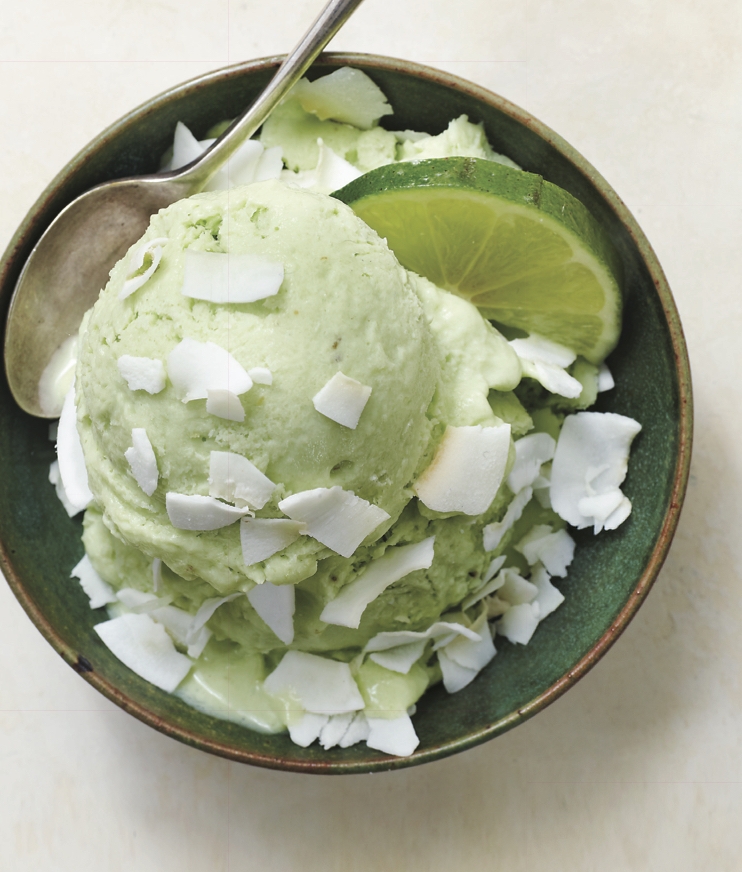 YIELD: 1 PINT
1 can coconut milk, chilled
4 teaspoons lime juice
2 teaspoons lime zest
1⁄4 cup agave nectar pinch sea salt
1 ripe avocado, peeled
FOR GARNISH
1⁄4 cup coconut flakes
1 lime, sliced
TO MAKE
Add coconut milk, lime zest (approximately 2 teaspoons), lime juice (approximately 4 teaspoons), agave, and salt to a blender.
Blend mixture until smooth.
Add avocado flesh, blending again just until combined.
Churn mixture in ice cream maker bowl for 20 minutes, or until thickened, and place in freezer for 1 to 2 hours to solidify.
Scoop sherbet into bowl and serve garnished with coconut flakes and lime slices.
GOOD TO KNOW
For recipes that call for blending, always add the avocado last so as not to overmix.
The type of sweetener used is important. Agave, honey, and maple syrup also work well as sweeteners, but anything stronger, such as coconut nectar or dates, can overpower the flavor profile.
While best the day-of, this recipe is versatile. If it gets too icy, turn it into shaved ice. It can also be spread in between layers of cake to make an ice cream cake.
Pro Tip: BUYING AND KEEPING AVOCADOS:
If possible, buy an avocado when it's rock hard. Bring it to ripeness yourself in a day to two days by putting it in a paper bag with fruit. If you really need it fast, you can pair with bananas. When you have it at the texture you want, you can keep it in the fridge for up to seven days—just be sure to keep it away from other fruits and vegetables.
Black Forest Avocado Mousse with Macerated Cherries and Cacao Nibs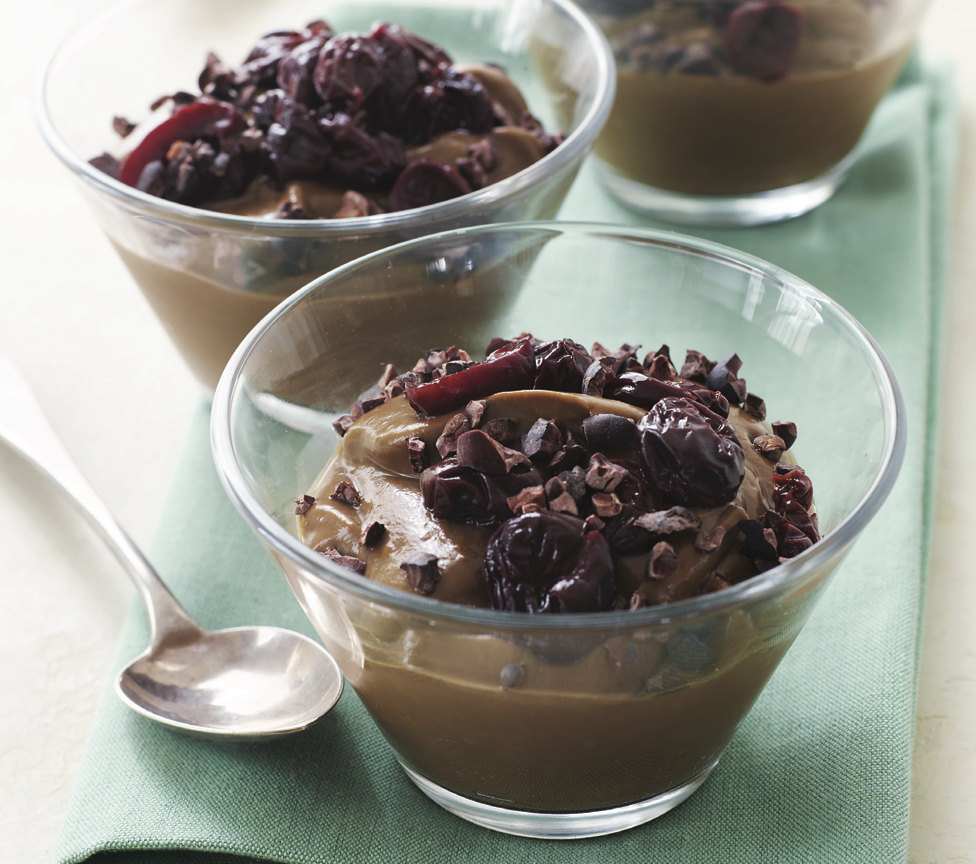 YIELD: 1 CUP MOUSSE
2 ripe avocados, peeled
1/3 cup strong brewed coffee
1⁄4 cup maple syrup
1 teaspoon vanilla extract
pinch sea salt
1⁄4 cup cocoa powder
FOR MACERATED CHERRIES
3⁄4 cup dried tart cherries
3 tablespoons brandy
1⁄2 cup filtered water
FOR GARNISH
2 tablespoons cacao nibs
TO MAKE
Add avocado flesh, coffee, maple syrup, vanilla, and salt to a food processor.
Process mixture until smooth, add cocoa powder and pulse until combined.
Chill avocado mousse and serving glasses for 30 minutes.
Add cherries, brandy and water into a small saucepan and bring to a simmer.
Simmer for 2 minutes, turn off heat or until cherries absorb all the liquid.
Fold in 1⁄3 cup macerated cherries with chilled avocado mousse, reserving remainder of cherries for garnish.
Place mousse into bowls and top with reserved cherries and cacao nibs.
GOOD TO KNOW
The bitterness of the coffee and brandy pair exceptionally well with the richness of the avocado and maple syrup.
Test out different flavor variations, such as almond extract and raspberries, or a dark chocolate orange version.
Cacao nibs are a picker-upper and mental stimulant. For an even bigger boost, use espresso instead of coffee.
Macerating is simply soaking fruit in alcohol. Berries are often paired with brandy, rum, wine, or a liqueur, which preserves and infuses the fruit.
Avocado Matcha Crème Brulee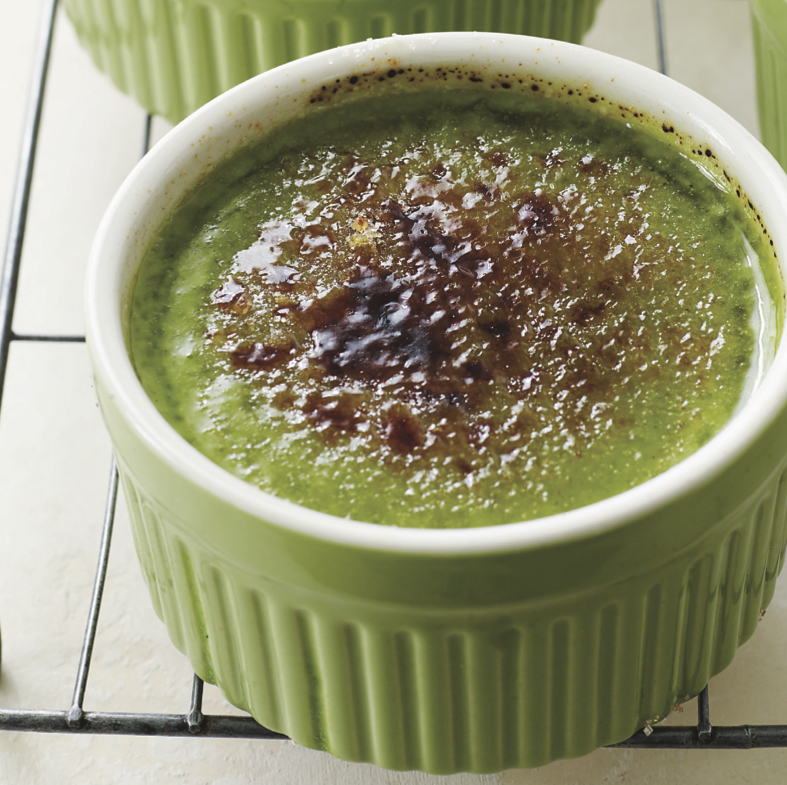 YIELD: 6 SERVINGS
3 tablespoons agar flakes
2 cans coconut milk (3 cups total)
1⁄2 cup agave syrup
1 ripe avocado, peeled
2 teaspoons matcha powder
pinch sea salt
FOR CRACKED SHELL
cup organic cane sugar
TO MAKE
Add agar flakes and coconut milk to a saucepan and bring to a simmer over medium heat, stirring occasionally, for 8 to 10 minutes, or until the agar flakes have dissolved. Cool mixture for 5 to 10 minutes.
Add agave syrup, avocado flesh, matcha and salt into a blender and process until smooth. Transfer to a large bowl.
Slowly ladle warm coconut mixture into avocado mixture while stirring to incorporate.
Strain mixture to remove any lumps and pour 3⁄4 cup of mixture into 6 small heatproof ramekins.
Place in refrigerator to set for approximately 60 minutes.
Sprinkle an equal amount of sugar on top of each set avocado matcha crème.
Use a kitchen-friendly blow-torch to scorch the sugar into a cracked shell consistency, and serve immediately.
GOOD TO KNOW
This recipe is vegan and gluten-free. Agar flakes are a seaweed gelatin substitute that act like a custard.
Less refined sweeteners, such as maple sugar, won't harden into an outer shell with heat.
Matcha is a powdered green tea and has caffeine, so it's great for an afternoon boost.
Summer Peach & Avocado Swirl Pops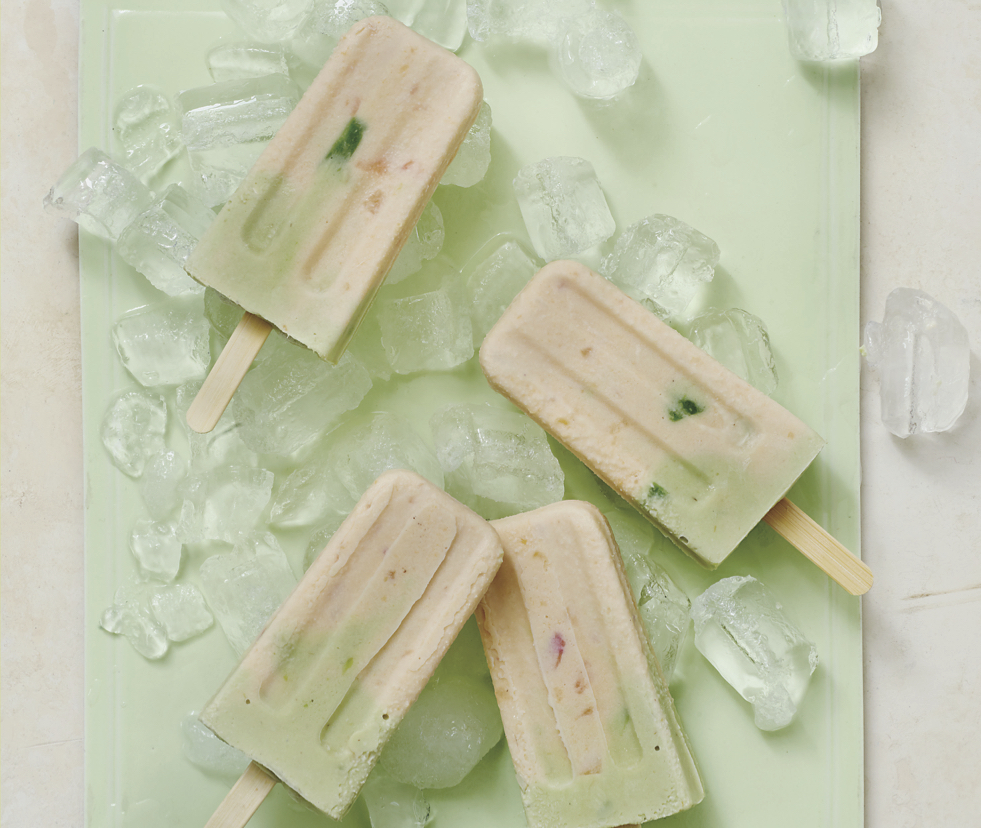 YIELD: 10 POPSICLES (1/3 CUP EACH)
POPSICLE BASE
3⁄4 cup cashews, soaked
1 can coconut milk
1⁄4 cup agave syrup
pinch sea salt
11⁄2 inch piece ginger, peeled
ADD-INS
1 ripe avocado
1 cup fresh or frozen peach slices
TO MAKE
Drain and rinse soaked cashews. Add to a blender along with coconut milk, agave syrup, salt and ginger and blend until completely smooth.
Divide batter in half and blend one half separately with the avocado and the other half briefly with the peaches (small pieces should remain).
Fill ice-pop molds about 3⁄4 of the way full with peach mixture.
Spoon the avocado batter and use a wood stir stick to swirl it lightly into the peach batter. Insert popsicle sticks and freeze for 1 to 2 hours, or until firm.
"Leave a little texture on the peaches while you're blending to add dimension."—OLIVIA ROSZKOWSKI
GOOD TO KNOW
Because the cashews stabilize the coconut milk, once the pops are frozen for 10 to 15 minutes, making them great for summertime get-togethers.
Avocado Chocolate Mint Fudge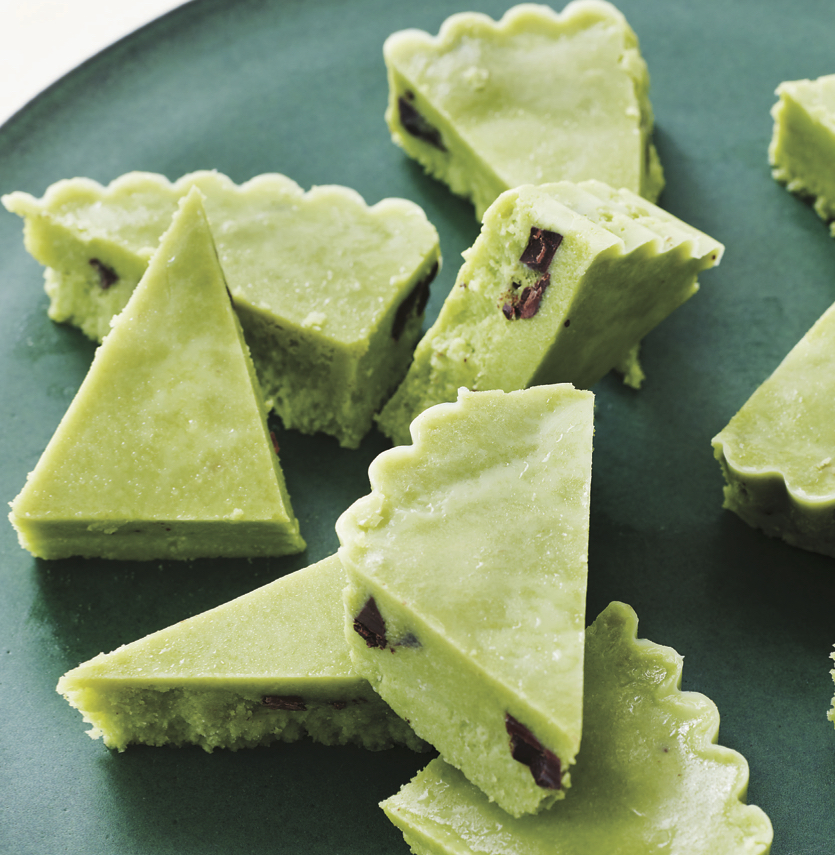 YIELD: 1 MEDIUM TART PAN (APPROXIMATELY 11⁄2 CUP BATTER)
1 mint chocolate bar, chopped
3⁄4 cup refined coconut oil, extra to grease pan
1 ripe avocado, peeled
1⁄4 cup agave nectar
pinch sea salt
TO MAKE
Add coconut oil to a small pan and warm for 30 seconds, or just until melted.
Grease a medium tart pan (with removable bottom) with coconut oil and line bottom with parchment paper.
Place avocado flesh, melted coconut oil, agave and salt into a blender and process just until smooth.
Spread half the avocado puree into the tart pan and freeze for 5 minutes.
Sprinkle chocolate and remainder of the avocado mixture and freeze for 1 hour or until firm.
Cut into pieces and keep in freezer until ready to serve.
GOOD TO KNOW
Not a fan of chocolate mint? Use your favorite chocolate bar instead. The flavor background works well with many kinds.
This unusual take was inspired by the ketogenic diet, which calls for higher fat and lower carbohydrates. The coconut oil solidifies when cold, holding it all together.
Olivia used a tart pan, but this recipe also works with silicone molds.
"This is super decadent and very filling."—OLIVIA ROSZKOWSKI
Cherry Avocado Pistachio Granola Bars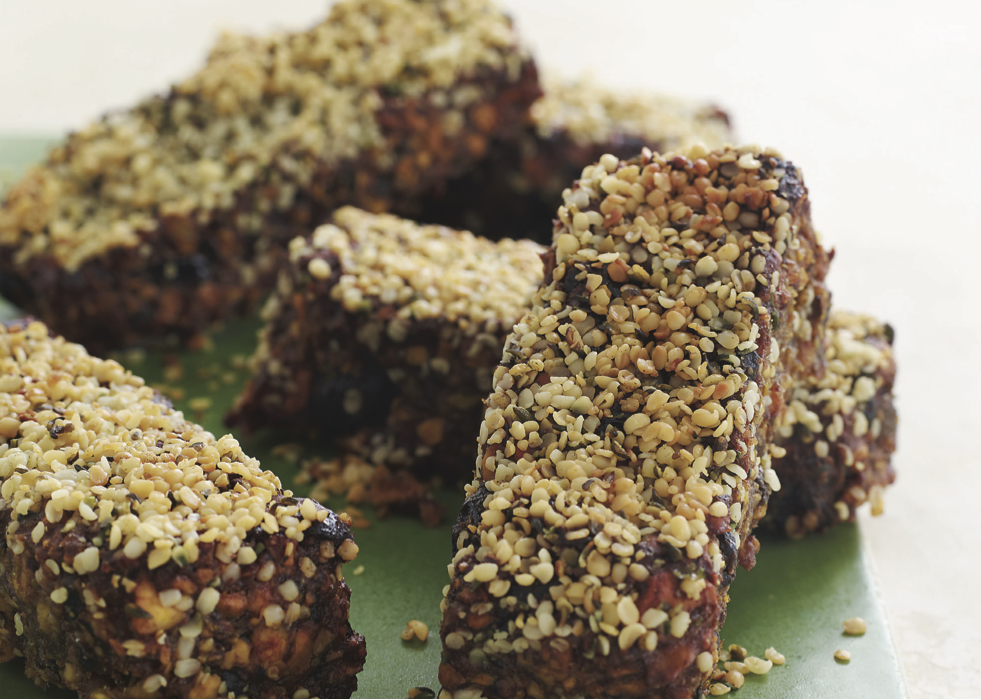 YIELD: 9 BARS
1 1⁄2 cups pistachios
1 sheet dried nori
3⁄4 cup dried tart cherries
1 cup Medjool dates, pits removed
1 ripe avocado
1⁄2 teaspoon sea salt
1⁄2 cup filtered water
3⁄4 cup hemp seeds
TO MAKE
Preheat oven to 325° F.
Spread pistachios and nori on a baking tray and toast for 5 minutes. Add pistachios and nori to a food processor and pulse until coarsely ground.
Transfer mixture to bowl and toss with cherries.
Add pitted dates (approximately 10 pieces), avocado flesh, salt, and water to food processor and pulse until a paste forms.
Mix in avocado-date paste with pistachio-cherry mixture.
Using hands, mold 1⁄4 cup of the granola batter to form 1-inch by 3-inch bars.
Roll each bar in hemp seeds and place on a rack in a baking tray.
Bake for 25 to 30 minutes, or until the hemp seeds are lightly golden. Or, dehydrate bars in a dehydrator for a few hours.
Allow bars to cool for a few minutes before lifting. Cool completely and keep in an airtight container for 5 to 7 days.
GOOD TO KNOW
You can shape the batter into any shape or even scoop them to make little truffles.
The nori, which is loaded with minerals, is a little bitter, so when combined with avocado it cuts through the sharpness.