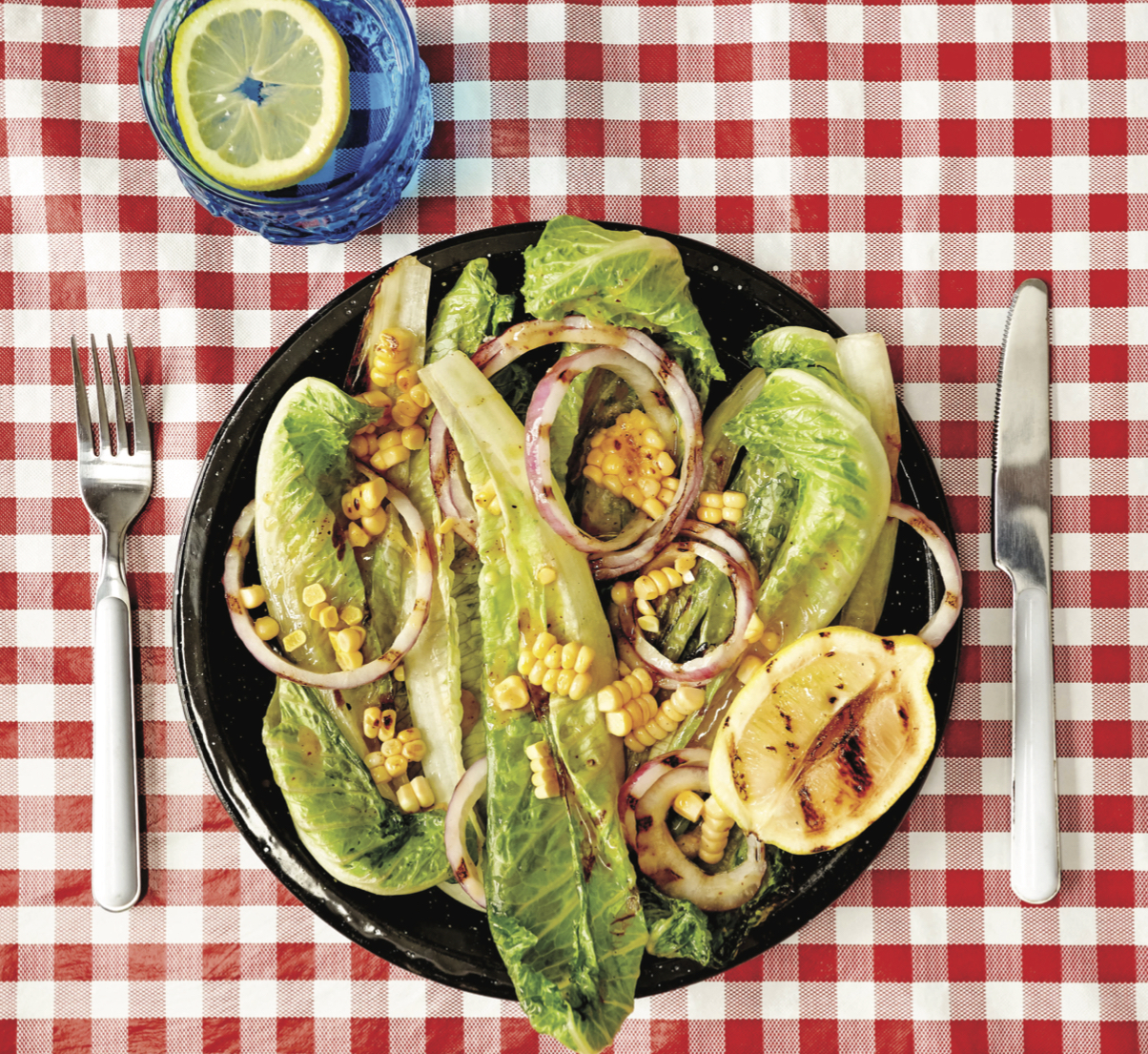 PHOTOGRAPHS AND STYLING BY RIKKI SNYDER
RECIPES BY OLIVIA ROSZKOWSKI
Grilled Romaine Salad with Maple Dijon Dressing and Summer Shaved Corn
MAPLE DIJON DRESSING
1/3 cup Dijon mustard
2 tablespoons maple syrup
2 tablespoons almond butter
1 teaspoon sea salt
1⁄4 cup olive oil
Mix together the Dijon, maple syrup, almond butter, sea salt and olive oil in a medium bowl.
GRILLED VEGETABLES
4 small romaine hearts
1 red onion, peeled and cut into 1⁄4-inch rings
2 lemons, cut in half lengthwise and seeds removed
Preheat grill or grill pan.
Toss the romaine, onion, and lemon in maple Dijon dressing and grill for 2 minutes per side, or until grill marks appear.
Squeeze salad with grilled lemon, before enjoying. Serve with summer shaved corn.
SUMMER SHAVED CORN
2 ears corn, husks removed
Place corn onto gas range or grill and blister for 2 minutes per side, or until slightly charred.
Carefully use a sharp knife to shave off kernels from each ear of corn.
Flakey Lime Salt-Dusted Yucca Chips with Pineapple & Cucumber Salsa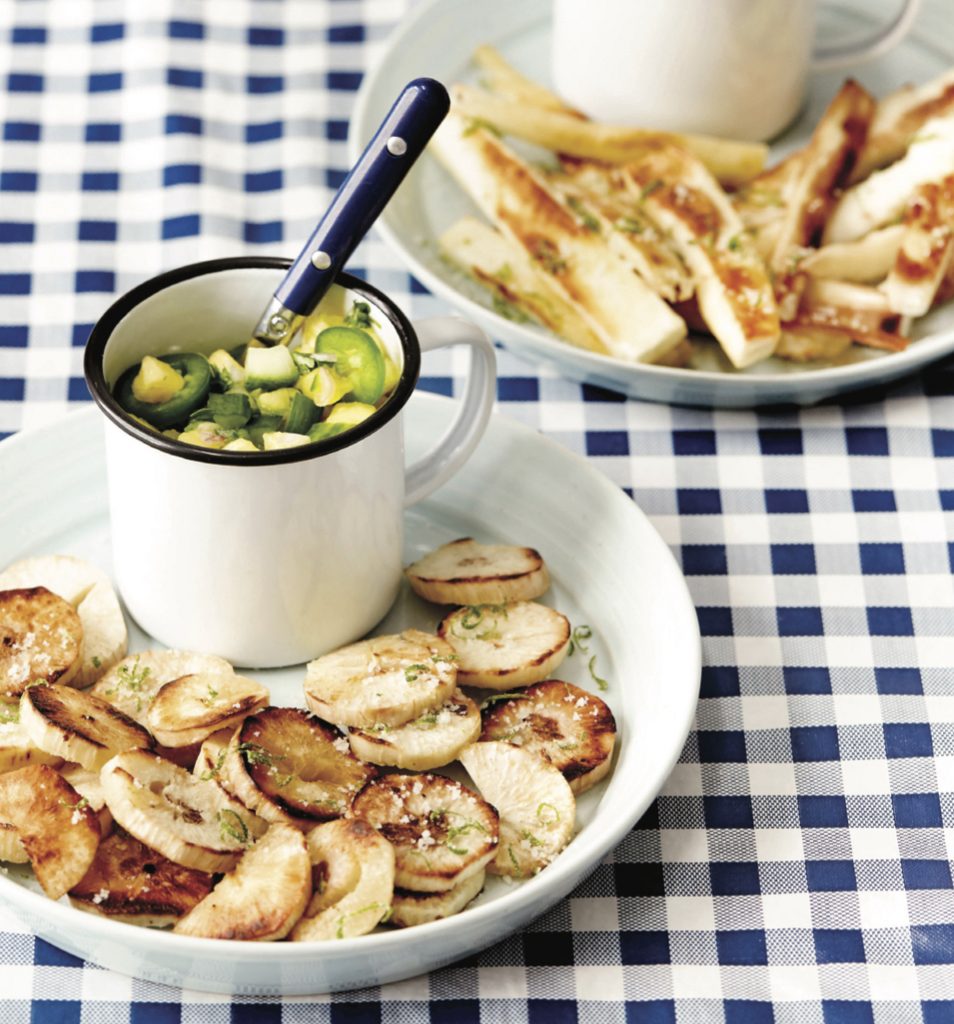 FLAKEY LIME SALT DUSTED YUCCA CHIPS
2 medium yucca, peeled and sliced thinly lengthwise
3 tablespoons olive oil
2 tablespoons flaky sea salt (such as Maldon)
1 lime, zested
Preheat oven to 375 °F.
Bring to boil a medium pot filled halfway with water. Blanch the yucca slices for 2 to 3 minutes, or until slightly pliable but firm.
Toss blanched yucca with olive oil and bake on a parchment-lined sheet tray for 15 minutes or until golden and crispy.
Gently toss the flakey sea salt with lime zest and sprinkle over hot yucca chips.
PINEAPPLE & CUCUMBER SALSA
MAKES 4 CUPS
1 small pineapple, peeled and diced (about 3 cups)
1 English cucumber, deseeded and diced
1 jalapeno, finely diced
2 limes, zested and juiced
1⁄2 teaspoon sea salt
1 small shallot, minced
1⁄4 cup cilantro, destemmed and chopped
Toss the diced pineapple, cucumber, jalapeno, lime zest, lime juice, salt, shallot and cilantro in a medium bowl.
Allow ingredients to marinate for at least 15 minutes, before serving with yucca chips.
Almond Milk Creamed Corn Pudding with Blistered Shishitos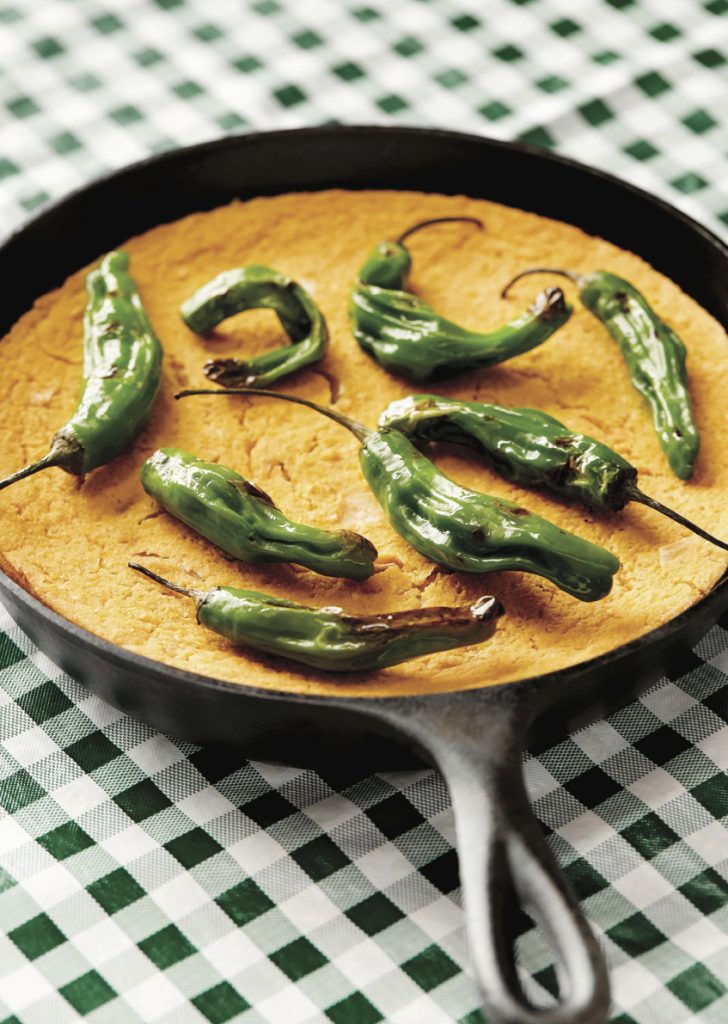 ALMOND MILK
1⁄2 cup blanched almonds, soaked
11⁄2 cups filtered water
Drain and rinse the soaked almonds. Add almonds and water to blender and process until smooth.
Strain mixture through fine mesh bag or cheese-cloth to remove pulp.
CREAMED CORN PUDDING
WET INGREDIENTS:
1⁄4 cup refined coconut oil
1 medium yellow onion, diced
4 ears corn, dehusked
2 tablespoons hatch chilies
2 tablespoons apple cider vinegar
11⁄2 cups fresh almond milk (alternatively blend 1⁄4 cup almond butter with 1 1⁄2 cups water)
DRY INGREDIENTS:
1⁄4 cup nutritional yeast
1 teaspoon sea salt
1 teaspoon garlic powder
1 cup fine cornmeal
1 teaspoon baking powder
1⁄4 teaspoon cayenne pepper
Preheat oven to 350 °F.
Add the coconut oil to a medium cast iron pan and sauté diced onion over medium heat. Add hatch chilies. Set aside to cool.
Blister corn over stovetop gas flame for 30 seconds per side, or until lightly charred (or place under oven broiler for 2-3 minutes). Cut kernels from ears of corn.
In a blender, purée dry ingredients with half of onion mixture, corn, apple cider vinegar and almond milk.
Fold in remaining onions with corn and transfer to the same cast iron pan.
Bake for 40 minutes, or until pudding is lightly set. Cool for 10 minutes before slicing; cool completely for perfect slices. Garnish with blistered shishito peppers.
BLISTERED SHISHITOS
12 shishito peppers
2 tablespoons olive oil
1⁄4 teaspoon sea salt
Toss shishitos with olive oil and salt. Preheat a sauté or grill pan over high heat until almost smoking and carefully add the peppers.
Cook for 30 seconds to 1 minute, turning frequently.
Grilled Chickpea Flatbread with Cashew "Ricotta," Grilled Zucchini & Mint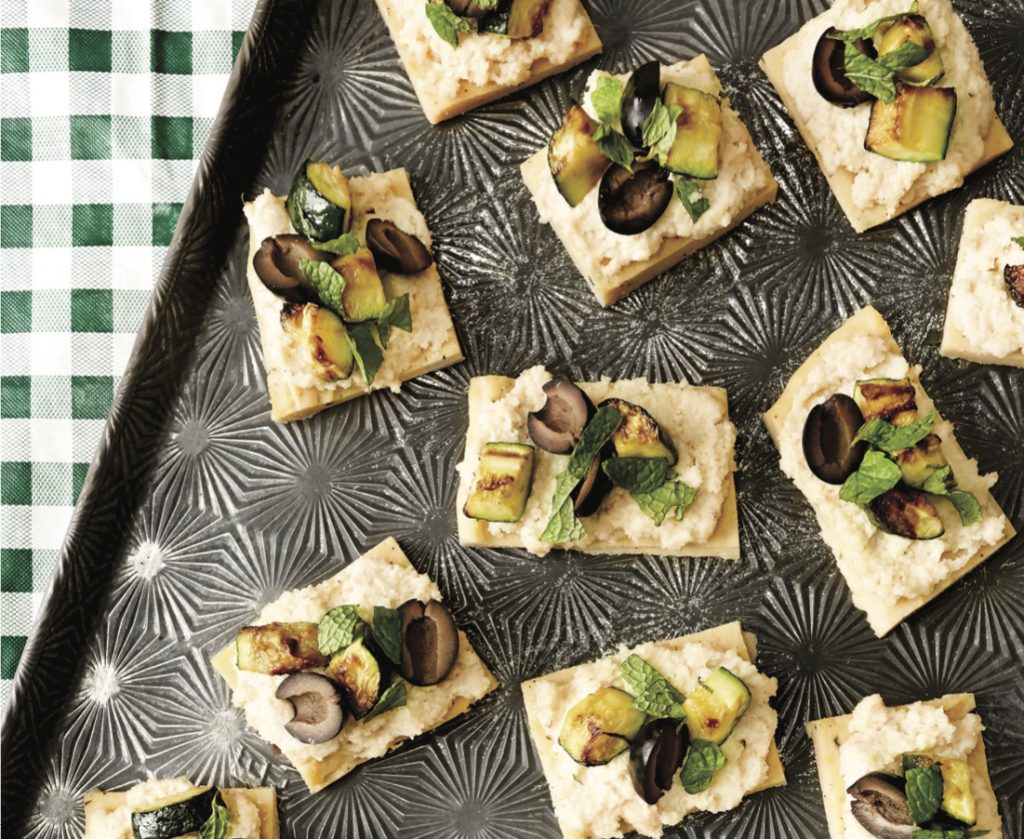 GRILLED CHICKPEA FLATBREAD
2 cups chickpea flour
3 cups water
2 tablespoons extra olive oil, plus more for brushing
1 teaspoon sea salt
3 oregano sprigs, stems removed and chopped
1⁄2 teaspoon freshly cracked black pepper
Line tray with parchment paper and brush with olive oil.
In a medium pot add the chickpea flour and whisk in the water, oil and salt until smooth. Cook over medium heat, stirring constantly for 10 minutes or until thick paste forms and mixture pulls slightly from the side of the pot. Add the oregano and pepper.
Working quickly, pour the batter onto 12 x 12 tray and spread to an approximately 1⁄8-inch thickness.
Cool mixture in refrigerator for 15 to 20 minutes.
Cut the chickpea 'flatbread' into crostini-like pieces and brush with olive oil.
Preheat grill pan and grill flatbread for 2 minutes per side, or until grill marks appear.
CASHEW "RICOTTA"
MAKES 2 CUPS
2 cups cashews, soaked
1 lemon, zested and juiced
1 garlic clove
3 tablespoons miso
1⁄2 teaspoon sea salt
3 tablespoons coconut oil, melted
Drain and rinse soaked cashews and add to food processor with lemon zest, lemon juice, garlic, miso, salt and melted coconut oil.
Process until smooth, adding a few tablespoons of water, if necessary, to thin mixture.
TOPPINGS
2 zucchinis, cut into small wedges
2 tablespoons olive oil
1 teaspoon fresh cracked black pepper
1⁄2 teaspoon sea salt
1⁄4 cup pitted black olives, cut in half lengthwise
3 sprigs mint, for garnish
Toss the cut zucchini with oil, pepper and salt.
Preheat grill pan and cook the zucchini for 2 minutes per side, or until grill marks appear.
Add a dollop of cashew 'ricotta' onto each flatbread and top with grilled zucchini, black olives and mint.
Raspberry Lemon Swirl Frozen 'Cheesecake' Pops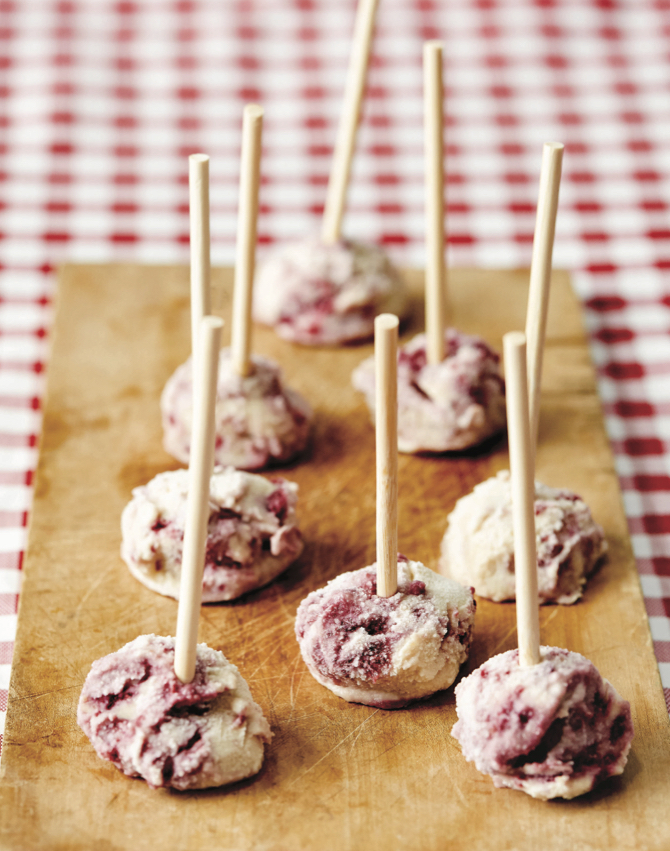 MAKES 18 ONE-OUNCE POPS
RASPBERRY SWIRL
1 cup frozen raspberries
1⁄4 cup maple syrup
Add the raspberries and maple syrup to a small saucepan and bring to a simmer. Stir occasionally, and cook on low heat for approximately 10 minutes, or until mixture reduces down to 1⁄2 cup in volume.
Break up any remaining large pieces of raspberries. Allow mixture to cool to room temperature.
"CHEESECAKE" MIXTURE
2 cups cashews, soaked
1⁄2 cup coconut oil, melted
1⁄2 cup maple syrup
1 lemon, zested and juiced
1⁄2 cup filtered water
1 teaspoon vanilla extract
1 teaspoon lemon extract
pinch sea salt
18 lollipop sticks
Drain and rinse the soaked cashews, and place in a high-speed blender along with the melted coconut oil, maple syrup, lemon zest, lemon juice, water, vanilla extract, lemon extract, and salt.
Blend ingredients for 1 minute, or until creamy. Pour 'cheese- cake' batter into 8 x 8-inch dish and place dollops of the raspberry mixture on top, using a skewer to swirl into the batter. Repeat until all the raspberry mixture is used up.
Allow batter to firm for approximately 1 hour in the freezer, and use a 1-ounce ice cream scoop to shape the mixture into spheres. Insert lollipop stick and return to the freezer for an additional 10 minutes. Keep frozen until serving.
Black-Mustard-Seed Pickled Watermelon Rinds
1 baby watermelon, peeled, cut in half crosswise, and flesh scooped out
1⁄2 gallon glass jar
BRINING LIQUID
13⁄4 cup apple cider vinegar
2 tablespoons honey
pinch red chili flakes
1 cup filtered water
1⁄2 teaspoon sea salt
2 teaspoons black mustard seeds
Cut the watermelon rind into wedges and place into glass jar. Place the vinegar, honey, chili flakes, water, salt and black mustard seeds into a small saucepan and lightly warm.
Pour mixture over watermelon rinds, cover and allow to steep in the refrigerator overnight.