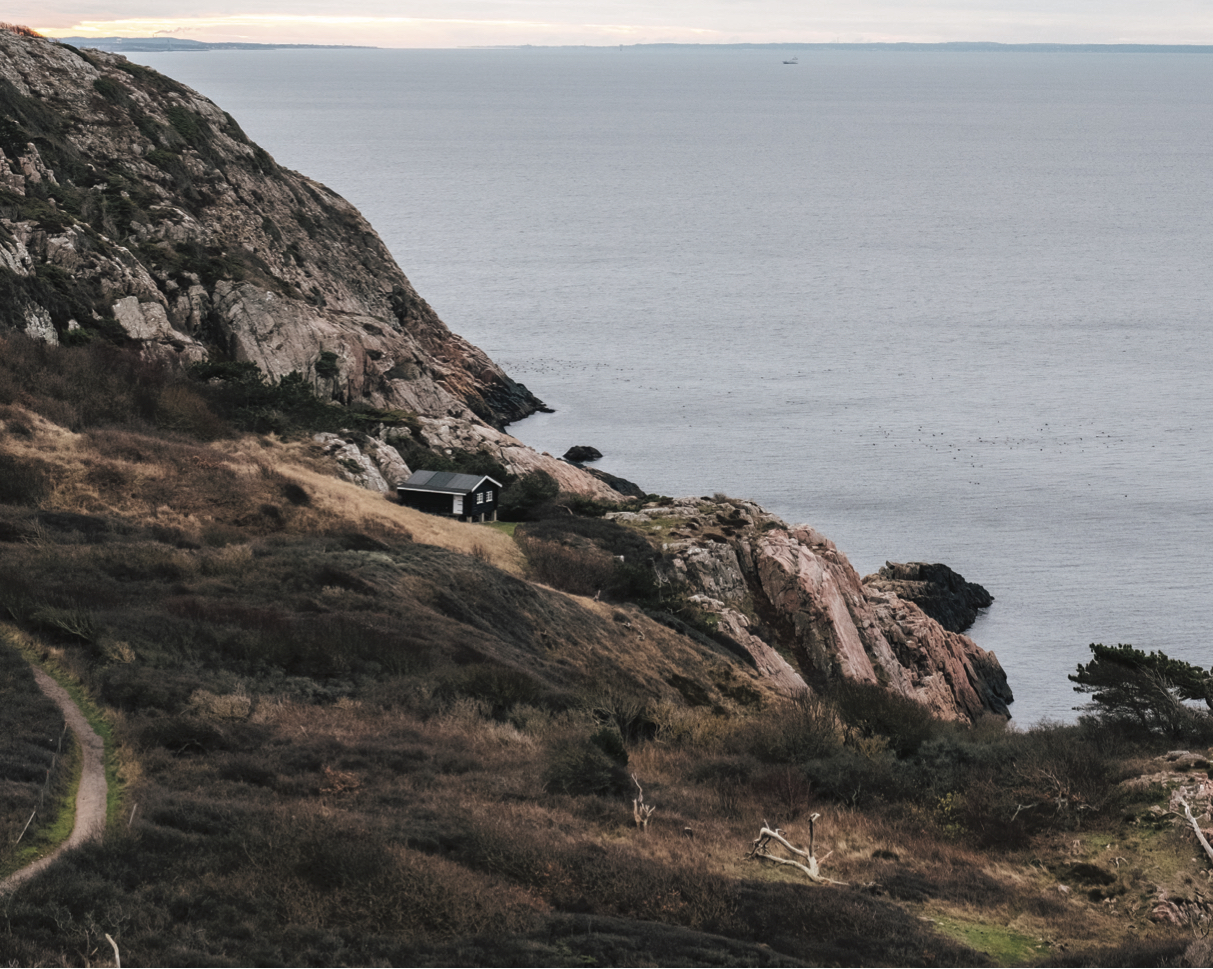 Story by DANNY SEO Photographs by JONAS JUNGBLUT
STAY WITH ME: In order to fly to southern Sweden, you need to land in…Copenhagen, Denmark. This can make for a confusing itinerary.
Here's why: Copenhagen is just 15 minutes away by tram to Malmö, the third largest city in Sweden. With about 300,000 residents, Malmö has evolved into a marriage of the old with the newest in high tech. Think charming and ornate architecture, a robust restaurant scene, and booming tech companies (it's home to King, maker of the wildly addictive Candy Crush game).
Of course, you can happily spend an entire week in Malmö. But I've decided to rent a car and roll north with my globetrotting photographer, Jonas Jungblut. We're heading to a popular beach town. In the winter. When it's freezing cold outside.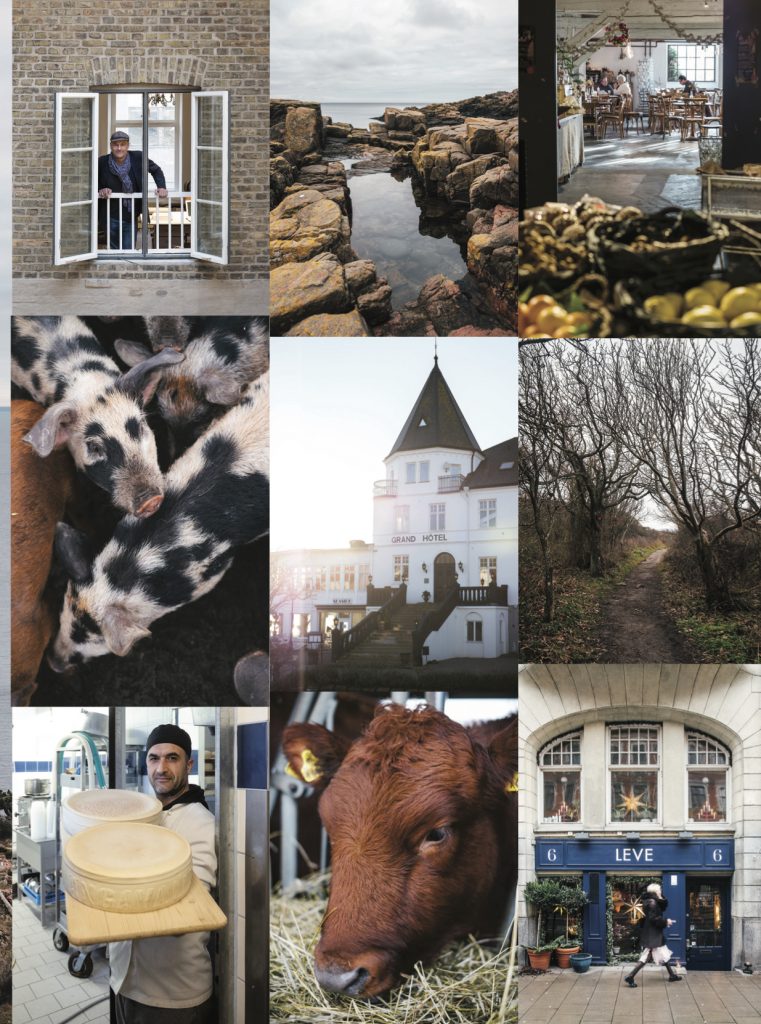 I realize the words "beach" and "winter" don't often go together, but hear me out: It's totally worth the trip. And it's a different kind of chill to navigate to the town of Arild when there's no traffic on the roads and you have an iPhone in your hand.
On the way, we stop at Höganäs Saluhall, the kind of food hall Whole Foods wishes it could be. One perk of my job? I get to shop the world. The moment I walk into this foodie paradise, I can feel my Amex burning in my pocket. This place is a winner.
First, I need some nourishment. I find it in the form of a frothy latte and pastries filled with sweet cream. Once fortified, it's time to scout out stores selling delightful kitchen wares, uniquely Scandinavian treats, on-site potters, and a gourmet market brimming with travel-friendly chocolates, spices, and cooking staples (all in clean, modern packaging). If you arrive during lunchtime, come hungry and hike upstairs. There's a fresh feast of salads, chilled poached salmon, and lingonberries that tastes and feels good to eat. As we leave I think, Not a bad way to start this trip.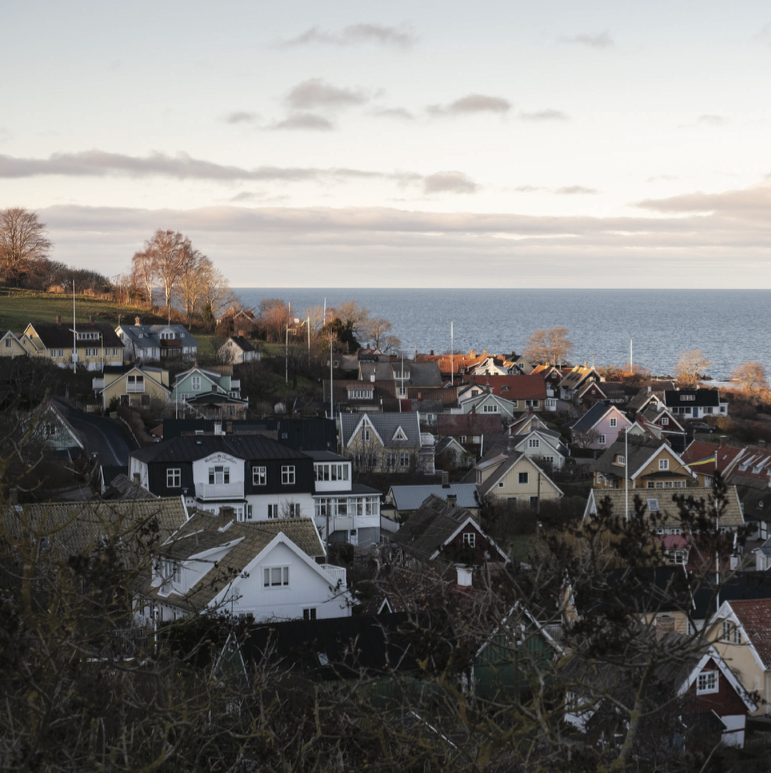 The beach town we're staying in is usually packed with locals during the hot summer months when daylight can go as late as 10 p.m. and the local bars and restaurants are raging. I'm here in December and the sun sets at 3 p.m. and the streets are so empty, you wonder if The Purge was filmed here. But just like how I love the Hamptons in the late autumn and winter (no crowds, no traffic, lots of peace and calm), I feel the same way here. This town feels like it's all just for me.
If you do one thing, go visit wine-maker Jeppe Appelin. Yes, there's wine in Sweden. And it's pretty darn good.
Jeppe founded Vejby Vingård, an organic vineyard that makes small batches of red varietals. He's a charmer—and he's enthusiastic with his wine samples as the good stuff glugs, glugs, glugs into your glass. It may be for this one reason: It's currently illegal for winemakers to sell directly to the public in Sweden. If you want to drink the wine, you have to visit the winemaker. And if you like the wine, well, you have to overindulge since you can't take a bottle home. So, remember two words—designated driver.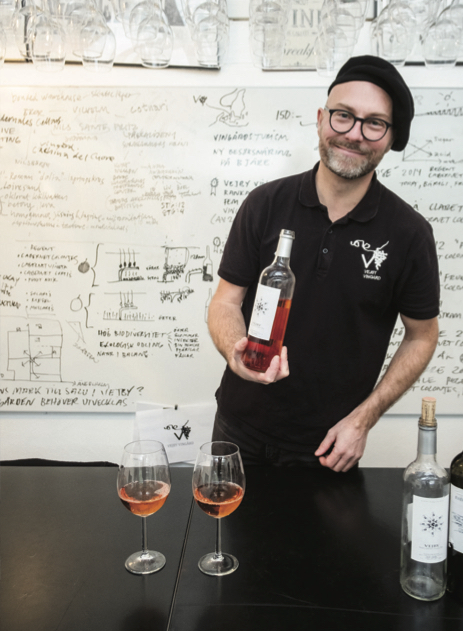 Jeppe tells me almost every winemaker grows white wines, so he set out to prove it is possible to make a really good red in a Swedish vineyard. People scoffed at the idea. Most said it couldn't be done. Then again, people told me I couldn't successfully launch a print magazine in an iPhone era. Jeppe is pretty much my Swedish brother from another mother. He did it and proved them wrong in a big way—he's won international awards for his wines.
The next morning, I awake at our inn—the Strand Hotel Arild. Built in 1904, this property is actually more popular as a destination restaurant, but the rooms are adorable with comfy touches such as thick, down featherbeds. We tuck into a traditional Swedish breakfast of warm bread, creamy butter, cheeses, and strong coffee. It's still dark outside, but Jonas and I venture out to see some Swedish wilderness.
We're at the Kullaberg Nature Reserve. And did I mention we're alone? I get the feeling this park is usually bustling with tourists and hikers, but today we drive our rental car right up to the hiking trail entrance. All morning it's just the two of us meandering our way through the park with the occasional park ranger's drone—even they won't venture out so they send an remote control assistant to make sure we haven't died.
At one point, there's a thick rope tied to a fallen tree that descends down a very steep hill. I keep telling myself, this would never be legal in America. We bravely propel ourselves down to find natural beauties—caves, a beach covered in round pink-hued rocks, and moss-covered hills. It's gorgeous. It's Instagram-worthy. And it's private. I don't meditate, but I could imagine myself closing my eyes here and learning a lot about myself. What a way to start the day.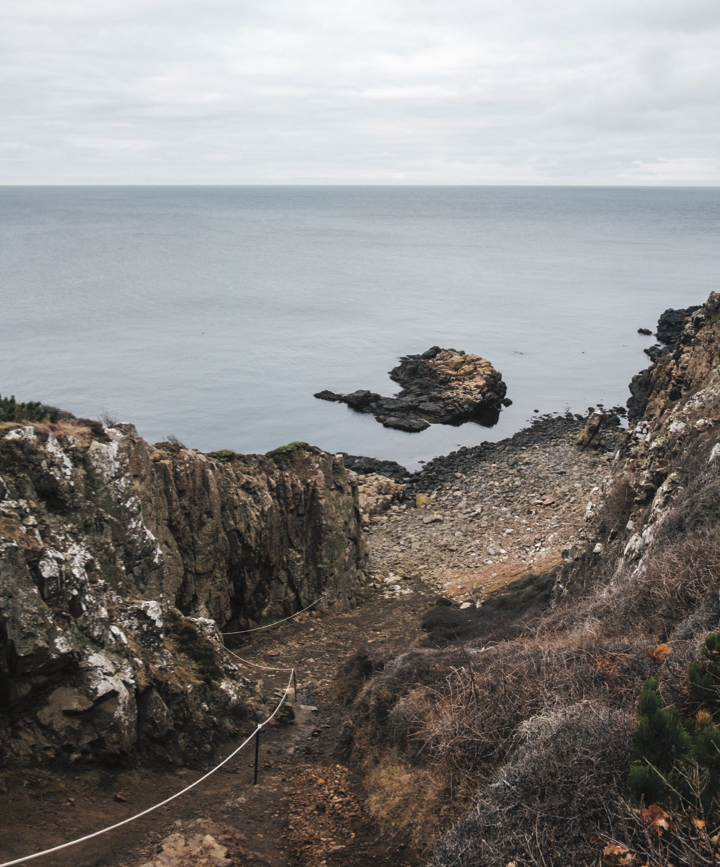 In town, we visit Mölle Krukmakeri and—to be blunt—it's a little wacky. ere's a mannequin with a taxidermy head on top and weird art all over the walls. But, as you may know, I like weird. Weird is wonderful. So I venture in. I find this place is one part café, one part pottery studio. And these ceramics are not weird at all; they're utilitarian, stylish, and wear the perfect matte finish. I pick up a few bowls and stay for a lunch of fresh salads, sandwiches, and sweet treats. The owners live upstairs, and their adorable dog may come down to sit patiently by your feet inside an enchanting glass greenhouse.
BEFORE: we head back to Malmö, we spend the night at a magical farm called Ängavallen. It's Sweden's first organically-minded hotel and restaurant. It's an eco-utopia—everything is grown, harvested, and made right here. I imagine Martha Stewart would have farm envy here.
Ängavallen is the brainchild of Rolf Axel Nordström. He says to me: "People need to eat less meat." While not a shocking statement in these Meatless Monday times, it is surprising coming from a farmer who butchers his own cows, pigs, and sheep.
First, let's talk about the property. My room is a converted horse stable turned Ralph Lauren-caliber suite. When you arrive, you get the total country estate: crushed stone covered courtyards; meticulously planted gardens; burning fire pits; and intricately laid brick floors. Don't wear nice shoes here. Put those Hunter boots to work instead.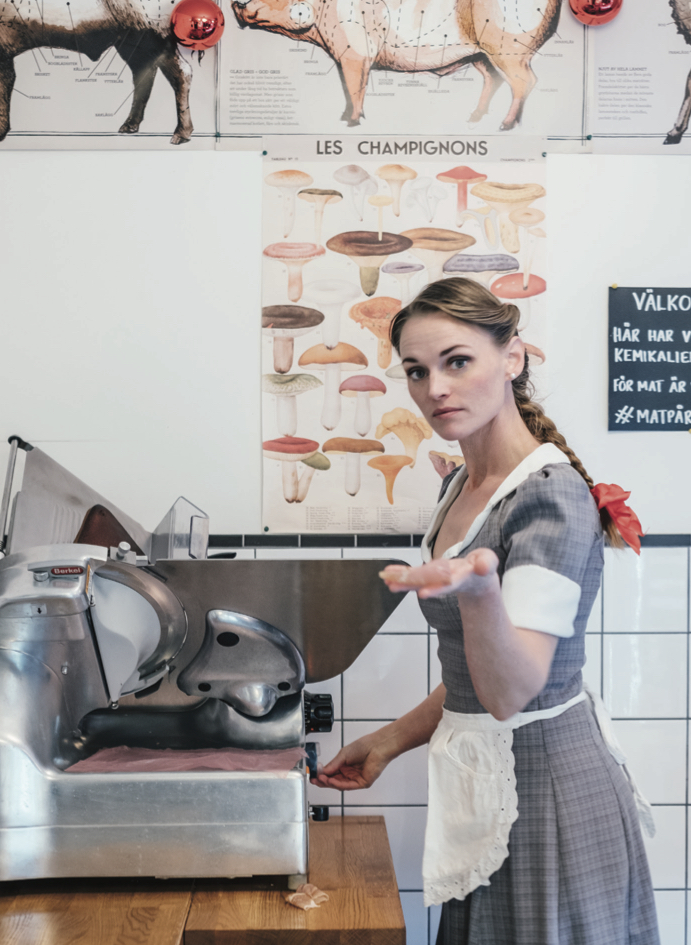 "One bite and I'm convinced they aren't plant-based (and I mean that as a compliment to the baker): light, flaky, and the filling is ultra creamy."
And while there's great respect for the guests, there's even more love for the land, the animals, and the workers.
Rolf gives me a tour of the farm and proudly shows off mother cows grazing with their offspring (in the States, calves are swiftly removed from their mothers after birth). Rolf allows them to separate naturally, many months after birth. Instead of living on concrete floors, pigs shove their nostrils into muddy earth, digging for roots. And his flock of sheep is nowhere to be found. They (like the other animals) have free rein and know to return to their home each and every night. People called him crazy when he started this way of farming. But today, he's considered a pioneer and a visionary.
You'll have one of your best meals and night's sleep here, so indulge and enjoy.
BACK in Malmö, we lose the rental car since it's expensive and annoying to park a car in the city. We don't miss it; this is a very walkable town. And you'll need to get your steps in when you realize how much good food there is here.
Sustainability is really at the forefront in Malmö. We start o with lunch at a restaurant called Spill. It's small, clean, and offers only two dishes. Yes, a menu with just two choices is creating a huge buzz in this town. So…why? First, chef Erik Andersson and his wife, Ellinor Lindblom, create two dishes that are exceptionally well made. You know that phrase "less is more"? Yep, fewer choices means nothing tastes bad. And why the name Spill? Because everything here is made entirely with food waste, which Erik sources from purveyors and growers who toss out perfectly good ingredients. We're talking funny-shaped carrots that supermarkets reject or excess from a restaurant that over-ordered beef tenderloin. This isn't trashy food; it's sustainable food made sexy. And that's why the crowds are literally spilling into the street to eat here.
Now, if you really want to experience the burgeoning culinary scene, book this guide: Nathan Lyon. He's a Brit import who has an infectious and absolute obsession with food in Malmö. He'll take you down side streets and alleyways to unexpected places you'd never find on your own. And, he will feed you.
We spend the morning noshing on vegan donuts at Leve, where folks trek all the way from Copenhagen to get them early on Thursday morning. One bite and I'm suspicious that they aren't plant-based (and I mean that as a compliment to the baker). They're light, flaky, and the filling is ultra creamy. But they're made with only plants. And you really can't eat just one.
Then it's off to a nondescript restaurant. Nathan shows us Rawtastic, where a raw food chef makes dairy-free "cheeses" on-site and pairs them with dehydrated crackers. If it sounds super healthy, it is! But it's also delicious. We get there at 11:30 a.m. and it's dead. By noon, there's a line out the door.
But this isn't a vegan-only tour: Nathan can tailor it for anyone. He'll guide you to the best places and people who o er everything from sausages to pizza to kombucha to chocolates.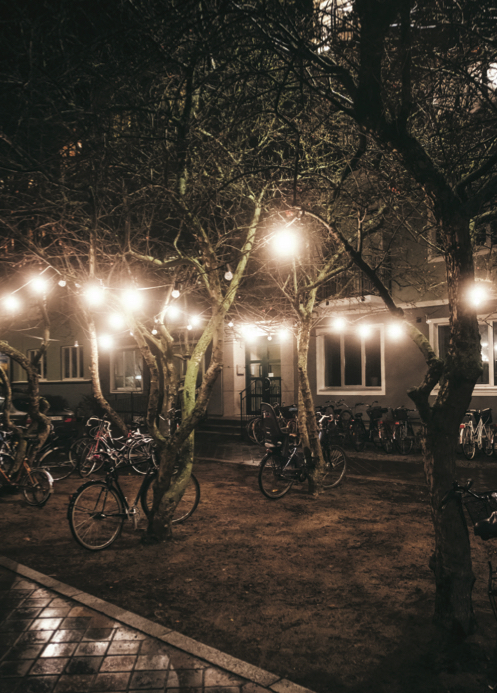 More must-see places in Malmö:
Mineral: is is a very cozy vegan restaurant. Sure it's hipster cool, but it delivers plant-based refinement. Plus, it's affordable and the service is fast. We were there for their two-year anniversary party, eating and sipping next to the makeshift dance floor.
Lyran: Sit at the counter and watch them whip up multiple plates of farm-to-table fresh foods for you right before your eyes. There are just three choices when you dine with them: all vegetarian fare, vegetarian with fish, and anything (which is usually the vegetarian with fish and one beef dish). It's a splurge, but if you're coming all the way to southern Sweden you aren't exactly there trying to Groupon your way through town.
AB Småland: This is less a place to dine and more a place to see, shop, and sip. I'm convinced the execs at Anthropologie came, saw, and ripped this place off. It's sustainable and stylish, a multi-level shop with upcycled goods, curated fashion, gorgeous housewares, and a bustling coffee shop with incredible pastries. Plan to spend at least two hours here. Trust me, you can't go to Malmö and skip AB Småland.
Last word: Go to the airport early. Copenhagen is one of the best airports to grab last-minute gifts and pick up uniquely Swedish and Danish products to bring home. I collect spirits from around the world and found a few unique bottles here that are solid additions to my collection. And with that, I say…Cheers!