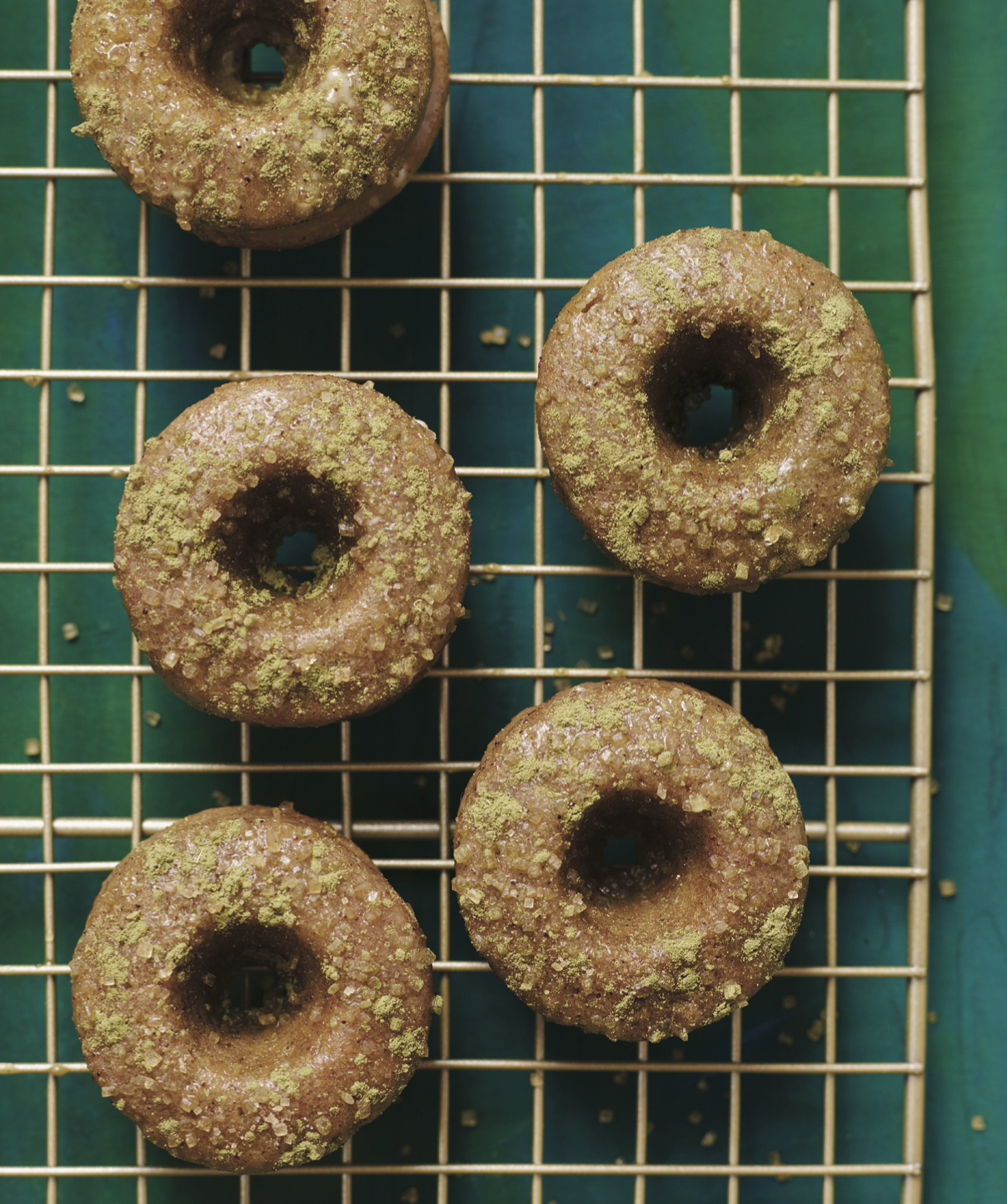 Story and Recipes by Olivia Roszkowski
Photographs by Alexandra Grablewski
Food Styling by Corey Belle
Prop Styling by Maeve Sheridan
Baked Miniature Donuts with Spirulina Sugar
YIELD: 12 2-INCH DONUTS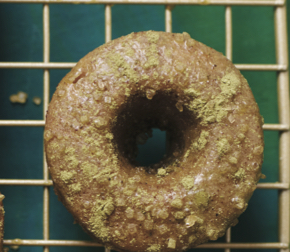 1⁄2 cup maple sugar, more to garnish
2 cups oat flour
1 tablespoon baking powder
1 tablespoon ground cinnamon
1 organic egg
1 can (14 oz) coconut milk
TO GREASE PAN:
1 teaspoon refined coconut oil
TO COAT:
2 cups organic confectioners sugar
2 tablespoons almond milk
2 teaspoons MegaFood Daily Purity Powder
1⁄4 teaspoon spirulina
Preheat oven to 350° F.
Add the maple sugar, oat flour, baking powder, cinnamon, egg and coconut milk to a blender and process until smooth.
Grease donut-baking pans with coconut oil.
Pour batter into pan (about 1/4 cup per cavity or until it is full) and bake for 10 to 12 minutes or until a toothpick comes out clean.
In a small bowl, stir together the confectioners sugar, almond milk, MegaFood Daily Purity Powder and a pinch of spirulina to make a glaze.
Dip each cooked donut in glaze and sprinkle with maple sugar and remaining spirulina.
Genius Hacks
✹ If you don't have a donut pan, roll up a piece of foil to place in the middle of each muffin-tin cavity to simulate a donut hole.
✹ Grind whole rolled oats, if you can't locate oat flour.
✹ Maple sugar is a great sweetener because of its one-to-one sweetness with classic cane sugar. You can use other natural sweeteners such
as coconut, date or organic cane sugar.
✹ Coconut milk is a great hero ingredient because it acts like both the milk and butter in conventional donut recipes due to its liquid and fat content.
✹ Instead of egg, try forming a flax egg by mixing 1 tablespoon of ground flax meal with 3 tablespoons of water, and placing it in the refrigerator to set up for 15 minutes.
Maca Honeycomb Frozen Yogurt
YIELD: 3 CUPS
1 cup organic Greek yogurt
1 tablespoon MegaFood Maca Plus Powder
3 cups green grapes, roughly chopped and frozen
TOPPINGS:
1⁄4 cup honeycomb, sliced
1⁄4 cup sliced almonds
1⁄2 cup blackberries, cut in half lengthwise
In a small bowl stir together the Greek yogurt with the MegaFood Maca Plus and allow to sit for a few minutes to rehydrate the powder.
Add frozen green grapes, and yogurt mixture to a blender and puree until smooth.
Transfer to the freezer to firm for 30 to 60 minutes.
Scoop into serving dishes and garnish with sliced honeycomb, almonds, and cut blackberries.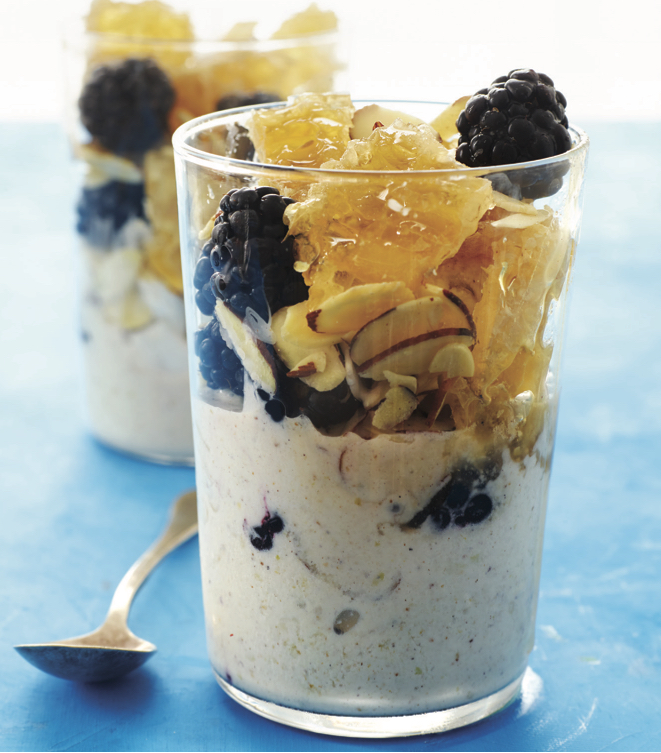 Genius Hacks
✹ If you're in a bind for time, chop up grapes before freezing for faster results.
✹ Frozen grapes are a great addition to smoothies or frozen desserts because of their neutral taste, high level of sweetness, and more local availability.
✹ Don't have Greek yogurt on hand? Place regular yogurt in a clean towel draped over a strainer for 15 minutes to strain out extra moisture.
Vegan Almond Flour 'Parmesan' Crackers
YIELD: 2 DOZEN CRACKERS
3 cups almond flour
1 large zucchini, grated (approximately 2 cups)
3⁄4 cup ground flax seeds, extra for garnish
1⁄2 cup nutritional yeast
2 tablespoons garlic powder
2 tablespoons olive oil
TO GARNISH:
11⁄2 teaspoon coarse salt
1 tablespoon nigella seeds
Preheat oven to 350° F.
In a medium bowl, combine the almond flour, grated zucchini, ground flax seeds, nutritional yeast, and garlic powder.
Cover mixture and allow to rest for 10 to 15 minutes, or until the flax absorbs all the excess moisture from the zucchini.
Place dough onto parchment paper, cover with additional parchment sheet and roll until an approximate 1⁄8-inch thick, 12×12 inch square shape is achieved. Score dough with a knife into 1x 2-inch strips.
Sprinkle cut strips with extra ground flax, flaky sea salt, and nigella seeds, pressing them gently with fingers to set them in place.
Transfer the parchment sheet carefully onto a baking tray and bake for 20 minutes. Transfer crackers onto rack and bake for an additional 10 minutes or until the crackers are lightly golden around the edges. Remove from oven, and allow crackers to cool.
Serve the same day or store in an air-tight container for up to 5 days.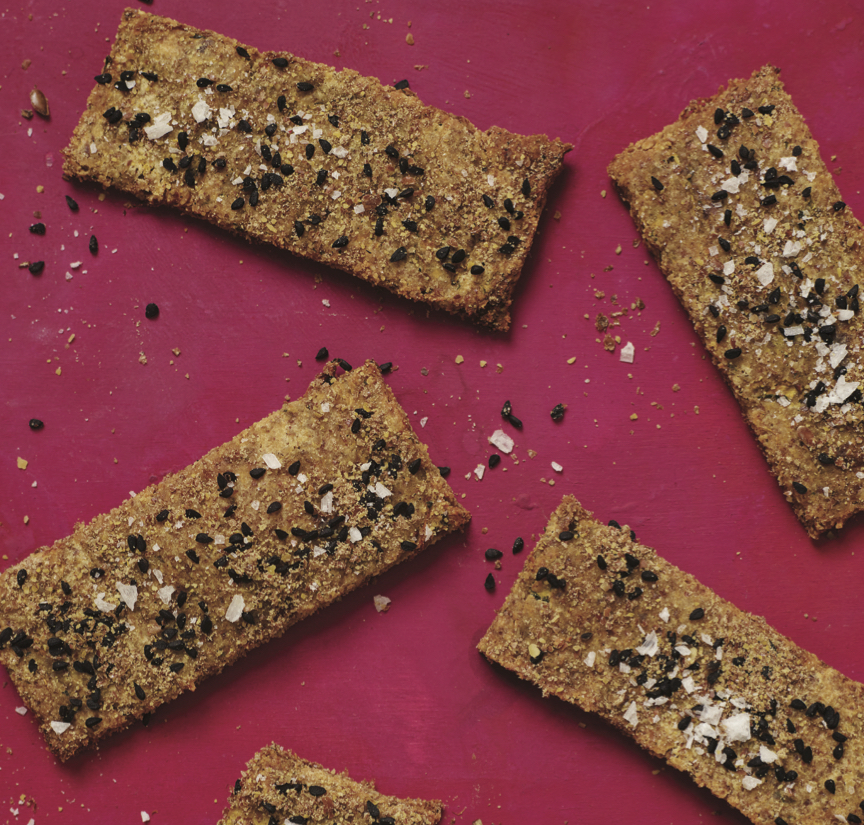 Genius Hacks
✹ Make your own almond flour by saving the almond meal left over from making homemade almond milk, baking it at a low oven temperature, and pulsing it until a our consistency is reached.
✹ Get creative and change the flavor profile of this cracker by including rosemary and black pepper, or sundried tomatoes and basil.
✹ Instead of scoring the crackers, try cutting out shapes by using
a cookie cutter before baking.
Maca Frozen Banana & Toasted Coconut 'Milkshake'
YIELD: 12 OUNCES
FOR SALTED MACA CARAMEL:
2 teaspoons MegaFood Maca Powder
1⁄3 cup pitted dates
1⁄3 cup filtered water
1 pinch sea salt
2 frozen sliced bananas
1⁄2 cup thick coconut yogurt
1 vanilla bean, scraped
TO GARNISH:
2 tablespoons large coconut flakes, toasted briefly in pan
Add MegaFood Maca Powder, dates, water and pinch of sea salt to a blender and puree until smooth. Transfer mixture into a small bowl.
In the same blender (no need to rinse), combine the frozen sliced bananas (reserve a few pieces for garnish), coconut yogurt, and scraped vanilla bean and blend until smooth.
Fill a glass halfway with the 'milkshake,' drizzle in a generous spoonful of caramel, and fill the remainder of the glass.
Top 'milkshake' with another drizzle of caramel, reserved frozen banana slices, and toasted coconut flakes.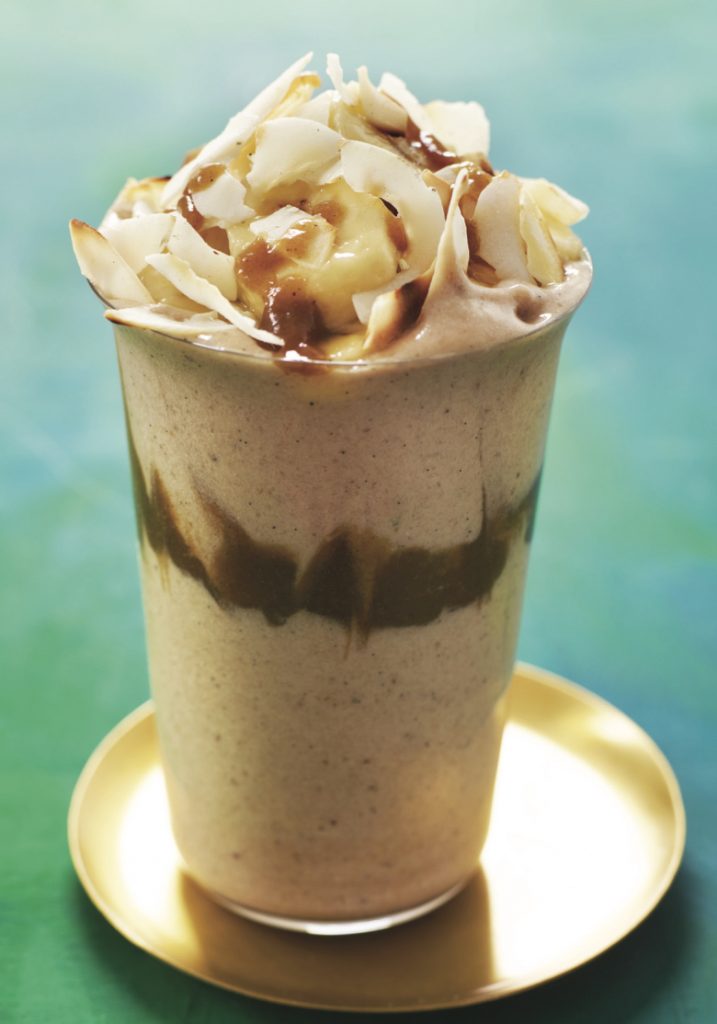 Genius Hacks
✹ If you can't find coconut yogurt, make your own by warming up 1 (14 ounce) can of full-fat coconut milk with 2 tablespoons of agar flakes and simmer for 10 minutes or until agar is dissolved. Cool mixture and add 1 teaspoon of probiotic powder. Allow it to sit overnight to ferment before refrigerating.
✹ Date paste makes a great whole food sweetener to add into both sweet and savory recipes. Blend equal parts pitted dates with water until smooth and keep refrigerated for a few weeks. Try adding to granola, smoothies, yogurt, or dressings.
✹ Make your own vanilla extract by saving empty, scraped vanilla pods in a small jar and pouring over enough vodka to cover.
Gnocchi with Purple Asparagus and Pan-Fried Greens
YIELD: SERVES 4 (APPROXIMATELY 12 GNOCCHI PER PORTION)
FOR GNOCCHI:
1 medium sweet potato, baked until tender and peeled (approximately 1 cup)
1 organic egg
2 teaspoons sea salt
1 cup whole-wheat flour
1 teaspoon MegaFood Daily Turmeric Powder
FOR PAN-FRY:
2 tablespoons olive oil
2 medium shallots, sliced (approximately 3⁄4 cup)
1 teaspoon sea salt
1 bunch purple asparagus, trimmed, and cut into 1-inch pieces (about 2 cups)
1 bunch chard, de-stemmed and roughly chopped (about 4 cups)
FOR GARNISH:
1 teaspoon poppy seeds
TO MAKE GNOCCHI:
Fill a medium pot halfway with water and bring to a boil.
In a medium bowl, gently toss together the cooked sweet potato, egg, salt, flour and MegaFood Daily Turmeric Powder.
Take a quarter of the dough, and roll into an approximately 1⁄2-inch thick log. Cut dough into 1-inch rectangles, drop into boiling water, and cook for 3 to 5 minutes or until the gnocchi start to float.
Remove cooked gnocchi from water and set aside. Repeat with remaining gnocchi dough.
TO PAN-FRY VEGGIES:
Warm olive oil in a large sauté pan over medium heat.
Add sliced shallots and salt and cook for 2 minutes, or until translucent.
Add asparagus and cook for additional minute.
Stir in cooked gnocchi and chard, cover with lid and cook for 1 minute or until the greens are wilted.
Plate and garnish with poppy seeds.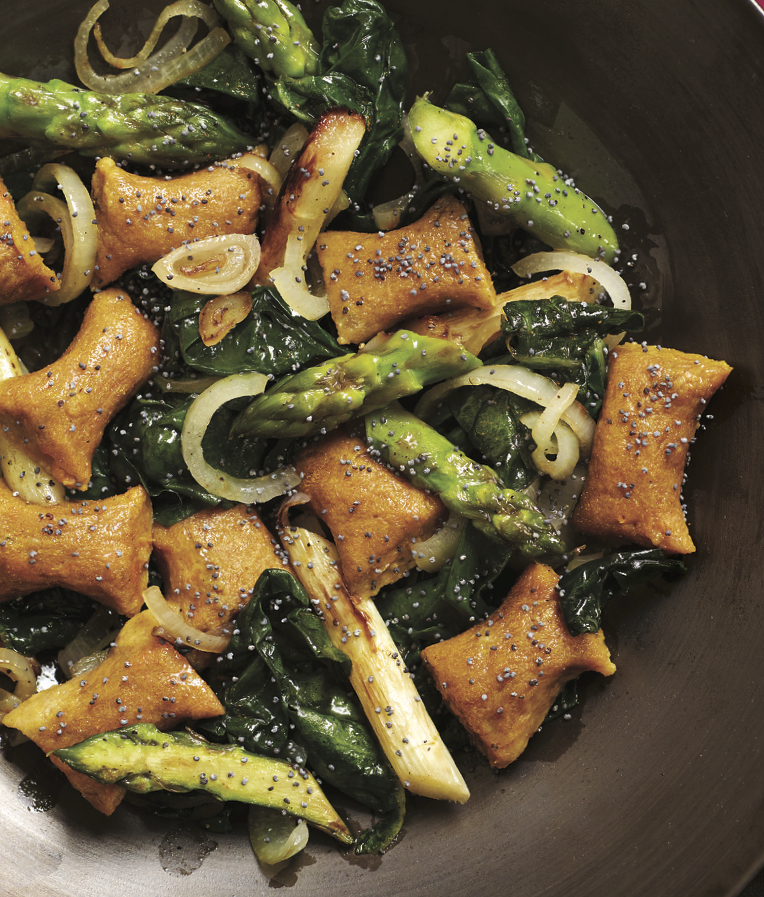 Genius Hacks
✹ Feel free to substitute any greens you might have on hand, such as kale, collards, radicchio, or baby spinach.
✹ Wrap a few sweet potatoes tightly in foil and bake for 60 minutes at 350° F or until tender. Keep them on hand for quick add-ons to gnocchi, soup, or mashed potatoes.
✹ Shallots are less pungent than onions or garlic, so they won't overpower this dish. The petite powerhouses are also rich in antioxidants, minerals, and vitamins.
Corn-Flake Crusted Golden Tofu with Maple Dijon
YIELD: 16 STRIPS
FOR DRY RUB:
1 (16 oz) block firm tofu, cut into 16 two-inch batons
2 teaspoons turmeric powder
2 teaspoons garlic powder
1 teaspoon sea salt, more to sprinkle after cooking
TO FRY:
3 organic eggs, beaten
31⁄2 cups organic corn flake cereal, crushed into small pieces
3⁄4 cup refined coconut oil
MAPLE DIJON:
1⁄2 cup Dijon
1 teaspoon maple syrup, or to taste
FOR DRY RUB:
Freeze cut tofu for a few hours, or overnight, and defrost to give it a chewy texture.
Blot defrosted tofu dry and coat with turmeric, garlic powder, and salt.
TO FRY:
Dip coated tofu in beaten eggs, followed by crushed corn flake cereal.
Heat coconut oil in a large sauté pan and fry coated tofu for two minutes over medium heat, carefully flipping frequently for an even golden color.
Remove cooked tofu pieces from pan and sprinkle with additional sea salt.
Serve warm with maple Dijon (see below).
FOR MAPLE DIJON:
In a small bowl stir together the Dijon and maple syrup. Serve with corn-flake crusted golden tofu.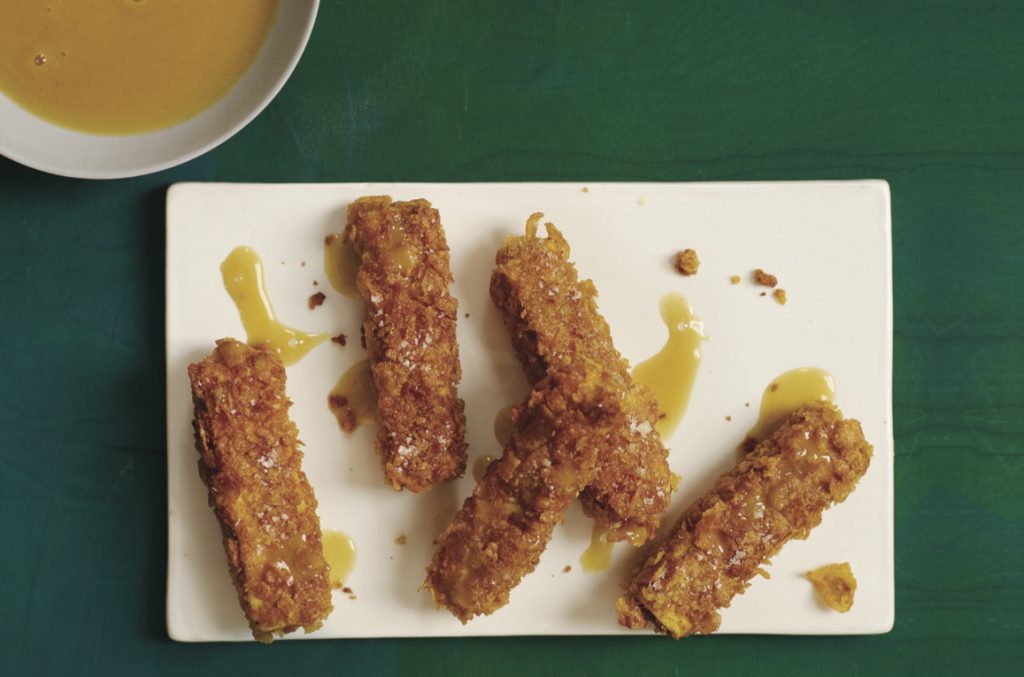 Genius Hacks
✹ Freeze a block of tofu for a chewier, firmer texture once defrosted. The firm tofu can also be crumbled for a scramble, or added to a veggie burger mixture for more of a bite.
✹ Corn flakes make a great crunchy crust. Crush the pieces well so they adhere better.
✹ For a fast dip, add a small amount of sweetener to your favorite Dijon. Try pairing it with chicken, vegetable tempura, or pretzels.
Why we love MegaFood Booster Powders:
#1 Farm-to-powder goodness. MegaFood accomplishes a mighty feat by converting the nutrients from non-GMO, whole food sources into a convenient powder that you can add to your favorite recipe.
#2 Flavor plus essential nutrients. MegaFood powders add a flavor kick that encourages picky eaters to take their vitamins. Try using them in place of your usual go-to seasoning to add nutrition plus savory, earthy undernotes to a dish.
#3 Colorful side effects. Use MegaFood powders to inspire your next creation (think granola, smoothies, nut milks, soups, sauces, baked goods). Their bright pigments are not only packed with phytochemicals, they'll make your dishes pop with color as well.
Crispy Beet Superfood Crackers
YIELD: 2 DOZEN CRACKERS
1 medium beet, peeled and grated (approximately 1 1⁄2 cups)
1 cup oat flour
1⁄2 cup ground ax seeds
1 tablespoon MegaFood Daily Energy Beet Powder
2 tablespoons olive oil
TO GARNISH:
1⁄4 cup finely shredded nori (such as Eden nori krinkles)
1⁄4 cup pumpkin seeds
1⁄2 teaspoon flaky sea salt
TO BRUSH:
1 tablespoon maple syrup
Preheat oven to 350° F.
In a medium bowl, add the grated beets, oat flour, ground flax seeds, MegaFood Daily Energy Beet Powder, and olive oil, and stir to combine.
Allow mixture to rest for 5 minutes.
Using a tablespoon measure, scoop the batter and press at into 1⁄8-inch-thick rounds onto a parchment-lined baking tray.
Sprinkle dough with shredded nori, pumpkin seeds, and flaky sea salt and press gently to set garnishes in place.
Bake dough for 10 minutes, gently brush with maple syrup, and transfer to a wired rack and cook for an additional 20 minutes, or until the crackers are firm to the touch.
Remove tray from oven, and serve crackers the same day. Or cool crackers completely and transfer into an airtight container and store for up to 5 days.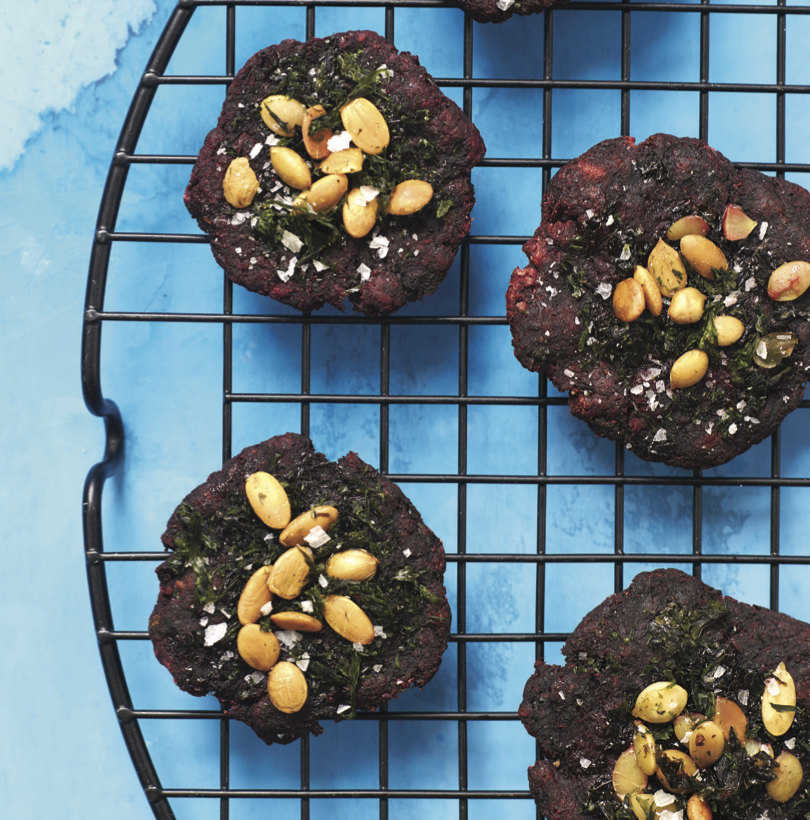 Genius Hacks
✹ Save your beet or carrot pulp from juicing to be used in your next cracker recipe.
✹ Flax seeds make a great binder once ground. You can simulate the same effect by using ground chia seeds as well.
✹ Shredded nori adds a great umami flavor that complements the earthy beet tones.
Seeded Protein Pull-Apart Dinner Rolls
YIELD: 12 MEDIUM-SIZED ROLLS
11⁄4 cup warm water
1 tablespoon dry active yeast
1 tablespoon raw honey
3 cups whole-wheat flour
1 teaspoon sea salt
1⁄3 cup pea protein powder
1⁄4 cup olive oil, extra to grease baking dish
FOR SEEDED COATING:
1 tablespoon sesame seeds
1 tablespoon poppy seeds
2 tablespoons pumpkin seeds
Preheat oven to 350° F.
Form a sponge by adding 1⁄2 cup warm water, dry active yeast, honey and
1⁄4 cup whole-wheat flour into a large mixing bowl. Cover bowl and allow mixture to sit in a warm location for 15 minutes, or until foamy.
In a separate bowl, stir the remaining flour, salt, and protein powder.
Add remaining cup of water and olive oil to the sponge.
Using a stand mixer with dough hook attachment, combine the yeast and our mixture. Knead the dough on medium speed for 2 to 3 minutes, or until it starts pulling off the edges of the bowl. If mixing dough manually, add flour mixture to the yeast mixture in a bowl and mix with a spatula. Transfer mixture to a floured surface and knead for 8 to 10 minutes, or until a firm and smooth dough forms.
Place dough back into bowl, cover, and allow it to rise for 30 minutes in a warm location.
Lay dough out onto a cutting board, and using a knife cut dough into quarters. Cut each quarter piece of dough into thirds, and roll each into a log. Roll the log into itself to form a circular roll.
Grease a 10-inch cake pan or baking dish. Dip the top of each ball in either sesame, poppy, or pumpkin seeds and place each roll next to each other in the baking dish. The rolls should be touching, but not overcrowded.
Cover dish, and allow rolls to rise for 15 to 30 minutes. Transfer to oven and bake for 25 to 30 minutes, or until a toothpick comes out clean.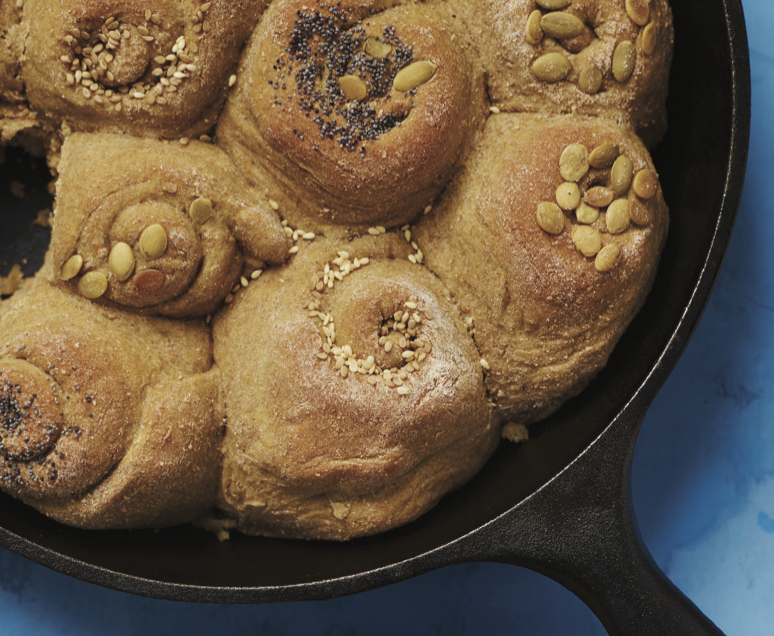 Genius Hacks
✹ Seeds are high in fiber, vitamin E, minerals, and healthy monounsaturated fats, and also add a nice crunch to these soft, pillowy rolls.
✹ Make sure your rolls are not overcrowded in your baking pan, as they can merge and form one giant bread-like structure.
✹ Cover dough in between each step to keep it from drying out.
✹ If desired, prepare the recipe in advance and allow rolls to rise (covered) in the refrigerator overnight.
Crispy Chili Lime Artichokes with Golden 'Queso'
YIELD: 2 CUPS OF 'QUESO'
FOR ARTICHOKES:
3 cups frozen artichokes
2 tablespoons olive oil
1⁄2 teaspoon sea salt
1 teaspoon chili powder
1 lime, zested and juiced
FOR GOLDEN ' QUESO' :
1 medium eggplant
1⁄3 cup nutritional yeast
1 cup plain almond milk
1 teaspoon sea salt
1⁄4 cup medium salsa
FOR GARNISH:
1 lime, cut into wedges
handful of cilantro, destemmed and chopped
TO MAKE ARTICHOKES:
Preheat oven to 375° F.
Toss artichokes in olive oil, salt, and chili powder, and spread into a single layer onto a parchment-lined baking tray.
Roast artichokes for 20 to 25 minutes, or until golden and crispy.
Remove from oven and toss with lime zest and juice.
Serve warm with golden 'queso' (see below).
TO MAKE GOLDEN ' QUESO' :
Place eggplant directly over a gas stovetop flame for 2 minutes per side, or until the eggplant is charred and soft. Alternatively, roast whole eggplant in the oven at 350° F for 20 to 25 minutes, or until tender.
Remove eggplant from flame or oven and place into a paper bag to steam for 5 minutes.
Peel eggplant, discarding skin and stem.
Place eggplant flesh in a blender along with nutritional yeast, almond milk, and sea salt. Process until smooth.
Transfer mixture to a bowl and stir in salsa. Garnish with chopped cilantro and serve with crispy chili lime artichokes.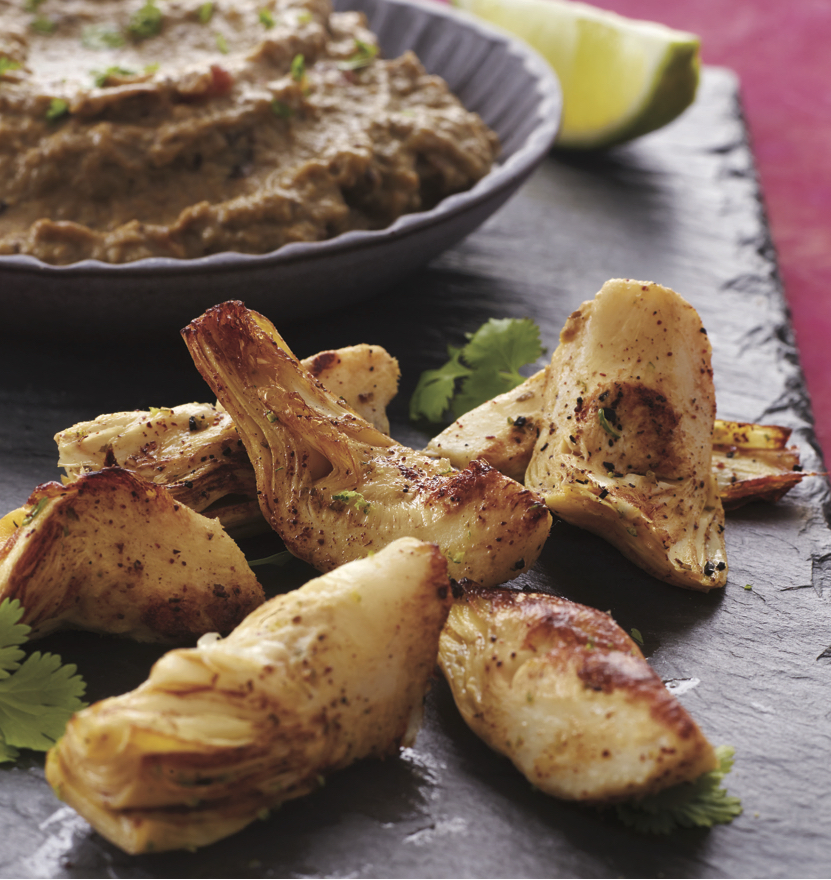 Genius Hacks
✹ Serve this recipe over tortilla chips for a fun take on nachos.
✹ When roasted with the skin intact, eggplant essentially becomes steamed on the inside and takes on a neutral, velvety texture—making it a great addition to purees, sauces, or dressings.
✹ Cut your favorite vegetables, such as potatoes, sweet potatoes, beets, and carrots, into rounds and roast in place of artichokes to serve as 'chips' at your next party.