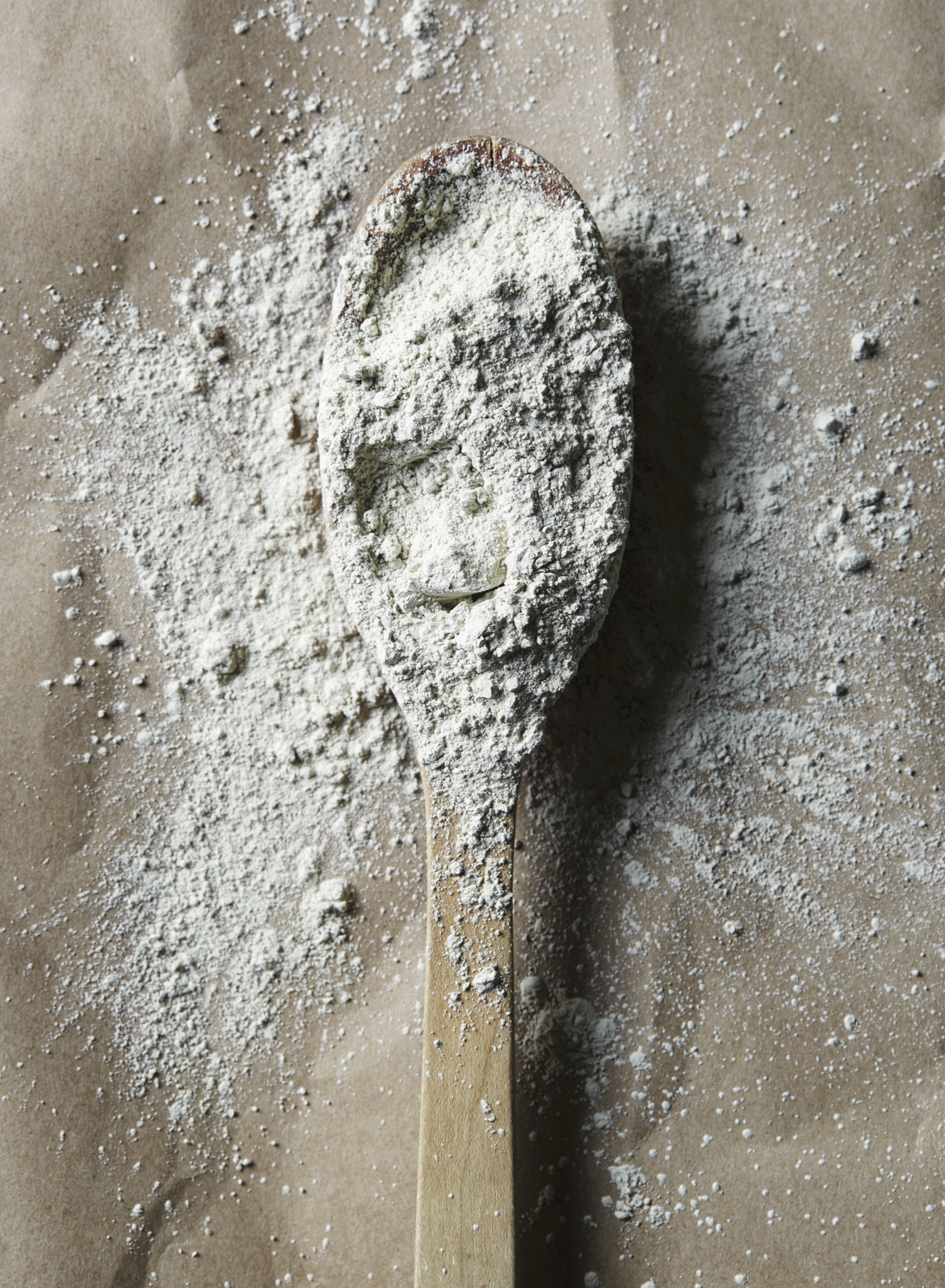 Story by BRIAN UNDERWOOD Photographs by DAVID ENGELHARD Styling by DANNY SEO
BEAUTY SCIENTISTS have spent countless hours and millions of dollars developing products and procedures designed to keep our skin looking young and healthy. To date, we have futuristic light devices that stimulate the production of skin-plumping collagen, cutting-edge injectables that literally prop up wrinkles, and lab-synthesized skincare ingredients designed to minimize the appearance of fine lines, dark spots, and more.
So it's amusing that in the midst of all of this high-tech innovation, an ingredient that's been used for centuries to beautify, something so elemental that it was used to build shelter for ancient man, is suddenly stealing the spotlight: Clay. Yes, the main ingredient in those gloopy green face masks you smeared on at your teenage slumber parties has gotten a sophisticated refresh—and is now found in everything from facial cleansers to shampoos to makeup. "Clay is most known as a clarifying ingredient that helps to absorb oil on the top of the skin and clears pores," says Mona Gohara, M.D., assistant clinical professor of dermatology at Yale University. "But some varieties can also exfoliate, rejuvenate, and even moisturize."
THE 'MUD' MAKEOVER
Clay's clarifying powers maybe why Cleopatra reportedly slathered it on, or why the ancient Greeks bathed in clay-infused water. Today, there are several common varieties used in topical products. "Bentonite and kaolin are the most ubiquitous," says cosmetic chemist Ron Robinson, the founder of beautystat.com, a website devoted to beauty product reviews. "They are rich in minerals that nourish the skin and, as they dry and are rinsed away, the clays remove topical impurities that can cause blemishes."
But purification is just the start. Several varieties do more than vacuum out your pores. "Rhassoul clay is a fantastic moisturizing and cleansing ingredient," says Robinson. "It contains high levels of magnesium, which can help to repair the skin's outer barrier to keep it plump and hydrated." Montmorillonite, a cousin to kaolin, can temporarily tighten skin to reduce the appearance of fine lines and wrinkles. Pink clay is known as an anti-inflammatory, soothing and detoxing the most sensitive of skin.
CLAY, CLAY EVERYWHERE
Many brands are tapping the purifying powers of clay for other products. Regular shampoos infused with kaolin and montmorillonite absorb excess scalp oils to give fine hair a boost. There are also DIY dry shampoos with bentonite clay (see "Clay Treatments You Can Whip Up," next page) that will buy you a few extra days in between blowouts.
Brands like GlamGlow, which have built a reputation on clay-based mask products are now expanding into cleansers, which are particularly beneficial to oily and acne-prone skin. "It's like a one-two cleansing punch," says Gohara. "The traditional surfactants in these formulas are still doing most of the hard work, but the addition of oil-absorbing clays give an assist for those with truly overactive sebaceous glands."
EAT DIRT
Some are even ingesting clay, claiming it can correct nutritional balances, aid in digestion, and remove toxins from the body. The trend really got legs when actress Shailene Woodley touted the various benefits of ingestible clay in 2015. But it's a practice that, again, dates back to ancient times. Some cultures even ingest clay to correct nutritional imbalances. "There's evidence that our ancient ancestors were eating dirt as early as 400 BCE, when Hippocrates described what happens when a pregnant woman eats earth," says Adam Forrester, an assistant professor of photography at Troy University whose documentary, Eat White Dirt, examines the trend of soil-eating in various cultures. "Today, you see packaged dirt sold across the country, and in the South in particular."
Trendy, yes. Effective? Who knows. There's no evidence to show that ingesting any kind of soil has nutritional benefits and many experts caution consumers against it, warning that it could have the exact opposite effect, absorbing nutrients that the body actually needs. "Clay doesn't know the difference between something foreign and potentially harmful and the vitamins and minerals that our body needs," says David Katz, M.D., founding director of the Prevention Research Center at Yale University. "Your liver and kidneys are much more adept at making that determination."
IT'S MASK TIME
When it comes to using and choosing the best clay masks, there is a strategy. "The amount of clay used in a standard mask formulation is fairly uniform," says Robinson, "so there's no issue with looking for the best concentration." What does matter: The desired outcome. Robinson wants you to pay attention to what the language on the packaging says. "If you have sensitive or dry skin, look for words like 'hydrating' or 'nourishing,'" he adds. "For oily or acne-prone types, your key words are 'clarifying' or 'purifying.'"
And though you may be tempted, don't let that mask dry to a tight, crack- ing finish. "You want to remove your face mask while it's still damp and tacky to the touch," says Gohara. "By the time it's completely dry, the mask has over-stripped your skin, and can lead to barrier damage, irritation and dryness." Now, go forth… and mask.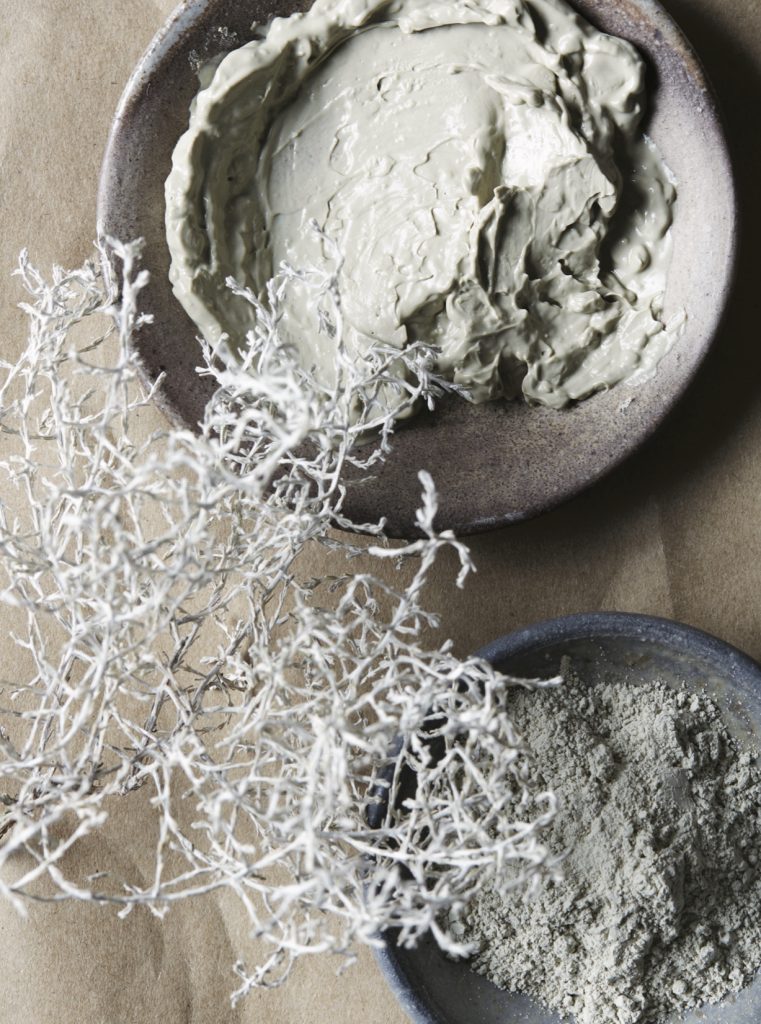 CLAY TREATMENTS YOU CAN WHIP UP
Rather DIY than buy? Create one of these easy clay-based beautifiers right in the comfort of your own bathroom.
Dry Shampoo
GATHER
1 cup bentonite clay
1 cup cornstarch Cocoa powder (blondes should omit) 5-10 drops of an essential oil of your choice
MAKE IT
1. Pour bentonite clay and cornstarch into a large bowl and mix with a spatula until combined. 2. Add the cocoa powder sparingly, mixing until you create the shade you need. 3. Place a few drops of the essential oil into the bowl, depending on how strong you want the scent to be. Pour into a glass or plastic bottle.
TO USE:
Sprinkle a dusting of the powder onto your roots to absorb excess oil and give your hair some added volume.
Face Mask
GATHER
1 teaspoon bentonite clay 2 drops calendula essential oil
1 tablespoon ground oats 1 teaspoon water
MAKE IT
1. Mix the bentonite clay and calendula essential oil in a bowl. Add the ground oats.
2. Add enough warm water to thin out the paste slightly and add the lavender essential oil.
TO USE:
Immediately apply to face and neck in a circular motion, avoiding the eyes. Leave on until mask begins to dry but is slightly damp to the touch. Rinse with warm water and a wash cloth.