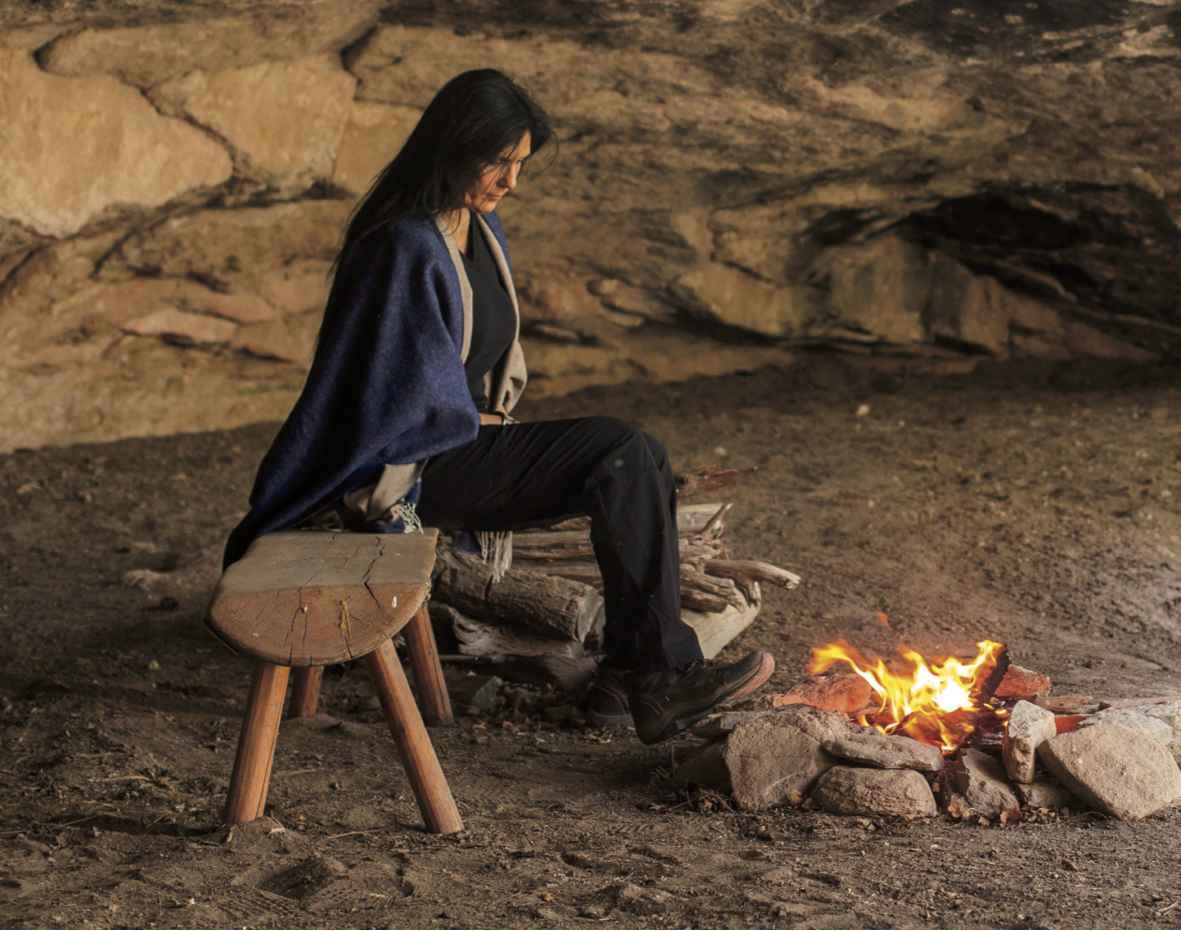 OUR JOURNEY TO SEE THE GOOD DOCTOR AND SPEND A DAY AT HER MEDICINE LODGE RANCH STARTS WHERE I'M SURE MANY AN EPIC JOURNEY HAS—IN THE PARKING LOT OF A DOLLAR STORE.
This one was on the outskirts of Pecos, New Mexico—the spot where GPS systems go to die and cell service goes with them. From here, we call the house phone and one of Dr. Low Dog's team hops in a car to retrieve us. We follow his dust cloud up to about 7,500 feet above sea level, until we arrive at the impeccably kept gardens and buildings that make up the Ranch.
I'm super stoked to meet Dr. Low Dog. We've spent a few hours on the phone together for previous articles in this magazine, with me tapping into her wisdom on natural healing, on nutrition, on battling physical pain as well as soul pain. This isn't lighthearted fare. When you talk to the doctor you go in deep and you go there quickly. She tells me that many people cry in sessions with her. I get that.
When she opens the screen door and glides out to meet us, the energy changes. Excuse me, but it does. It might be her striking looks, punctuated by glacier-blue eyes. (If eyes are windows to the soul, these are most certainly bay windows.) Or, it could be all the love she starts professing within about three sentences. Dr. Low Dog loves a lot of things:
"I love Chip and Joanna Gaines," she gushes right out of the gate in response to a comment about the Fixer Uppers. "I think Joanna might be my soul sister."
"I love these rocks and I love these boulders," she says as we clamor up the path behind her log house for our first picture. "I was told by a Pueblo man that the memories of our ancestors are stored in stones."
"I love these cargo pants," she says of her attire. "I love all the pockets. I wear a version of them every day.
But, of course, she doesn't love everything. Like white coats, for example. "I never wear a white coat," she states. "Never. I wouldn't wear one. That would be like a barrier to touching people or getting to know someone and really healing. White coats are scary. The cold office is scary."
Plus, the standard-order coat would get pretty dirty in Dr. Low Dog's lab— which is the wildflower fields, lush hollows, and hiking trails of the almost 200 acres of property she and her husband Jim Carnazzo purchased 12 years ago. It consisted of one crumbling cabin and lots of wildness before Jim took charge. The place butts up to 1.6 million acres of the Santa Fe National Forest. "Just think of the enormity of that," she says. "Jim and I can hop on our horses and ride for four days without seeing a person. There is something deeply soothing to my soul being out here."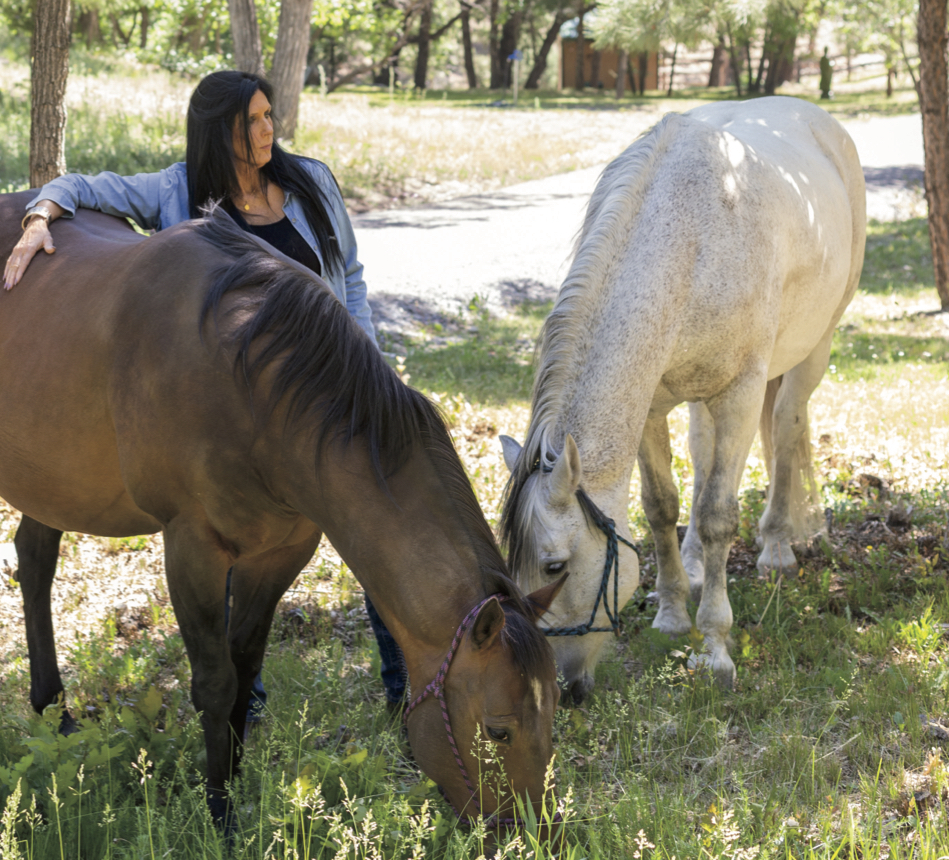 The path she traveled to arrive at this place in life is windier than the one we traveled to get here—and came with a couple of hairpin turns. It started on the plains of Oklahoma and Kansas, where she and her family never stayed rooted for long given her dad's military career. It was in some ways an idyllic childhood, full of horses, camping, and fishing off the dock with her grandparents, who owned a bait shop. She earned every merit badge the Girl Scouts offered. Her grandmother Jo, who was one-quarter Comanche and her most influential mentor, took her as a young girl to her first powwow at the Medicine Lodge in Kansas. It was a transformative event for her that led to a lifelong study of healing and medicine.
In other ways, however, her early life presented her with steep challenges. She stuttered badly and was dyslexic—eventually finding help for both through the United Way. But it made school a place of suffering. She dropped out at sixteen, in her sophomore year of high school.
Rather than view these conditions as a curse, however, this renowned holistic health practitioner sees them as a gift. "I learned to listen, and I listened a lot," she says. "I don't know that I have a photographic memory. I mean my children and my husband would tell you I do, not for written things, but for spoken words. Most things I remember like a picture, so I can remember where you were standing and what you were wearing and what you said, and I can call that back up."
In her late teens, when she paid her way by making and tooling leather bridles and saddles, she discovered the martial arts and competed in Tae Kwon Do, ultimately earning a third degree black belt. "I was addicted to the martial arts," she says. "It was one of the greatest gifts of my whole life. It changed me in so many ways. That much exercise takes you to a different place, for one. And it was wrapped in this philosophy of oneness, disciplining the mind as well as the body, defending the weak, and defending divinity from evil."
Dr. Low Dog met her first husband during that time and they eventually moved west, where she gave birth to her son, Mekoce. ("He teaches special education in an elementary school," she says, "and works with children with dyslexia. I love that.") When her marriage fell apart, she and Mekoce found their own way in Las Cruces, New Mexico. She eked out a living "doing massage and catching babies," she says, referring to her experience as a massage therapist and midwife. And she began selling herbs and herbal tonics ("I had already been into herbs and making tinctures for people for years," she says, having learned folk and herbal remedies from family members). She eventually opened up an herb farm and shop with the help of a client who believed in her—so much so that she put up her stocks in an electric company as a way to guarantee a small-business loan for the talented young herbalist.
Dr. Low Dog earned her GED at the age of 26, and through her work with healing herbs she found a new calling. "I had a very rich life," she says, "but people would come in that were so sick and I just did not know enough about how to take care of them. I was bothered by the artificial border that we had. Migrant workers coming in would be so sick and I would say, I think you need to take the baby to see the doctor. And they're like, No. I can't go because I'm not legal. We were only 40-some miles from the Mexican border. That deeply influenced me. And so I said, well, then maybe I'll become a doctor."
Dr. Low Dog was 29 years old when she started her studies at New Mexico State University, taking more than full-time coursework as a single, working mother. When she completed her medical degree at the University of New Mexico in 1996, she also walked away with the Outstanding Senior Medical School Student award. Her lifelong study of natural healing and her newly minted medical degree made her an ideal ca didate for the faculty of the University of Arizona in Tucson, where she worked with the famed Andrew Weil, directing his Fellowship in Integrative Medicine.
"I NEVER WEAR A WHITE COAT. NEVER. I WOULDN'T WEAR ONE. THAT WOULD BE LIKE A BARRIER TO TOUCHING PEOPLE OR GETTING TO KNOW SOMEONE AND REALLY HEALING. WHITE COATS ARE SCARY. THE COLD OFFICE IS SCARY."
And now the woman who was afraid to speak in class and struggled with reading has lectured around the world on integrative health and holistic medicine, written four books, sat on a presidential council on complementary medicine, and is now Chief Medical Advisor for MegaFood, formulating natural supplements as part of the company's extensive line. She also teaches herbal medicine at the Ranch and online—whipping up tinctures in her apothecary kitchen from herbs she grows in her garden or forages in the wild.
My hand can't write fast enough to take notes on all the healing plants she's pointing out as we wander up the lush, vivid green Bear Hollow. Plus she's already told us about the 500-pound bear, Hercules, who also likes to wan- der the hollow and probably thinks it's his—so I'm busy looking around for one of her two beloved German Shepherds, Jesse, who seems my mostly likely protector. (The other dog, Joey, is resting inside from surgery.) Plus, we've been told about other animals that claim these parts as their kingdom, including bobcats, mountain lions, and, gulp, rattlesnakes ("I never come out here without boots on," she tells me, far too late). "Medicine is everywhere," she says, pointing out the Virgin's Bower that is effective for treating migraines and Horsetail that relieves the pain of urinary tract infections and strengthens the kidneys. I perk up when I learn that the common broadleaf plant, plantain, can become a "spit poultice," she says, for relief from bug bites, such as the ones the huge black flies are currently giving me.
She takes the healing plants she harvests back to her apothecary/class- room, where she mixes them with everything from brandy (one of her favorite mediums) to maple syrup to make her tinctures, lotions, and potions. If those aren't enough for what ails you, she has an Israeli medical kit on hand. "Those are the best bags ever," she says. "My children [including Mekoce and her daughter Kiara] say they're coming here when the zombie apocalypse hits."
But this place is not only her pharmacopeia—it's her sanctuary. Peppered throughout the property are statues of angels, a shiny golden Buddha, and a rusty metal shaman, announcing her openness to spiritual knowledge of all kinds. "I've danced with all of these faiths because I find something beautiful and meaningful in all of them," she says. "Someone once told me I couldn't fly the Buddhist flags here if I'm not Buddhist. I said I didn't get that memo."
It's her embrace of seemingly divergent disciplines—ancient wisdom and modern science, Eastern practices and Western religions, natural remedies and lab-developed pharmaceuticals— that make Dr. Low Dog a truly fasci- nating character. But she brushes off any breathless praise I lob her way, like when I mention she's undoubtedly unraveling the secrets of the universe in one lifetime. "I'm just deeply curious," she says. "I would say I'm a naturalist if anything. I mean more than a physician or herbalist or midwife or any of those things, if I think about who I am, I'm definitely much more of a naturalist. It's why I love learning this place. I'll live here probably until I die, most likely until I die. And I'll still be learning."
As a point of fact, Dr. Low Dog did almost die here. And her story may very well open you up to some new avenues of thinking and believing.
In 2013, she tripped over Joey one day, landed hard, and had trouble shaking the acute pain in her tailbone. Jim finally convinced her that she should get tested. An x-ray led to an MRI and that led to a colonoscopy—and a heart-breaking diagnosis. "They were looking throughout my whole pelvis area because they couldn't figure out where the tumor started or ended," she says. An oncologist determined it was stage-four cancer that had already invaded her liver and lymph nodes. Even with intensive chemotherapy, radiation, and experimental protocols, she was given one year, probably less.
When her white blood cell count fell to zero and she landed in the hospital, too weak to walk, a turning point seemed to come in the form of a Guatemalan woman who appeared at her bedside. "She asked me in Spanish if she could pray for me," Dr. Low Dog remembers. "She closed her eyes, she was holding my hands. I closed my eyes and she began praying in Spanish. It was this most beautiful sound. It went on for several minutes and then she stopped and I opened my eyes and tears were just streaming down her face. I'd never seen her before. I've never seen her since. Then I thought, all this to witness pure grace, someone who obviously had so little, who gave a stranger the only thing she had. I felt so healed. Even if I die, I thought, it was worth all this to receive that one simple prayer."
Dr. Low Dog is now in her sixth year without a sign of cancer. And this writer is now a full-on believer in angels. "Oh, they are all around us," the doctor confirms. "We just don't always recognize them because they don't have wings."
It's tough to come down from Dr. Low Dog's mountain. Before we leave, I tell her that her story is as big as the world she and Jim have created here, and she tells me it's not more or less than anyone else's. I tell her that I wish I were as open to all possibilities like she is. And she tells me: "Well, we might just have this one life, and there is so much to learn."
TAKE YOUR (high-quality) VITAMINS
No need to trek to the mountains of New Mexico to benefit from Tieraona Low Dog's expertise. As an integrative physician, internationally renowned women's health expert, and Chief Medical Advisor for MegaFood, she brings her knowledge of dietary supplements and botanical medicine to one of our favorite vitamin and supplement makers. Why do we love MegaFood? The company's "Fresh from Farm to Tablet" credo signifies a commitment to real-food ingredients from trusted farm partners, transparent sourcing and sustainable practices. Dr. Low Dog offers invaluable guidance to the MegaFood team on product development and consumer/health professional education.
Find out about her doctor- formulated products and more at megafood.com. **If you try one thing, make it one of the multivitamins Dr. Low Dog helped to formulate, such as her Multi for Women, offered for specific age brackets.
GOOD TO KNOW: Find out more about Dr. Low Dog's Medicine Lodge Ranch retreats and her online courses in herbal medicine making at medicinelodgeranch.com.