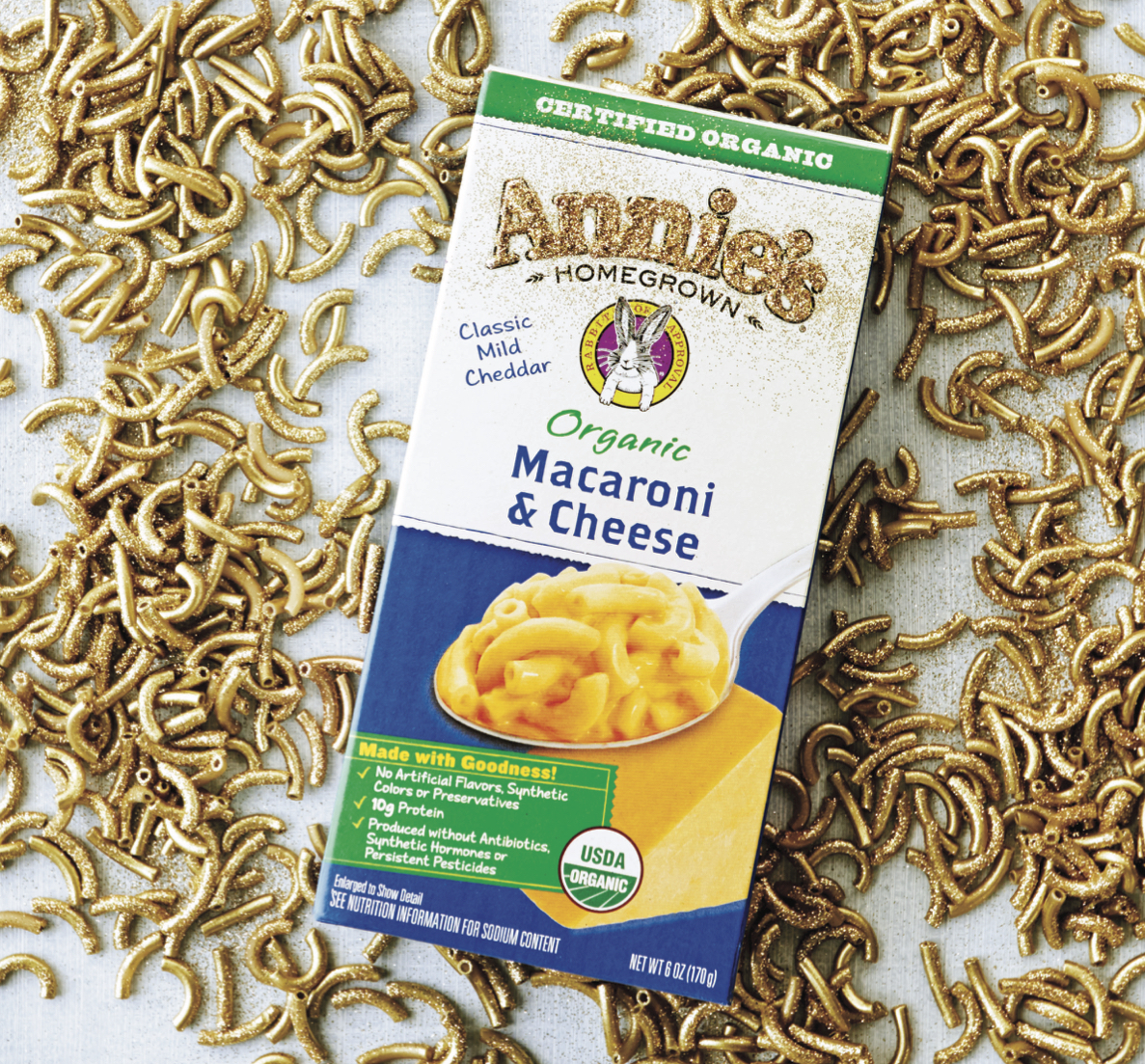 BURT'S BEES: An All-Natural Buzz
Founders: Burt Shavitz and Roxanne Quimby Established in: 1984 Products: Over 150 natural personal care products Availability: U.S. and more than 50 countries Ownership: Sold to Clorox in 2007 for $913 million
Annual Revenue: Total beauty sales in 2015 were approximately $300 million
YOU'VE SEEN THE face: the untamed beard, the friendly eyes, the Einstein-esque hair and engineer's cap. He seems a bit of a mystery—like a Santa Claus of the personal care aisle—but in truth, that engraving on Burt's Bees labels is the visage of Burt Shavitz, a photojournalist-turned-beekeeper who took off for Maine in the 1970s. Burt lived simply, selling honey from his truck. But things changed in 1984 when he picked up a hitchhiker named Roxanne Quimby, an artist and single mother trying to make ends meet. Soon, Burt was teaching her about beehives—as well as their resulting beeswax, which was taking over his honey house. Burt suggested Roxanne mold the wax into candles; when she sold them at a local crafts fair, they were a hit. The duo eventually had to rent an old one-room schoolhouse for their honey and candle products. By 1989, they moved their then-40 employees into an abandoned bowling alley. And when they created a beeswax lip balm in 1991, business soared—prompting the company to relocate three years later to North Carolina and shift focus to natural personal care products.
By 2007, Clorox took notice, buying the company for $913 million. And though Roxanne and Burt were no longer part of day-to-day operations, Burt stayed on as spokesperson. His quirky, irreverent disposition helped form the brand's personality. "Burt was complex, hard to pin down, and loved nature," says Paula Alexander, Director of Sustainable Business. "In some ways, he was quiet and reflective; at other times, he'd wax poetically about the lessons nature had to teach." His death in July 2015 affected the company greatly. Employees honored his passing with a symbolic "telling of the bees," an English custom of knocking gently on a hive with a key to "inform" the bees their beekeeper is gone. Afterward, per tradition, they ate the beekeeper's favorite foods. (In Burt's case, it was steel-cut oats, Maine blueberries, and honey mead.) "Burt had a remarkable life," says Paula. "He was a reminder to keep things light…that at the end of the day, it's just lip balm—and there are many other important things in this world to be working for."
ANNIE'S: White Cheddar Wunderkinds
Founders: Annie Withey and Andrew Martin Established in: 1989
Products: Over 145 natural and organic food products Availability: U.S. and Canada in over 70,000 retail locations Ownership: Sold to General Mills in 2014 for $820 million Annual Revenue: Contributed to General Mills' natural and organic sales total of nearly $700 million (2015)
THE FACE OF ANNIE'S is actually a fuzzy, long-eared, carrot-craving one—otherwise known as Bernie, the beloved pet rabbit (and inspiration for bunny-shaped pastas, cookies, and crackers) of Annie Withey. Annie founded Annie's, Inc. with her then-husband Andrew Martin in 1989, fresh off another natural food success story: Smartfood, the white cheddar cheese popcorn they'd launched along with friend Ken Meyers in 1985. Made from a recipe Annie concocted using real cheese—an ingredient not found in other popcorn products at the time—Smartfood became one of the fastest-selling snack food products in U.S. history. By 1989, Frito Lay had bought it for a reported $15 million.
Suddenly a natural foods industry pioneer—and a bona fide cheddar expert of sorts—Annie set her sights on another product that could be improved by the use of real cheese. Macaroni & cheese (deemed "Shells & White Cheddar") became the first product Annie's created, with an aim to give families a convenient and wholesome alternative to the blue-box options that dominated grocery store shelves. Almost three decades later, the product line in the purple box bearing Bernie's "Rabbit of Approval" has grown into more than 145 natural and organic products across a variety of packaged food categories. General Mills acquired the company for $820 million in October 2014, but the brand retains a sharp commitment to its culture, Annie Withey's founding principles, and to operating in a socially responsible and environmentally sustainable manner. As for Annie herself, she now lives in Connecticut with her husband, Rob, and their two daugh- ters, Molly and Phoebe, on an organic vegetable farm full of radishes, car- rots, lettuces, and the like. (We're quite sure it's bunny-approved.)
DR. BRONNER'S: The Soap of Spaceship Earth
Founder: Emanuel Bronner
Established in: 1948 in the U.S.; Emanuel Bronner's German-Jewish family began making soap in 1858 Products: 10 body care products, and 1 food and 1 cleaning product through natural foods retailers, drugstores, and supermarkets
Availability: U.S. and Canada and other countries worldwide
Ownership: Family-Owned
Annual Revenue: Just under $100 million (2015)
PERHAPS YOU'VE ATTEMPTED to read it while waiting in a long checkout line—the famously wordy and wonderfully weird label on Dr. Bronner's castile liquid soap, which is surely the only consumer product bearing mention of artic owls, Abraham Lincoln, Halley's Comet, and Marxist- Communism (to name a few). That manifesto, a peace plan with 30,000+ words typeset in all sizes and directions, is the work of Emanuel Bronner, a third-generation master soap maker from Germany. Emanuel's Jewish family had been making soap for fifty years when he was born in 1908, and he took those skills—along with his formulas for liquid and bar soaps—when he immigrated to the United States in 1929. Despite pleading with his parents to leave for America with him, however, Emanuel's mother and father chose to stay behind. Later, they perished under the Nazi regime during World War II. It was this living in the shadow of the holocaust that inspired Emanuel's "All-One!" vision and philosophy—and those labels—when he launched Dr. Bronner's in its current form in 1948.
By the late 1960s, Dr. Bronner's soap sales began booming, thanks to word-of-mouth, a versatile product, and its message of uniting humanity across religious and ethnic divides. That message also promoted an ecological consciousness, and today, the fourth and fifth generations who run the company see it as their responsibility to ensure it remains a vehicle for social change and good. Dr. Bronner's was one of the first brands to certify its soaps, lotions, and balms under the 2003 USDA National Organic Program. In 2008, it converted all major raw materials to fair trade. And the company actively campaigns for causes worldwide, from GMO food labels to fair pay to animal advocacy. It's all helped make Dr. Bronner's the top-selling natural brand of soap in North America—and it's all within their Emanuel-inspired mission of trying to change the world. But one thing they won't change? That iconic label on their castile liquid soap. Happy bath-time reading.
TOM'S OF MAINE: The Smile-makers
Founders: Tom and Kate Chappell
Established in: 1970
Products: Over 100 oral and personal care products Availability: U.S. and Canada in stores such as Target, CVS, and Walmart
Ownership: Sold to Colgate-Palmolive in 2006 for about $100 million
Annual Revenue: Contributed to Colgate-Palmolive's revenue of $16.03 billion (2015)
TOM'S OF MAINE—now known for natural personal care products like toothpastes and deodorants—actually got its start in the laundry aisle. Clearlake Laundry Detergent, created by Tom and Kate Chappell of Kennebunk, Maine, contained no phosphates (a first for the U.S.) and sported a label hand-drawn by Kate herself. The idealistic, eco-minded husband and wife team had moved to the area in 1968, determined to give their family of seven a simple life of unprocessed foods and natural products. In the late 1960s, however, they had a hard time finding what they wanted. In turn, they introduced Clearlake in 1970, inspired in part by their concern for the decline in the country's water quality.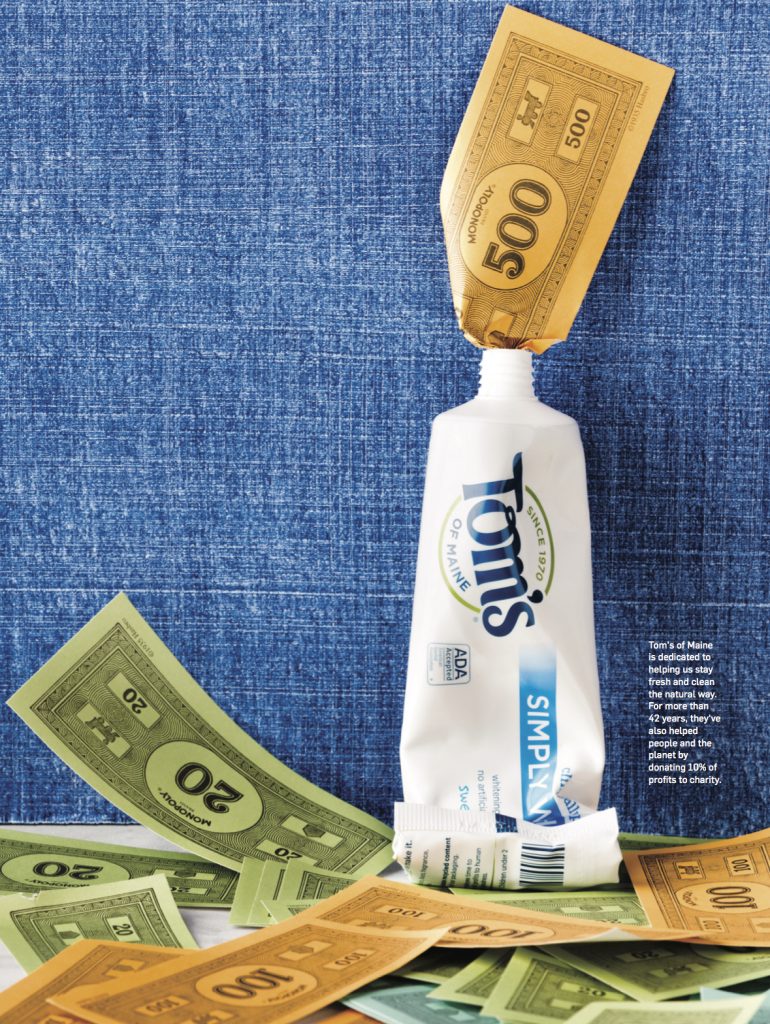 Tom and Kate had borrowed $5,000 from a friend to start their company, and it proved a smart investment: two years later, Tom's of Maine became a natural personal care business with a line of soaps crafted from vegetable—not animal—glycerin. By 1975, they launched the nation's first natural toothpaste; one year later, they expanded to include natural deodorants. And in 1977, Tom's introduced another first in the United States: natural, alcohol-free mouthwash. As the company's success (and product line) grew, so did its commitment to social responsibility. All Tom's packaging is recyclable. Staffers are able to use 5% of their employee time to volunteer. Plus, for more than 42 years, the brand has given 10% of profits to charitable organizations that do good for people, health, and the environment. These are all traits the company carried with it when it was sold in 2006 to Colgate-Palmolive for a price tag of around $100 million. As such, Tom and Kate no longer head Tom's of Maine. But they took their first company's values and beliefs and have since started a second venture in Maine: Ramblers Way Farm, an American-made worsted wool clothing business dedicated to— what else?— family, community, and sustainability.
BOB'S RED MILL: The King of the Mills
Founder: Bob Moore
Established in: 1978
Products: Over 400 cereals, meals, seeds, and mixes Availability: U.S. and in more than 80 countries Ownership: Employee-Owned Annual Revenue: Undisclosed, but rumored
to be more than $100 million
LUCK, GOOD TIMING, and open eyes led Bob Moore to an unusual passion: old-fashioned stone milling. In the 1960s, while in a local library, he happened upon John Goffe's Mill, a book by author George Woodbury about the rebuilding of a mill in New Hampshire. Inspired, Bob set about acquiring and restoring a stone-grinding flour mill himself—and soon, he was grinding his very own whole grain flours. Years later, in 1978 in Oregon, where he and wife Charlee had just retired, Bob took a walk and stumbled upon another source of inspiration: a nearby abandoned mill. Within months of purchasing and restoring it, the Moores started producing stone-ground flours and cereals for people in their local area.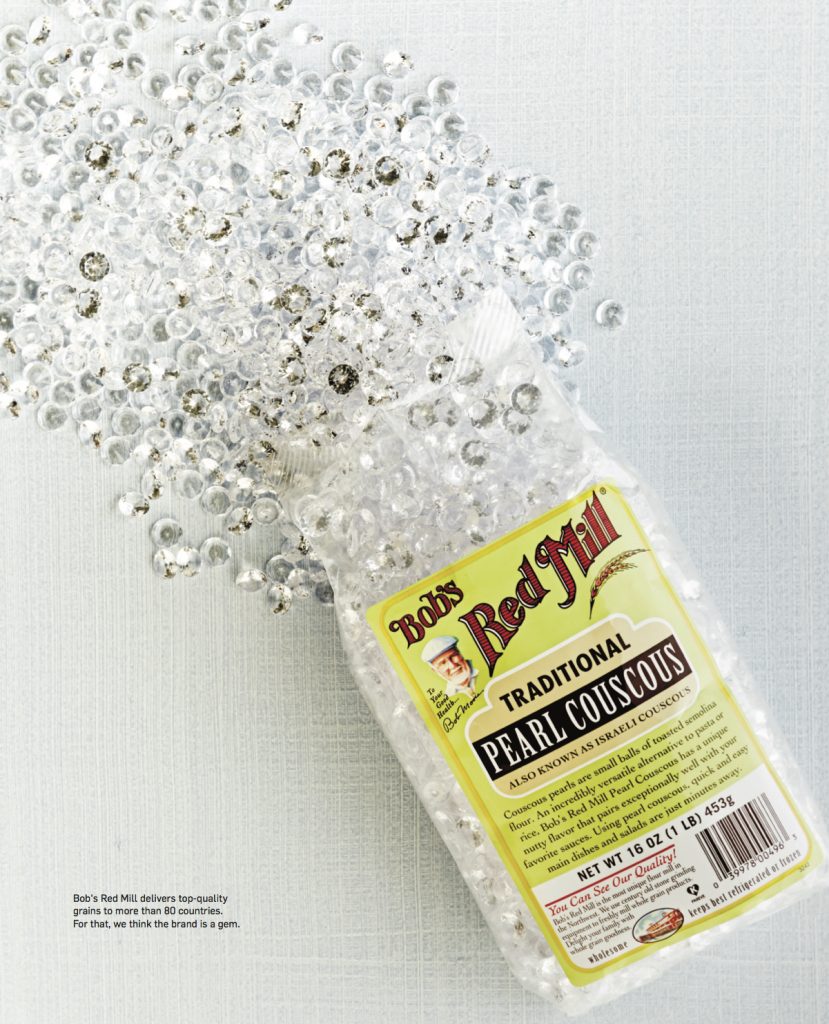 Almost 30 years later, Bob— still at the helm as president and CEO at age 87—says the now 400-employee-strong company is on a mission to move people back to basics with whole grains. "It's so important to me that everyone has access to nutritious whole grains," he explains. "We continue to increase distribution so they're available across the globe." Today, Bob's Red Mill Natural Foods offers more than 400 organic, whole grain, and gluten-free flours, cereals, meals, seeds, and mixes in more than 80 countries. But the brand's worldwide success isn't Bob's favorite achievement; it was his giving of the company to his employees on his 81st birthday in 2010. This Employee Stock Ownership Program—applicable to everyone from top execs to the janitorial staff—not only ensured the company's long-term viability, but also bolstered everyone's enthusiasm for their work. "It's really an overarching illustration of a personal value that I hold in highest regard: You are your brother's keeper," Bob says. "We wouldn't be where we are today without our wonderful, dedicated employees, and it's the simplest and truest way to thank them for their efforts."
LUNDBERG FAMILY FARMS: From Dust Bowl to Rice Bowl
Founders: Albert and Frances Lundberg Established in: 1937
Products: More than 200 products featuring 18 varieties of rice
Availability: U.S. and Canada at natural food stores, conventional supermarkets, and club stores Ownership: Family-Owned
Annual Revenue: Undisclosed, but rumored to be upwards of $50 million
AS WITNESS TO the devastating effects of the Dust Bowl—a result of poor soil management and shortsighted farming methods in the 1930s—farmer Albert Lundberg knew he'd have to do things differently when he and wife
Frances moved to California in 1937. Originally from Nebraska, the couple had learned the hard way the need to understand and respect the soil. Moreover, they were determined to pass that respect down to their four young boys. Albert began growing organic rice in the fertile Sacramento Valley using sustainable, ahead-of-its-time farming practices; all the while, he was teaching his children his personal philosophy: "Leave the land better than you found it."
By the 1960s, those Lundberg sons—Eldon, Wendell, Harlan, and Homer—recognized they had something unique with their family's eco-farmed rice. Rather than selling it to food companies that would simply mix it with conventionally grown rice, the brothers decided instead to sell it directly to the public. In turn, the Lundbergs built a mill with the intention of giving people a choice in their rice purchases…and the Lundberg Family Farms brand was born.
Today, the third and fourth generations carry on the Lund- berg legacy. A leader in organic and sustainable farming prac- tices, the Lundbergs use eco-positive methods on their nearly 6,000 acres of land. (A carefully selected network of farmers grows Lundberg rice on an additional 12,000 acres.) About 75% of the brand's more than 200 products are made from certified organic rice. And Lundberg Family Farms' products are non-GMO, and were even among the first branded products to be officially Non-GMO Verified. Each step is just one more way the newer generations carry on the philosophy handed down to them. After all, finding ways to improve the land and protect the environment isn't just their way of life; it's in their DNA.