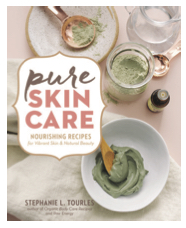 Stephanie Tourles has roots that run deep when it comes to green beauty. "I've always had an interest in plants, gardening, herbs, and the natural world," Stephanie says. Growing up in Georgia in the 1970s, her green-thumb grandfather taught her about herbal medicine along with wild-plant identification. "He taught me how to utilize these healing plants, as well as how to use the blue clay found in the local stream banks, to make all manner of topical herbal remedies," she says.
On the other hand, she also became fascinated with the Avon and Mary Kay products her mother would sell. "After much research at several libraries," Stephanie says, "I decided to try my hand at making natural versions of the creams, masks, scrubs, and toners. I wrote down all my formulas, tried them on friends and family, and recorded my results, perfecting them as best I knew how."
Stephanie's love for all-things-herbal hasn't waned in adulthood. After attending the Catherine Hinds School of Esthetics, she began publishing organic body care books in the 1990s, which makes Stephanie a green-beauty trailblazer.
Now working as a Licensed Esthetician and Herbalist, Certified Aromatherapist, and Certified Foot & Hand Reflexologist, her newest book, "Pure Skin Care," shares instructions on how to make all-natural cleansers, body butters, facial steams, and more. "My book is written in such a way that both green beauty newbies and longtime practitioners can benefit and enjoy the formulations," she says.
Every day, Stephanie incorporates her own recipes into her beauty routine. Her faves? She adores kaolin and green clay for their impurity-blasting benefits, along with fresh rose-hip-seed oil that firms mature skin. "In order to preserve the youth, function, and comfort of your skin well into advanced age," she says, "it should be treated with routine, gentle care and fed with nourishing chemical- and synthetic-free products daily."
We asked Stephanie to share some recipes from her latest book. These green-beauty concoctions will have you glowing in no time.
Applesauce and Wheat Germ Moisturizing Mask
YIELD: 1 TREATMENT
PREP TIME: 10 MINUTES RECOMMENDED FOR: ALL SKIN TYPES, EXCEPT OILY AND COMBINATION
GATHER
2 teaspoons applesauce
2 teaspoons raw wheat germ 1⁄2 teaspoon almond, apricot kernel, extra-virgin olive, jojoba, or sunflower oil
MAKE IT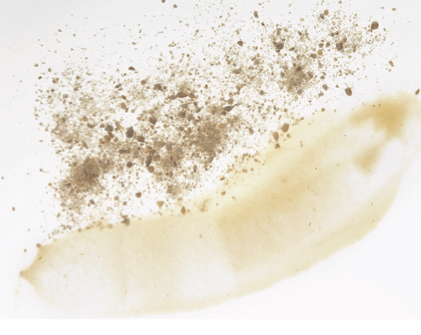 Combine the applesauce and wheat germ in a very small bowl, using a small whisk or spoon to mix thoroughly.
Allow the mixture to thicken for 5 minutes, or until the wheat germ absorbs some of the liquid. Note: Have the oil ready to use after the mask application.
APPLY IT
Using your fingers, spread the mixture over your face and neck. Lie down with a towel wrapped around your hair and another under your neck. Relax and think pleasant thoughts while your skin drinks in all this nourishing moisture.
After 20 to 30 minutes, rinse off with warm water.
Follow with a nourishing oil facial massage: apply the oil of your choice to your face and neck, and massage for 5 minutes using gentle, circular motions.
Remove any excess oil by gently patting your skin with a tissue, or massage residual oil into your arms, knees, elbows, or other parts in need of softening. Your face will be moist, warm, and glowing.
Use as desired. Follow with moisturizer if necessary.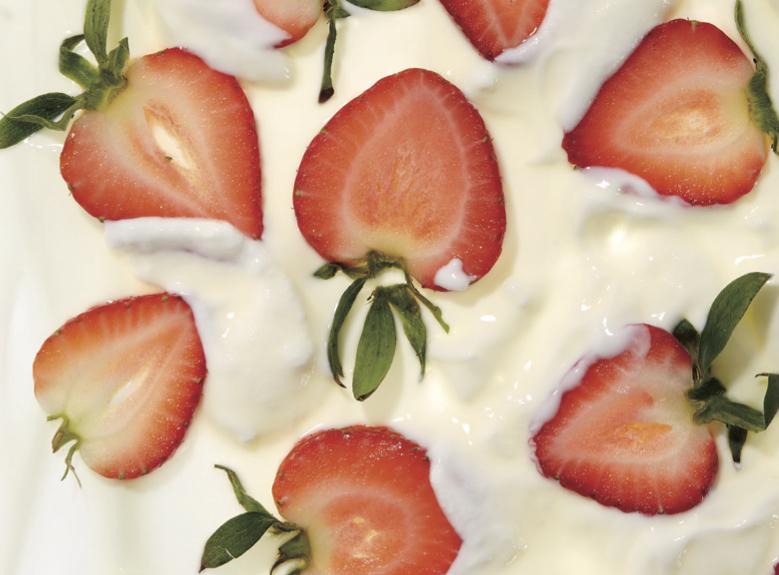 Skin-Softening Strawberry Cleanser
YIELD: 1 APPLICATION
PREP TIME: 5 TO 10 MINUTES RECOMMENDED FOR: NORMAL, OILY, OR COMBINATION SKIN
GATHER
4 very ripe medium strawberries, sliced, with green stems removed
1 teaspoon plain yogurt
MAKE IT
Thoroughly mash the strawberries in a small bowl with a fork or with a mortar and pestle.
Press the resulting pulp through a mesh strainer or squeeze it through cheesecloth, muslin fabric, or a nylon stocking, catching the juice in a small bowl.
Add the plain yogurt to the juice and stir to blend.
APPLY IT
Avoiding the eye area, apply the mixture to your face and neck and massage with your fingertips for a minute. Rinse with cool water.
Use daily when fresh strawberries are in season. Follow with astringent or toner.
Note: Because both strawberries and yogurt contain natural exfoliating acids, you may experience a slight stinging sensation. This is normal.
GOOD TO KNOW: Pleasingly fragrant strawberry juice has gentle astringent and brightening properties; plain yogurt has naturally occurring lactic acid. The combination creates an excellent exfoliating cleanser that will leave skin smooth and silky soft. This product is best used as a light cleanser for those who do not wear makeup. It does not store well, so please mix only as needed.
Sensational Sunflower Friction
YIELD: 1 TREATMENT PREP TIME: 5 MINUTES RECOMMENDED FOR: NORMAL, DRY, MATURE, OR ENVIRONMENTALLY-DAMAGED SKIN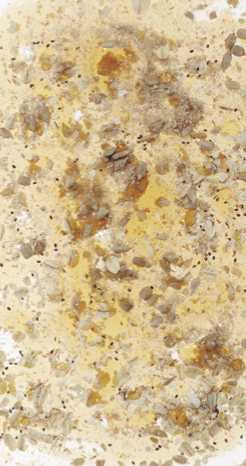 GATHER
1 tablespoon applesauce
1 tablespoon sunflower seed meal
MAKE IT
In a very small bowl, combine the ingredients to form a spreadable paste.
Allow the mixture to thicken for 1 minute.
APPLY IT
This scrub is a bit runny, so don a shower cap or wrap your hair in a towel before starting.
Using your fingers, massage the scrub onto your face, throat, and chest (if desired) for a minute.
Lie down for 10 minutes, leaving the scrub on so that the oils of the sunflower seed meal can be absorbed by your thirsty skin.
Rinse well with warm water.
Use two or three times per week. Follow with moisturizer.
Raspberry Refining Mask
YIELD: 1 TREATMENT PREP TIME: 10 MINUTES RECOMMENDED FOR: ALL SKIN TYPES EXCEPT DRY OR SENSITIVE
GATHER
1⁄4 cup fresh or thawed frozen raspberries
1–2 teaspoons purified water (if berries aren't very juicy)
2 teaspoons finely ground oatmeal or oat flour
2 teaspoons powdered white cosmetic or kaolin clay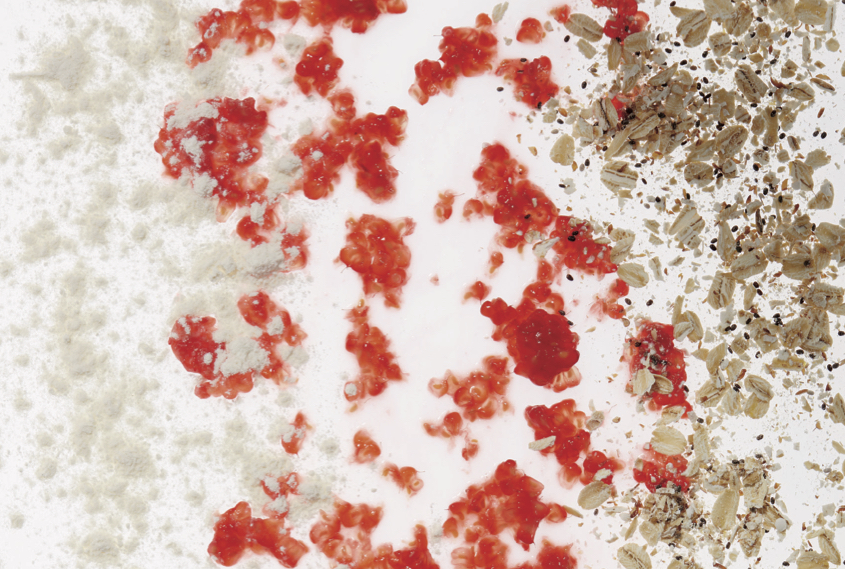 MAKE IT
Using a mortar and pestle or a small bowl and fork, mash the raspberries until nearly smooth. This should produce a runny pulp. Don't worry about the seeds; they should be included.
If the berries are on the dry side, add a little water until the pulp is quite juicy.
Add the oats and clay and stir until the mixture forms a spreadable paste.
Let the mixture sit for a minute or two to thicken. If the mixture seems too thick, add more water; if it's too thin, add more clay or oats.
APPLY IT
Using your fingers, spread the paste onto your face and throat. Lie down with a towel wrapped around your hair and another under your neck. Relax for 20 to 30 minutes.
When you're finished, rinse off with warm water.
Use one or two times per week. Follow with moisturizer.
Avoid if your skin is sunburned or windburned; use as tolerated on environmentally damaged skin.