IT'S ESTIMATED THAT about 100 people a day move to Austin, the self-proclaimed Live Music Capital of the World. Millennials and others are drawn to the city's large tech industry (there are big companies here, from Apple to Xerox), thriving music scene, and all-around weird, er, make that coolness. If visiting is more your speed, you'll discover great restaurants (particularly for the Tex-Mex set), world-class music in every nook and cranny, and fun shops (step into Allens Boots then step out in true cowboy style). Here's the kicker: The city has nearly-free trolleys called "Armadillos" ("Dillos," to locals) to get you around the downtown area.
If you find yourself there during football season, taking in a game at the massive Texas Memorial Stadium is a must: expect marching bands, dancers, cheerleaders and lots of burnt-orange hoopla for the UT at Austin's Longhorns. Oh, it'll hook 'ya all right.
For an interesting brush with nature, from spring to early fall, gather down at the river embankments near Congress Avenue Bridge at dusk to see bats—more than a million of them—fl y out for their evening mosquito feast (they consume about 20,000 pounds of bugs nightly!). Finally, time your trip right and attend South by Southwest, the annual March event that started as a fi lm and music festival and has grown into what might best be described as a culture-palooza. So…when are we going, y'all?
ANTONE'S RECORD STORE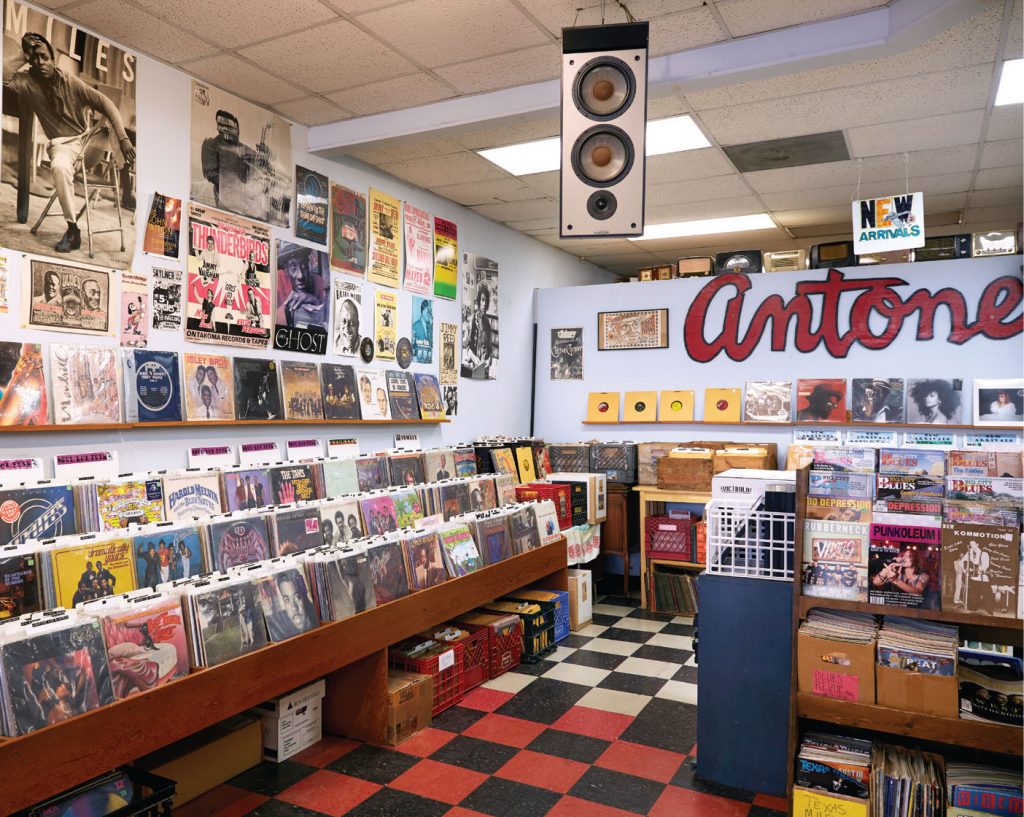 Ahhhhh…remember when you used to go to a store to buy music? At Antone's, vinyl, CDs and even DVDs share similar traits: they lean toward the Blues, feature many Texas artists and are often things you won't fi nd anywhere else. Founded by impressario Clifford Antone in the '80s (and taken over by employees when he passed away 11 years ago) as a natural go-with to his famous Blues club across the street, it remains a cool joint where you can hunt for treasures, sell your used vinyl and discover something new—that's probably old. And great.
ANTONE'S RECORD STORE
2928 GUADALUPE ST # 1 0 1
512 – 322 – 0660
ANTONESRECORDSHOP.COM
SOURSOP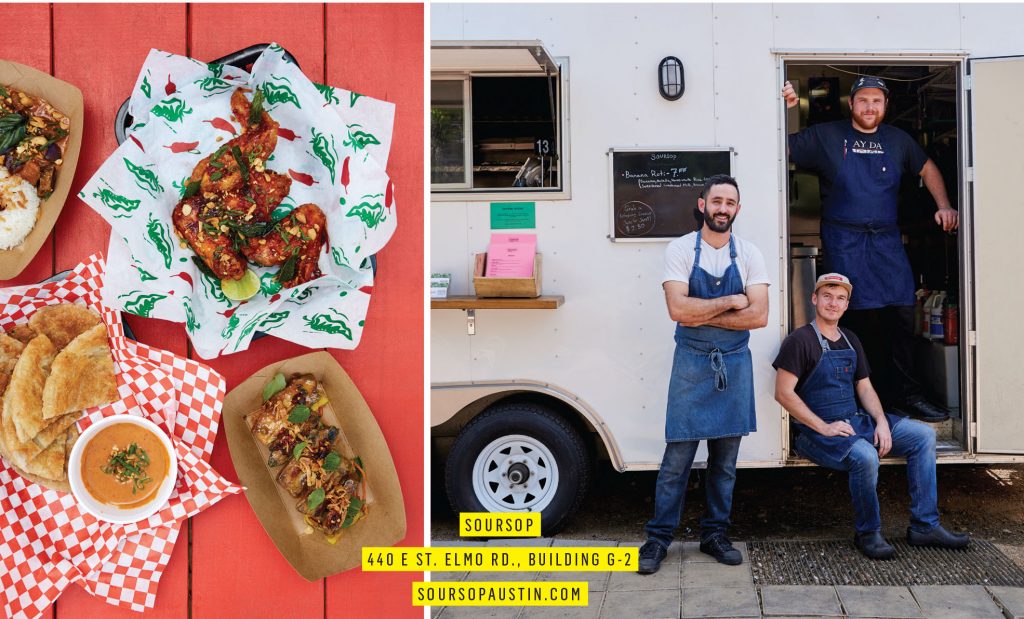 When you make food on wheels it puts a whole new spin on fi nding that golden parking spot—and rolling in beside a microbrewery is about as good as it gets. Especially when your flavorful, spice-driven menu includes offerings like Sambal Wings, the Fireburger and, if meat's not your thang, veggie curries like Panang Eggplant—all of which pair so well with a nice, cold beer. Hang out at picnic tables under a canopy of lights while you sample the goods and enjoy rotating events like trivia night and free Bluegrass shows.
SOURSOP
440 E ST. ELMO RD. , BUILDING G – 2
SOURSOPAUSTIN.COM
JACK & LOLA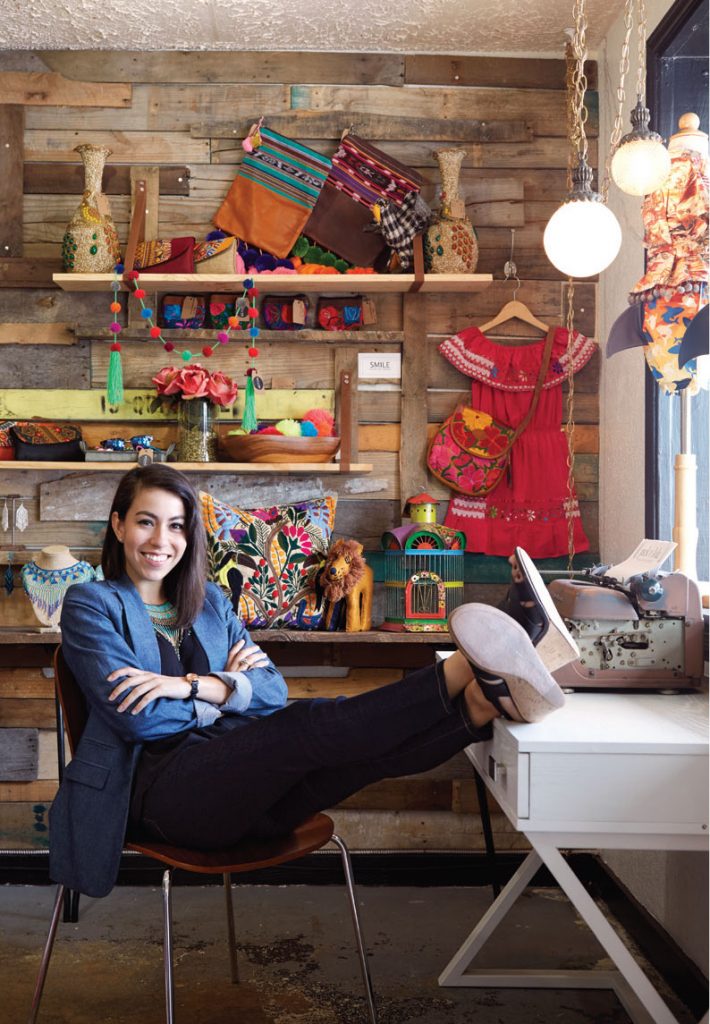 Are you a Jack or a Lola? That's what Gaby O'Hearn, owner of this small-batch goods emporium (who named the place after her adventurous grandparents) invites you to discover. If your Jack side would like to rock a bow tie or pocket square, this is the right place to make it happen. If you're feeling a bit more Lola, try on a cool Betty Alida Fringe Necklace. And somewhere in between, find a keychain with a message no sane Jack or Lola could dispute: I just want to be home with my dog. Small, local, charming; it's full of that communitybuilding ethos that our grandparents told us made life better. (And of course they were right.)
JACK & LOLA
503 W. MARY ST.
512 – 814 – 7139
JACKANDLOLA.CO
KETTLE & BRINE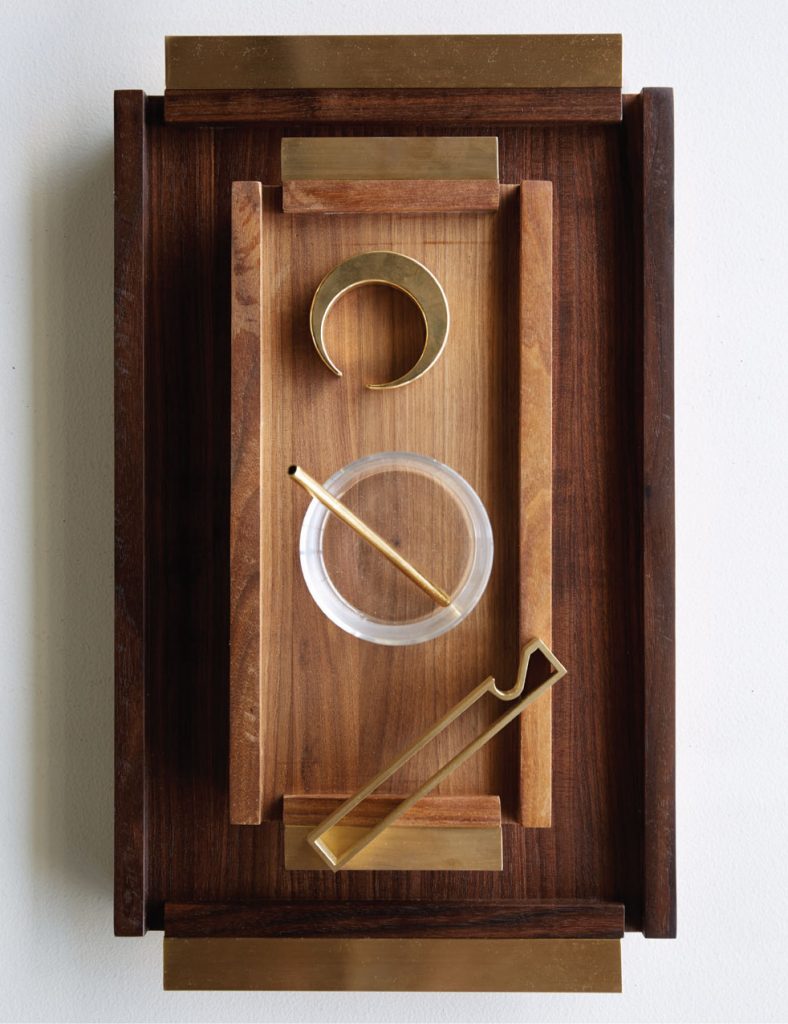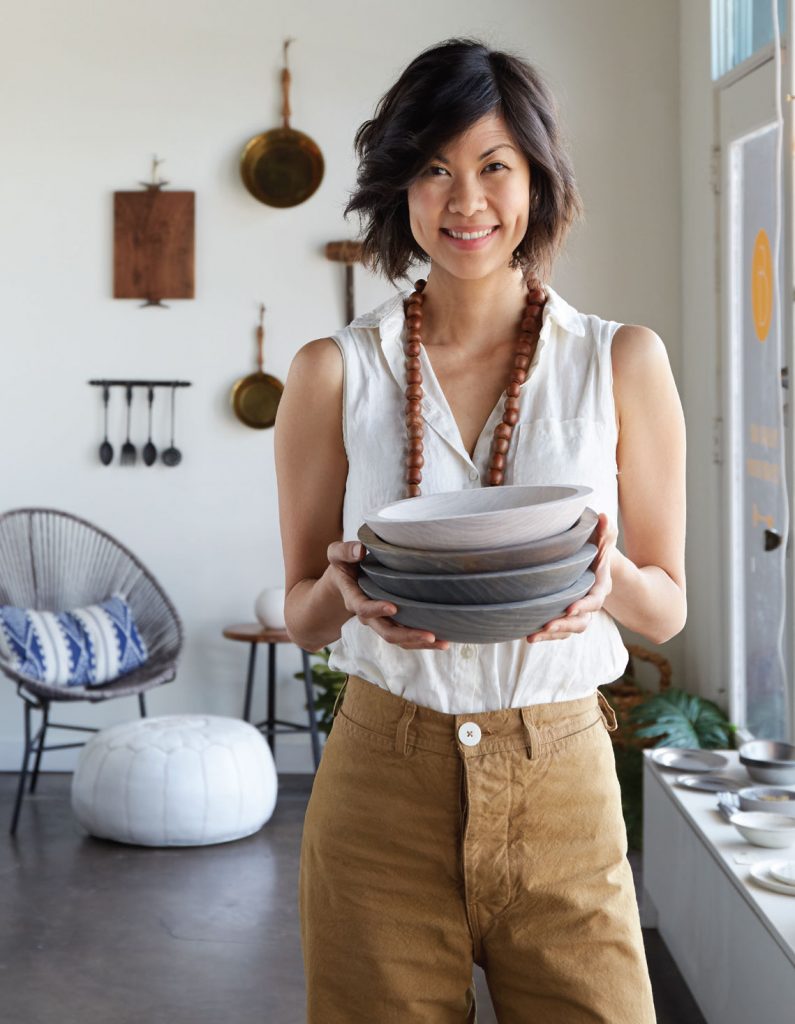 You could put a Pop-Tart on one of the offerings at Kettle & Brine and come out looking like a food stylist. But owner Tarica Novaro has a healthier goal in mind, aiming to connect the craft of meal-making with the art of serving it with a visual appeal that whets the appetite. Discover gorgeous, curated cookware, plus serving pieces, linens and more with practical, singular appeal. You'll also fi nd extras like handmade, one-of-a-kind chefs' knives and cool brass trivets. Since we eat with our eyes fi rst, an excellent meal starts here.
KETTLE & BRINE
908-C WEST 12TH ST.
512 – 375 – 4239
KETTLEANDBRINE.COM
FIXE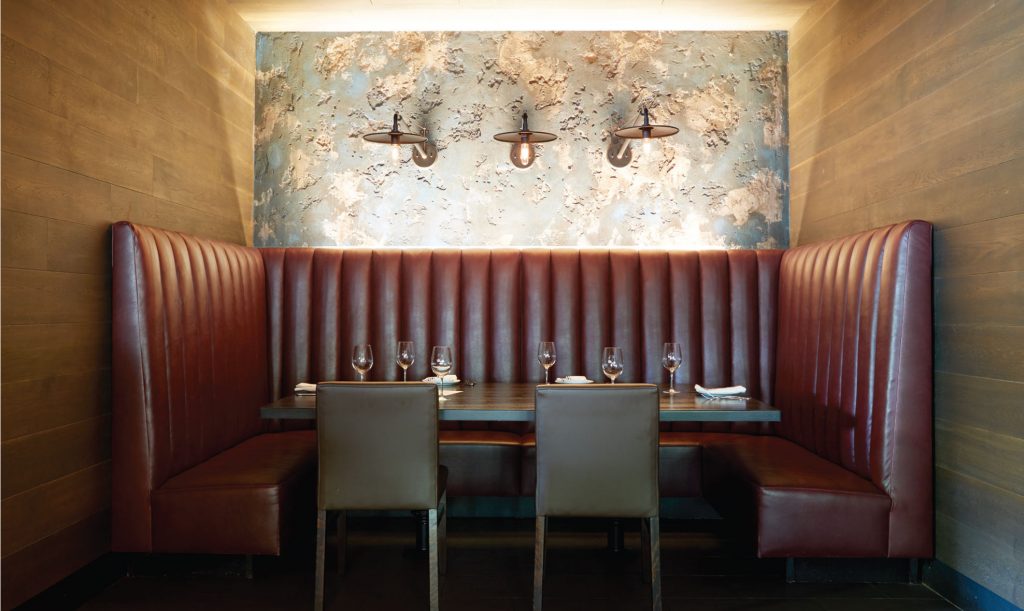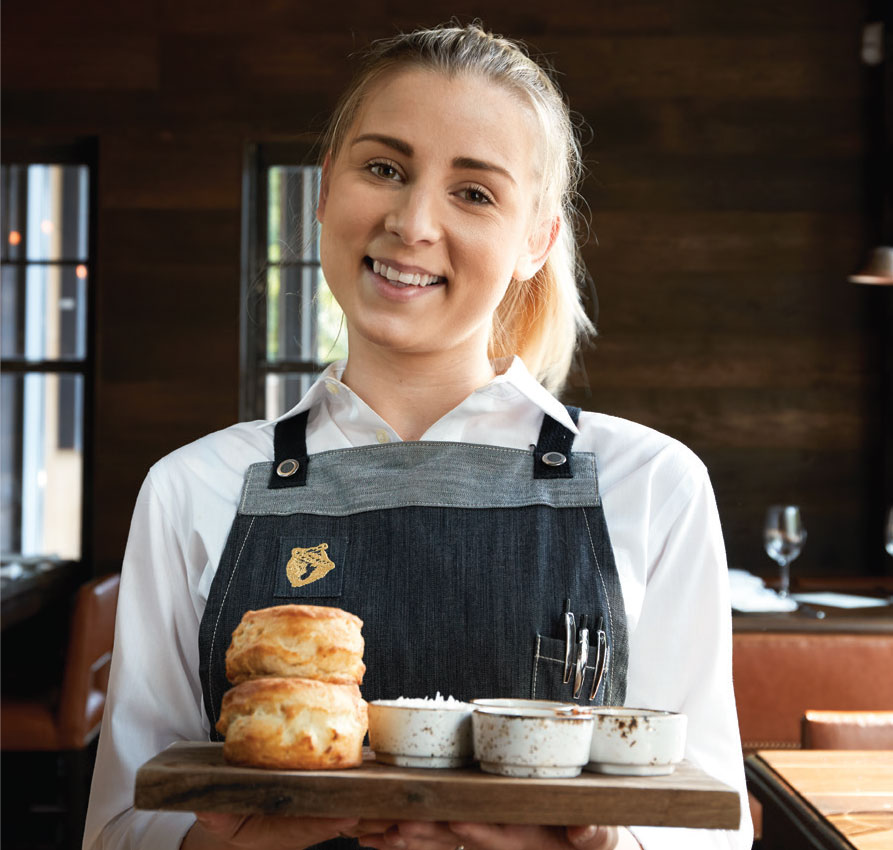 In the hands of talented chef James Robert, Southern classics like deviled eggs, grits, and biscuits with whipped sweet butter (diners tell us to be sure to ask for honey to mix with it) get a refined makeover that doesn't abandon their deliciously soulful roots. Growing up and cooking with his mother and grandmother in Louisiana (hence the French "e" on "fix"), Robert wanted to reinvent the down-home concept of Sunday supper in a little more upscale environment—and hold the stuffiness. Fixe is designed to make you feel at home, whether you come for brunch, dinner or the "Daily Social," AKA happy hour (with a fab little menu that'll make you as happy as the crafty bourbon concoctions they've whipped up).
FIXE
500 W 5TH ST.
512 – 888 – 9133
AUSTINFIXE.COM
4th TAP BREWING COOPERATIVE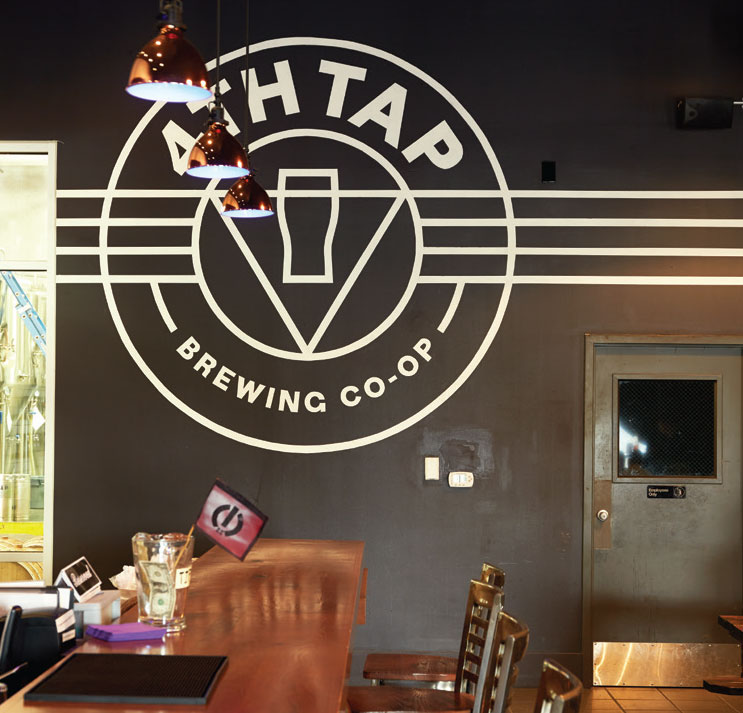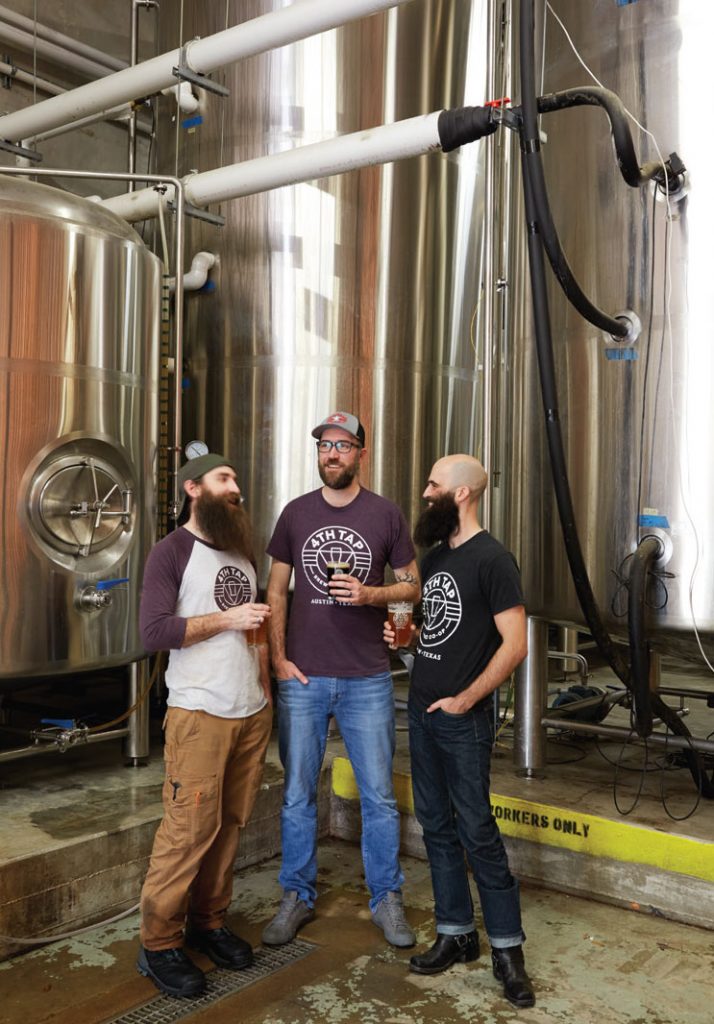 Don't expect any limp, half-hearted answers if you ask the person behind the bar about what's on tap here: When you order, you're talking to a brewer. This worker-owned cooperative— founded by Austin natives—is deeply into beer and brews. You can swill everything from a grapefruit IPA to a Scotch-style ale to a gluten-free sorghum variety, all crafted entirely from ingredients native to Texas. Hang out, play a game, listen to music, grab a bite from a rotating on-site food truck or even BYO food while you host your own beer tasting.
4TH TAP
10615 METRIC BLVD.
512 – 904 – 9817
4THTAP.COOP
UNCOMMON OBJECTS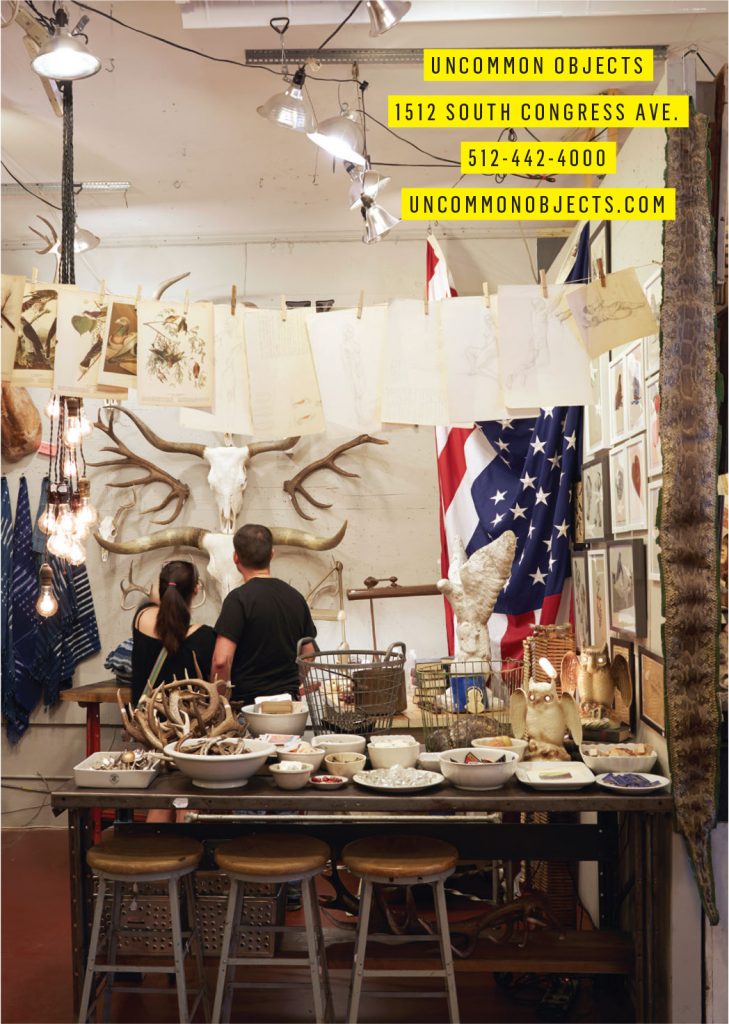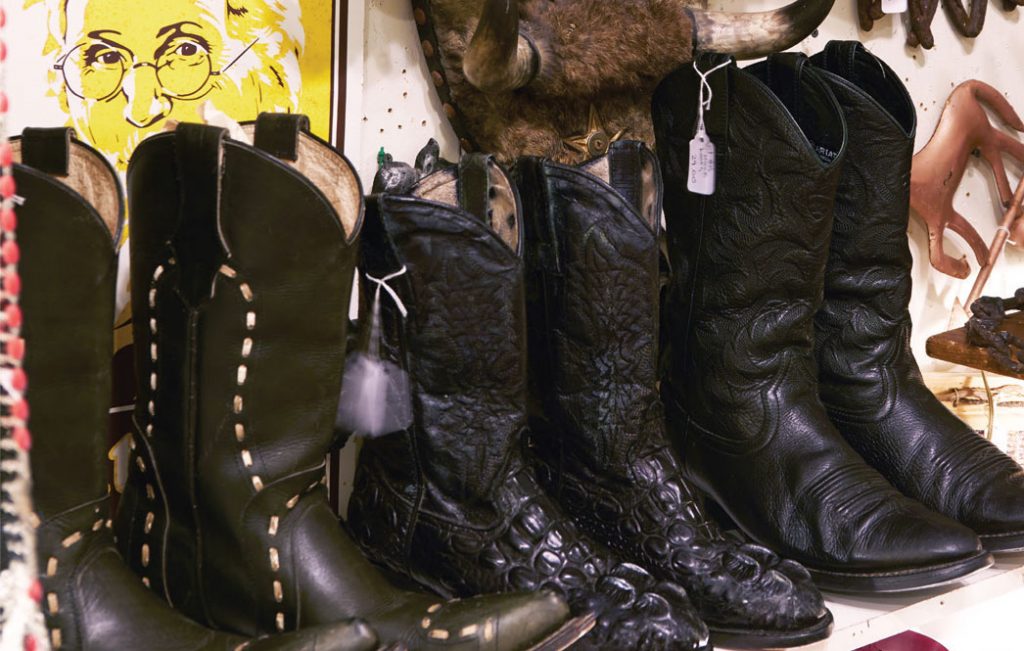 Even if they took down their signage, you'd still know that you have arrived at Uncommon Objects. A team of bona fi de treasure hunters scours the country for authentic oldies but goodies in every category you can imagine. Required fi x-ups are done with an eye to restoring a piece in a way that honors its past. This is recycling at its very best. So whether you're in the market for a singular piece of furniture or lighting, or wish to inject some character into your home—say, by way of religious statuary, medical relics, taxidermy—this is your Mecca. Just be ready with your story when the inevitable "OMGwhere'dyougetthat?!" question comes your way.
UNCOMMON OBJECTS
1512 SOUTH CONGRESS AVE.
512 – 442 – 4000
UNCOMMONOBJECTS.COM
W HOTEL AUSTIN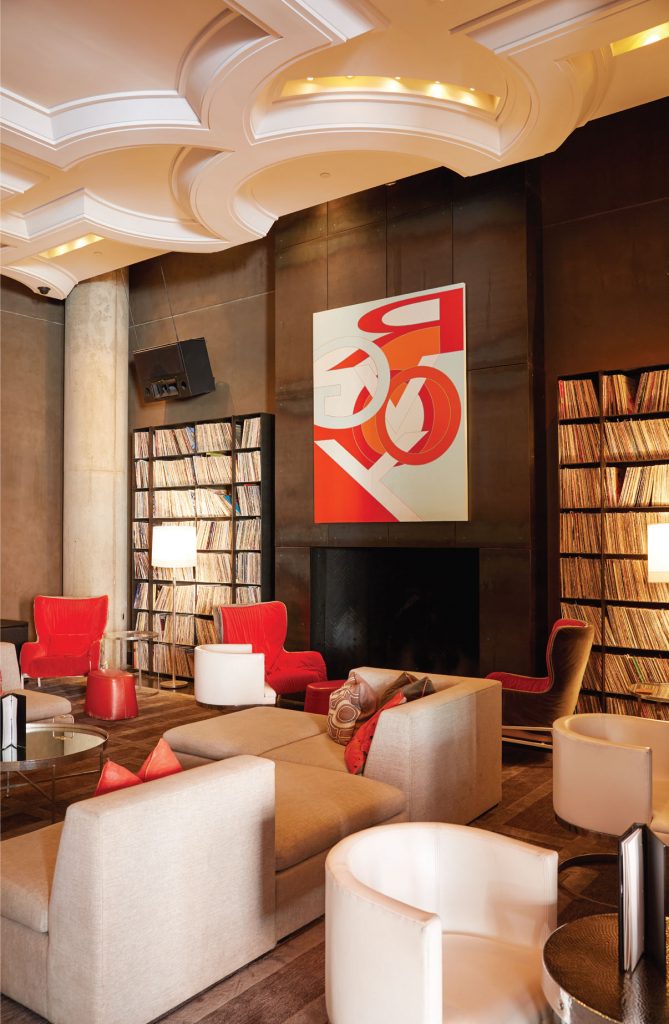 Since you'll be at the nexus of live music, why not aim for the bullseye and stay right next door to Austin City Limits? If the location, location, location argument isn't quite enough, how about this: At the W Hotel Austin, they'll treat you like you're the headliner. As long as it falls within the boundaries of the law, their "Whatever/ Whenever" service means that if you'd like a giant bowl of only the red M&M's or want to take a bath in a tub of warm chai, they'll make it happen. And did we mention that they're about as pet-friendly as it gets? They provide pet beds, treats and even litter boxes.
W HOTEL AUSTIN
200 LAVACA ST.
512 – 542 – 3600
WHOTELAUSTIN.COM
COUNTER CULTURE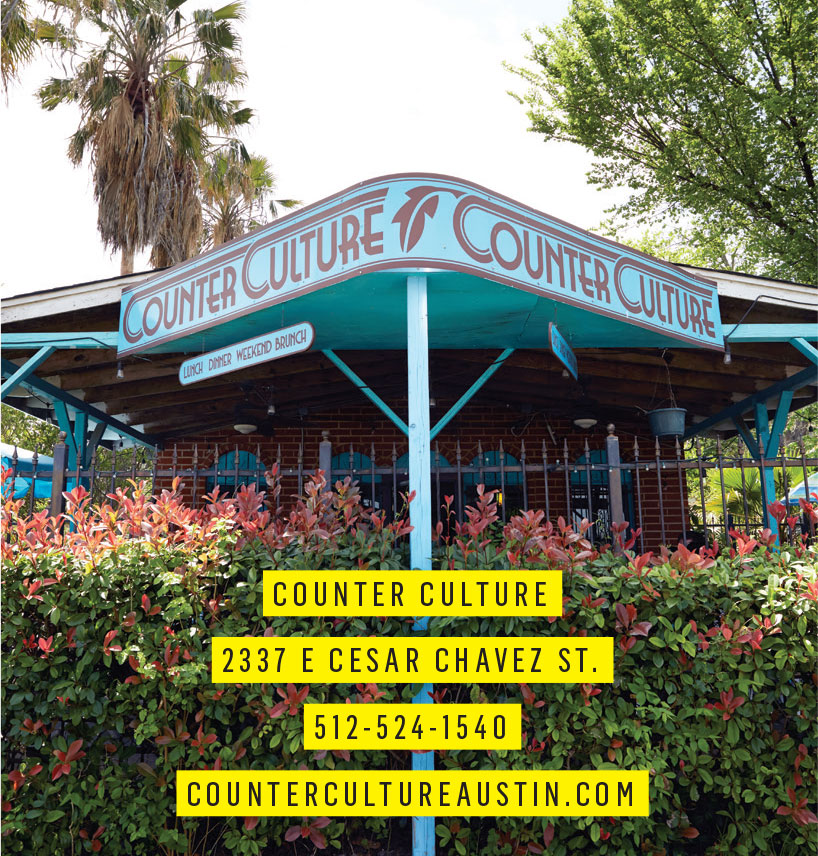 What if a restaurant were vibrant, fun and delivered delicious dishes that, you know, just happened to be vegetarian or vegan? Well, it would be called Counter Culture, for starters. And they would have BBQ. (This is rare—just ask your veggie friends.) Comfort and vegan food are not always quickly associated, but that's the genius here; they nail it, complete with raw, soy- and gluten-free options. For vegetarians who are tired of the same blah salad, pasta or grilled portobello sandwich options at conventional restaurants, here's an easy place to turn the tables—and your non-veg friends will love it!
COUNTER CULTURE
2337 E CESAR CHAVEZ ST.
512 – 524 – 1540
COUNTERCULTUREAUSTIN.COM
PARTS AND LABOUR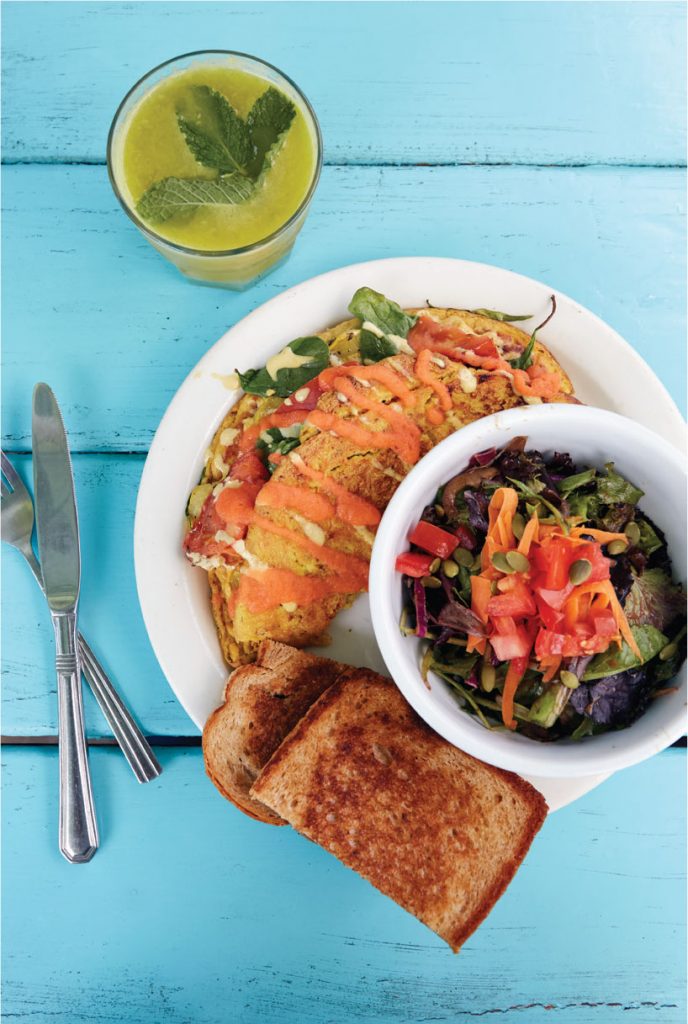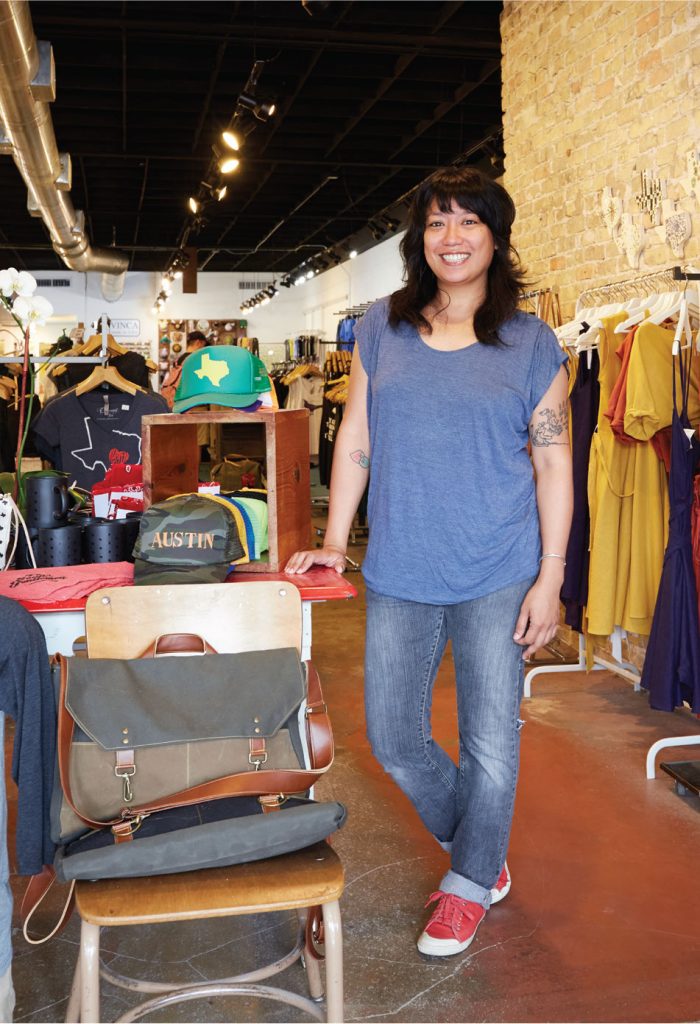 If you relish the idea of grabbing a souvenir that you won't just find down the street when you come home, Parts and Labour has you covered: They stock goods exclusively from Texas; "All Texas All the Time," is how they put it. Pick up a shirt that warns onlookers to "Be kind to animals or I'll kill you," find a cool art print or browse some of the coolest enamel pins around (yes, really).
PARTS AND LABOUR
1704 SOUTH CONGRESS AVE .
512 – 326 – 1648
PARTSANDLABOURSTORE.MYSHOPIFY.COM
SALT & TIME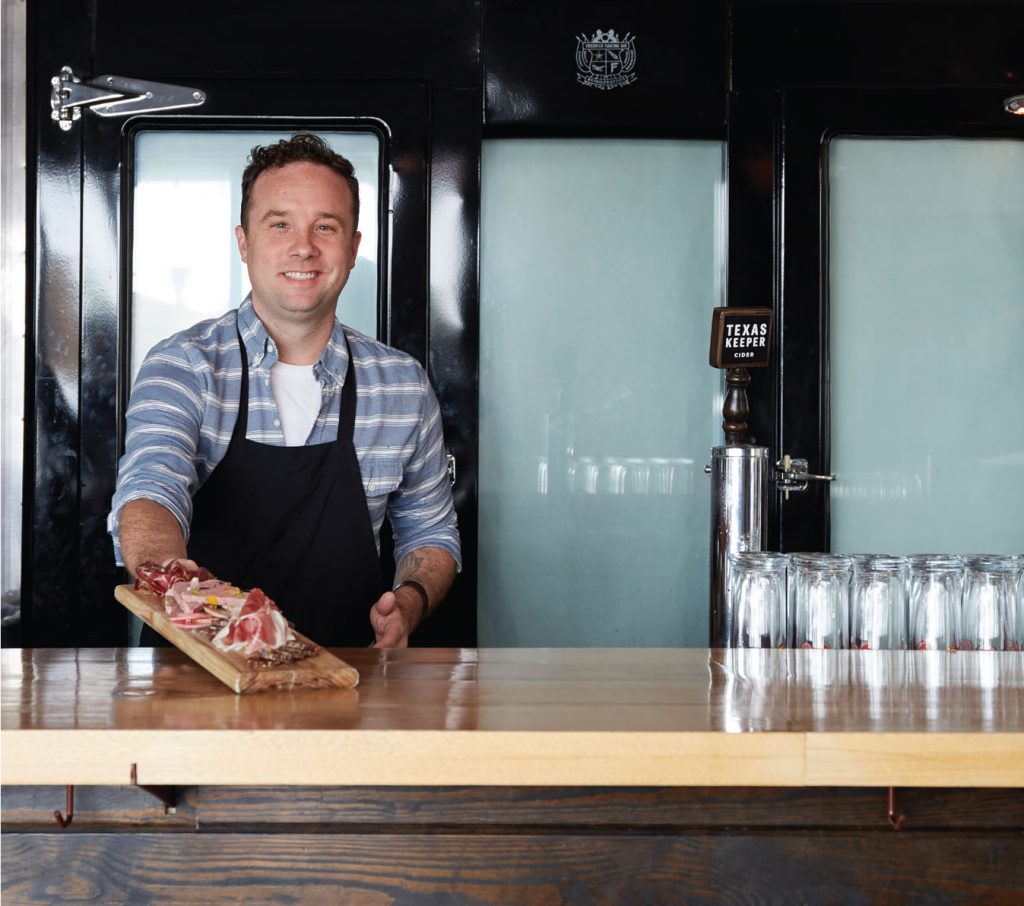 We all know better than to shop when hungry (and, okay, we do it anyway), so at Salt & Time, they take care of your pre-shopping cravings by offering an all-day, farmto-table restaurant that highlights local, sustainable ingredients and have a dinner menu that changes with the season. Oh, and charcuterie, which is not only considered some of the best of its kind, but is also where the story started (A-ha! Meat+salt+time…). From a stand at a farmer's market to Austin's fi rst whole-animal butcher, it's a success story and a destination for anyone who likes their meat with a side of ethical sourcing.
SALT & TIME
1912 E 7 TH ST.
512 – 524 – 1383
SALTANDTIME.COM