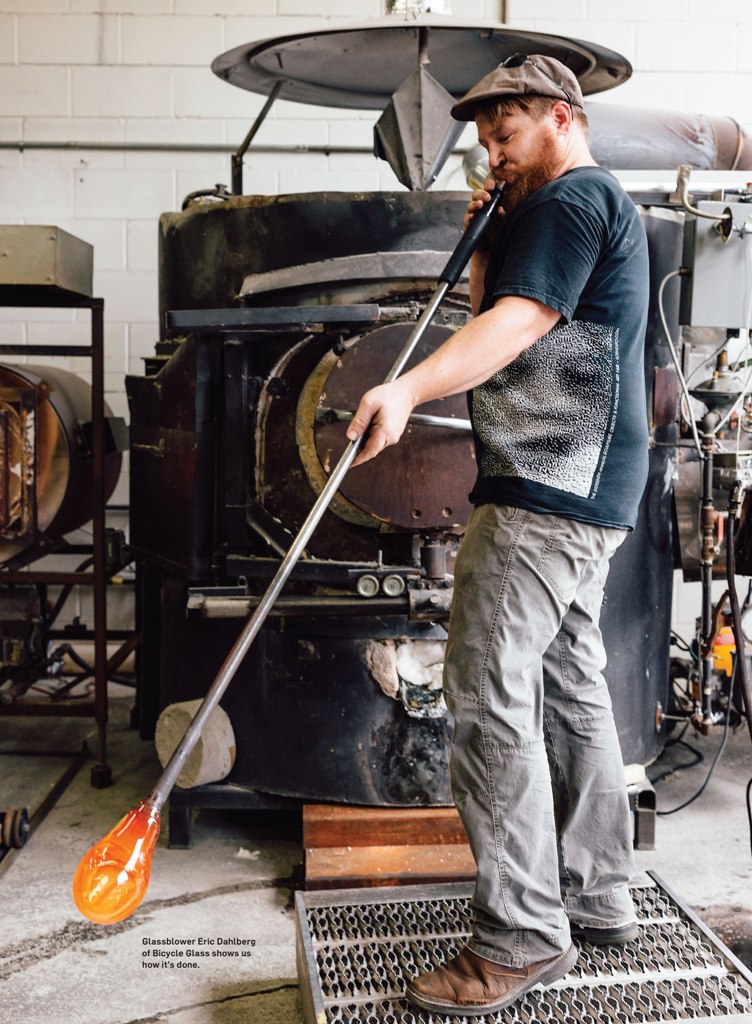 72_79 Mini Made SHIP.indd
Concrete Pig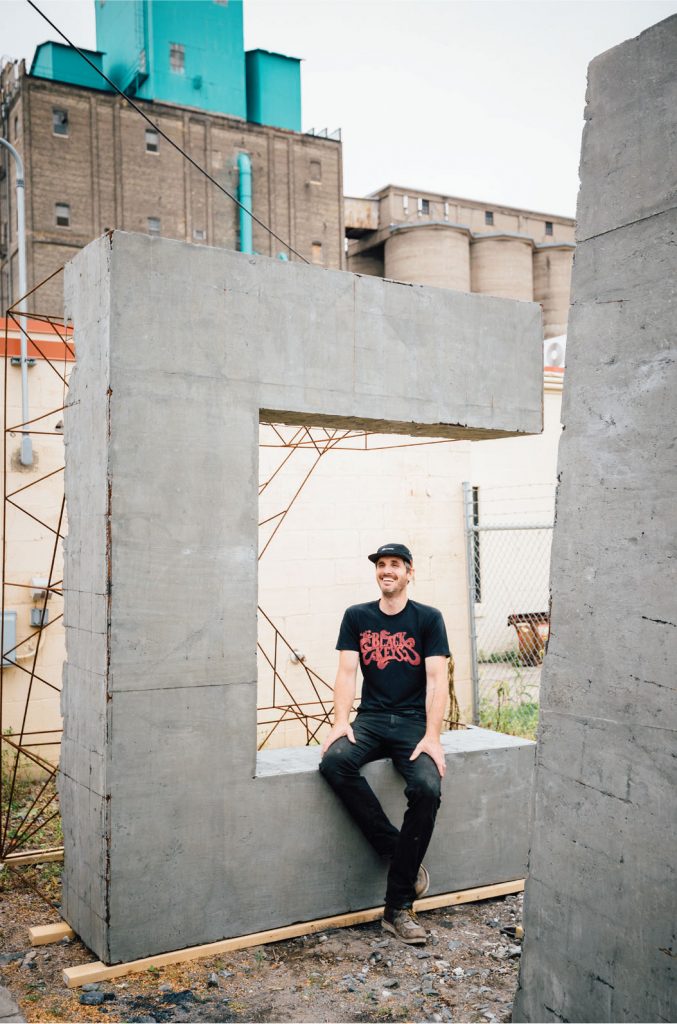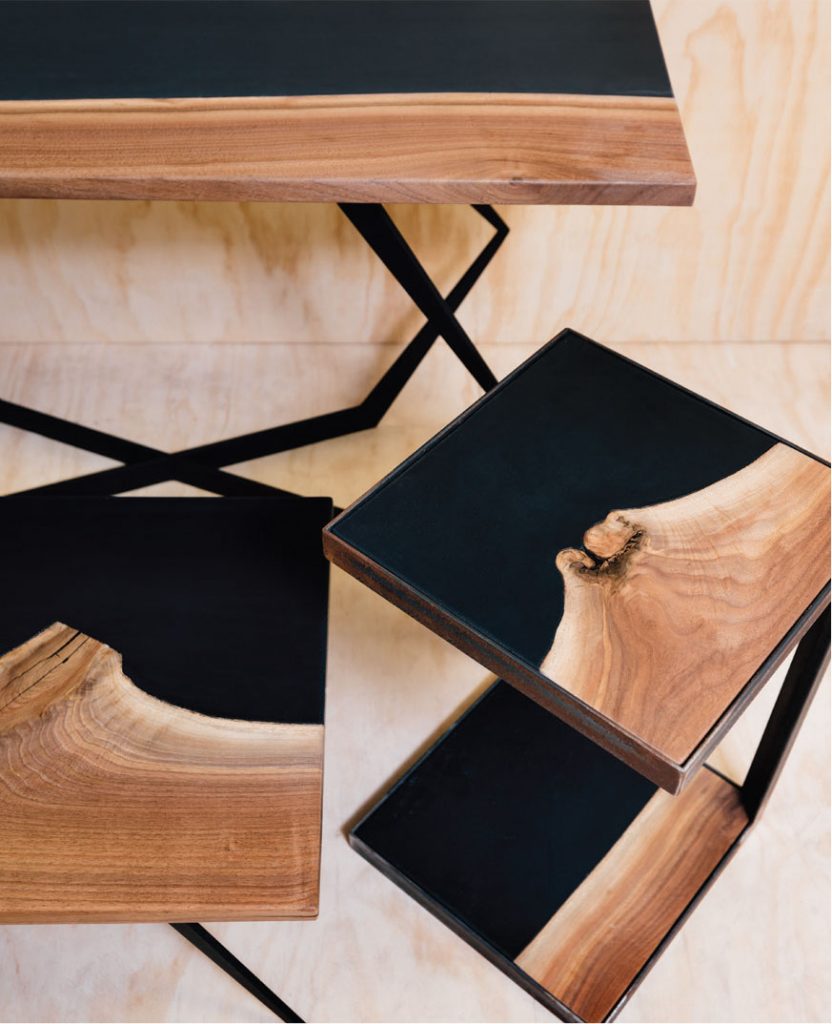 KEITH WYMAN was stuck in a corporate cube when he became obsessed with concrete—and it ultimately set him free. "It happened almost overnight," he says. "I was remodeling our house and made this sort of concrete slab sink in one of the bathrooms I tore up. Then I made a coffee table. And within the month I had made like 15 tables in my basement, destroying the space doing it."
His love of the material has proven addictive; he's moved out of the basement and into a studio where he creates his furniture full-time, under a brand as straightforward as his handcrafted pieces—Concrete Pig. "I loved this simple image of a stoic pig," Keith says, "and I thought it'd be kind of cool to have this sort of graffiti, raw brand stamp for my high-end furniture."
"EVERY PIECE I'M WORKING ON IS THE MOST IMPORTANT ONE TO ME. THESE PIECES WILL LIVE FOR A HUNDRED YEARS SO I WANT TO GET EACH ONE JUST RIGHT."
His designs maneuver the plain or tinted molded concrete within the contours of live-edge natural wood slabs into pieces with yin-yang appeal—think Flintstones meets Le Corbusier, man meets nature, raw meets refined. The pieces are inspired in large degree by the brutalist modern architecture that dots the Minneapolis skyline—the love 'em or hate 'em behemoths that brought heft to midcentury modern styles. "Some people think they're an eyesore," he says, "but I think they are amazing. If it were up to me everything would be made out of concrete."
Wood is equally important to the equation, and Keith handpicks his slabs from local sources, looking for the just-right knots, graceful graining, and a live edge that he can marry with concrete. "I'm drawn to these materials in their most honest form," he says. "There's a simple elegance to them that drives everything for me." Check out Keith's pieces at CONCRETEPIG.COM.
Custom Woven Interiors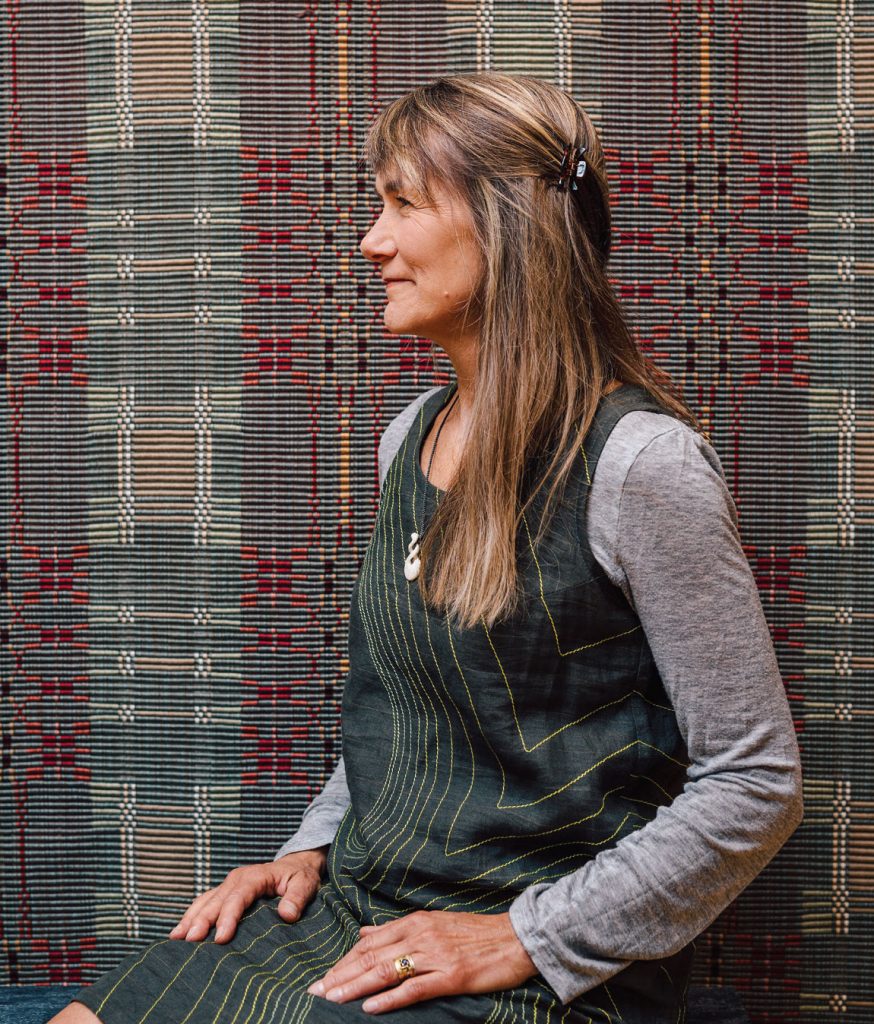 KELLY MARSHALL'S intricately woven rugs look too pretty to walk on, her upholstery fabric too artful to sit on, her table runners too…well you get the idea. But fear not. These are dense, reversible, even washable fiber masterpieces—some created on looms the size of a living room. The nationally-known weaver has been at looms of all types and sizes since the early '90s, armed with a design degree and a year of hands-on study of multiple traditional techniques in Sweden. But she can unspool her love of textiles even farther back, to a childhood when yarn and thread were her favorite playthings. (Coming full circle, she donates all excess fiber fragments and empty spools to kids' organizations.)
This high-tech meets lowtech discipline starts at the computer, where she calculates her signature complex geometric patterns. From there she heads to her vibrant "color wall" to pull a palette from the hundreds of cotton and linen fibers that she'll thread into one of five handoperated looms, where things really get going. "Weaving is a very physical activity," she says. "There are a lot of fast moving hands and feet going on here."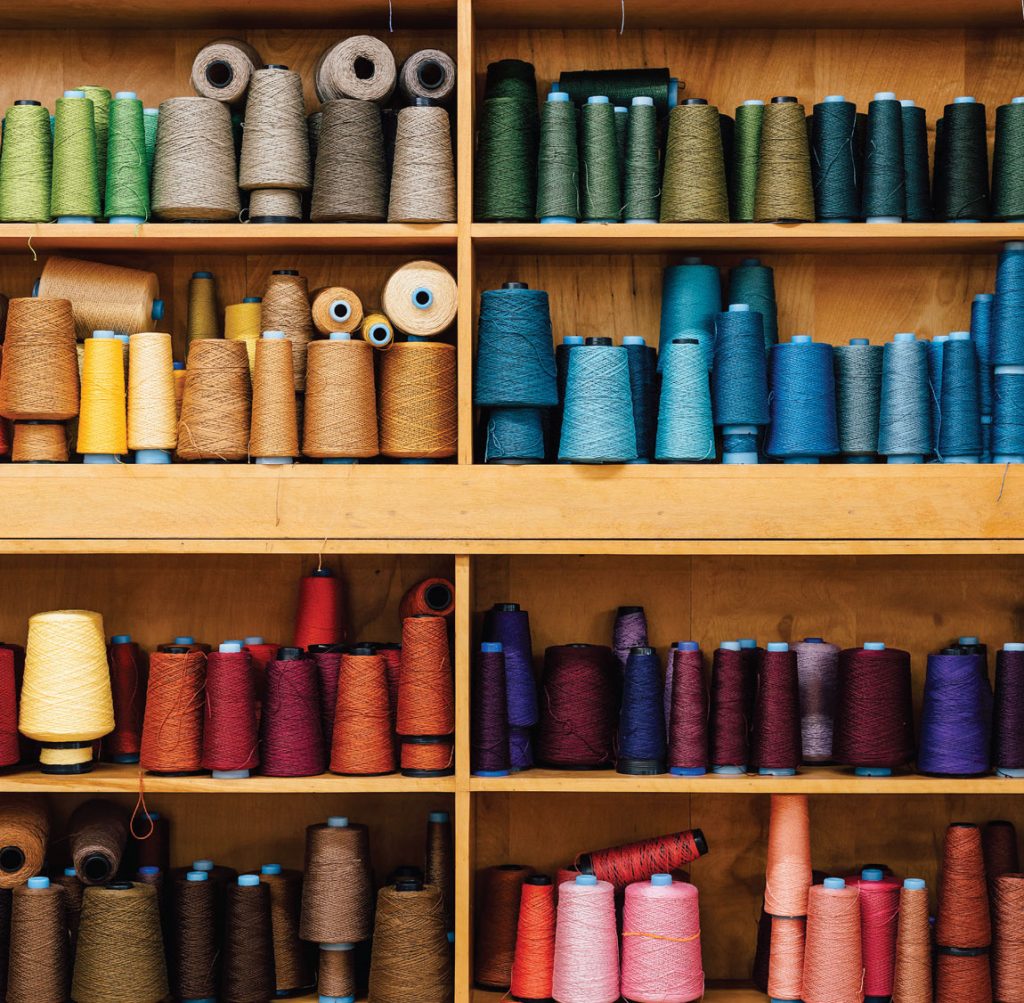 Working with two full-time weavers from her spacious studio in the Northrup King Studio, Kelly shuttles through designs culled from a big wide world of sources— the brickwork on buildings, an ancient Mayan cloth, or icons of the Arts and Crafts movement. "So many things inspire me," she says. Under the brand name Custom Woven Interiors, she works with clients on commission—send her a favorite painting or fabric and she'll create for you a coordinating upholstery fabric, floor runner, whatever covering you're after. Or select from readymade pieces at KELLYMARSHALL.COM.
Handsome Cycles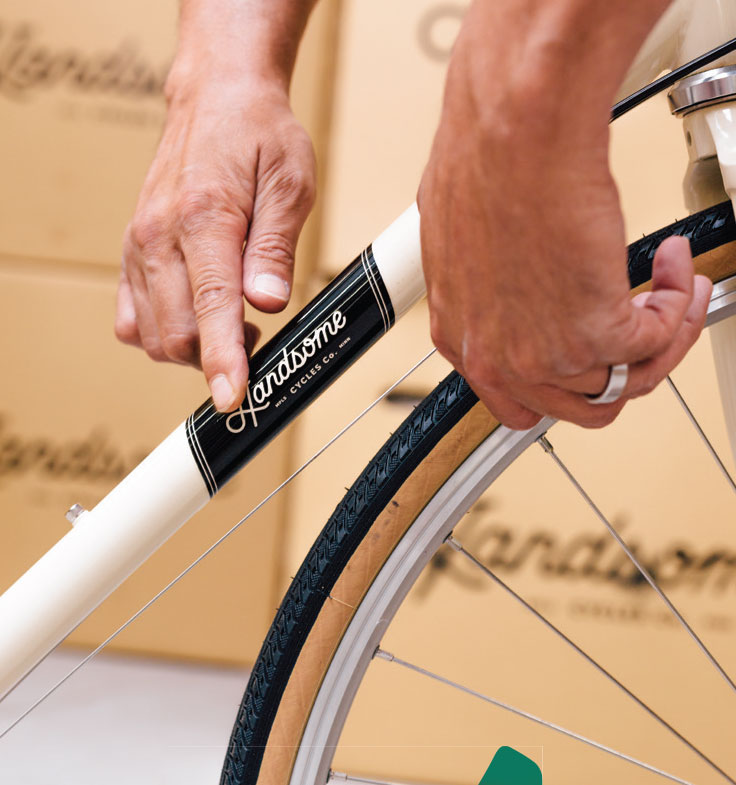 JESSE ERICKSON remembers well his first set of wheels: "It was a gold Kabuki, with a black and gold striped banana seat, with a sissy bar on the back, and these really cool kinda ape-hangery style handlebars," says the co-owner of Handsome Cycles. Now, he and partner Ben Morrison want to help you design the bike of your dreams. They're bringing customization to the bike-making biz, designing and crafting twowheeled works of art from a menu of components—right down to a customized decal kit—and connected to frames forged of specialty steel that are lightweight, durable, and have some fl ex. Oh, and it can be powdercoated in a color of your choice.
Jesse brings some cycle-making cred to the fi rm; his father started Alternative Bike and Board, one of the oldest and most notable shops in this cycle-loving town. It's where he and best friend Ben worked for years, learning the trade and knocking around ideas that would take them down their own path. What got their wheels spinning? Finding a niche in the market between affordable ready-made bikes— clunky and not that versatile—and sleek custom bikes with steep price tags. They cut a trail right down the middle, and figure their bikes come in about $1,000 under custom bikes and $100 dollars more than stock bikes.
"OUR BIKES COME WITH A FOREVER WARRANT Y. FOR AS LONG AS YOU'RE ALIVE, WE'LL STAND BEHIND THE CRAFTSMANSHIP OF THE FRAME."
Their strategy is really a win-win-win—by shipping in the frame and components separately in jam-packed boxes (rather than importing an entire bike in air-filled containers) they reduce their carbon footprint, build a bike to better suit its rider, and save money. "We reduce our carbon footprint and cut shipping costs in half," Jesse says. "That more than pays for the labor to build the bike here in Minneapolis."
But, why Handsome? The guys were inspired by the bike's fi rst heyday where gentlemanly types with handlebar mustaches and tailored suits gave them a spin—think Paul Newman's Butch Cassidy. But these are also good-looking riding machines, so much so that they landed in the Minneapolis Institute of Art. Let them help you put together your own masterpiece at HANDSOMECYCLES.COM.
Bicycle Glass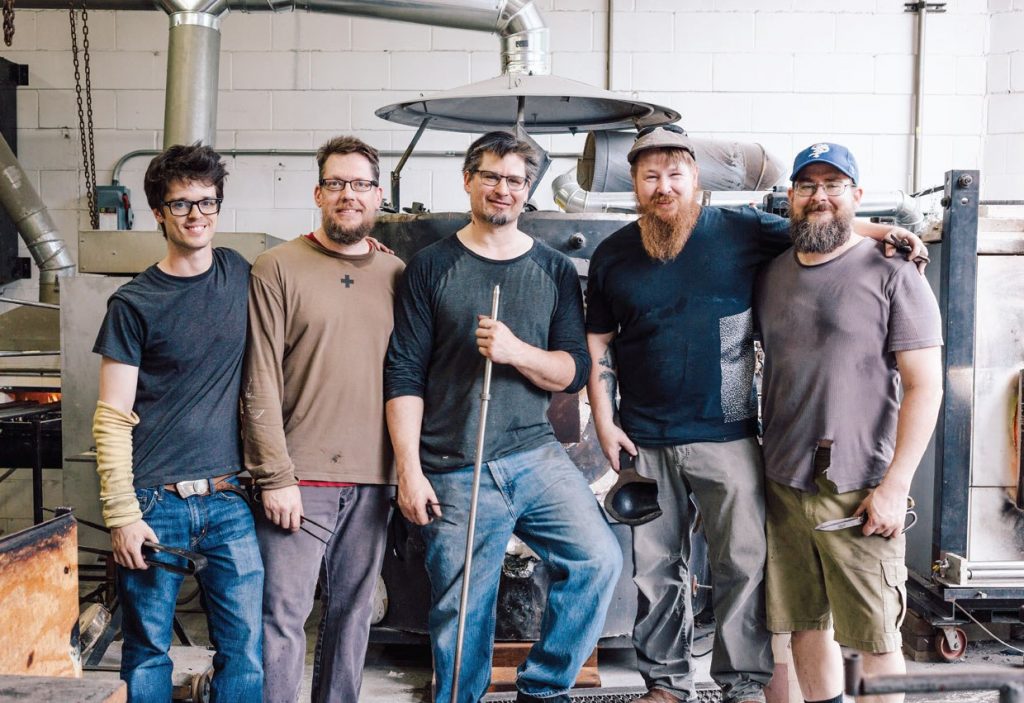 DAVID ROYCE thinks glassblowing is sexy. And the way he describes it, we're inclined to agree. "It's a process that uses industrial equipment and your own hands to form liquid that's 2,000 degrees into a relatively fragile thing of beauty," he says. "Glass is liquid and you have to be liquid in dealing with it. It's a dance…and it can be seductive."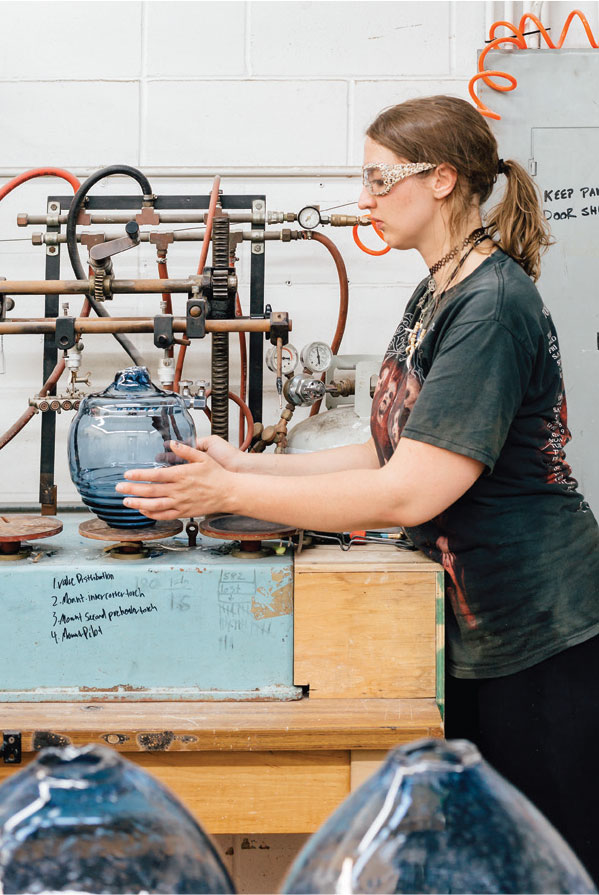 He and business partner Michael Boyd both became transfixed with the craft as teens, thus embarking on parallel lives that led the glass artists to separate studios in the Minneapolis area. Once they started families, suddenly being art nomads—setting up tents at endless art shows—lost its shine. "We met for coffee, just two struggling artists trying to figure a path forward," David says, "and we thought, 'hey let's do lighting—people need lights and they're made out of glass.'"
Their success story is as simple as it is complex. The simple part was coming up with a mission statement. "We make beautiful products with a true commitment to sustainability," David says. "Using 100 percent recycled materials made by hand in the U.S. by people you can call and talk to on the phone." The hard part? Putting broken glass back together again. Michael spent hours studying old manuscripts to wring the best quality from recycled glass. "Just this morning I was reading about iron," he says, "so we can get the glass a little clearer."
THE BICYCLE HAS GREAT CONNOTATIONS. EVERYONE LOVES TO BIKE—IT FEELS LIKE FLYING. BUT WE'RE ALSO IN A T WO-CYCLE LOOP. YOU RECYCLE IT, WE MELT IT, YOU BUY IT, YOU RECYCLE IT, WE MELT IT, AND SO ON." —Michael Boyd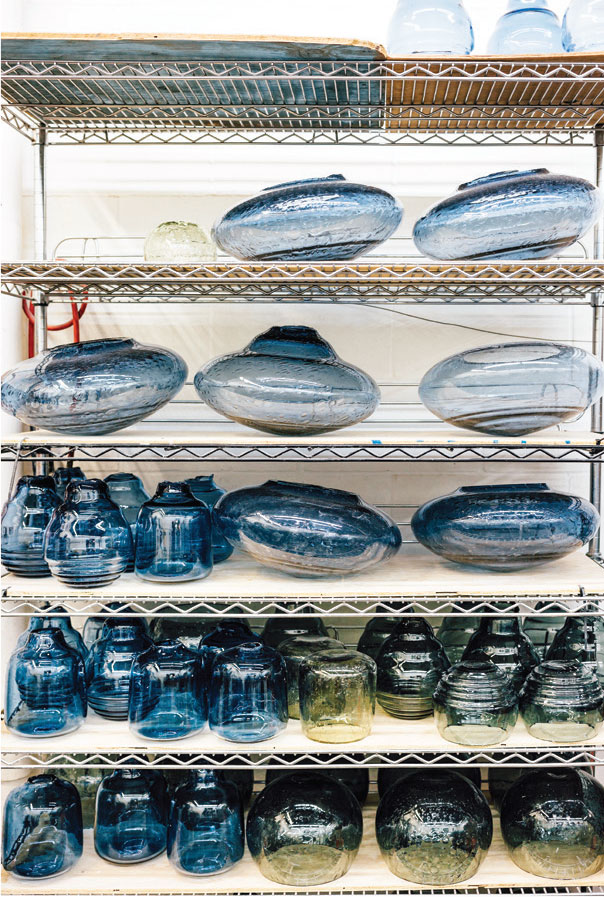 The beauty is, their earth friendly approach results in glass pendants with an organic quality and an affordable price tag. "You can have something handmade by Minnesota artists," Michael says, "for about the same price as you'd find at The Home Depot. That's a cool feeling." Find their pieces at BICYCLEGLASS.COM.
Bell Manufacturing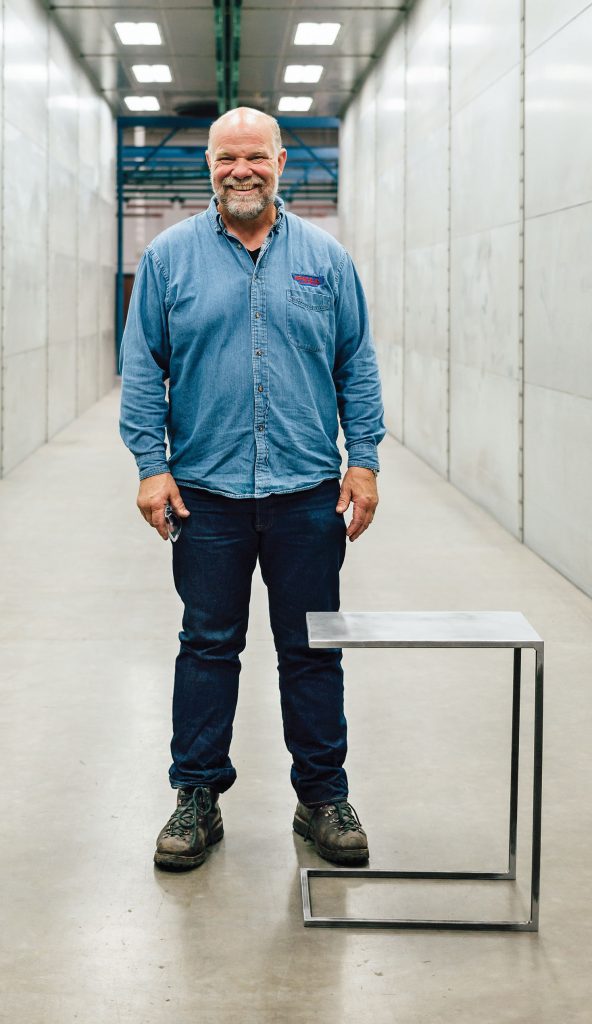 JIM BELL is a true man of steel. He's racked up about 40 years of experience in manipulating the metal into everything from radiator covers to car wash equipment, and now leads the business his father started in the 1960s.
It was that finely honed knowledge that allowed Jim to bend his biz in another direction— furniture design, forging a collaborative partnership with Minneapolis-based Room and Board. "They wanted the natural steel finish," he says. "They wanted it black without being black. And I kind of understood what they wanted, and we just started making one piece after another. They kept asking if we could do more, and I kept saying yes."
"AS A DESIGNER/ MAKER/ARTIST/ CRAFTSPERSON/ ENTREPRENEUR, WHATEVER TITLE I GET AT ANY GIVEN TIME, IT'S ALL PART OF THE SAME THING, WHICH IS BEING CREATIVE." –Jackson Schwartz
Now furniture making consumes 95 percent of the business. Jim and his roughly 100 employees use their expertise to forge the sturdy material into clean-lined shelves and tables that bring a chic, industrial edge to interiors. It's a far cry from radiators—and that's okay by Jim. "It's a very enjoyable product to make," says the straight talker, "and it looks good—it's neutral and delicate—we make them to fit anywhere."
One thing that hasn't changed over the years is Jim's commitment to employees and sustainability. He maintains his production facility within the city limits so workers don't face a long commute. "It's important to be where they live," he says. "I think in the long run, if you can take care of people you do better because they really take care of you." The shop also uses 100 percent recycled steel processed without using coal, and they recycle waste material. Being more and more sustainable is a major focus, says Jim, because "being good stewards is the right thing to do." Find their pieces at ROOMANDBOARD.COM.
Hennepin Made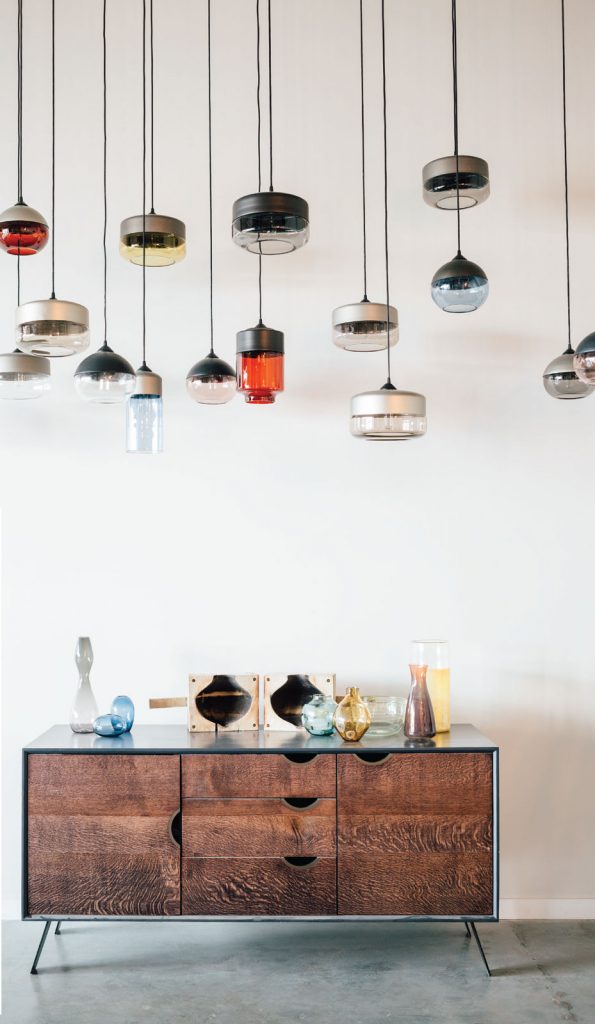 THE TECHNIQUE of turning molten sand into glass objects stretches back for centuries. But there is nothing remotely oldfashioned about the objects being pulled from the kiln at Hennepin Made. "We want to be honest to the richness of the handmade, freeform craft," says Jackson Schwartz, who co-founded the studio with Joe Limpert, "while still being a pareddown, minimal, refined aesthetic."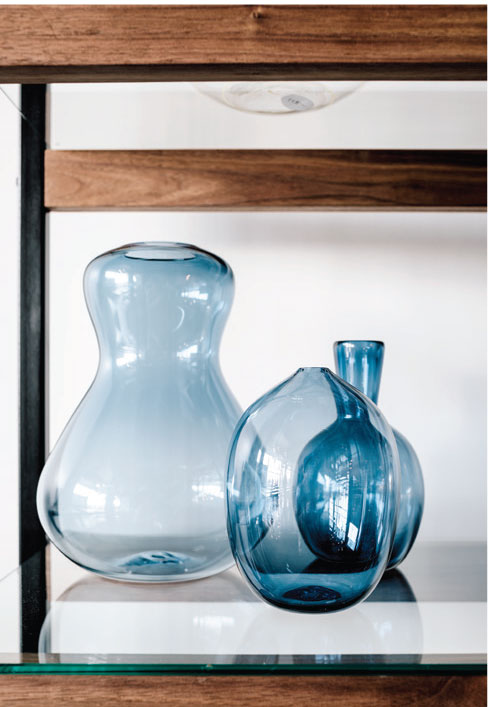 Finding that sweet spot between organic and intentional design worked well for the two. They found fans in the folks at Room and Board, who sparked to their vision of creating objects that blurred the line between modern art and everyday objects.
Now the small-batch makers create lighting for the retailer, each piece a chic pairing of high style and handmade. "What you're buying with these pieces is workmanship," Jackson says. "It's the variances and the nuances and the uniqueness of a small little trade that we all feel is special. That's why we don't want to edit out all those things and make our process so refined that there's no hand in it."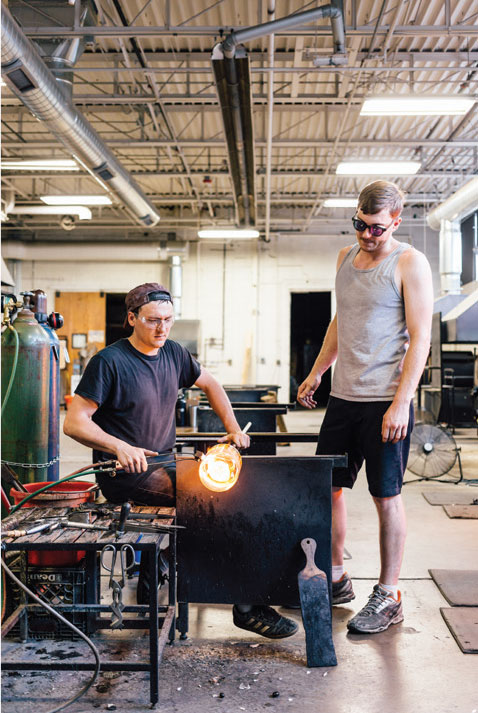 The two artists also continue to create custom lighting under their own brand, especially for designers and architects looking for the justright piece to finish a space. They've found a formula for molding a craft they love into functional art they can market. But they're not doing it only for themselves. "We didn't want to build a business to produce things and monetize off that," Jackson says. "It was to build a path for glassblowers and then also to build something that was meaningful beyond just us as individual artists." Shop their brilliant line at roomandboard.com and HENNEPINMADE.COM.