Ever Since Chateau Montelena's Chardonnay won the 1976 "Judgment of Paris" and put California vintners on the map, wine is usually the fi rst thing that comes to mind when thinking about Napa Valley. Th ere are now approximately 475 (!) wineries in the county, many globally recognized for their award-winning wines. And most recently, Amy Poehler's much talked about Netfl ix movie Wine Country has surely inspired many wild, wine-fi lled weekend getaways since it premiered in May. After the devastating fi res of October 2017 drastically impacted the area's economy, that's not entirely a bad thing. So while wine does get most of the fanfare, there is still so much more to this stunningly beautiful area of Northern California. ¶ Situated about an hour north of San Francisco, the Napa Valley is nestled between the Vaca Range and the Mayacamas Mountains. An agricultural community at its core, the valley is a magnet for crofters, artisans, creatives, and chefs who take inspiration from the abundant bounty of this verdant area. Its many small towns, including Calistoga, St. Helena, and Yountville, as well as the newly reinvigorated city of Napa itself, feature quaint, walkable downtowns ideal for exploring, shopping, dining, and indulging. ¶ After spending two glorious days soaking in and savoring all that Napa Valley has to off er, we're sharing some of our favorite ways to "un-wined" in Wine Country (see what we did there?).
Indian Springs Calistoga, 1712 Lincoln Avenue, Calistoga indianspringscalistoga.com
Simply walking onto the palm tree-lined grounds of the Spanish Mission Revival-styled resort, which off ers bungalows, cottages, and even two houses to choose from, instantly switches you over to vacation mode. While there are four natural geysers on the 17-acre property, only one is tapped in order to create the most nutrient-rich water possible for the property's Olympic-sized mineral pool, as well as their spa's services (which are often combined with the locally sourced volcanic ash). Th e water is so rich in fact that beautiful crystals mineralize inside the water pipes, building up to the point the pipes need to be regularly replaced. FYI: Th ose crystal fi lled pipes are upcycled into artwork that is displayed in a small gallery one block from the resort.
Vista Collina 850 Bordeaux Way, Napa meritagecollection.com/vista-collina
Set amid a rapidly expanding corporate complex south of the city of Napa, the new 145-room Vista Collina is located at the gateway to the valley, making it an easy starting point for further exploration. Along with all the amenities you'd expect from a large resort, it also features an on-site grocery store, cooking classes, live music, and a food & wine center, as well as a Mediterranean-inspired spa that is housed inside the resort's former wine cave. Th e subterranean spa's warm, cocoon-like environment—not to mention the Serenity Lounge with its soothing cascading water wall, comfy chairs, and soft blankets—will put you in the right mindset to enjoy an utterly relaxing trip.
Sam's Social Club 1712 Lincoln Avenue, Calistoga samssocialclub.com
As part of Indian Springs Calistoga, Sam's Social Club is Michelin-rated for a reason. It's warm and welcoming, from the clubby interior to the outdoor patio and the conversational fi repit area, and everything— from their salads and sandwiches to seafood dishes—is created using the freshest, locally sourced, seasonal ingredients. And trust us, you have to order the homemade Candy Cap Churros with whipped cream drizzled with dulce de leche. Yes, they're actually made with Candy Cap mushroom powder so these light and crunchy bits of heaven, served in a portion ideal for sharing, are the perfect combination of sweet and savory.
TORC 1140 Main Street, Napa torcnapa.com
In an airy space with lots of natural light streaming in from the floor-to-ceiling front windows, TORC has both a hip, buzzy vibe and a relaxed atmosphere with friendly, unpretentious service. The energy emanates from the open kitchen, where Chef Sean O'Toole and his team prepare fresh, farm-to-table fare with a global influence. O'Toole builds his dishes around one key ingredient, like the vegan chilled pea soup with Bellwether Farms ricotta cheese, croutons, and goa black spice, which was as delicious as it was beautifully plated.
Napa General Store 540 Main Sreet, Suite 100, Napa napageneralstore.com
Situated along the river in a charming, ivy-covered brick building in the Historic Napa Mill, this all-inone store features a whole range of Wine Countryinspired gifts, framed photography, and home décor, as well as a bustling café and wine bar. The garden terrace, a lush, rose-filled area surrounded by palm trees, is an ideal spot to take a break and enjoy a coffee while being lulled by the sounds of the nearby mosaic tiled fountain designed by artist Alan Shepp.
Makers Market 1300 1st Street, Napa makersmarket.us
Makers Market stands out among the many high-end stores that line the recently revitalized First Street in downtown Napa. Stocked with sustainable, Americanmade products, their beautifully curated assortment of handcrafted home goods, apothecary items, jewelry, clothing, bags, and accessories, means there's no shortage of gorgeous gifts to bring home. And every third Saturday of the month, they hold an outdoor artisan fair where you can meet many of the makers themselves.
Oakville Grocery 7856 St. Helena Highway, Oakville oakvillegrocery.com
Around since 1881, Oakville Grocery is the longest continually operating grocery store in California, and just as importantly, the go-to place for locally sourced picnic provisions. From custom-order sandwiches, paninis, and salads to wood-fired pizzas made in the brick oven on the back patio, there's something for every craving. Want to bring a taste of Napa home with you? Choose from the tempting assortment of artisanal olive oils, vinegars, pickles, jams, and more that beckon from the store's neatly lined shelves.
Monday Bakery 1412 2nd Street, Napa mondaybakery.com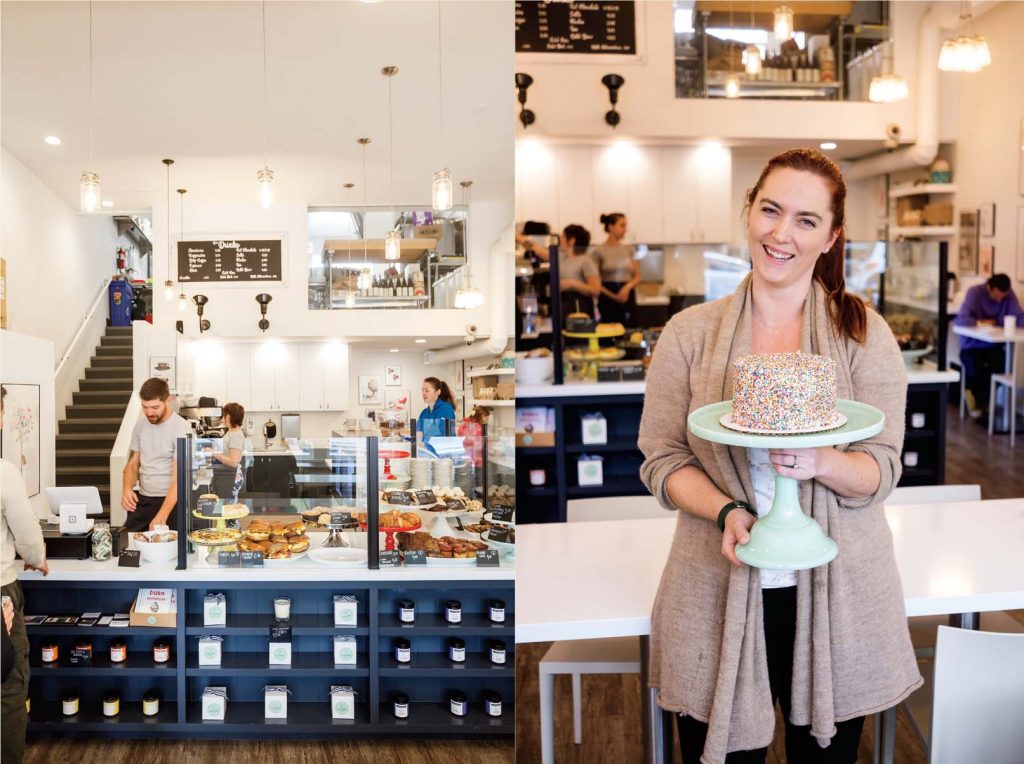 Don't be surprised if Pharell's song "Happy" comes to mind the minute you walk into Monday Bakery in downtown Napa. With bright, colorful graphic art throughout, the cheery décor matches the demeanor of owner Sally Latimer and her entire staff. But it's the drool-worthy, fresh-baked goods, such as the Nutella Banana Bread and Brown-Butter Cinnamon Rolls, that draw a steady crowd of folks who know a visit to Monday will make any day of the week that much better.
MoonAcre Spa & Bath 1880 Lincoln Avenue, Calistoga calistogamotorlodgeandspa.com/spa
Part of the Calistoga Motor Lodge & Spa, a quirky RV-themed inn right on the outskirts of downtown Calistoga, this classic bathhouse-style spa has a soothing environment and a fun, cheeky vibe. Whichever treatment you choose from their beyond basic spa menu—think a CBD massage, a crushed-grape-seed body scrub, or a create-your-own-mud-mix mud bath that's applied while you lounge in the private spa garden—be sure to take a relaxing soak in one (or all three) of the onsite geothermal hot springs pools before AND after. Access to their pools, as well as the co-ed steam room, is included with each service, and with treatments starting as low as $70, that's one affordable way to pamper yourself all day.
di Rosa Center for Contemporary Art 5200 Sonoma Highway, Napa dirosaart.org
Art and nature lovers alike will happily spend a few hours roaming over the 200 acres of indoor and outdoor gallery space that was established in 1997 and, luckily for future generations, is protected in perpetuity under the Napa County Land Trust. Showcasing a mix of modern and contemporary artwork from local Bay Area artists, this unique "nature meets museum" property includes two separate galleries, a 35-acre lake and wildlife preserve, and a sculpture meadow set around a 1/3-mile trail that's accessible only with a guided walking tour.
Highway 29/ Silverado Trail Visitnapavalley.com
Sure Italy has Tuscany and France has Provence, but we have the Napa Valley to fill our souls with natural beauty. Whether heading "up valley" to Calistoga or down towards Napa, both Highway 29 and the Silverado Trail offer non-stop stunning views of green rolling hills, majestic oak trees, and acres and acres of gorgeous vineyards that call out to be photographed. And when you want to stop and indulge in all the locally made goodies you've procured along the way, Bale Grist Mill State Historic Park and Bothe-Napa Valley State Park, both north of St. Helena on Highway 29, offer picturesque picnic areas to fill your belly, too.
The Prisoner Wine Company 1178 Galleron Road, St. Helena theprisonerwinecompany.com
If you find that you just can't leave Napa without one wine tasting, make it The Prisoner Wine Company in St. Helena, a Napa Green Certified winery that is committed to conserving resources and reducing its carbon footprint. Like the dark and foreboding label on the bottle of its namesake wine, The Prisoner Red Blend, the winery's design is edgy and modern. Its dark gray exterior is accented with multiple raised garden beds, olive trees that help recharge the soil, and native landscaping that's irrigated with recycled wastewater. The features are a perfect precursor to the stunning tasting room's art-filled, goth-chic interior. Tastings, which start at $45, include a few selections from their line of 11 outstanding blends, like Syndrome Rosé and Derange Red. Take note of your favorites though, because many of these are only sold at the winery, so be prepared to ship bottles home.