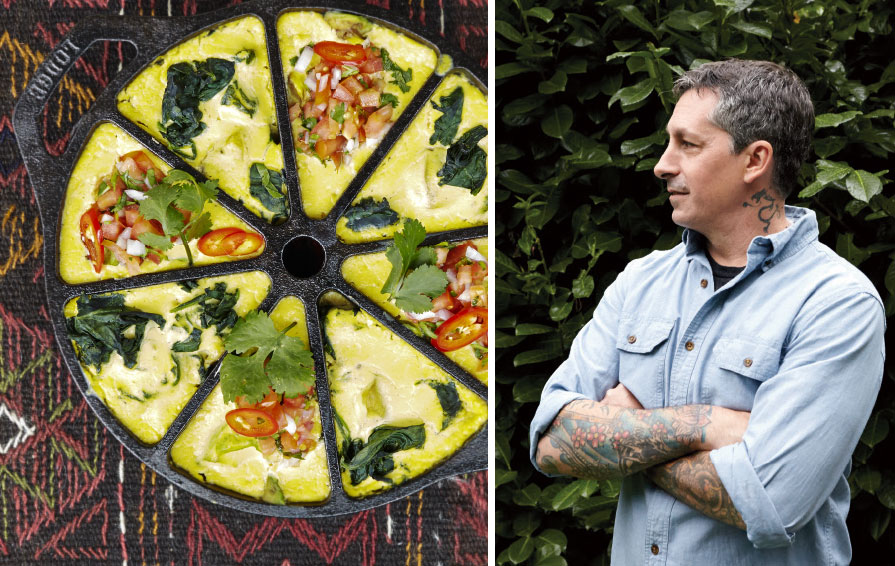 Photographs by David Engelhardt
Derek Sarno is a man of many talents.
He's been an organic farmer, a sternman on a lobster boat, a restaurateur and a caterer. Now, as the Senior Global Chef for Whole Foods Market, his charge is to use nutrient-dense plant-based foods to develop delicious recipes. He and his brother, Chad, also run the spirited vegan-centric online community called Wicked Healthy Food. But most mornings, he's also a squirrel tamer. As Sarno whips up a new recipe for, let's say, caramelized apple oatmeal, it's not unusual to see a squirrel or two tapping on the kitchen window at his Portland, Oregon, house as if to say, "Hey it's time for breakfast."
Sure, that's what happens when you feed the squirrels, but his fiancée, Amelia Pape, says that it's really indicative of his playful spirit and his love of all living creatures. "There are many sides to Derek. Most people think of him as this strong, silent type with lots of dragon tattoos, but he's also silly and funny."
This buoyant approach to life makes Sarno's job at Whole Foods, where he develops healthy culinary guidelines and products, just as much about play as it is about passion. Mention lentils and he starts to riff on the different kinds—black caviar, red, green, to name a few—and all the amazing dishes one can make: lentils with coconut water, with spicy Thai flavors or even an Indian dal. But his food musings always share one underlying goal: a serious commitment to help people eat a more vegetable-rich diet of fresh, healthy, homemade food. "I want to help make it easier for people to eat more sustainably and benefit as many people as I can with the skills I have," he says.
And Sarno, 44, has mad skills. Give him a cast-iron skillet and a knife and he can whip up an infinite number of comforting, rustic, vegetable-based dishes that can be served by the campfire or at an elegant dinner table. They may be mild or manly dishes with a predilection for Sriracha spice, but, he explains, "If you put your love and good intentions into every step, the food just tastes better."
Sarno honed his vegan, compassionate cooking skills over a three-year period while living at the Padmasambhava Buddhist Center in upstate New York. He arrived there grief-stricken. "I was going to be married to a beautiful woman who I loved dearly, and one day, out of the blue, she was killed in a car accident. It literally made me stop. I didn't know why I was doing anything anymore."
Sarno had had an interest in Buddhism. His childhood role model, Bruce Lee, inspired his involvement in martial arts and Eastern philosophy, so when he found himself at a loss personally and professionally, his friend Dan Brown, the best-selling author and a catering client, suggested he spend some time at the monastery. He intended to go for a week but stayed for nearly three years. "I needed to find answers," he says. "There was nothing anyone could say to make me feel better, so I learned that sometimes silence is the best way. I meditated and sat in the darkest places I could imagine, but slowly I came back. I realized I could cook again."
That time away gave him the courage and tools to channel his grief into a newfound passion for the art of vegetarian cooking, a challenge he still relishes. "It's really easy to put bacon in everything. Yeah, it's delicious, but it's a cop out," he says, declaring himself a "culinary ninja." What's more interesting to Sarno is taking out the hippie connotations of vegan cuisine by introducing his own creations, like shiitake mushroom bacon. "My food isn't hoity-toity, and it's certainly not hippie-dippie," he explains. "My goal is to make delicious food that's life- supporting and makes you feel good. Vegetarians aren't even 10 percent of the American population, so I want to swim with the other 90 percent and influence how they eat."
That mission is something he shares with fiancée Pape. As the founder of a Whole Foods initiative called My Street Grocery—a mobile market that brings fresh, healthy produce and sundries to underserved communities—she, too, is committed to making healthy food accessible and easy. And that passion spills into their personal life as well. "We love to have people over for dinner. We entertain a lot," because, she says, "Derek loves to share his love and respect for the people he cares about by cooking." 
For Sarno, cooking is the fun part. "I don't follow recipes; I'm a feeling-based chef, and I rarely make things twice. That way, it keeps me and the people eating my food entertained." And, after all, variety is the spice of life. 
---
Wicked Party "Cheeze" Dips
We used a Lodge divided cornbread cast-iron pan. We found the individual compartments were perfect to serve different dips all prepared in just one pan.
Serves: 4–6 
Prep time: 5 minutes (using pre-made Cheez sauce – See Below)
Cooking time: 20 minutes 
Spinach Artichoke Dip:
2–3 cups Wicked Healthy Base Cheez Sauce
1 bunch washed organic spinach
1 can of Whole Foods 365 artichokes, drained
Flat-leaf parsley for garnish
1. Steam spinach for a short time to wilt. (Do not overcook, because the spinach will take on the appearance of what Derek says you'll find on the undercarriage of your lawn mower.) Let it cool, squeeze out excess water and roughly chop it.
2. Mix ingredients together with 'cheez' sauce and pour into four of the cast-iron pan's sections.
Avocado Queso:
2–3 cups Wicked Healthy Base Cheez Sauce
1 avocado, split, pit removed and halves cubed
1 cup of your favorite store-bought fresh salsa
Fresh cilantro sprigs for garnish
1 Add cheez sauce to remaining compartments in cast-iron skillet and add diced avocado on top.
TO MAKE:
Bake cast-iron pan, including sectioned dips, at 350F  for 15–20 minutes, until hot and bubbly.
Garnish with cilantro and dollops of salsa on the avocado queso, and fresh parsley on the spinach artichoke dip. Serve with slices of toasted baguette or tortilla chips.
---

Wicked Baked S'mores Oatmeal
S'mores for breakfast? In Derek's kitchen, yes. And this version isn't just wickedly tasty, it's actually healthy, too. For any oatmeal haters, this one is a game-changer. 
Serves: 2–3
Prep time: 5 minutes
Cooking time: 15–20 minutes
1 cup organic rolled oats
2 cups water
10–12 raspberries or seasonal berries, like  strawberries or blueberries
4 graham crackers, split into quarters
¼ cup dark chocolate bar, chopped
1 tablespoon organic vanilla extract
½ teaspoon cinnamon
Handful of vegan marshmallows
TO MAKE: 

Pre-heat oven to 350F. In small bowl, combine rolled oats, water, cinnamon and vanilla extract and mix well. Evenly distribute between two small cast-iron skillets and bake the oatmeal mixture for 15–20 minutes until it's hot and fully cooked. Derek says it should "not look too watery and not too stiff," so be like Goldilocks and wait until it's juuuust right.
Remove the skillets from the oven and top with vegan marshmallows and fruit. Bake for 3 more minutes to melt top slightly. Remove from heat and top with chopped chocolate and graham crackers.
---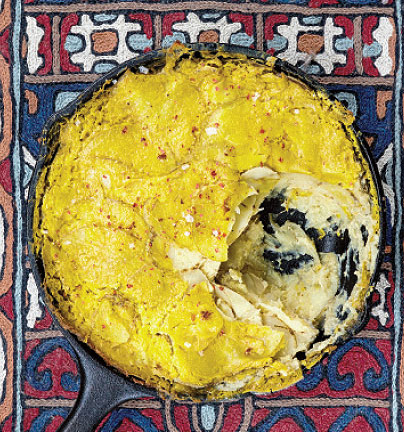 Cheezy Pink Peppercorn Scalloped Potatoes
In addition to a cast-iron pan, you'll need a mandolin. If you don't have one, a sharp knife and a steady hand will also do the trick, but it will take more time to make even slices. 
Serves: 3–4 
Prep time: 10 minutes (with Derek's Cheez
sauce prepared ahead, recipe below)
Cooking time: 35–45 minutes
2 cups of Derek's Cheez sauce
2 cloves garlic, slightly mashed with knife and sliced very thin
½ white onion, julienned paper thin
3 large organic russet potatoes, washed and peeled
Olive oil
1 teaspoon salt
1 teaspoon freshly ground pink peppercorns
TO MAKE: 

Pre-heat oven to 400F. Slice potatoes as thin as you can on the mandolin. Work quickly (but being very careful of your fingers!) since potatoes will rapidly oxidize and turn brown. Do not rinse the potato slices.
Add sliced potatoes to large bowl, add "cheez" sauce and most of the pepper and salt (save some for the top). Mix well so that each slice is coated. Coat
small cast-iron skillet with a thin layer of oil. Layer julienned onions on bottom, then layer in well-coated sliced potatoes. Assemble evenly throughout the pan and pour remainder of sauce over top. Lay sliced garlic over the top as the final garnish and cover the pan with aluminum foil. Derek says to keep the aluminum foil tight and to make sure that it's not touching the potatoes. 
Bake, covered, for 35 minutes, or until a skewer can go easily through potatoes. Remove foil and bake another 10 minutes to brown the top. Remove skillet from the oven and allow to rest for 10 minutes before slicing. Du

st with a bit more salt and pink peppercorns before serving.
---
Ninja Squirrel Sriracha & Mustard-Glazed Cauli "Poppers" with Purple Cabbage Wedges
As Senior Global Chef at Whole Foods Market, Derek created this seriously delicious Ninja Squirrel Sriracha sauce (sold exclusively at Whole Foods). Not only is it delicious but it's also the only Sriracha that's non-GMO certified. We, Naturally, love that. 
Serves: 3–4 as a side dish 
oR 1–2 as an entrée
Prep & cooking time: 20–30 minutes
½ head small organic purple cabbage, cut into 4 wedges
½ head cauliflower, cut into 4–5 floret "steaks"
½ cup Ninja Squirrel Sriracha
½ cup Dijon mustard
¼ cup agave syrup
1 teaspoon olive oil
4 garlic cloves, smashed and minced
1 tablespoon fresh thyme, de-stemmed and chopped
 1 tablespoon flat-leaf parsley, de-stemmed and chopped
Salt and pepper
TO MAKE: 

Pre-heat oven to 400F. In large cast-iron pan, assemble vegetables in, as Derek says, "an orderly fashion." (We translate that to mean in an evenly spaced, and pretty, arrangement.) In small bowl, mix the Sriracha, mustard, agave syrup and olive oil together and use half to brush generously onto vegetables. Sprinkle salt and pepper on top of that.
Place cast-iron pan into pre-heated oven and roast for 10 minutes. Remove and baste with remaining mixture and sprinkle chopped herbs on top.  Roast for another 10 minutes until veggies are crisp outside and tender inside.
---
Wild Mushroom and Herb Ricotta Crostini
When shooting this story at Derek's house, we were instantly hooked on these crostini appetizers. Derek likes to serve this dish at parties, but we think it's great to whip up any time, any day, for any reason.
Serves: 4–6, as an appetizer 
Prep time: 10 minutes
Cooking time: 20 minutes
1 store-bought baguette
2–3 cups chanterelle mushrooms (or any flavorful mushrooms you can find)
1 container of Kite Hill ricotta (at Whole Foods Market)
3 cloves of garlic, sliced thin
Olive oil
Fresh thyme sprigs, de-stemmed and chopped
Pinch of black pepper
Pinch of Maldon salt flakes (or kosher salt)
White truffle oil (optional)
Mushrooms:
Pre-heat oven to 350F. Cut mushrooms into quarters. Heat a medium cast-iron skillet over medium heat, add the olive oil and pan-roast the mushrooms. Add sliced garlic to the mushrooms and sauté for a few minutes until the moisture from the mushrooms begins to dissipate. Add about a tablespoon of chopped thyme and a couple pinches of salt and pepper.
Finish by roasting the mushroom mixture in the oven for 10–15 minutes, until caramelized.
Bread:
Slice baguette into 1/2- 1″ pieces.  Heat cast-iron grill pan on high heat.
Brush each bread slice with olive oil and place on the pan grills. Allow to "sear" for about 15–30 seconds while brushing top side with more oil. Flip bread, sear and remove. (Depending on how thick your slices, the bread may need more or less time, so keep an eye on it to prevent burning.) Place finished crostini on a cookie sheet and continue grilling remaining bread.
Topping:
Smear 1 teaspoon of ricotta onto crostini, then add mushroom mixture, a pinch of fresh thyme and a few drops of truffle oil (optional) before serving.
---
Loaded Brussels Sprouts Nachos
Good-for-us nachos? Yes, please. And if you're cutting out carbs, skip the chips, because this ooey, gooey, crunchy delight is perfectly delish on its own.
Serves: 4–6 
Prep & cooking time: 30–35 minutes (using premade "Cheez" sauce) 
2–3 cups Wicked Healthy Cheez sauce
2 Field Roast Chipotle Grain Sausages, crumbled by hand (you can substitute a soy protein)
1 pound Brussels sprouts, washed and halved
1 cup fresh store-bought salsa
½ avocado, sliced into cubes
½ medium red onion, diced
½ bunch fresh cilantro, washed and chopped
1 tablespoon olive oil
Salt and pepper to taste
TO MAKE: 

Pre-heat oven to 400F.

In a large cast-iron skillet, add Brussels sprouts, salt and pepper, and drizzle olive oil on top. Hand-toss until all the sprouts are coated. Roast for 30 minutes in the oven, stirring occasionally so each sprout gets a nice, brown, crispy coating on the outside. 
Remove from oven and add Cheez sauce, avocado, salsa and cilantro, and roast for another 8–10 minutes. Remove from oven. Garnish with fresh cilantro sprigs, and serve on its own or with tortilla chips.
---
Wicked Healthy Cheez Sauce
We like to double this recipe to have plenty of this awesome vegan "cheese" sauce on hand. Store in Ball mason jars and keep refrigerated. 
Yields: 2 quarts of "Cheez" sauce
Prep & cooking time: 15–20 minutes  
1 cup raw cashews
1 cup whole garlic cloves
3 medium-sized carrots, cut into chunks
3 cups water
3 cups unsweetened soy milk (may substitute with almond or cashew milk)
3 tablespoons nutritional yeast
1 tablespoon white miso paste
1 tablespoon salt
1 teaspoon black pepper
¾ teaspoon white pepper
½ teaspoon smoked paprika
TO MAKE:

In small sauce pot, add raw cashews, whole garlic, carrots and water. Bring mixture to a boil and cook for 10 minutes or until the garlic and carrots are soft and very tender (to the point that a wooden spoon can break them apart). Drain. Add cooked mixture to a high-speed blender (we like the "the Boss" from Breville) along with all of the other ingredients—except for the soy milk. Begin blending on low and gradually add the soy milk. Increase blender speed until all the soy milk is incorporated.
---
Black Caviar Coconut Lentils
Derek says this makes an outstanding side dish, but we think you could tuck into a whole bowl for a meal.
It's delicious hot or cold, day or night. 
Serves: 3–4 as A side or 1–2 as a main
Prep time: 5 minutes
Cooking time: 15-20 minutes
1 cup caviar lentils
2 cups coconut water (Derek likes Harmless Harvest brand)
1 quarter-sized slivered coin of ginger root
2 garlic cloves, slightly smashed with your knife
1 large bay leaf
1 or 2 red Thai chili peppers
Mint and cilantro sprigs for garnish
TO MAKE:

Rinse and sort dried lentils, looking for and discarding small pebbles or discolored pods. Add all ingredients, except for garnish, to a cast-iron pan. Bring to a boil and then cover; lower to a simmer and cook for about 15 minutes, or until the lentils are tender. Remove from heat and let sit for a few minutes. Garnish and serve.