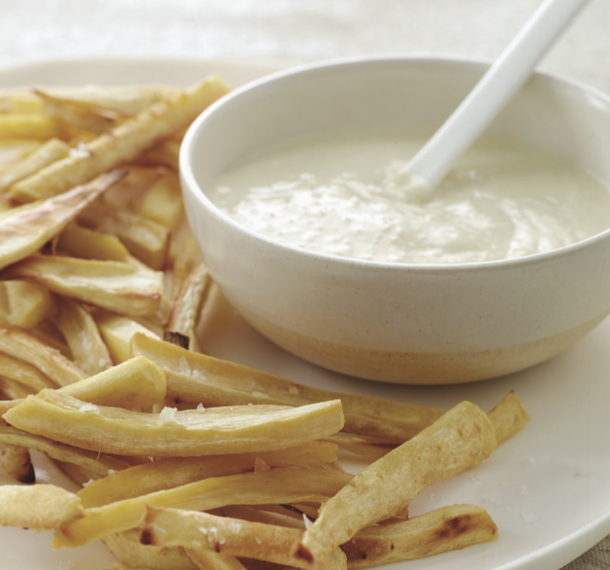 RECIPES BY OLIVIA ROSZKOWSKI
PHOTOGRAPHS BY ALEXANDRA GRABLEWSKI
FOOD STYLING BY CYD MCDOWELL
PROP STYLING BY KRISTINE TREVINO
The Recipes
Almond Milk Fondue With Roasted Parsnip Fries
SERVES 2 TO 4
Almond milk fondue:
1⁄2 cup blanched almonds, soaked
1 1⁄2 cups filtered water
1⁄4 cup agar flakes
1⁄4 cup tapioca starch
3 tablespoons nutritional yeast
2 tablespoons rice vinegar
1 teaspoon sea salt
Parsnip fries:
4 medium parsnips, peeled
2 tablespoons olive oil
1⁄2 teaspoon sea salt
Almond milk fondue:
► Drain the soaked almonds and add to a high-speed blender, along with water. Blend almonds until smooth, and strain through a fine mesh strainer or bag, reserving pulp if desired for other use.
► Place half of the fresh almond milk in a small saucepan with the agar flakes, and bring to a simmer. Cook on low heat, stirring occasionally, for 3 to 5 minutes, or until agar dissolves.
► In a small bowl, stir in the tapioca starch, nutritional yeast, vinegar, and salt into the remaining almond milk to form a slurry.
► Add the slurry to the hot agar mixture, and cook for additional 3 to 5 minutes, stirring frequently with whisk or immersion blender.
► Keep warm until serving, stirring in a small amount of water to thin, if necessary.
Parsnip fries:
► Preheat oven to 350 degrees F.
► Cut the parsnips into 3-inch-long batons, and toss with oliveoil and salt.
► Arrange parsnip pieces onto aparchment-lined baking tray and cook for 20 to 25 minutes, or until tender and crispy, flipping the fries once halfway through.
► Serve parsnip fries hot, alongside almond milk fondue.
Black Lentil Hummus
Black lentil hummus:
1 cup black beluga lentils
3 cups vegetable stock
2 cloves garlic, minced
1⁄4 cup black sesame tahini (or regular tahini)
2 lemons, juiced
2 teaspoons ground cumin
2 teaspoons sea salt
1/3 cup olive oil
► Rinse the lentils and place in a medium pan along with vegetable stock. Bring to a simmer and cook for 20 to 25 minutes or until softened. Drain lentils, reserving liquid.
► Cool lentils slightly and transfer to a food processor. Pulse for 30 seconds. Add the garlic, black tahini, lemon juice, ground cumin and salt and con- tinue to process for additional 30 seconds. Slowly stream in olive oil. If mixture is too thick, stream in small amounts of reserved cooking liquid to thin to desired consistency.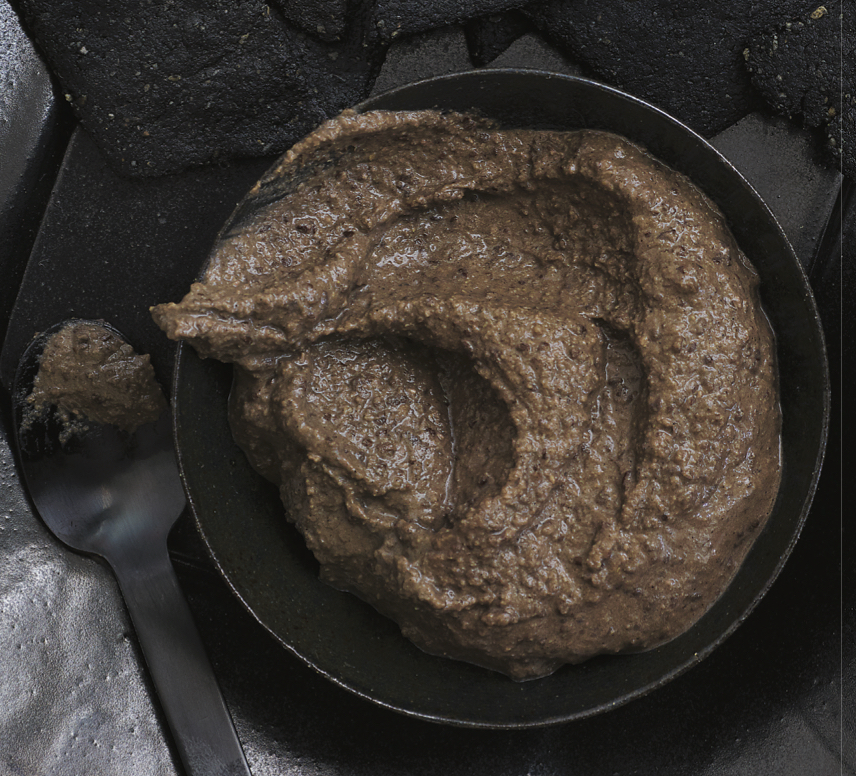 Activated-charcoal Crackers With Black Lentil Hummus
SERVES 2 TO 4
Charcoal Crackers:
1⁄2 cup sunflower seeds
1⁄2 cup rolled oats
1⁄2 cup whole wheat flour
1 teaspoon garlic powder
1 teaspoon sea salt
1 tablespoon activated charcoal powder
3 tablespoons olive oil
3 tablespoons maple syrup
1 to 2 teaspoons filtered water, as necessary
► Preheat oven to 325 degrees F.
► Add the sunflower seeds and rolled oats into a food processor and process until pulverized.
► Add the flour, garlic powder, salt and charcoal, and pulse until combined.
► Stream in the olive oil and maple syrup while the motor is running. Continue to process until mixture forms a ball, adding a small amount of water, if mixture is too dry.
► Roll out cracker dough to a 1⁄8- inch thickness, atop of a piece of parchment paper. Using a knife, score dough into small diamonds, or use a cookie cutter to cut out desired shapes (dough scraps can be reused to form additional shapes).
► Bake crackers for 12 to 15 minutes on a parchment-lined sheet tray, until the dough firms up and can be lifted o the paper without resistance.
Coconut Milk Poached Fish With Ginger & Lemongrass Sachet
SERVES 2
Broth:
1 can coconut milk (14 oz.)
1 cup vegetable broth
1 leek (whites only), sliced (greens reserved for sachet)
1⁄2 teaspoon sea salt
1 piece ginger, peeled and sliced
1 piece lemongrass, smashed
Poached fish:
2 (6-8 ounce) cod fillets
1 lime, juiced
To serve:
1 1⁄2 cups cooked jasmine rice
1⁄4 cup macadamia nuts, chopped
4 scallion bulbs (whites only), sliced
1⁄4 cup mung bean sprouts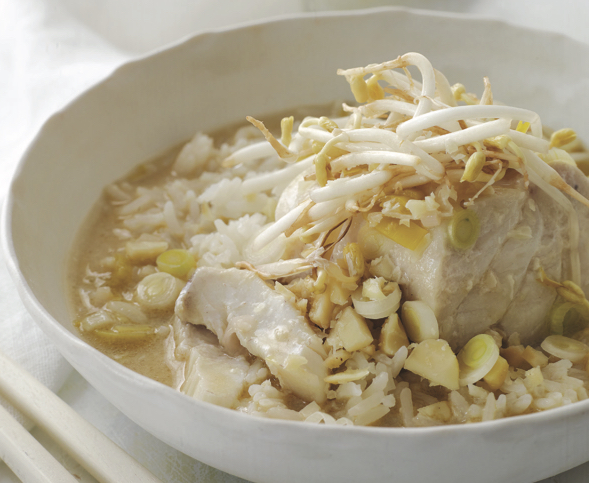 Broth:
► Add the coconut milk, vegetable broth, leek slices, and salt to a medium saucepan.
► Wrap the ginger, lemongrass and reserved leek greens in a sachet using cheesecloth and securing with twine. Add sachet to same pan.
► Bring mixture to a simmer and cook for 5 minutes at a gentle boil.
Poached fish:
► Rinse and pat dry cod filets, removing and discarding any skin or bones. Add fish to the simmering liquid and cook for 5 to 8 minutes, or until the flesh is firm to the touch. Remove cooked fillets, set aside and drizzle with lime juice.
To serve:
► Reduce the broth to one cup. Discard sachet.
► Pour broth into two bowls and top with cooked jasmine rice and fish. Garnish with chopped macadamia nuts, sliced scallions, and mung bean sprouts, and serve hot.
Detox Ramen With Mung-Bean Noodles, Enokis, Tofu & Lotus Root
SERVES 2
Detox broth:
3 cups water
1 piece kombu
3 cloves garlic, sliced
Ramen bowl:
1 bundle enoki mushrooms, bottoms trimmed
1 block firm tofu, cut into small cubes
1 medium lotus root, peeled and sliced
1 cup dried mung-bean noodles, rehydrated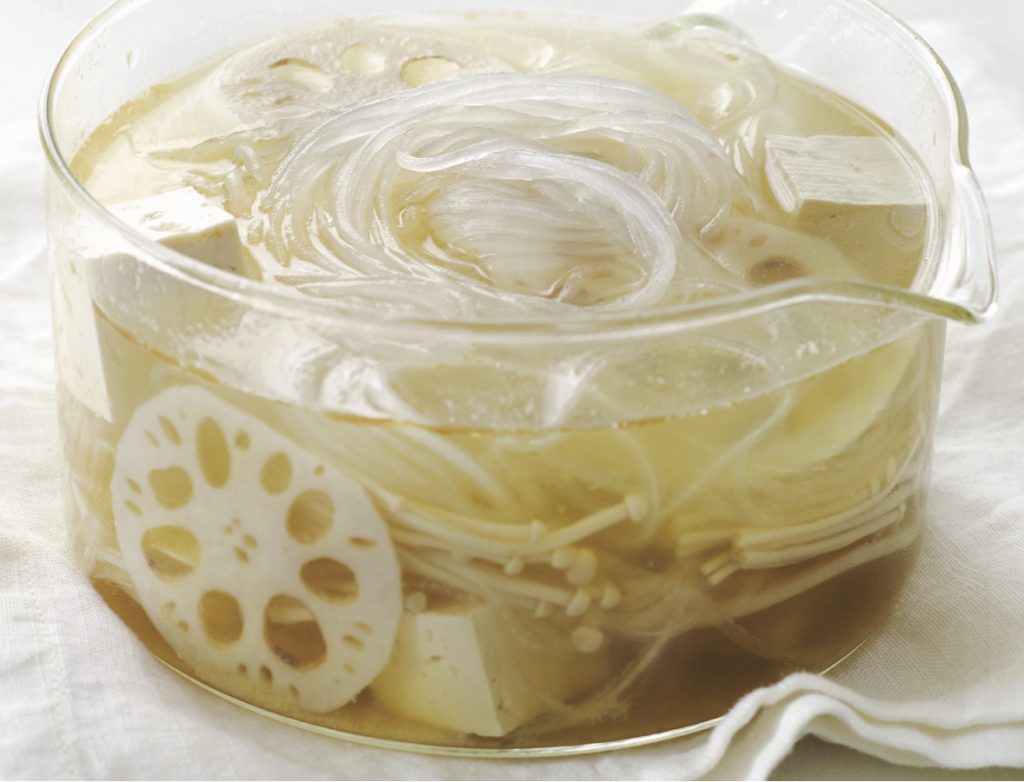 Seasoning:
1 tablespoon sesame oil
2 tablespoons brown rice vinegar
3 tablespoons white miso paste
3 tablespoons ginger juice
Detox broth:
► Add water, kombu, and garlic to a small saucepan, and bring to a gentle boil.
Ramen bowl:
► Add the enoki mushrooms, tofu and lotus root slices, and simmer for 5 to 10 minutes, or until items have slightly softened. Add the rehydrated noodles, and turn off heat.
Seasoning:
► Season the ramen broth with sesame oil, brown rice vinegar, miso and ginger juice, adjusting seasonings to taste.
► Transfer detox ramen to bowls and serve hot.
Naturally, love: EDEN INSTANT MISO SOUPS
Imagine that wherever you go, you can take a moment and sip a cup of warm, savory and soothing miso soup. We're obsessed with Eden's instant miso soups because they use freeze-drying methods to protect the flavor and nutrients of expertly crafted miso. All you do is add 8 ounces of hot water, one cube and voila! Zen perfection in a cup.
White Vegan Pizza With Cashew Ricotta, Fennel & White Asparagus
MAKES 2 LARGE PIZZAS, OR 4 SMALL PIES
Vegan dough:
11⁄4 cup warm filtered water, divided
1 tablespoon dry active yeast
1 1⁄2 tablespoons maple syrup
3 1⁄4 cup unbleached bread flour, divided
1⁄2-cup olive oil, more for oiling bowl
1 tablespoon sea salt
2/3 cup semolina, more for pizza peel
Cashew ricotta:
1 cup cashews, soaked
1 clove garlic, chopped
1 lemon, zested and juiced
1 tablespoon miso
1⁄2-teaspoon sea salt
2 tablespoons olive oil
1⁄4- to 1⁄2-cup water, as needed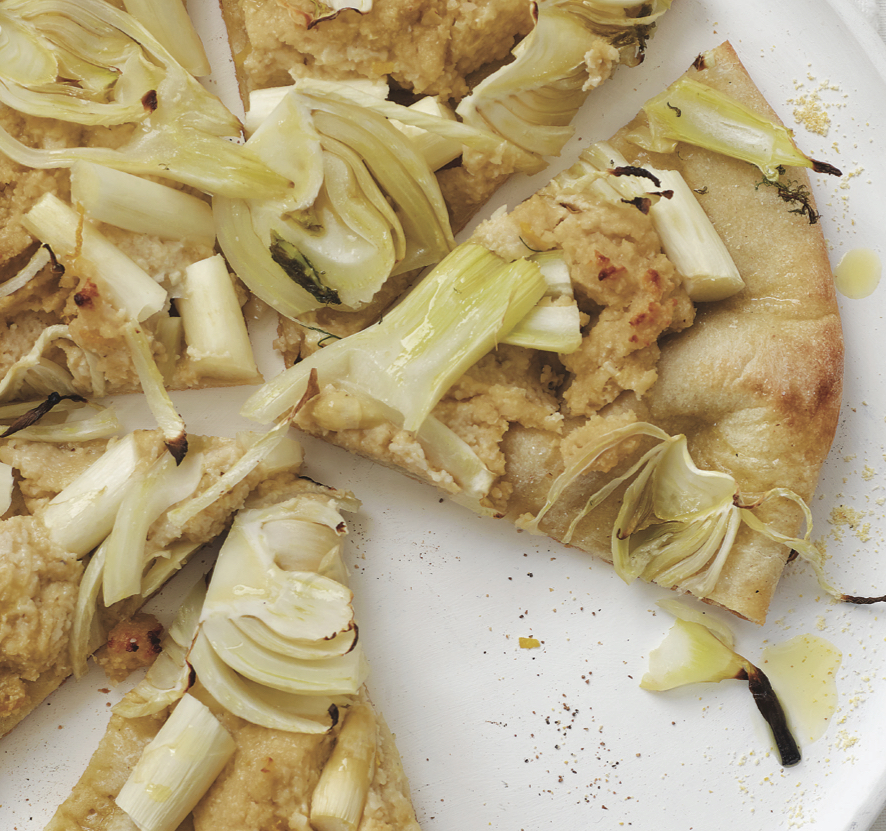 Pizza toppings:
2 medium fennel bulbs, sliced thinly
1 bunch white asparagus, cut into 1-inch pieces
2 tablespoons truffle oil (optional)
Vegan dough:
►Preheat oven to 450 degrees F, placing pizza stone (if using ) onto oven rack.
►Add 1⁄4 cup warm water, yeast, maple syrup and 1⁄4 cup our into small bowl and mix to combine. Allow the mixture to sit in a warm location for 15 minutes, or until frothy.
►Add yeast mixture to stand mixer with dough hook attachment along with olive oil, salt, and semolina. While the mixer is on, keep adding dough in 1⁄2-cup increments until the dough bounces back and does not stick to the sides of the mixer bowl (alternatively, knead by hand for 8 to 10 minutes). Add the dough to an oil- brushed bowl, and cover. Allow to rise for 30 minutes in a warm location.
Cashew ricotta:
► Add the cashew ricotta, garlic, lemon zest, lemon juice, miso, salt, and oil to a food processor and pulse until the mixture is combined, but still retains some texture. If needed, drizzle in some water to thin mixture into a 'ricotta' consistency.
Pizza toppings:
► Divide dough into 2 to 4 smallerballs. Flour surface and a rolling pin, and roll out each portion of dough into a 1⁄4 inch thick circle.
► Line pizza peel with semolina, lie rolled out dough onto peel, and place dollops of 'ricotta' onto the pizza and scatter around pieces of fennel and white asparagus. Slide into oven onto pizza stone (if using), or parchment-lined baking tray.
► Cook for 6 to 8 minutes, or until crust is golden. Remove from oven, cut into slices, and drizzle with truffle oil, if using. Make additional pizzas with remainder of ingredients.
► Serve hot.
Naturally, love: PLUM ORGANICS "EAT YOUR COLORS" POUCHES
News about healthy, happy, hues! Plum Organic's new baby food purees are inspired by Mother Nature's own vibrant colors. It's nutrition and ingredients you can see, created to please even the pickiest tyke's palates. Even though the White variety has an absence of color, it's still full of expertly blended organic apples, cauliflower, leek and coconut. Yum!
Dark Chocolate Truffles With Black Lava Rock Salt
SERVES 4 TO 6
Truffle batter:
1⁄2 cup full-fat coconut milk
1 tablespoon coconut oil
1⁄2 teaspoon vanilla extract
pinch sea salt
8 ounces bittersweet chocolate chips
Truffle topping:
12 ounces bittersweet chocolate chips
2 tablespoons black lava rock salt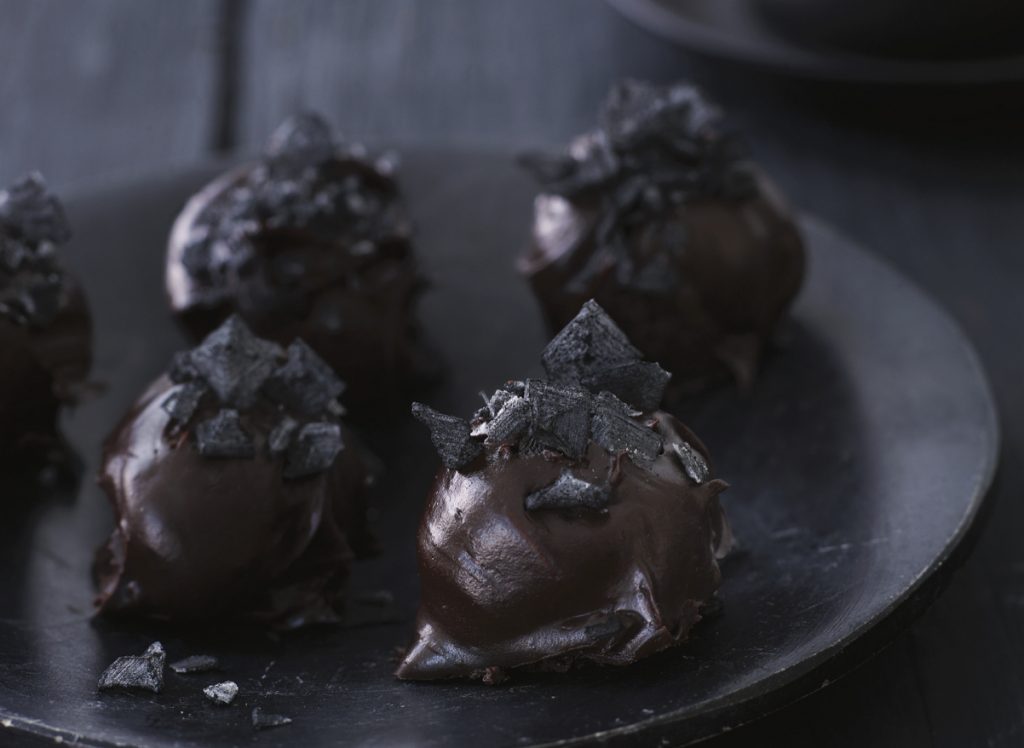 Truffle batter:
► Add the coconut milk, coconut oil, vanilla extract, and salt to a small saucepan and bring to a simmer.
► Add the chocolate chips to a medium bowl and pour over hot coconut mixture. Stir until the chocolate has completely melted.
► Refrigerate mixture for 30 minutes, or until firm to the touch.
► Use a tablespoon measuring spoon to scoop and portion batter. Gently roll each piece of batter between hands to form sphere.
Truffle topping:
► Bring a small saucepan filled with 1 cup of water to a simmer. Place a heat-proof bowl over the pot and melt half of the 12 ounces of chocolate chips.
► Remove bowl with melted chocolate o heat and add in remaining un-melted chocolate, to 'temper' the mixture.
► Stir the chocolate mixture until all the chocolate is melted.
► Dip each piece of rolled truffle batter into the chocolate using a metal spoon to help drape the batter with a layer of chocolate. Place coated truffle on a parchment-lined tray, and sprinkle the top of the truffle with a small amount of black lava rock salt.
► Repeat with remaining batter, and keep refrigerated until ready to serve.
Toasted Black Sesame Brittle
SERVES 4
1 cup black sesame seeds
2 vanilla beans
pinch sea salt
1 cup unbleached cane sugar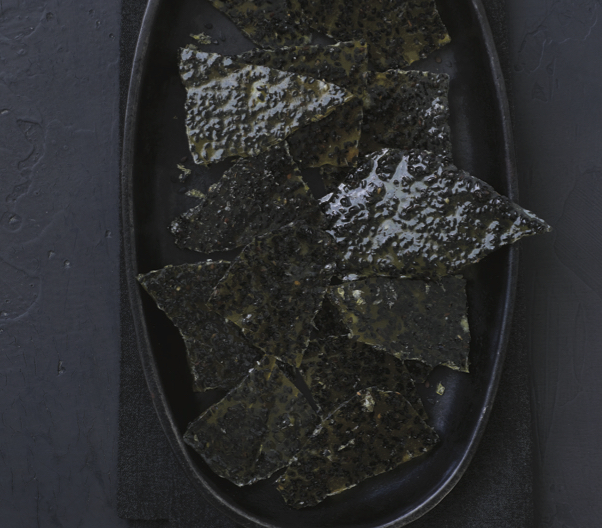 ►Line a baking tray with a heat-proof silicone mat, and set aside.
►Add the black sesame seeds to a medium pan and toast over medium heat for 2 minutes, stirring frequently. Remove from pan and allow to cool slightly.
► Split the vanilla beans in half lengthwise, and scrape out the seeds using a table knife.
► Add vanilla seeds and pinch of sea salt to toasted sesame seeds, stirring to evenly distribute the vanilla and salt.
► Place the sugar into a small saucepan, along with a sugar thermometer. Heat the sugar, stirring constantly over medium heat until the sugar becomes liquid in consistency and reaches a temperature of 295-300 degrees.
► Swiftly add in sesame mixture, stirring vigorously to distribute. Quickly pour sesame-sugar mixture onto silicone mat using a spatula to spread the forming brittle to a 1/8-inch thickness.
► Carefully score brittle into desired shapes, taking care not to cut through the silicone mat and refrigerate for 15 to 20 minutes. When firm, crack the brittle along scored lines.
Cast Iron Smoky Black Beans
SERVES 2 TO 4
3 tablespoons olive oil
3 cloves garlic, minced
1 teaspoon ground cumin
1 teaspoon onion powder
1 teaspoon smoked paprika
2 cans cooked black beans, drained and rinsed
2 teaspoons sea salt, or to taste
1 cup vegetable stock
2 chilies in adobo
2-4 tablespoons filtered water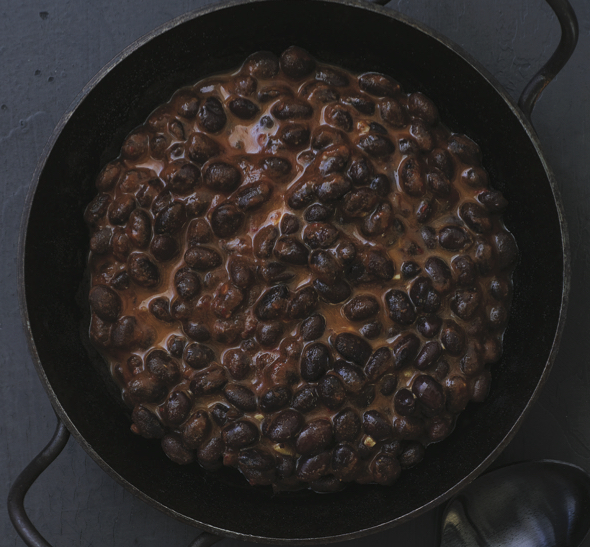 ►Place a medium cast iron pan over medium heat and heat for 30 seconds.
►Add the olive oil, minced garlic, ground cumin, onion powder, and smoked paprika. Cook for 10 seconds, stirring constantly.
►Add the drained, cooked black beans and sea salt to the pan, stirring to distribute the spiced oil mixture.
►Reduce heat to low and cook bean mixture for 5 minutes.
► Add 1 cup of the beans from the pan to a blender, along with the vegetable stock and chilies in adobo. Puree until smooth.
► Add bean puree back to pan and cook smoky black beans for additional 5 minutes over medium heat, stirring often. Add a small amount of water to thin beans to desired consistency before serving.
Smoky Espresso-Roasted Chicken Wings
SERVES 2 TO 4
Roasted wings:
12 organic chicken wings, split
3 tablespoons olive oil
1 teaspoon sea salt
Espresso glaze:
1⁄4 cup maple syrup
1⁄2 cup espresso
2 tablespoons Worcestershire sauce
2 tablespoons tamari (or soy sauce)
To serve:
2 tablespoons espresso powder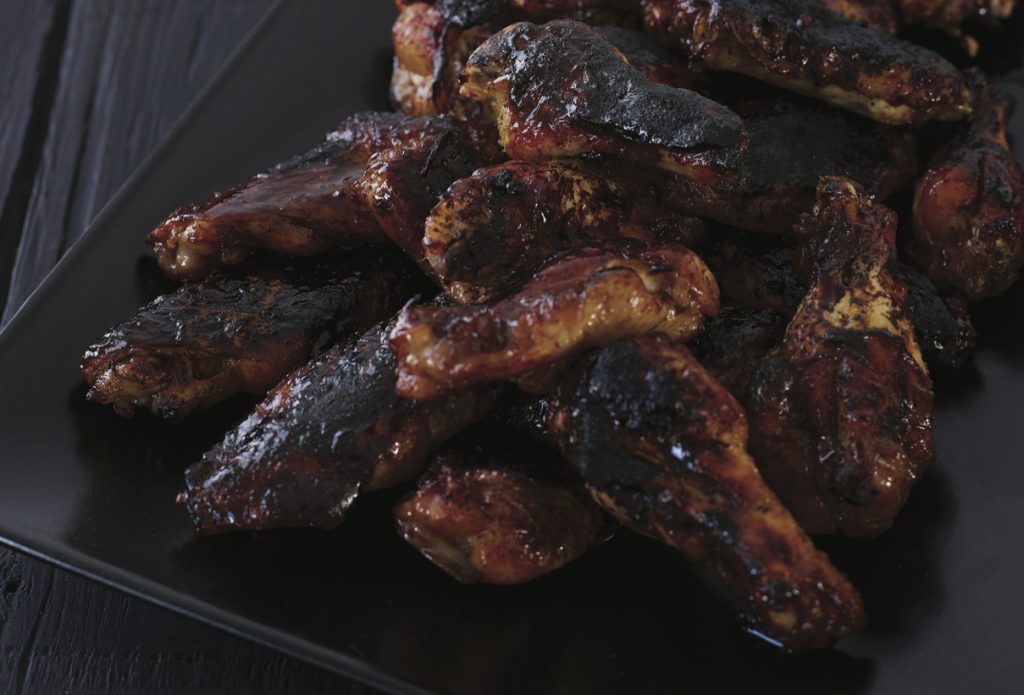 Roasted wings:
► Preheat oven to 400 degrees F.
► Toss the organic chicken wings with olive oil and salt.
► Arrange in a single layer on a parchment-lined baking trayand roast for 20 to 25 minutes, or until golden and cooked through, turning wings over once.
Espresso glaze:
► Combine maple syrup, espresso, Worcestershire sauce, and tamari in a small mixing bowl.
► Using a pastry brush glaze the roasted chicken wings with a generous layer and bake for an additional 3 to 5 minutes, or until wings are lacquered and golden. Reserve extra glaze for dipping.
To serve:
► Dust glazed, roasted wings with a thin coating of espresso powder and serve hot, alongside extra glaze mixture.
Frozen Winter Citrus Sherbet
SERVES 4
1 tablespoon lemon zest
5 lemons, juiced
3⁄4 cup agave nectar
3 cups coconut milk
1 teaspoon lemon extract
1 tablespoon vodka
pinch sea salt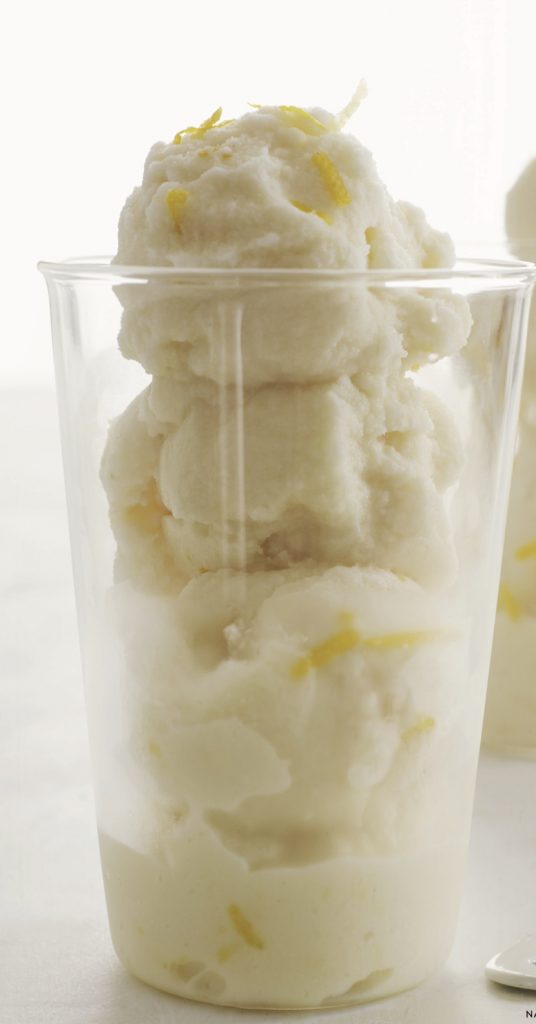 ► Combine all ingredients in a blender.
► Blend until smooth. Season mixture to taste (should taste sweet).
► Churn sherbet mixture in an ice cream maker for approximately 20 minutes, or until it reaches a 'soft- serve' consistency.
► Transfer to freezer for 2 to 3 hours, to allow sherbet to harden before serving.