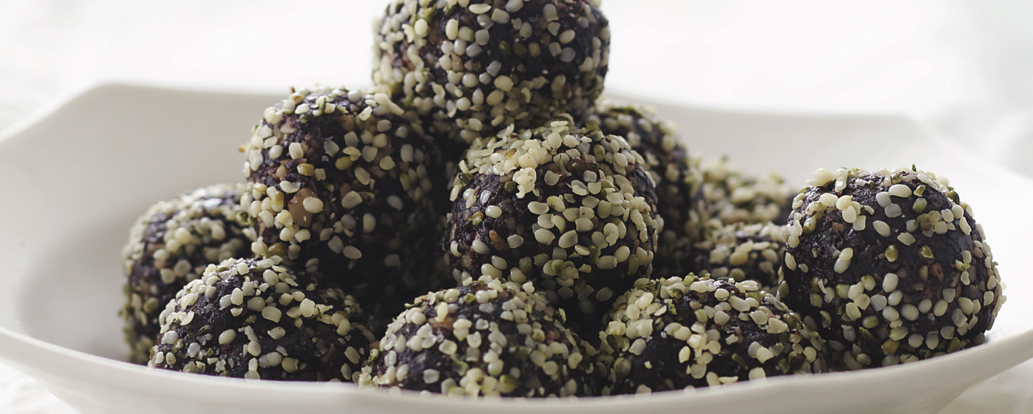 Story by Sandra Soria
Recipes by Olivia Roszkowski
Photographs by Alexandra Grablewski
Food Styling by Corey Belle and Saori Hashimoto
Prop Styling by Maeve Sheridan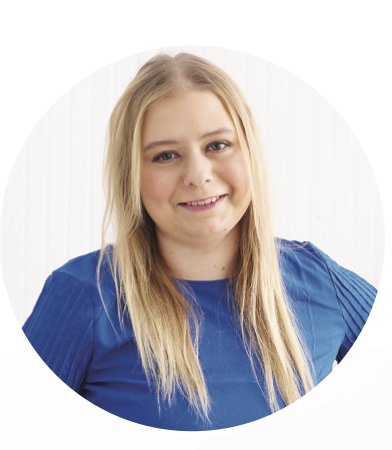 About Olivia Roszkowski:
We want to congratulate our Culinary Director Olivia Roszkowski on her new role as the Chef-Instructor of Health-Supportive Culinary Arts at the Institute of Culinary Education in New York City. If healthy cooking is a career path you're interested in, you need look no further than signing up for her classes!
Super Seed Chocolate Protein Bites
MAKES 1 DOZEN BITES
GATHER
1 cup walnuts
1 cup dates
1⁄4 cup cocoa powder
2 teaspoons vanilla extract
1⁄4 teaspoon sea salt
1 teaspoon ground ginger
2 tablespoons hemp seeds
MAKE IT
Place walnuts in pan and toast over medium heat for 2 minutes.
Pit dates and add to food processor along with toasted walnuts, cocoa powder, vanilla extract, sea salt, and ground ginger.
Pulse for one minute or until the mixture comes together into a ball when pressed.
Scoop 2 tablespoons of mixture into balls and roll to coat in hemp seeds.
Keep refrigerated for one week or freeze.
GOOD TO KNOW: Try different flavor variations using cashews, pine nuts, Brazil nuts, or pistachios.
Raspberry Chocolate Almond Cereal Bars
MAKES 12 BARS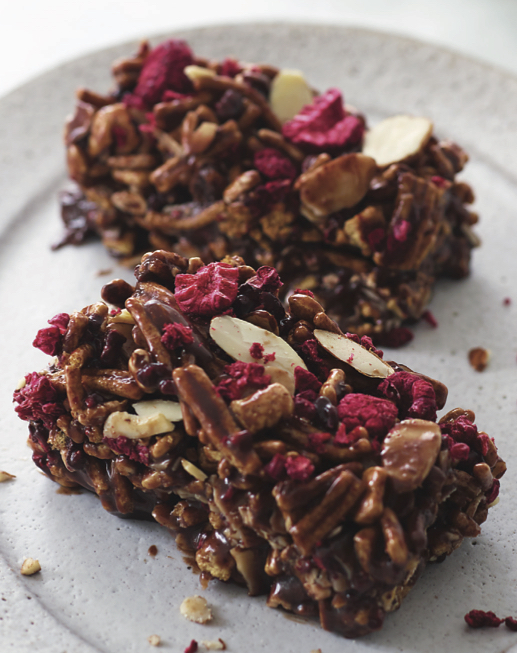 GATHER
1 (1.3 ounces) package freeze-dried raspberries
3⁄4 cup dark chocolate chips
1 cup sliced almonds, extra for garnish
3 cups puffed cereal
11⁄2 cups brown rice syrup
1 tablespoon vanilla extract
pinch flaky sea salt, extra for garnish
MAKE IT
Gently crumble freeze-dried raspberries (approximately 11⁄2 cups) into a medium bowl, reserving a handful for garnish. Add chocolate chips, sliced almonds, and puffed cereal.
Add rice syrup, vanilla extract, and salt to a small pan and warm on low heat for 1 minute or until mixture bubbles and becomes molten.
Slowly pour over raspberry mixture, stirring until evenly distributed and chocolate chips melt.
Press into an 8- x 8-inch pan lined with parchment paper and garnish with almonds, raspberries, and a sprinkling of salt.
Cool in refrigerator for 20 minutes and cut into bars. Store in refrigerator for up to a week.
No-Bake Coconut Lime Bars
MAKES 12 BARS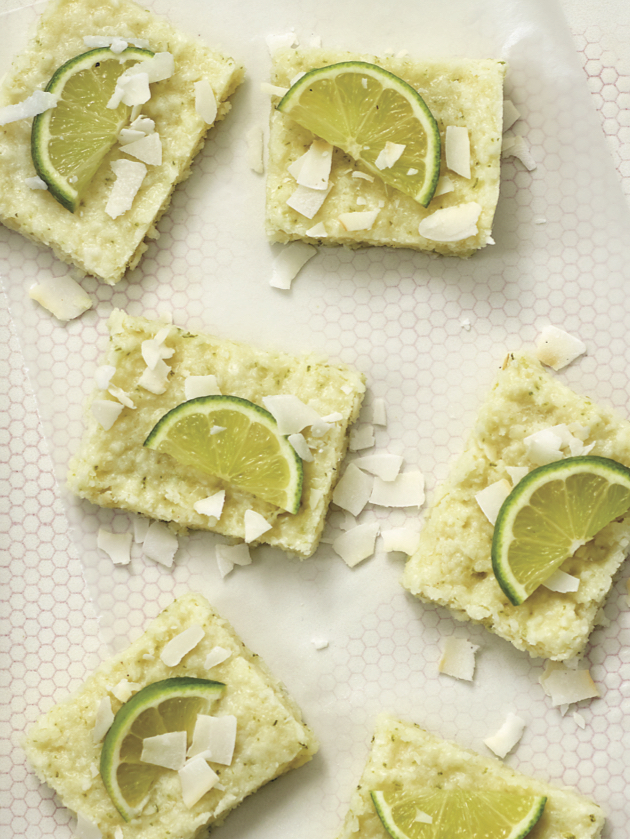 GATHER
4 cups unsweetened large shredded coconut flakes, more for garnish
11⁄2 cup agave syrup
1⁄4 cup virgin coconut oil
3 limes
pinch of salt
MAKE IT
Add coconut, agave syrup, coconut oil, and juice and zest of two limes into food processor and process for 60 seconds or until mixture comes together.
Press into an 8-x-8 dish and top with additional coconut.
Cool in freezer for 15 minutes or until slightly firm and cut into bars.
Slice remaining lime into slices and place on bars.
Store refrigerated for up to one week or freeze. Bars can be served frozen.
Mini Crunchy Falafel Waffles
MAKES ABOUT 4 DOZEN SNACK-SIZE PIECES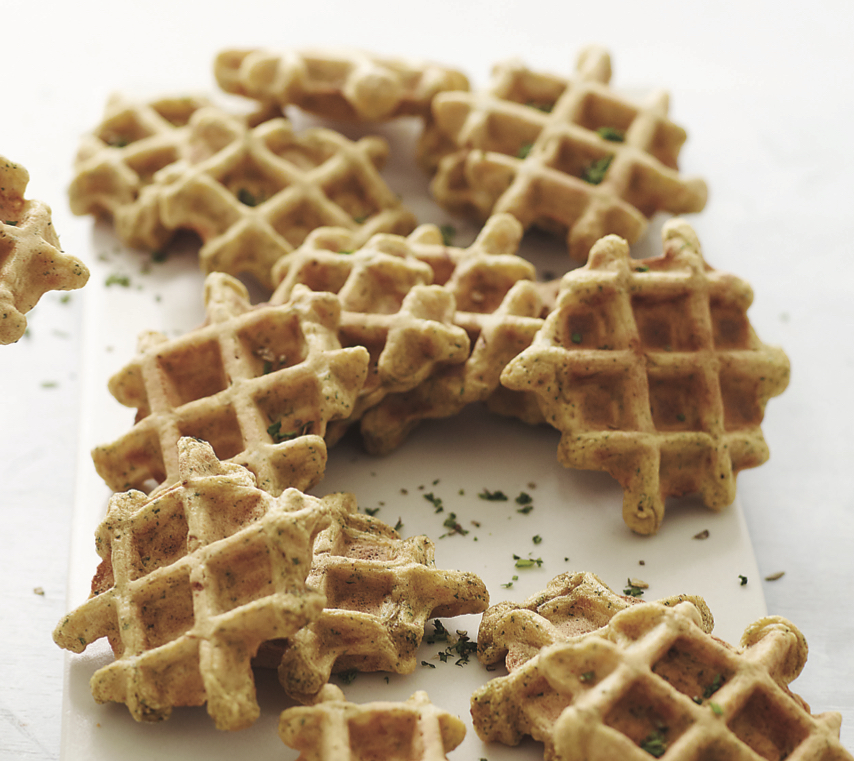 GATHER
1 cup cooked chickpeas
2 teaspoons harissa powder
2 teaspoons onion powder
2 tablespoons dried parsley
1⁄4 cup avocado oil, more for greasing waffle maker
1 teaspoon sea salt
1 cup self-rising flour
MAKE IT
Preheat oven to 300°F.
Add chickpeas, harissa powder, onion powder, avocado oil, sea salt, and self-rising flour to a blender. Add 1 1/3 cups filtered water and process until smooth.
Warm waffle maker while batter rests for 5 minutes.
Grease waffle maker and place one-tablespoon amount of batter in a few spaces of the maker, leaving space in between.
Close and cook for 2 minutes or until golden.
Place cooked waffles on rack- lined baking tray.
Repeat with remaining batter.
Bake for 10 to 15 minutes, or until crunchy.
Allow waffles to cool completely, and store in an airtight container for up to 1 week.
GOOD TO KNOW: Dip waffles in hummus for a perfect sweet and savory pairing.
Almond Flour Twix
MAKES 16 'FUN-SIZE' BARS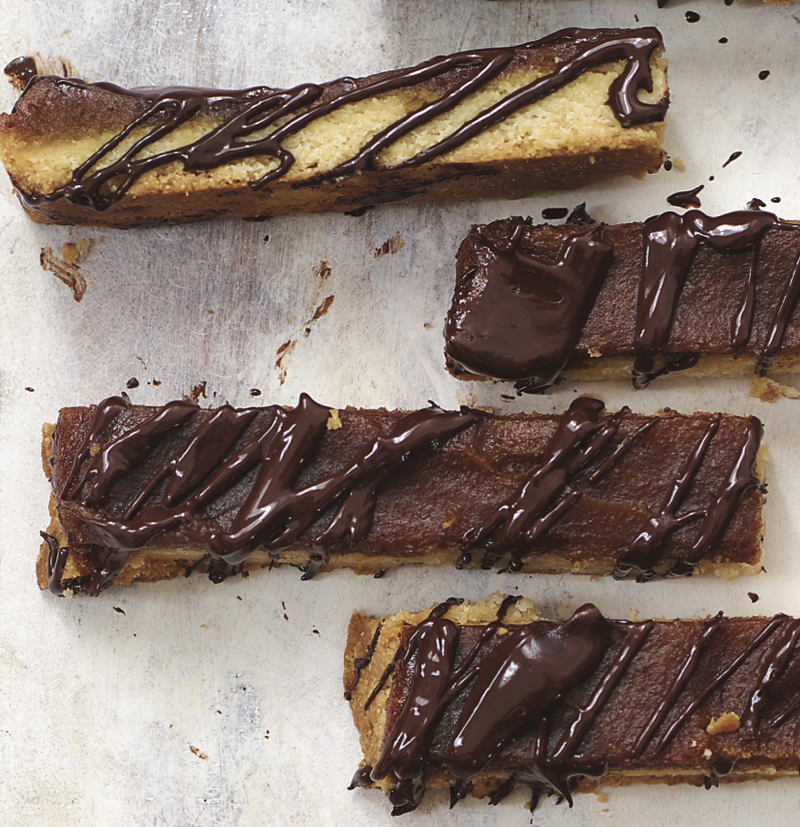 GATHER
1⁄4 cup refined coconut oil
3 cups almond flour
1⁄4 cup arrowroot
1⁄4 cup maple syrup
1 cup dates
3 tablespoons salted almond butter
2 cups dark chocolate chips
MAKE IT
Preheat oven to 325°F.
Mix together coconut oil, almond flour, arrowroot, and maple syrup in a bowl, evenly distributing the oil and syrup.
Line an 8- x 8-inch baking dish with parchment paper and firmly press down crust mixture. Bake for 20 minutes or until lightly golden.
Pit dates and soak in hot water for 10 minutes. Blend dates with almond butter and 1⁄2 cup of the soaking water until a smooth paste forms.
Pour date paste over baked layer and bake for additional 20 minutes.
Cool slightly and remove from pan.
Slice into 1- x 2-inch bars, wiping down knife between cuts.
Melt half of chocolate chips in pan over medium heat just until melted. Turn off heat and stir in remaining chocolate until melted.
Drizzle chocolate over bars and refrigerate until bars are set.
Bars can be kept refrigerated for one week or freeze.
GOOD TO KNOW: Make a plant-based caramel out of soaked dates and almond butter.
Carrot Pumpkin Seed Beta Carotene Crackers
MAKES ABOUT 11/3 CUP BATTER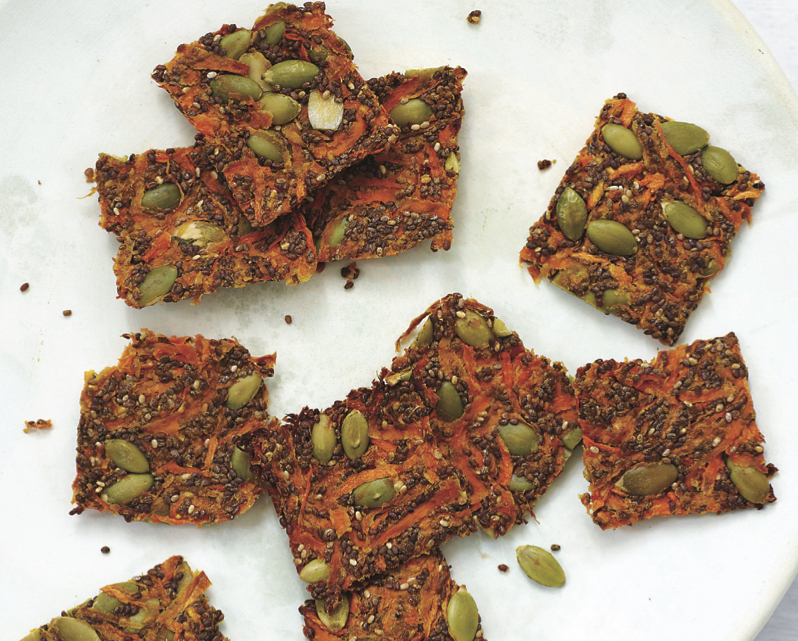 GATHER
2 large carrots
1⁄4 cup chia seeds
1 teaspoon garlic powder
1 teaspoon ground cumin
2 tablespoons avocado oil
1⁄2 teaspoon sea salt
1⁄2 cup pumpkin seeds
TO MAKE
Preheat oven to 350°F.
Peel and grate carrots (approximately 11⁄2 cups) into medium bowl.
Thoroughly stir in chia seeds and allow to sit for 10 minutes.
Add garlic powder, cumin, avocado oil, and salt to mixture.
Spread onto parchment-lined baking tray into a very thin layer and bake for 15 minutes. Cut into squares, transfer to a rack, reduce temperature to 325°F and bake for an additional 10 to 15 minutes or until golden and crispy.
Allow crackers to cool completely and store in an airtight container for up to 1 week.
Crispy Roasted Mushroom Jalapeno Chips
MAKES 4 CUPS
GATHER
2 jalapeños
4 large Portobello mushrooms
1⁄4 cup avocado oil
1 teaspoon garlic powder
2 teaspoons maple syrup
1⁄2 teaspoon sea salt
1⁄4 teaspoon ground black pepper
MAKE IT
Preheat oven to 300°F.
Slice jalapeños and Portobello mushrooms into thin slices and place in single layer on a rack-lined baking tray.
Mix avocado oil, garlic powder, maple syrup, salt, and pepper in small bowl and brush onto each side of each slice.
Bake for 30 to 35 minutes or until golden and crispy. NOTE: Jalapeño pieces might cook faster and should be removed while still green in color.
Allow pieces to cool completely; store in an airtight container for up to 1 week.
New York Slice Pizza-Dusted Popcorn
MAKES 8 CUPS POPPED CORN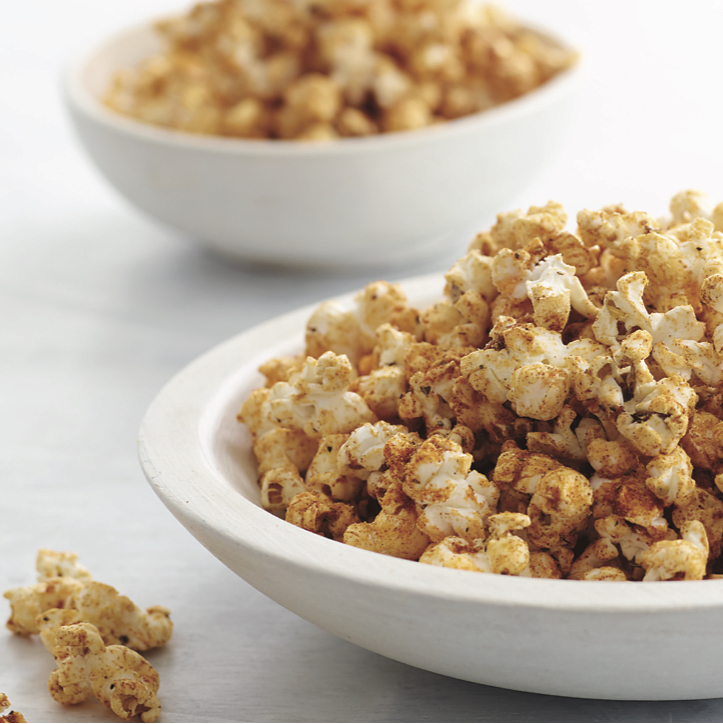 1 tablespoon paprika
1 tablespoon onion powder
2tablespoons nutritional yeast
2 teaspoons sea salt
1⁄2 cup organic corn kernels
2 tablespoons avocado oil, extra to drizzle
MAKE IT
In a medium bowl, stir together paprika, onion powder, nutritional yeast, dried oregano, and sea salt.
Add kernels and oil to a medium pot and stir to coat each kernel with oil.
Cover tightly and cook over medium heat for 3 to 5 minutes, or until kernel popping slows down, carefully shaking every 30 seconds.
Thoroughly toss in bowl with seasoning mixture along with a generous drizzle of oil to help the seasoning stick.
Allow popcorn to cool completely and store in an airtight container for up to 3 days.
GOOD TO KNOW: Drizzle popped corn with a small amount of additional oil to help the spices stick.