Story by Sandra S. Soria
Photographs by Alexandra Grablewski
Food Styling by Corey Belle
Prop Styling by Maeve Sheridan
Recipes by Olivia Roszkowski
FAT WAS ONCE considered a dirty word for those who want to eat cleaner. Now, we know better: Fats are a major source of energy. In fact, our bodies have only two sources of fuel—fat or sugar. Sugar is like kindling; it burns fast and hot, but it so short-lived you keep coming back for more. Fat is a slow-burning, far more efficient way to power up. Your blood sugar is more regulated and you aren't constantly hungry. Fats also help your body absorb vitamins and minerals better, and are critical for keeping your body healthy at the cellular level.
But there are good fats and there are bad ones. On the naughty list are saturated fats that come from animal food sources, including full-fat dairy products. You should also watch food labels for trans fats or partially hydrogenated trans fats, which are a result of food processing methods. These types raise your cholesterol levels—and your risk of heart disease.
The healthiest fats are mono-unsaturated and polyunsaturated fatty acids—words that are a mouthful but boil down to plant-based foods and oils. That's where the following recipes come in. They not only offer up a wide spectrum of nutrients, but come with a side of healthy fats as well.
This is good news for you keto fans who want to skip saturated, animal-based fats and proteins that conventional ketogenic diets put so much focus on. Our recipes include happy-fat, high-protein ingredients that are also low in net carbs. These nutrient-dense, real foods—non-starchy vegetables, nuts and seeds, and limited low-glycemic fruits and sweeteners— contain carbs that are harnessed in by plenty of whole-food fiber. Oh, and they are super delicious to boot.
The Recipes
COLD SESAME PEANUT TAKE-OUT 'ZOODLES'
MAKES 6 CUPS OF NOODLES, 1⁄2 CUP SAUCE
GATHER
3 medium zucchinis
1 small purple cabbage
1⁄2 cup roasted peanuts
FOR SAUCE:
3 tablespoons toasted sesame chili oil
2 tablespoons rice vinegar
2 teaspoons maple syrup
3 tablespoons tamari
MAKE IT
1. Spiralize zucchinis on a large blade and place in large bowl.
2. Thinly slice cabbage (approximately 1 cup) and place in same bowl.
3. Chop peanuts and toss with vegetables.
4. Whisk together oil, vinegar, maple syrup, and tamari. Pour over vegetables.
Good to Know
Use different colored vegetables and a variety of blade cuts to create an appetizing plate.
ZUCCHINI PAPPARDELLE WITH AVOCADO BASIL 'ALFREDO'
MAKES 6 CUPS PAPPARDELLE; 1 CUP 'ALFREDO'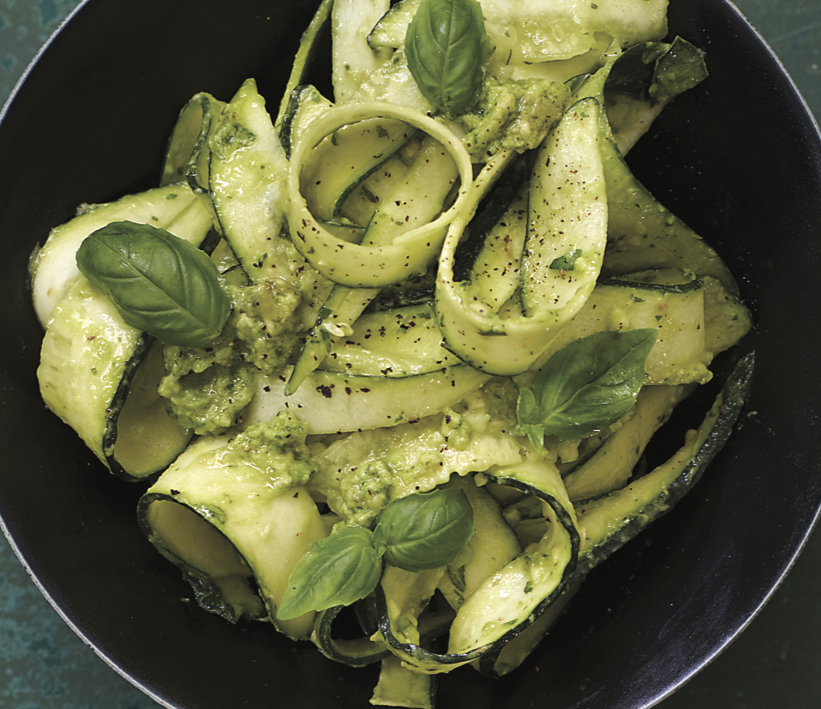 GATHER
3 medium zucchinis
1 teaspoon sea salt
1 bunch basil
1 ripe avocado
2 garlic cloves
1⁄4 cup avocado oil, more for garnish
1 lemon
MAKE IT
1. Slice zucchini into thin slices lengthwise. Cut into wide 1⁄2-inch strips, add 1⁄2 teaspoon sea salt, and set aside on top of paper towels for 10 minutes. Squeeze out excess moisture.
2. Destem basil (approximately 1 packed cup) and add to blender, along with remaining salt, avocado, garlic, and avocado oil.
3. Juice lemon (approximately 3 tablespoons) and add to blender, along with 1⁄4 cup filtered water. Blend until smooth.
4. Plate zucchini strips and garnish with dollops of avocado 'alfredo,' extra basil and a drizzle of avocado oil.
Good to Know
Massaging the zucchini slices with salt will soften them, making them more noodle-like.
COCONUT FLOUR FLATBREAD WITH SUMMER HERB CHUTNEY
MAKES 4 FLATBREADS; 1 CUP CHUTNEY
GATHER
1⁄2 cup coconut flour
1⁄4 cup ground psyllium husks
1 teaspoon sea salt
1 small bunch cilantro
1 can coconut cream
1 small piece ginger
1 jalapeno
MAKE IT
1. Add coconut flour, ground psyllium husks, and 1⁄2 teaspoon sea salt to a medium bowl.
2. Destem and chop cilantro (approximately 2 cups) and add 1⁄4 cup to flour mixture, along with 1⁄4 cup coconut cream and 1⁄2 cup filtered water. Stir to form dough and allow it to rest covered for 5 minutes.
3. Add remaining 1⁄2 teaspoon sea salt, chopped cilantro and coconut cream to separate bowl. Peel and mince ginger (approximately 2 tablespoons) and add to bowl. Mince jalapeño and add to mixture.
4. Divide dough into 4 equal sections and use rolling pin or hands to press into 1⁄4-inch thick circles.
5. Warm nonstick pan over medium heat. Cook each flatbread for 2 minutes per side, or until slightly charred and cooked through.
6. Serve with herb chutney.
Good to Know
Squeeze out excess moisture from cauliflower so the recipe will bind better.
BULLETPROOF COFFEE COCONUT POPSICLES
MAKES 10 POPSICLES(1/3 CUP EACH)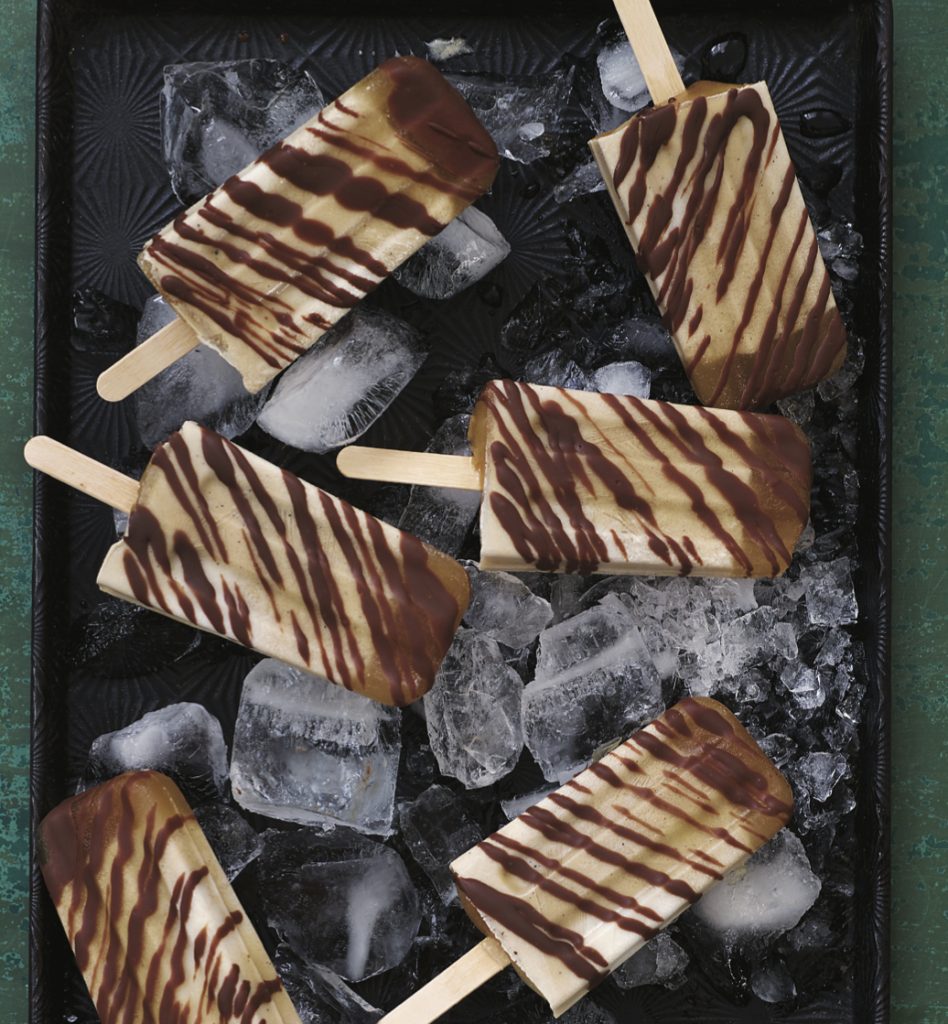 GATHER
3 cans coconut milk
pinch sea salt
6 cinnamon sticks
1 vanilla bean
2 tablespoons instant coffee
2 tablespoons collagen powder
1 unsweetened chocolate bar
MAKE IT
1. Add coconut milk, sea salt, and cinnamon sticks to medium saucepan. Scrape vanilla bean, and add seeds and pod to same pan.
2. Bring mixture to a simmer and cook on low heat for 15 to 20 minutes, or until mixture reduces by half (approximately 3 cups).
3. Cool mixture for about 15 minutes.
4. Remove and discard vanilla pod and cinnamon sticks.
5. Add 1/3 of mixture into popsicle molds and place in freezer.
6. Stir in instant coffee and collagen powder into remaining coconut milk until fully dissolved.
7. Add into molds and freeze for 4 hours or until completely frozen.
8. Remove popsicles and lay onto a parchment-lined tray. Return to freezer.
9. Melt chocolate bar in a pan over low heat just until melted and drizzle over popsicles.
Good to Know
Reducing coconut milk with cinnamon sticks and a vanilla bean makes a decadent condensed-milk base that is less icy when frozen.
DARK CHOCOLATE AVOCADO BREAD
MAKES 1 MEDIUM LOAF
GATHER
3 tablespoons avocado oil, more for pan
2 ripe avocados
3 organic eggs
2 1⁄4 cups almond flour
1⁄4 cup cocoa powder, extra for dusting
1 1⁄2 teaspoons baking powder
3/4 cup maple syrup
MAKE IT
1. Preheat oven to 350°F.
2. Line loaf pan with parchment paper. Brush lightly with avocado oil.
3. Add avocado oil, avocados, eggs, and dates
to blender. Process until smooth.
4. Add almond flour, cocoa powder, and baking powder to a bowl.
5. Stir in pureed avocado mixture until evenly combined.
6. Pour mixture into loaf pan and bake for 30 to 40 minutes, or until cooked through.
7. Cool bread slightly in pan, and then remove and place on cooling rack to cool completely.
8. Slice bread and drizzle slices with maple syrup.
Note: Bread can also be left unsweetened and served with savory items.
BROCCOLI, MINT, & MACADAMIA 'RICOTTA' SHIRATAKI NOODLES
MAKES 6 CUPS NOODLES; 3⁄4 CUP 'RICOTTA'
GATHER
3⁄4 cup macadamia nuts
2 tablespoons refined coconut oil
1 tablespoon umeboshi paste
1 garlic clove
1 small head broccoli
1 package shirataki noodles
1 small bunch mint
MAKE IT
1. Bring a medium pot of water to a boil.
2. Add macadamia nuts to water; cook for 1 minute or until softened.
3. Transfer nuts to food processor along with coconut oil, umeboshi paste, garlic cloves and 1⁄4 cup of the hot water and process for 30 seconds, or until mixture resembles ricotta but is not completely smooth.
4. Cut broccoli into florets. Drain and rinse shirataki noodles well.
5. Add shirataki noodles to boiling water and cook for 2 minutes. Add broccoli and cook for 30 seconds longer.
6. Drain and plate. Garnish with dollops of macadamia 'ricotta' and fresh mint leaves.
GOLDEN CAULIFLOWER FALAFEL WITH MORINGA TAHINI DRIZZLE
MAKES 16 PIECES; 3⁄4 CUP DRIZZLE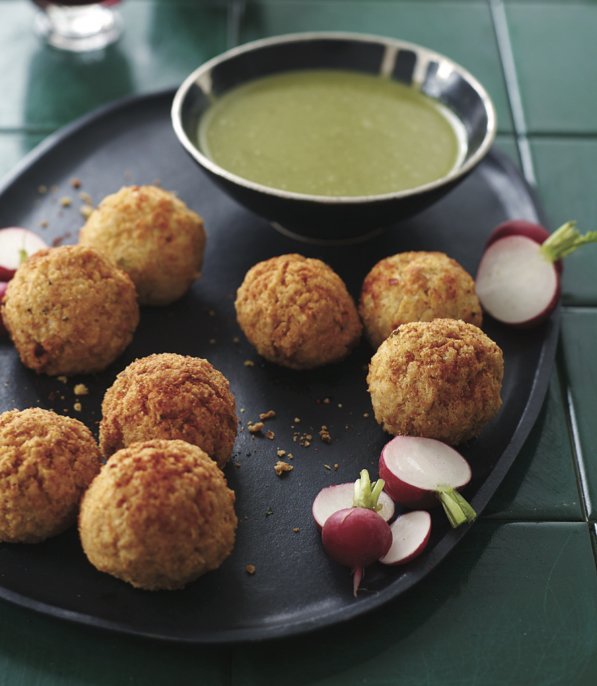 GATHER
4 cups frozen riced cauliflower
3⁄4 cup tahini
2/3 cup almond flour
3 1⁄2 teaspoons harissa seasoning
1 teaspoon sea salt
1 teaspoon moringa powder
1 bunch radishes
MAKE IT
1. Preheat oven to 350°F.
2. Defrost cauliflower, place in a towel and squeeze out excess moisture.
3. Transfer into bowl and add 1⁄2 cup tahini, almond flour, 3 teaspoons harissa seasoning, and 1⁄2 teaspoon sea salt.
4. Form small 2-tablespoon rounds and bake on parchment-lined baking tray for 15 minutes. Allow rounds to cool for a few minutes, before handling.
5. In a small bowl, mix remaining 1/2 teaspoon harissa seasoning, 1/2 teaspoon seasalt, moringa powder, andremaining 1/4 cup tahini untilsmooth.
6. Slice radishes and serve with cauliflower falafel and tahini drizzle.
KETO WHITE CHOCOLATE MACADAMIA FUDGE
MAKES ABOUT TWO DOZEN PIECES
GATHER
1 cup unsalted macadamia nuts
3⁄4 cup freeze-dried blueberries
1 cup cacao butter
1 cup coconut butter
2 tablespoons vanilla extract
1⁄2 teaspoon sea salt
MAKE IT
1. Chop macadamia nuts and freeze-dried blueberries.
2. Warm cacao butter in a small pan for 30 seconds or until just melted. Remove from heat.
3. Add coconut butter, vanilla extract, and salt to a food processor and process until smooth, streaming in cacao butter as engine is running.
4. Pour mixture into small round silicone molds or baking pan and top with a layer of chopped macadamia nuts and crumbled blueberries.
5. Set in freezer for 30 minutes or until firm.
6. Store refrigerated for up to one week or keep frozen.