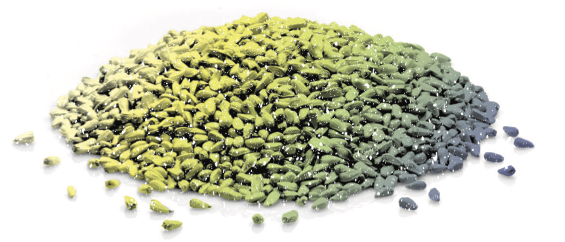 Every day, I pen a syndicated column called "Do Just OneThing" that appears in newspapers across the country. Over the past several years, I've accumulated thousands of tips that not only help people live a little bit greener each day, but are smart ways to cut waste and save money as well. In each issue of this magazine, I'll round up my all-time favorite tips. They're clever, fun, and simple enough that I think you'll Naturally love to try them. –Danny Seo
#1 SQUIRREL PROOF
Got a problem with squirrels raiding your bird feeder? Instead of nets, traps, and awkward hanging places for the feeder, why not just change the type of feed? Safflower seeds (which are from a thistle-type flower) are sold at home improvement stores and are a type of food that birds love, but squirrels hate. Once squirrels have a taste of the bitter seed, they will stay far away from the feeder. And here's a bonus: Giant bags of safflower seeds are also very affordable, so it's economical, too!
#2 TWIST OFF
Plastic lids on things like juice, soda, and water bottles are now recyclable, but should not be screwed tightly on the bottle. The reason is when plastic bottles are compressed during the baling process, a tightly screwed on lid or cap can prevent bottles from compressing. The solution? Leave the cap on the bottle, but loosely. That way, it won't go astray in the process, and it'll allow the bottle to compress at the recycling facility.
#3 GIVE GIFT CARDS
Many of us have gift cards for stores like JCPenney, Target, and Kohl's with just a few dollars left on the card. Instead of letting the cards go unused, you can donate them to the nonprofit Sew Much Comfort organization. They purchase new clothes (using your gift card) and retrofit them into adaptive clothing (with Velcro closures) to provide wounded service members normal-looking clothing that they can easily get in and out of. Since 2004, Sew Much Comfort has distributed more than 122,000 pieces of clothes to wounded soldiers. Learn more at sewmuchcomfort.org.
#4 BOXING DAY
Moving? When you're in need of cardboard boxes, buying new ones can produce sticker shock. But you can score free moving boxes in your community with a little research and ingenuity. Websites like FreeCycle and Craigslist are always good places to check; use the "Wanted" section to ask for boxes. And U-Haul has a service called "Customer Connect" that lets you search for free moving boxes near you. All you do is enter your zip code to find those who have boxes to give.
#5 TRASH IT
When you have a plastic container of lighter fluid or motor oil, you might notice it's stamped with a #2 recycling symbol. While that's a commonly recycled plastic, these containers shouldn't go in the bin. The reason is simple: Plastic containers that once held flammable liquids are not recyclable. The residual oil inside can create something called a "flash point," and it also changes the overall chemical composition of the plastic. So, what to do? Safely dispose of these containers in the trash.