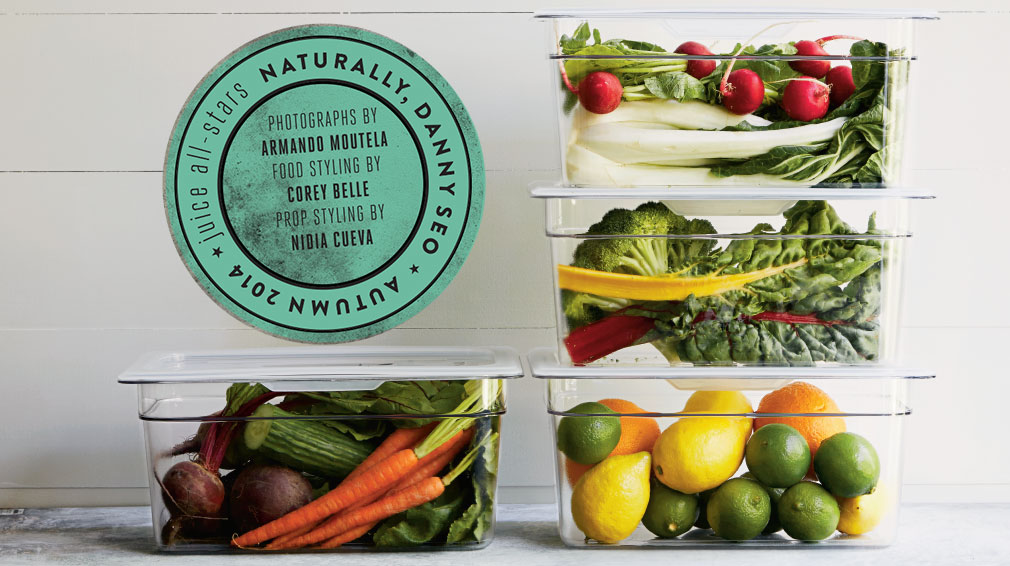 It's inevitable: Look at Facebook and someone has "checked in" at Bed, Bath & Beyond to buy a Nutribullet. Or, you toy with acquiring a Vitamix from QVC late at night. (Really? You can make smoothies and soup with that thing?)
And let's not forget about Instagramming pictures of food: It's one green drink after another, #nofilter thankyouverymuch. We get it: America is juice, smoothie, and tonic obsessed. Not only does freshly squeezed taste better than anything from a carton, it's better for you, too. But making your health drinks can cost money and time, so we asked the rock stars of healthy food and nutrition for their all-star blends.
We diced, peeled, juiced, blended, and strained through hundreds of recipes to find concoctions that not only tasted oh-so-amazing but also had incredible benefits for our overall health. Cheers to that!
Why? To De-Puff Eyes & Curb Sugar Cravings
All-Star: Katrine Van Wyk @KatrinevanWyk
Claim To Fame: Author of Best Green Drinks Ever

As a former model, Katrine found herself "focused too much on calories and staying skinny on the job." To top it off, like so many of us, she overcompensated for her lack of good food energy with too much caffeine and sugar. Over time, she "felt disconnected" from her body and quit modeling to find a healthier way to live. Now a holistic coach, she helps clients and businesses like Equinox's "The Juicery" come up with delicious, healthy juices and smoothies.
Skin Tonic Juice
Katrine tells us her Skin Tonic juice contains "beautifying ingredients such as cucumber, which contains the skin-toning mineral silica, that will do more good if you ingest it rather than simply resting slices on your eyes." Plus, her addition of leafy greens mega-load this drink with anti-inflammatory omega 3s.
Gather:
½ lemon
1 cup purslane (or a leafy green like kale, spinach, swiss chard, or dandelion)
1 cucumber
½ mango
handful cilantro
Make It:
Put all the ingredients through a juicer. Alternate between harder foods, like cucumber, with the mango, leafy greens and cilantro to, as Katrine says, "help move everything through smoothly."
The Wonder Shake
The Wonder Shake is a signature blend: "Persimmon is a bright orange fruit packed with antioxidants and pectin, which helps regulate blood sugar." Katrine recommends this for anyone trying to curb those sugar cravings. Who, us…?
Gather:
• 1 cup almond milk
• 1 persimmon
• 1 cup or a handful of spinach
• ½ tsp cinnamon
• ¼ tsp cardamom
• ½ tsp vanilla extract
• 1 medjool date
Make it:
Toss all the ingredients into the blender and blend thoroughly.
—–
Why? Better than an Energy Drink
All-Star: Celine Beitchman @naturalgourmet
Claim To Fame: Celine's a lead chef-instructor at the Natural Gourmet Institute, one of the leading culinary schools that teaches seasonal, local and health-supporting way of cooking.
Try this if you want to kick your morning coffee habit. Celine tells us, "Drinking this juice every day provides a powerful boost of phytochemicals, vitamins, and minerals to your whole body." Think of it as an energy drink without all the nasty chemicals. She adds: "Using all the parts of your produce is more economical, and provides you more nutrients." So take those wings, Red Bull fans!
Very Well Red
Gather:
• 1 stalk of broccoli (stem and flowering top)
• ½ medium cucumber (about ¼-pound piece)
• 6 sprigs parsley
• 1 small beet, stalk and leaves attached
• ½ tart apple, unpeeled
• ¼ wedge of lemon, unpeeled
• ½" piece of ginger
Make It:
Run all the ingredients through a juicer.
—–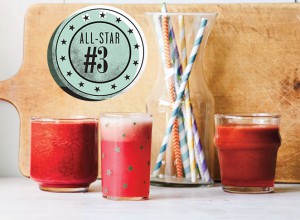 Root of Earth Drink
Why? Super Vitamin-Packed
All-Stars: Carly Brien, Hedi Gores & Hayden Slater @PressedJuicery
Claim To Fame: Founders of Pressed Juicery, a Los Angeles-based chain of juice shops, and authors of the book Juice.
All-Star Tip; Yes, garlic!
The power compound in garlic is allicin, widely used in the alternative medicine field as an antibacterial, an antifungal, and a mechanism for promoting healthy cholesterol and blood pressure levels. At Pressed Juicery, they use garlic in savory juices and a few of their elixir recipes, because: "It's a great way to fight off seasonal colds."
Spicy Tomato Greens & Fennel
The founders of Pressed Juicery are known for introducing fresh juices and all of their health benefits to the masses. In their first book, Juice, these power-juicers report that their Spicy Tomato Greens & Fennel juice "might sound a little bit like V8…but our version is better for you, better tasting, and more natural." The bounty of tomatoes in this juice produces a concoction that, as these experts say, is "incredibly antioxidant-rich, which protects the cardiovascular system, regulates fat in the blood, and helps reduce the risk of heart disease."
Gather:
• 2 large tomatoes
• Handful of spinach
• 2-3 celery stalks
• ½ small fennel bulb, plus fronds
• 2 cloves garlic
• ½ tsp cayenne pepper
Make It:
Put all the ingredients through a juicer.
—–
Get more yummy and healthy juice recipes by picking up the first issue of Naturally, Danny Seo on newstands.