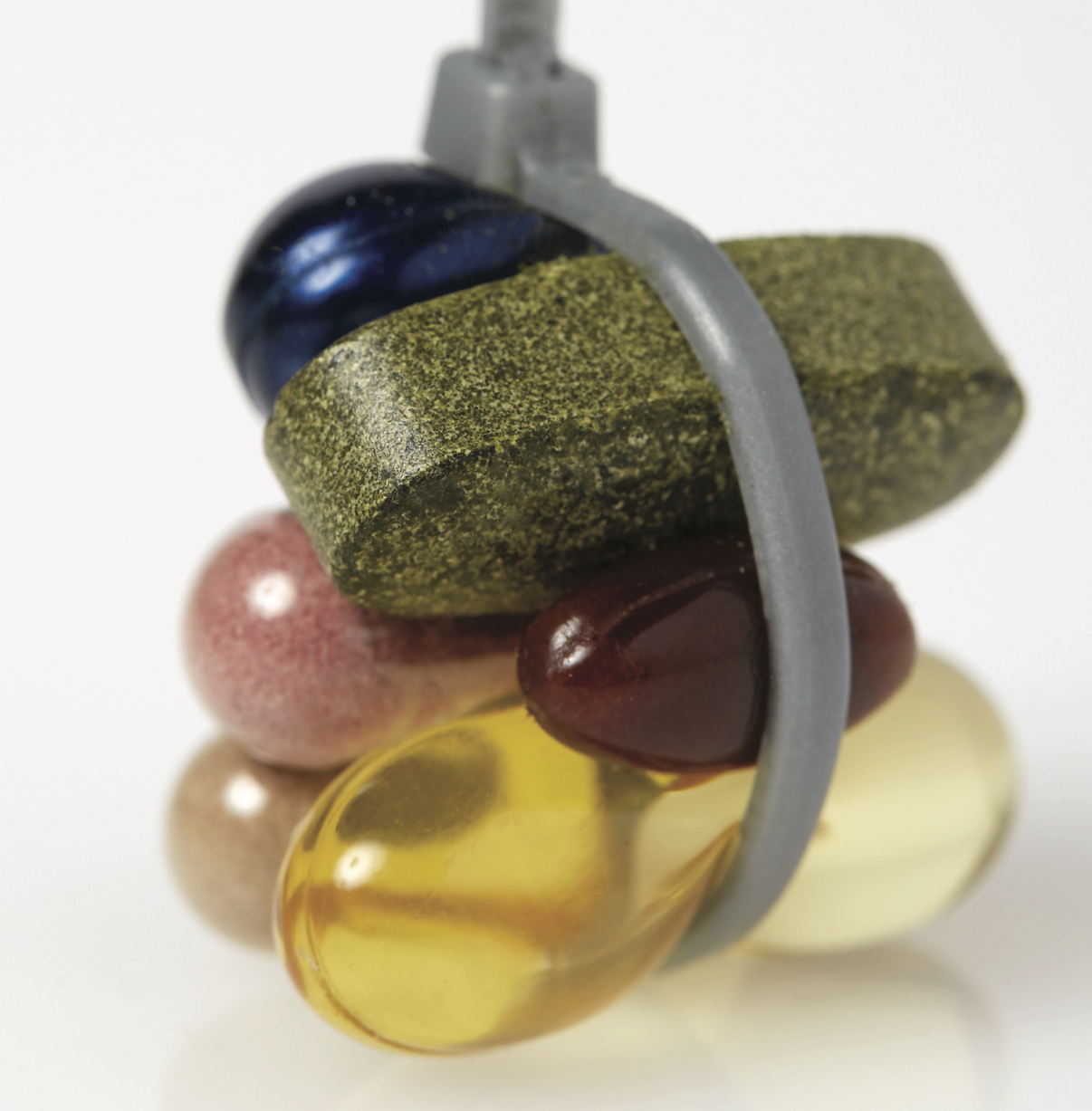 STORY BY NOELLE PRIMAVERA PHOTOGRAPHS BY DAVID ENGELHARDT STYLING BY KRISTINE TREVINO
When you're staring down your market's ever-expanding aisle of pills and powders, it can feel like you need a PhD in chemistry to decide which supplements are right for you. We are well past the good old days when we picked up a multivitamin and were done with it. Now you have an option: Customized vitamin packs delivered to your door. It's like getting a nutritionist and supplements in one tidy package.
"DON'T FORGET TO TAKE YOUR VITAMINS."
How many of us heard that parental plea growing up? Obviously, a whole lot of us. Last year alone, more than 150 million Americans took a dietary supplement, according to the Council for Responsible Nutrition. It makes good sense. Taking the right supplement can be a great way to boost your health. Still, how do you know which of the hundreds of options are actually the "right" ones for you?
It's a common question. Industry research from Net Promoter Scores, which measures customer experiences, shows shopping for vitamins usually ranks lower among consumers than shopping for health insurance or Internet providers. Most of us can relate to that dismal ranking. Craig Elbert sure can. "My doctor had just told me that I was vitamin D deficient," he says. "And my wife was pregnant and ready to start taking prenatal vitamins. When we got to the vitamin aisle, it was crowded and overwhelming. We didn't know where to start, and there was no one to turn to with questions." That experience turned out to be a real "aha moment" for him, inspiring him to dream up Care/of, a company that creates customized vitamin packs for people based on their own individual lifestyle and health goals.
Craig drew on other personal experiences as well. "Growing up in Iowa," says the CEO and co-founder, "I worked at an independent record store where we knew the tastes and quirks of everyone who walked through the door. I saw how valuable having that connection was. My Care/of co-founder, Akash Shah, and I set out to design a better experience—one where consumers felt empowered with knowledge about what they should take and why. It quickly became clear to us that a personalized approach had meaningful benefits. With personalized supplements, people can choose the right supplements for them, rather than opt for a one-size-fits-all solution."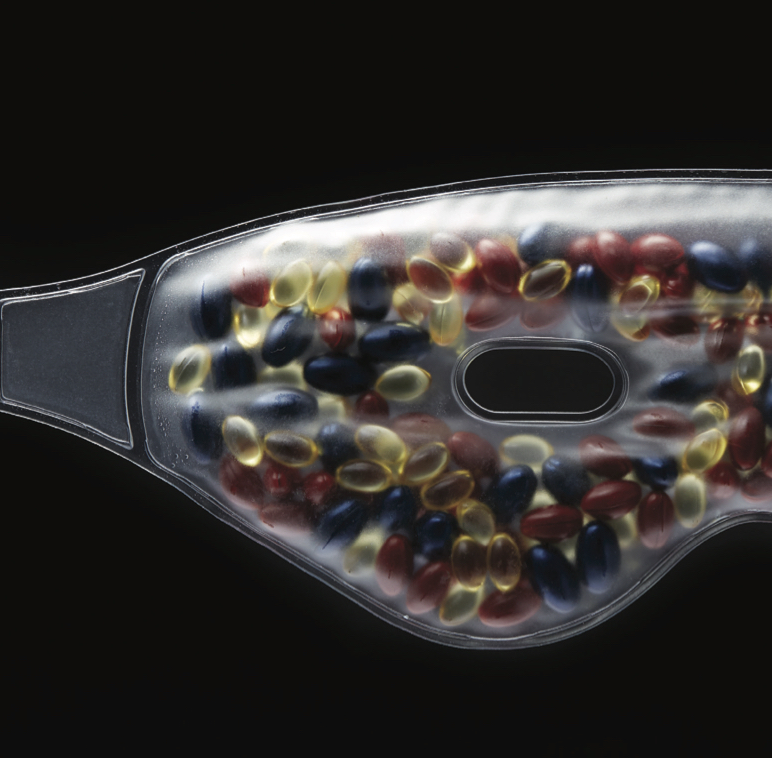 To mine for that customized information, the two developed an online survey that includes a mix of questions designed to deliver the answers they need. It's sort of like the eHarmony of pairing supplements with people. The survey wants to know your age, sex, where you live, your eating habits, the amount of exercise you get, and your alcohol intake. It probes respondents about what areas of health they're most interested in focusing on—brain, energy, heart, immunity, skin, digestion, stress, and bones. And then the questions get more personal. Are you concerned about short-term memory loss? Do you have a family history of bone issues? Are you traveling on a plane in the next month? Those are just a few of the questions that pop up, each one prompted by previous answers given. No single question determines the outcome of a person's vitamin recommendations; their proprietary algorithm takes every answer into account when homing in on the best dietary supplement(s) for each client.
As a testament to the fact that we as individuals are a pretty diverse bunch with a wide variety of health needs and goals, almost two-thirds of the packs Care/of recommends are totally unique. And the vitamin packs themselves take customization to a whole other level. Arriving in a bright orange box with the customer's name on it, each pack in a 30-day supply is also personalized and comes inside a convenient dispenser along with a guide and details on each vitamin to make regular use as simple as possible.
That definitely sounds much better than a confounding trip to the vitamin aisle, but does it really provide an easier experience, as well as the right recommendations? To see for myself, I took the Care/of online survey along with six different people from across the country. Ranging in age from 24 to 65, we were a motley crew of men and women, some skeptics and some believers, some knowledgeable about dietary supplements and others completely uninformed, but all intrigued by the idea nonetheless. Here's how it went.
Dan, the youngest of the group, was openly skeptical from the beginning. He says, "The online survey broke it down for someone like me who didn't know anything about vitamins. I feel like I got some real understanding and I'm not so skeptical anymore."
Chris, who's trying to revamp his sedentary lifestyle, agreed, saying, "The survey was comfortingly thorough. I felt like the questions were really trying to determine the best supplements for me; they were pointed and trying to get to the bottom of what could be an issue for me."
Jessica, a new mom, and Janine, a school teacher, were already both very informed about dietary supplements. So while they weren't surprised by the vitamins that were recommended, they were impressed that after years of doing their own research, the survey was so quickly able to pinpoint what was right for them.
"I did think it was like a choose-your-own adventure book where one question led me down one road and the next down another until we got to my answers." —DANNY SEO
Monica, who regularly commutes into Manhattan, felt the same and appreciated the convenience of the individual packs. "When you're commuting daily or going away on a trip," she says, "you don't need to worry about dealing with multiple pill bottles. It's nice to just grab the packets and throw them in a bag. It's easy to have them when you're busy and on the go."
As the oldest one in the group, Lynn is concerned with her brain and memory, so the informational card that comes in the dispenser was particularly helpful. "The card identifies each pill and what it's for, which makes me feel more comfortable taking them."
And for me, someone who researches things until it makes me a little crazy and a lot overwhelmed, the simplicity of the survey and the straightforward information about the recommended dietary supplements was ideal.
As for the results, each of our vitamin packs were a unique mix
even though many of us had similar concerns—stress, skin, and digestion being the most common. And we all agreed that having our names on our daily vitamin packs made us feel kind of special—a much better feeling than the one you get when standing in a vitamin aisle.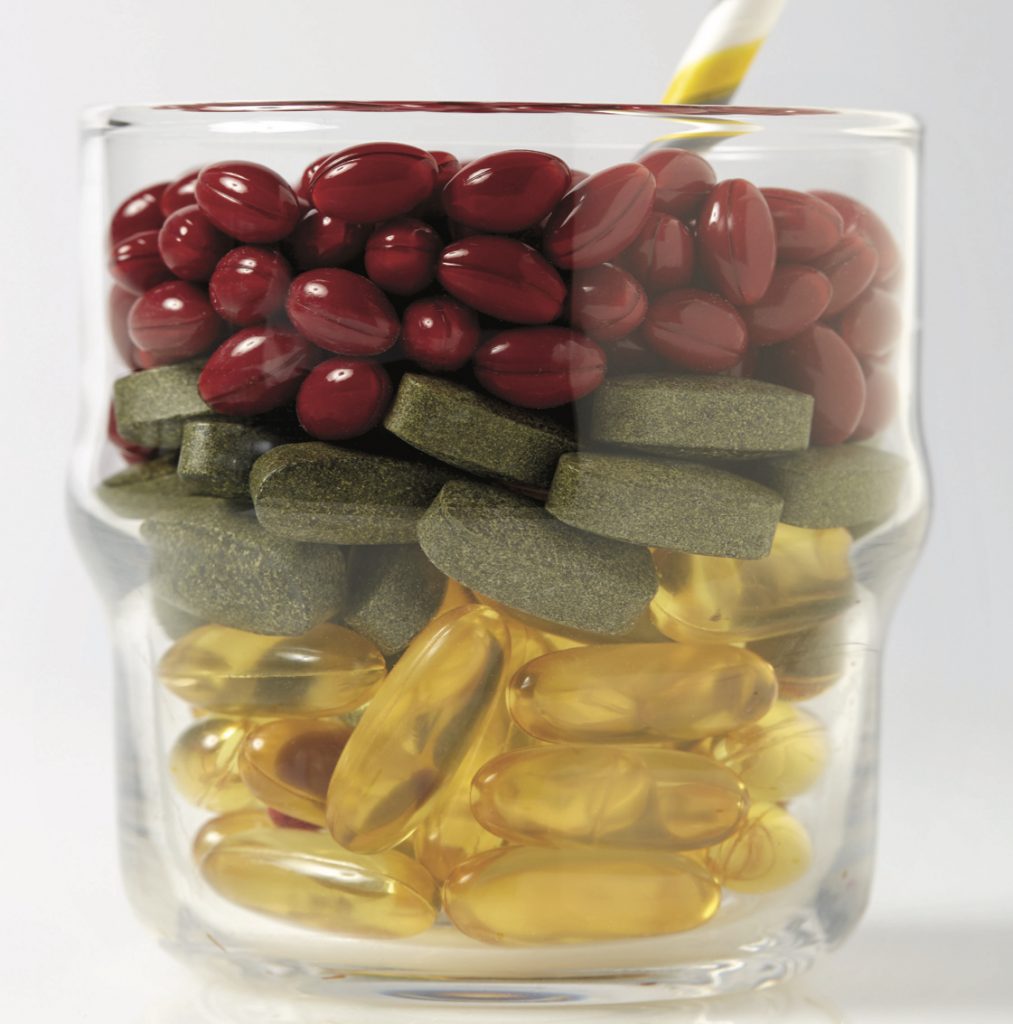 MEETING THEIR MATCH
Here's the breakdown on each person who took the survey and their recommended vitamin-pack contents, along with insights from Craig Elbert of Care/of.
THE YOUNG SKEPTIC
WHO: Dan, 24, a construction project manager from Dix Hills, New York recently returned from serving in Afghanistan.
HEALTH FOCUS: Brain health, maintaining energy and managing stress
PRESCRIBED: Rhodiola, Calcium Plus, Astaxanthin
CARE/OF: "Rhodiola is a great supplement for the busy city dweller like Dan because it promotes energy and helps the body adapt to stress in
a healthy way—two of Dan's primary concerns. Rhodiola has been traditionally used to fight fatigue and boost energy for a long time. It was actually used by Russian cosmonauts and athletes to support stamina under prolonged stress."
DAN: "I felt comfortable with the recommendations, and the card in the back of the dispenser is helpful so I know what I'm taking. I've been taking them religiously, every morning."
IS THIS YOU? Try Nature's way Rhodiola capsules.
THE VEGAN MOM
WHO: Jessica, 33, of Salt Lake City, Utah is a breastfeeding new mom who eats a plant-based diet to help combat her trigeminal neuralgia.
HEALTH FOCUS: Skin and digestion, as well as stress relief
PRESCRIBED: Calcium Plus, Vitamin B12, Probiotic Blend
CARE/OF: "We recommended Vitamin B12 to Jessica because, as a vegan, she likely doesn't get enough of it from her diet. Good sources of vitamin B12 include eggs, dairy, cheese, and other mostly non-vegan foods. Our vitamin B12 is fermented with whole foods so that it's easier for the body to absorb and digest. For someone low in B12, taking a supplement can lead to feeling more energized."
JESSICA: "I've taken supplements my whole life so I wasn't surprised by the recommendations. I appreciated that the survey took into consideration all of the variables, not just what you eat; it's about your lifestyles and goals too. The survey was really well-rounded and thoughtful, without being too complicated."
IS THIS YOU? Try Natrol Acidophilus Probiotic and Garden of Life B-12 organic spray.
THE WORK-AT-HOME MOM
WHO: Lynn, 46, works from home in Northern California while raising two kids under the age of 5.
HEALTH FOCUS: Digestion, skin, bone health, and stress management
PRESCRIBED: Digestive Enzymes, Vitamin D, Astaxanthin, Rhodiola
CARE/OF: "Because Lynn is concerned about her bone health, we recommended she take vitamin D. Vitamin D is essential for general health and for strong bones, and because she lives in the northern half of the U.S. it can be difficult to get enough of it from sun exposure alone."
LYNN: "I liked that the vibe of the survey was fun but still very much to the point, so the recommendations made sense to me. I've never been good at taking vitamins regularly, so the personalized packaging has definitely inspired me to take them daily."
IS THIS YOU? Try Nature Made Vitamin D3 Softgels or MegaFood Vitamin D3 Tablets.
THE BUSY COMMUTER
WHO: Monica, 47, of Mt. Vernon, New York eats a gluten-free, paleo diet.
HEALTH FOCUS: Immunity, digestion and skin health
PRESCRIBED: Iron, B-Complex
CARE/OF: "We recommended iron for Monica because she told us, as part of her survey responses, that she has been low on it in the past. Iron deficiency is quite common, particularly in women. This is one supplement that we advise people take with caution—taking too much of it can make you unwell."
MONICA: "I feel like by going through this process, mentally it's given me an 'oomph,' a kickstart to do better. And it's so cool that it has my name on it. That makes me want to own it, like I've got to take these every day. There's no excuse."
IS THIS YOU? Try Nature's Way Iron capsules or MegaFood Blood Builder tablets.
THE STRESSED TEACHER
W H O : Janine, 48, is an elementary school teacher in Petaluma, California who recently lost 85 pounds.
HEALTH FOCUS: Brain, skin, digestion, bone health, and managing stress
P R E S C R I B E D : Probiotic Blend, Bacopa, Calcium Plus, Astaxanthin, Rhodiola, B-Complex
CARE/OF: "We recommended astaxanthin for Janine since she mentioned she's interested in taking care of her skin. Astaxanthin is a powerful antioxidant that protects the skin—it's actually the com- pound that gives salmon and shrimp their salmon color. We source astaxanthin from algae fed by Himalayan water."
JANINE: " is is a stressful time of year for me so I'm really excited about the bacopa. I was running late for work the other day and it was so easy to grab the pack and bring it with me. I didn't have to worry about taking them out of various bottles. It was a real timesaver, otherwise I would have just skipped taking them."
IS THIS YOU? Try NeoCell Super Ceramides Skin Hydration & Elas- ticity Supplement.
THE COUCH POTATO
WHO: Chris, 48, is a Lyft driver in Covington, Kentucky.
HEALTH FOCUS: Brain, energy, heart health and stress management
PRESCRIBED: Rhodiola, Astaxanthin, Bacopa, Vitamin D, Magnesium
CARE/OF: "We recommended bacopa for Chris because he's focused on improving his cognitive function and brain health. Research on bacopa is still emerging, but the results from six studies suggest it may have a positive effect on multitasking ability, visual processing speed, and mild memory issues. We source bacopa from a sustainably farmed resource in India."
CHRIS: "I was intrigued by the recommendations, I wasn't aware of some of these particular supplements. I'm going on blind trust they're the right ones for me, but because the questions were so thorough and not one-size-fits-all, like a multivitamin, I felt comfortable with them."
IS THIS YOU? Try NOW PQQ Energy Veg Capsules and Natrol High Absoprtion Magnesium.
THE ACTIVE SENIOR
WHO: Lynn, 65, is an active Boca Raton, Florida real estate agent.
HEALTH FOCUS: Brain, skin and bone health
PRESCRIBED: Astaxanthin, Bacopa, Calcium Plus
CARE/OF: "We recommended Calcium Plus to Lynn since she's focused on bone health. For women approaching their fifties and sixties, it becomes more and more critical that their nutrition habits include calcium to help strengthen the bones. The Calcium Plus includes quantities of Vitamin D and Vitamin K, which help the body absorb the calcium."
LYNN: "I keep the dispenser in the corner of my kitchen, so I remember to take them. The packaging said to do that and that makes sense, otherwise I would have put it away in a cupboard and forgotten about it. I'll take my vitamins now. It made a big difference."
IS THIS YOU? Try Natural Vitality Natural Calm Plus Calcium packets.
THE EDITOR-IN-CHIEF
WHO: Danny Seo, 40, is editor-in-chief of Naturally magazine.
HEALTH FOCUS: Energy, heart, immunity
PRESCRIBED: Astaxanthin, Bacopa, Calcium Plus
DANNY: "I took the five-minute online survey and was surprised to learn they were asking about how long I look at a computer screen as one of my questions. I did think it was like a choose-your-own adventure book where one question led me down one road and the next down another until we got to my answers. I was prescribed Calcium Plus because I rarely drink cow's milk; Vitamin B12 because I never eat meat (and B12 keeps my blood cells healthy); Vitamin C because I currently have a cold (they asked!); and Rhodiola because I was staring at a computer screen trying to ship this issue! Rhodiola is an herbal supplement that can help with fatigue and stress.
WHAT I TAKE: In addition to my Care/Of packet, I take MegaFood Multi for men 40+, Nordic Naturals Ultimate Omega and, when I need to slumber peacefully, Natrol Melatonin so I can get the best sleep of my life.