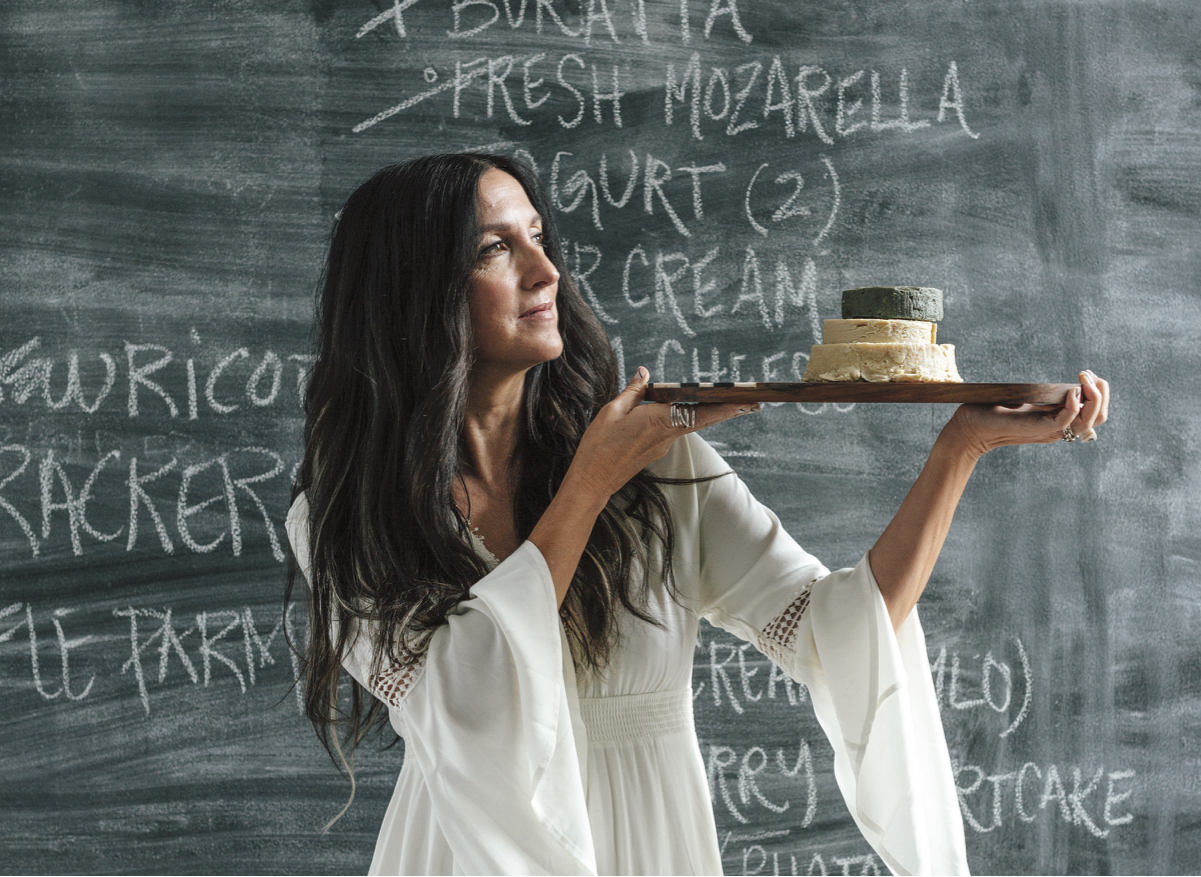 STORY BY STACIE STUKIN PHOTOGRAPHS BY JONAS JUNGBLUT RECIPES BY JULIE PIATT
THERE'S A RAINSTORM IN Los Angeles, but inside Julie Piatt's glass box of a house in Malibu Canyon it's cozy. As we sit in the living room watching the plummeting rain and swaying trees, she increases the comfort factor by serving a raw cacao latte that is so creamy, luscious and comforting that it's hard to believe it's vegan and free of caffeine, sugar and dairy. And all she did was throw a handful of raw cashews, some raw cacao powder, a date, some vanilla and a little coconut oil into her high-power blender. Then she adds boiling water and—voilà!—she's created the piping hot milky treat she drinks most mornings as a coffee replacement. "It has a natural kick and I get healthy fat, protein and antioxidants, too," Julie says.
It's that breezy attitude toward eating simple whole foods that allows Julie and her husband, Rich Roll, to feed their family of seven a plant-based diet. It also propelled their first cookbook, "The Plantpower Way," on to bestseller lists. Now Julie has refocused her culinary exploration toward plant-based cheeses. She transformed her kitchen into her personal vegan cheese lab and luckily now we can all reap the creamy benefits in her new book, "This Cheese is Nuts! Delicious Vegan Cheese at Home."
As she displays her perfectly formed cheeses on a big round wood plank surrounded by homemade crackers and dehydrated fruit, we marvel at the camera-ready beauty and the authentically cheesy appearance of a sprouted almond coconut ricotta, another that she calls a camembert (cashew-based) and a third which is a triple- cream (made with coconut cream and cashews).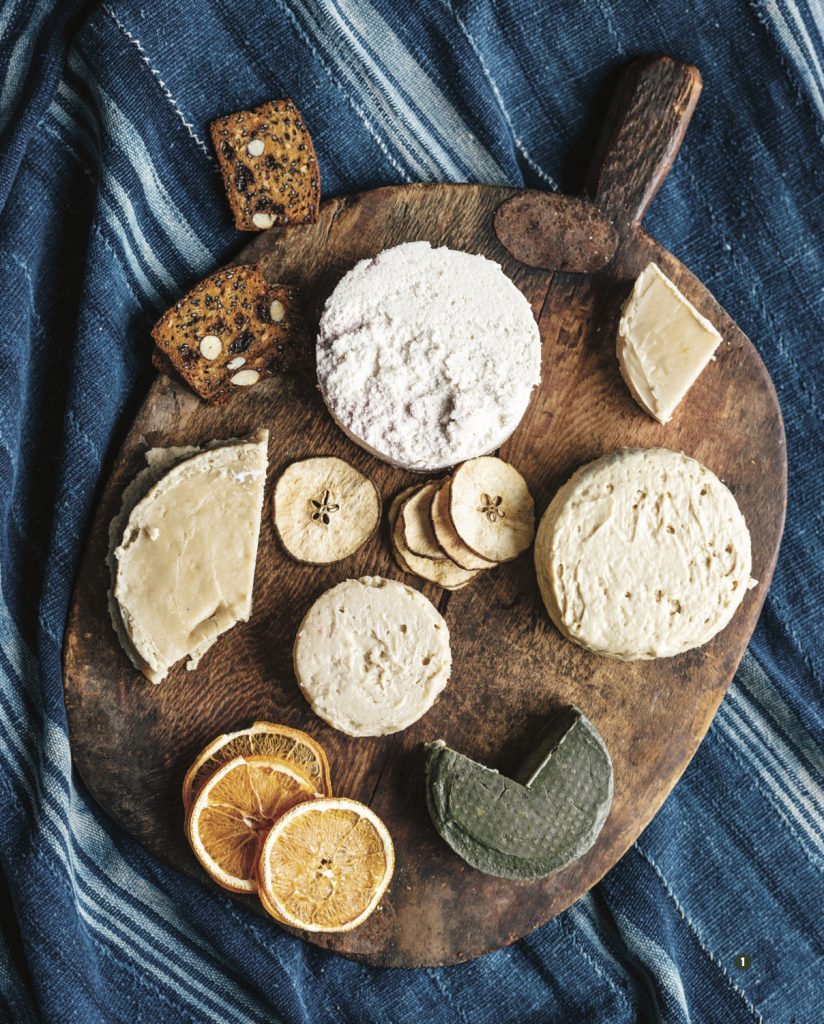 As we marvel at her cheese wizardry, Julie explains that cheese is hard to give up, even for vegans. "When I stopped eating meat it wasn't a big deal," she says. "But dairy was different. I love a creamy wet burrata or a soft milky mozzarella, not to mention my favorites, fermented brie and gorgonzolas. There's something so comforting and satisfying about the full-bodied texture of dairy. It's also a delicious part of our culinary history."
"The idea of going vegan AND GIVING UP CHEESE IS HARD FOR A LOT OF PEOPLE BUT THESE PLANT-BASED CHEESES ARE A GAME-CHANGER."
Julie admits she was shocked to discover what's possible with plant-based cheese. The proof is in the texture and the flavor. As we taste test her creations, it's clear this self-taught chef has mastered her craft. Julie uses simple ingredients like raw cashews, almonds and, in some cases legumes, and combines them with lemon juice or apple-cider vinegar to help achieve that piquant cheesy flavor. Her artillery of tools includes a Vitamix blender, a dehydrator and cheese molds. All of which make Julie an adept cheese wiz who gets as much joy from feeding her family as she does giving others— whether they be paleo, vegetarian, lactose tolerant or omnivore—options to reduce dairy intake.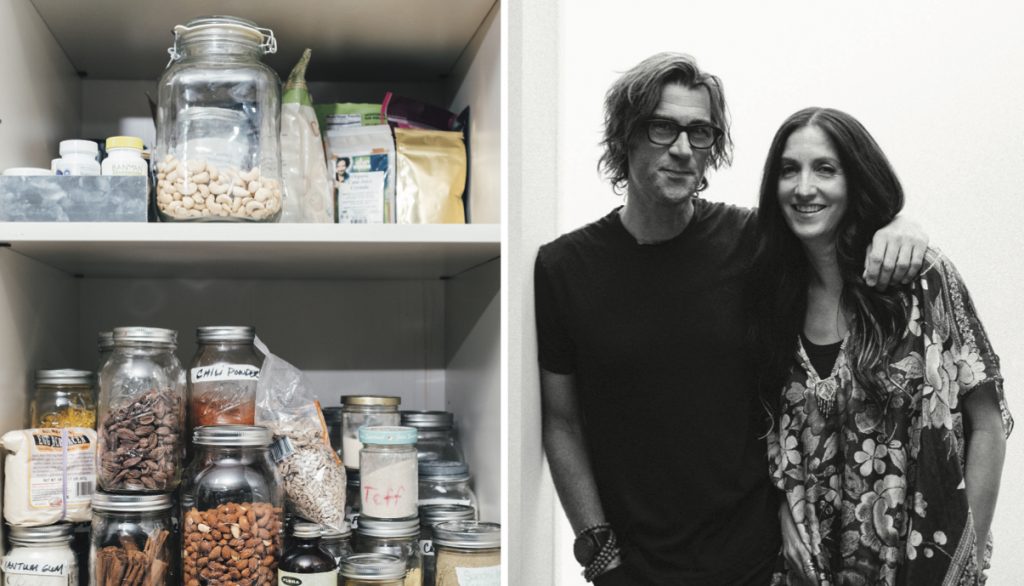 Her own personal evolution to veganism was a journey she took to support her husband, Rich. It started when Julie cured a thyroid tumor by adopting a whole food, Ayurveda-based diet. As Rich saw her progress, he became aware that maybe his own junk food binges, the extra pounds, and his overall depression could be helped if he changed his diet, too. As a recovering addict, he'd been down a similar path years earlier but now he was a father and there were others who depended on him being around for the long haul.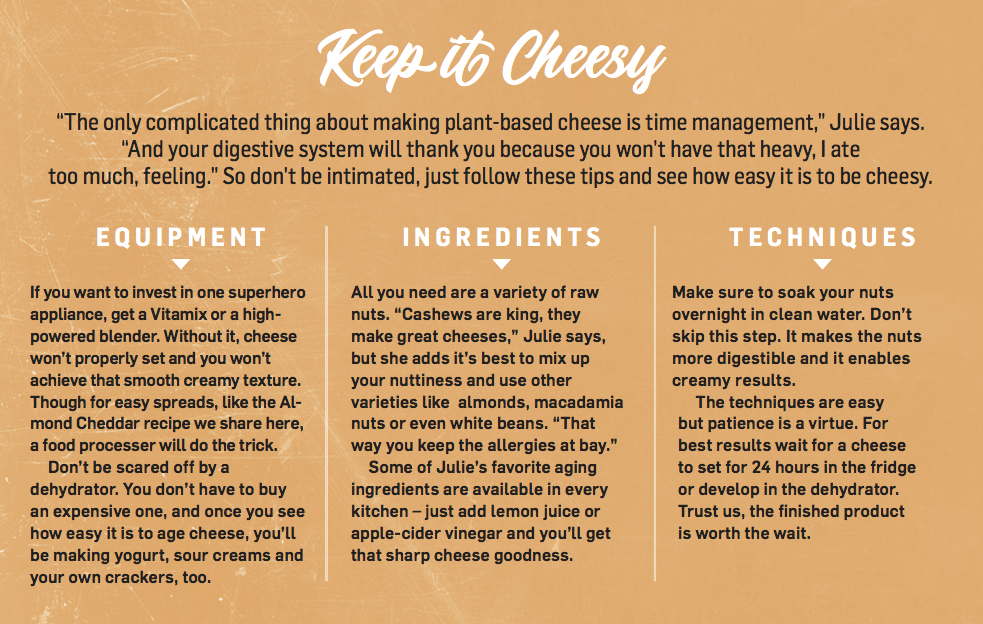 "When I took responsibility for my own health, everything changed," Rich says. He went back to his athletic roots (he was a competitive swimmer in college) and became an ultra-endurance athlete. Along the way he discovered being vegan fueled his body and mind. "Julie was my resource and my guide," he says, "and the idea that these eating habits would become family habits didn't happen overnight. It was a process."
Much of that transition was driven by Julie's passion for healthy cooking. "I approach food as an art," she says, "with a deep intention of love and a deep desire to nourish my family with simple and pure ingredients." Yoga also influenced her, especially its tenet of Ahimsa, which means non-violence toward all living things.
Even though she grew up in Alaska eating game meat (caribou tacos and moose stew), as she got deeper into her spiritual practice, it got harder to be a part of the violence she sees in the industrial meat and dairy industry. "I never gave anything up, it gave me up," she says. "Once I felt balanced I had no desire to eat flesh, drink wine or coffee and it was easy to make compassionate food choices."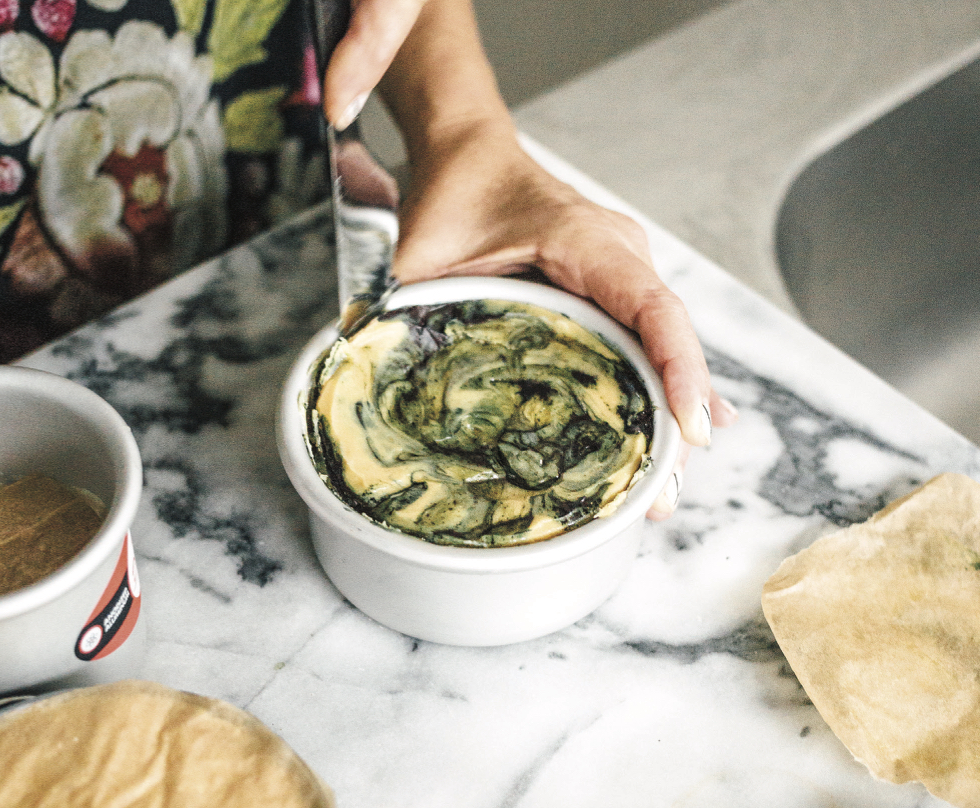 As we sit down to lunch over a steaming bowl of lentil penne smothered in her favorite creamy, gooey cashew gorgonzola and a big fresh salad, it's easy to understand why these cheeses are a game-changer. Sure, this is normal fare for her family that eats 60 percent cooked food that includes a colorful variety of fruit and vegetables but it's also easy to taste Julie's family secret: "My main ingredient is always unconditional love and acceptance."
Recipes
CLASSIC CASHEW CHEESE SAUCE
I've never found a store-bought vegan cheese that melts well. Some are so gooey that they become gross, while others don't really melt and have a grainy texture to them.
Many moons ago, we stopped melting cheese, opting for this warm cashew cheese sauce. This recipe is an absolute innovation in plant-based cheese and one of the easiest cheeses to prepare. It makes an off-the-charts delicious replacement for the hard, melted cheeses of old.
MAKES 2 CUPS
INGREDIENTS
2 cups raw cashews
2 tablespoons chickpea miso paste 1 tablespoon coconut oil 1⁄4 cup nutritional yeast
1⁄2 teaspoon Celtic sea salt 1 teaspoon fresh lemon juice 1 cup boiling water
EASY PRE-PREP
Place the cashews in cold water in a small bowl. Cover and refrigerate overnight.
DIRECTIONS
1. Drain the cashews. In the pitcher of a Vitamix, place the cashews, miso, coconut oil, nutritional yeast, salt, lemon juice, and 1 cup boiling hot water.
2. Blend on medium speed, using the plunger to evenly distribute the mixture.
3. Add hot water, 1⁄4 cup at a time, until the desired consis- tency is reached. Adjust the seasonings to taste.
4. Pour this sauce over nachos or over veggie pizza fresh out of the oven, or smother it over blackened cauliflower or any other cooked veggies.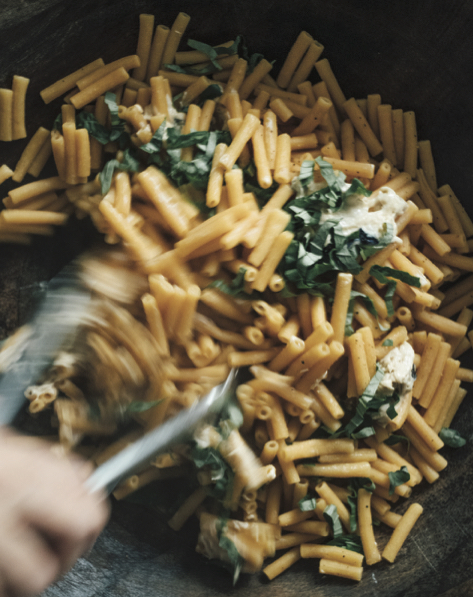 SMOKED ALMOND CHEDDAR SPREAD
Start here with Julie's all-time favorite quick cheese.
INGREDIENTS
2 cups raw almonds 1⁄2 to 3⁄4 cup pimientos from a jar, plus 1⁄2 to 3⁄4 cup packing liquid
1⁄4 cup nutritional yeast 13⁄4 teaspoons smoked sea salt 1 teaspoon garlic powder
DIRECTIONS
1. Drain the almonds. In the bowl of a food processor, place the almonds, pimientos, nutritional yeast, salt, garlic powder, and 1⁄4 cup pimiento liquid. Process until the mixture is well incorporated.
2. Remove the lid and test the cheese for texture and salt content. If you want a smoother spread, add pimiento liquid in small increments and process again. Add more salt if needed.
3. Serve this with crackers and fresh pears.
CASHEW CAMEMBERT
This has a fantastic mild taste. The truffle oil gives it the Camembert flavor.
INGREDIENTS
2 cups raw cashews 2 tablespoons unrefined coconut oil, plus more for greasing the pan
3⁄4 cup aquafaba (liquid from canned garbanzo beans)
1⁄2 teaspoon Celtic sea salt
1 teaspoon white truffle oil
EASY PRE-PREP
Place the cashews in filtered water in a small bowl. Cover and refrigerate overnight.
DIRECTIONS
1. Lightly oil a 4 x 2-inch round mold with coconut oil.
2. Drain the cashews. In the pitcher of a Vitamix, place the cashews, aquafaba, salt, coconut oil, and truffle oil.
3. Process first on medium speed, using the plunger to evenly distribute the mixture.
4. Gradually increase the speed, stopping intermittently to redistribute the mixture until it is smooth.
5. Transfer the mixture to the prepared mold and smooth out the top with a rubber spatula. Cover with a round of parchment paper cut to fit the mold.
6. Dehydrate for 24 hours at 90 degrees. Transfer to the refrigerator for 24 hours.
7. Run a sharp knife around the edges of the mold. Turn the cheese out onto a cutting board and remove the sides. Using the wide flat side of a large knife, run the flat edge under the metal round, pressing upwards to separate the round from the cheese. Smooth the cheese surfaces with rubber spatula. If desired, place in a humidifier for 1 to 3 weeks. Rub fine sea salt over your cheese after a few days and then repeat every few days or
so to prevent black mold from appearing.
8. Serve.