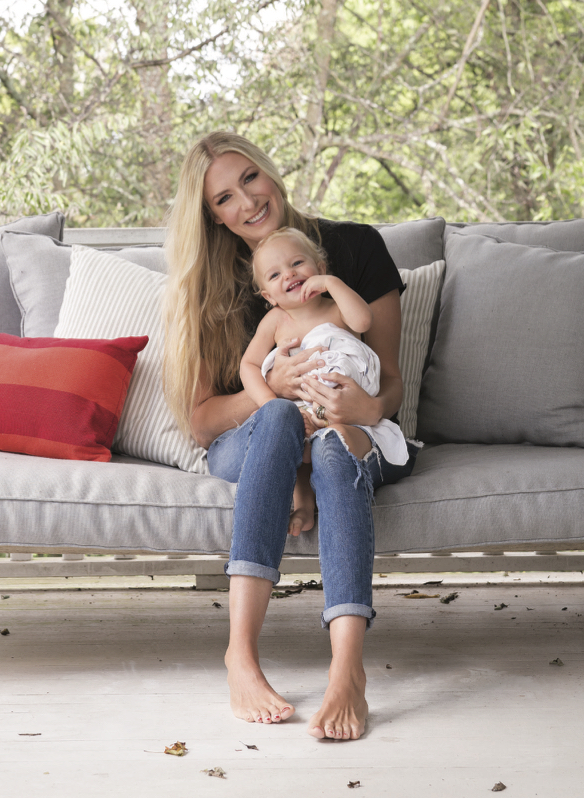 STORY BY SANDRA S. SORIA PHOTOGRAPHS BY MATT WIER HAIR AND MAKEUP BY LIBBY BARNES
FULL DISCLOSURE: THIS writer is about to go full fangirl on Holly Williams.
But seriously, who could blame me? At first blush, Holly seems to have it all. Let's start with her willowy model looks. Then there's her adorable family that includes musician/artist husband, Chris Coleman, and their three young kids. And an acclaimed musical career that's propelled her across this country and all over the world. (Give her album, "The Highway," a listen. You're welcome.) She's also a successful shopkeeper, with popular retail stops White's Mercantile and H. Audrey, which offer windows into her impeccable taste.
Oh, and to top it off her family tree is super solid: Hank Williams is her granddaddy and Hank Jr., her daddy. In the music-loving world, this is considered a royal lineage.
Like the story (possibly slightly embellished) about how, the first time the family slept in this very house three years ago on New Year's Eve, she didn't realize her girls' nursery wasn't heated. "I put the babies to bed and I came in the next morning and I was horrified!" she says. "I can't even explain to you how freezing cold it was. I couldn't believe they were still alive."
So, yea, even on second blush she seems to have it all. But here's the deal—she's also nice. In the South, it's certain that she's been described as "sweet as pie." She's engaging and refreshingly unguarded, even volunteering tidbits that other folks might hold back.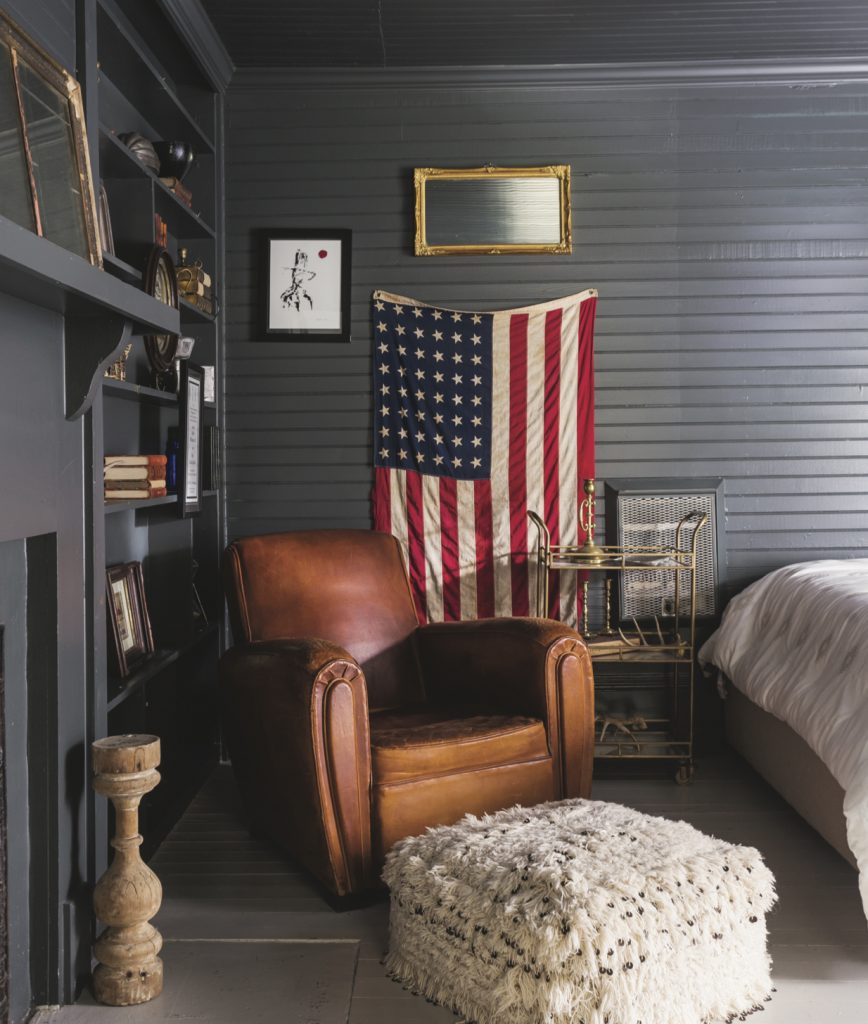 It was one of the things Holly learned along the way in the renovation of this 1862 farm-house. She envisioned it as her family's weekend getaway, but then found her life left little time for retreating. "I always think I'm going to find time to go live here for a month and just garden all day," she says. "But at this rate I think it'll be when I'm 70. As it is, I don't think we've spent more than four consecutive days here."
It was the fact that she and Chris couldn't find time to get to this Cornersville, Tennessee farmhouse—located an hour's drive south of Nashville—that opened up a new creative door for Holly as well as a nice revenue stream. Through her White's Room and Board, folks can rent this house, or one of the other charming places she's collected along the way, including a log cabin and a Victorian-era cottage.
In renovating—really, resuscitating—these old houses, Holly has tapped into an interest that has been percolating since she was a child visiting her maternal grandparents' house in Mer Rouge, Louisiana. "I was really inspired by the way they decorated," Holly says. "Their house always felt so homey and personal. You couldn't tag it with a style—it was just the most perfect mix of family heirlooms and modern pieces. I think back to being a child and noticing the beautiful hardwoods, the old hand-painted wallpapers, the antiques. Even then I was taking notes."
"I THINK LUXURY IS ALL ABOUT THE THINGS THAT FEEL GOOD. I PREFER QUALITY ITEMS OVER QUANTITY—THINGS THAT STAND THE TEST OF TIME OVER THROWAWAY STUFF."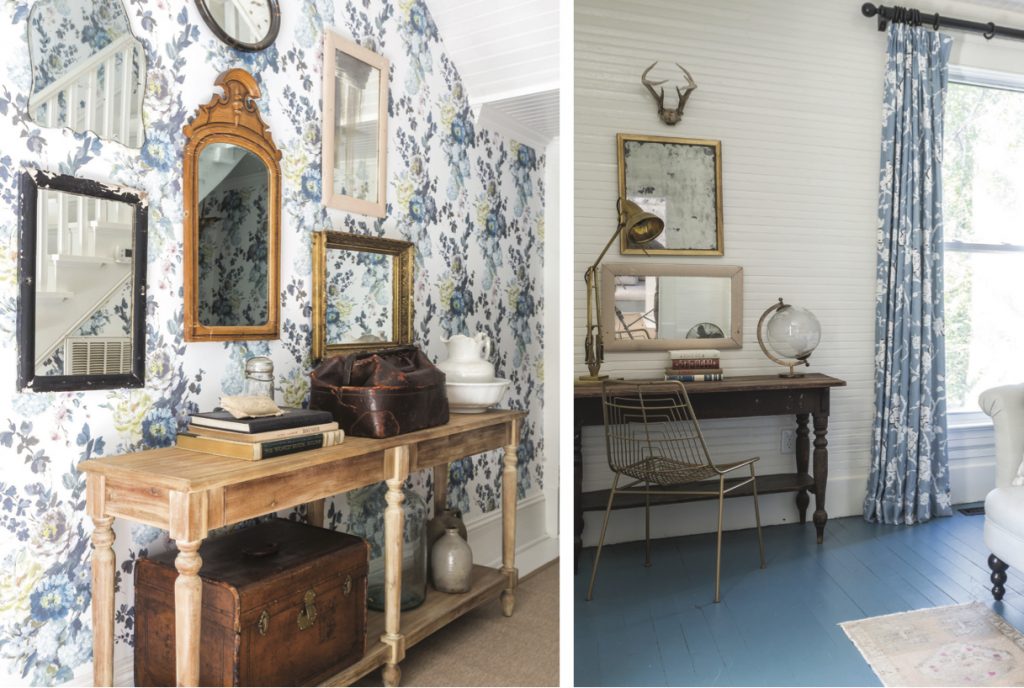 Although her style roots lead all the way back to Louisiana, (her grandparents, Warren and June White, also inspired the name of her businesses), it took a while for Holly to hone her own eye. "My very first renovation was just a kitchen—an ugly kitchen," she says. "I remember crying every day and thinking, this is horrible and stressful and I don't know anything. But in spite of all that, I caught the bug. I found that I love taking something that was about to fall apart and making it new again. The transformation is my favorite part."
This house presented her with the kind of sad sack "before," she was looking for. "It was owned by an Amish family with seven children and they just weren't able to keep up with the burden of it," Holly says. "It was in very, very, very rough shape. The floors were wildly uneven and the kitchen literally had a sink and one cabinet. Cosmetically, it was atrocious—all dark brown and depressing."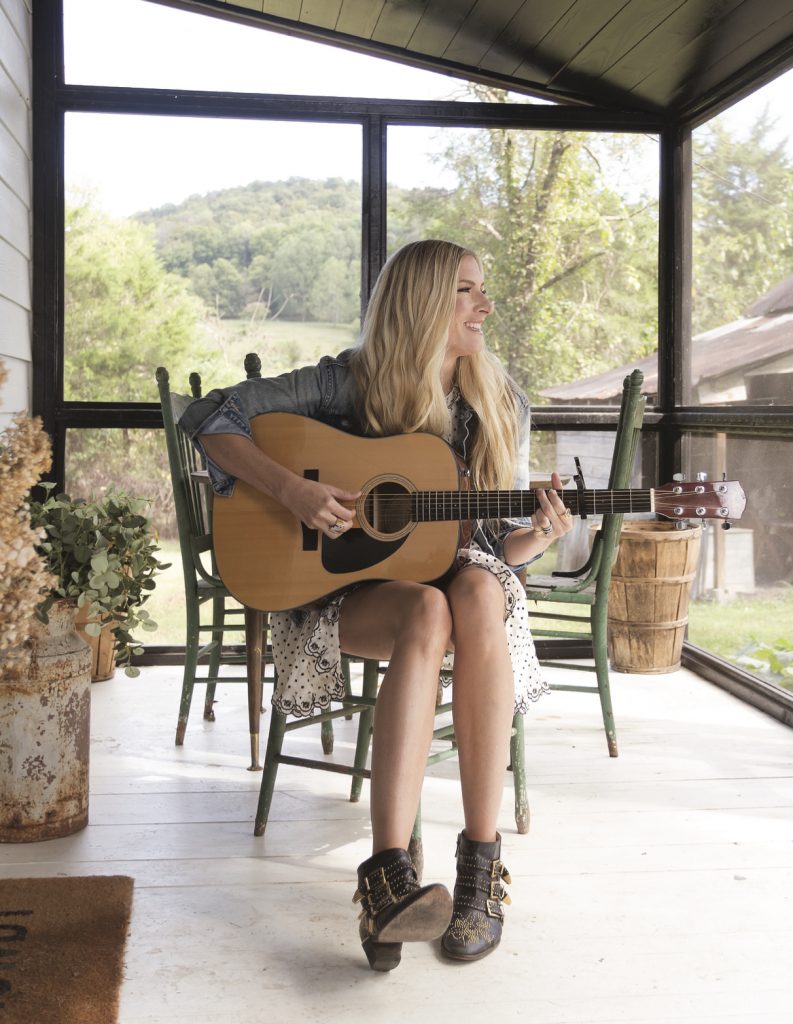 She discovered the forlorn farmhouse on a rare but satisfying trip down the Internet rabbit hole. "It was my first day off in I don't know how long because it was December 26th," Holly remembers, "and the kids were asleep and I decided to go online and do fun stuff. I Googled 'white farmhouse' and this came up on Craigslist. It had eight acres and a price tag of $100,000—which for Nashville is incredibly cheap."
The price was right, but it was the inherent charm of old bead-board paneled walls and a vaulted kitchen with an open hearth that closed the deal. Buckets of paint and a general shoring up improved the home's outlook. Vinyl siding came down in a hurry because she couldn't abide a home "wrapped in plastic," and eco-friendly James Hardie lap siding went up. One of her favorite features—the home's stacked front porches— were given charming, kid-safe railings. And landscaping knitted the house to its country setting. Lots of love was lavished on the kitchen—Holly loves to cook for her family and entertain friends—to get it pumping as the heart of the home.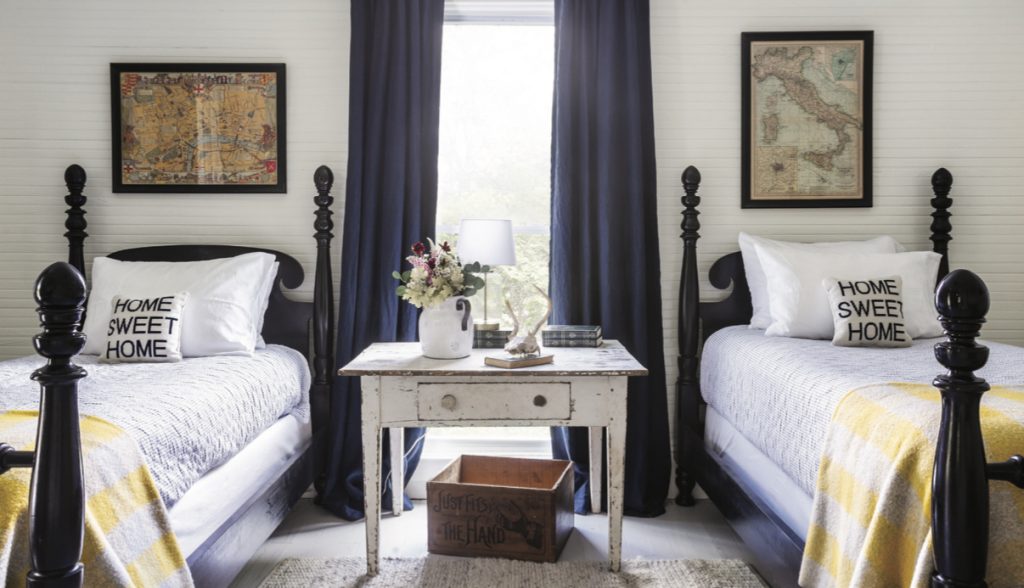 Along the way she made some mistakes, owing to her sometimes bold, freewheeling decorating style. "I call it my 'stupid tax,'" she laughs. "That's the money I spend correcting my decorating impulses. The first time around I painted the kitchen floor pink. I never really thought about how bad pink would feel in a room where you're eating."
"I HAD REALLY BAD TASTE FOR YEARS. BUT I WAS LUCKY ENOUGH TO TOUR THROUGH MY MUSIC AND TRAVEL ALL OVER THE WORLD. I WAS EXPOSED TO BEAUTY."
No matter. That just gives this songwriter another story to tell—and that's the fiber that connects her love of music with her love of design. She could be picking through a song on her guitar or picking out a new paint color, but it's all about the story. "Really whether it's decorating an old house, coming up with a song, or curating my shops," she says, "it's all about finding the right words or ideas to say what it is you want to say."
Find out more about Holly's world at hollywilliams.com.
Say 'Hi' to Holly:
This wife, mother, musical artist, shopkeeper and serial home renovator is a creative tour de force. How does she do it all? "Well, I've got a great team of people and my mama lives right down the road," Holly says. She takes time out to show us around her Fox Country Farm-house, one of eight homes she's renovated since 2015.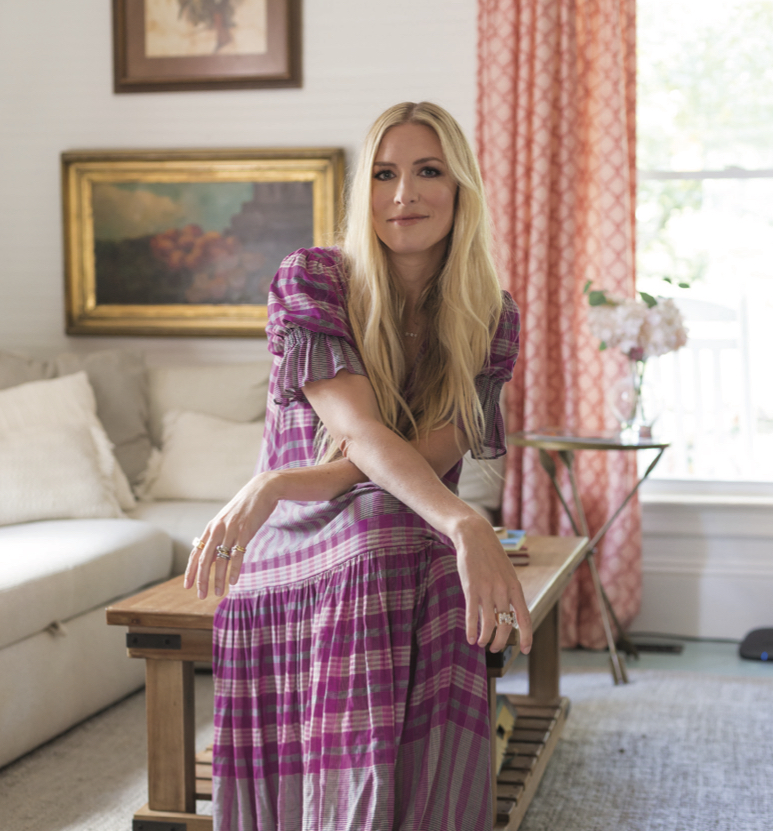 Chic cozy sitting area:
In caramel-colored leather, this antique French armchair just gets better with age. Holly painted the entire backdrop—walls, built-in shelves, mantel, and ceiling—of this guest room in a deep charcoal paint to cozy up the space and make it appear less chopped up. Found in an import store, a new tiered bar cart rolls where its needed—as an end table, nightstand, or dining spot.
Flower-powered foyer:
Old mirrors are a favorite collection of Holly's; she uses them to add sparkle in most rooms of the house, starting at the front entrance hall. "I saw this idea in my grandmother's house," Holly says, "and I love replicating it in my homes." Designers Guild wallpaper extends a bright, romantic welcome.
Suite dreams:
Classic blue and white sets a peaceful mood in the bedroom. A Pier 1 Imports tufted settee sits at the foot of the bed to create a sitting area—and a sense of grandeur— in a slice of space.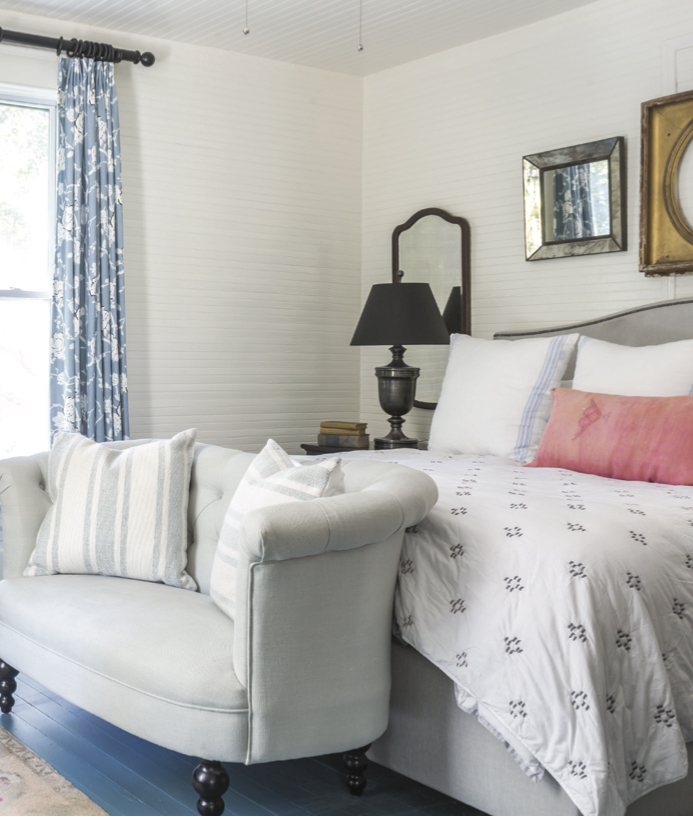 Fireside chat:
A double mantel was a lucky find from Nashville's Preservation Station architectural salvage store. "I love nothing better than spending a day at an antiques fair or pawing through a dusty old shop," Holly says. "I love reuse and recycling. There's plenty of old stuff around for us to use for our homes—I just freshen it with a bit of new mixed in."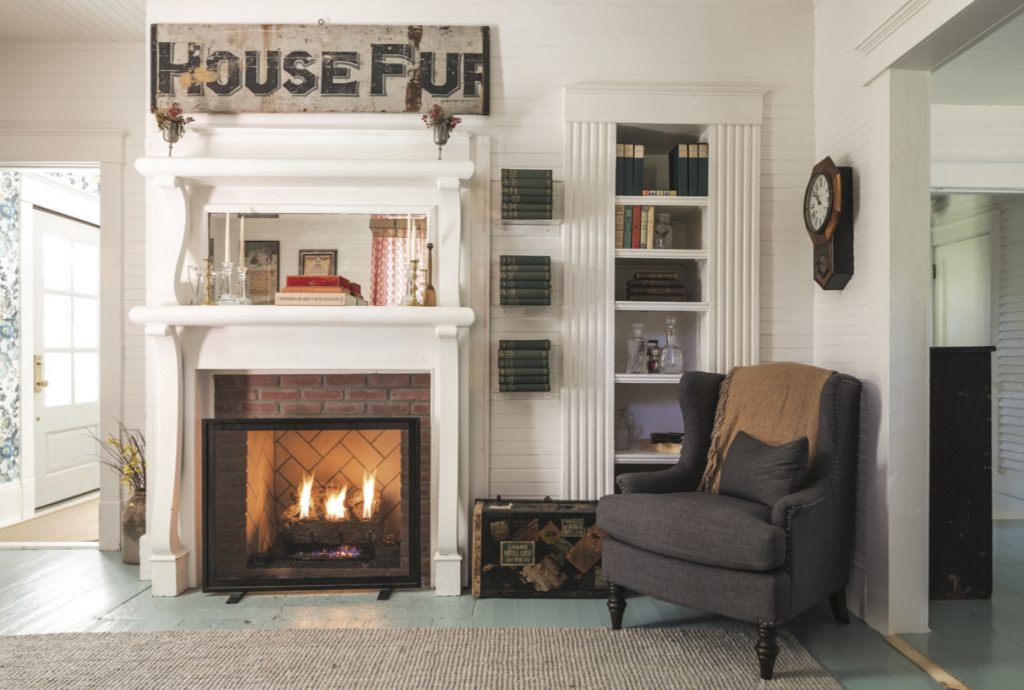 Everything and the kitchen sink:
With its vaulted ceiling and a bank of windows that looks out over the 8-acre property, the kitchen had great
bones. But it also had drab cupboards and unappetizing green walls. Working with decorator Page Mullins, Holly added extra texture to walls with subway tile—a lot of subway tile. Omega cabinetry, brass hardware, and an apron sink serve up classic charm.
Two times the style:
In a glossy black finish, twin cannonball beds bring crisp style to the bedroom. A primitive table stands in for a nightstand, adding both charm and function.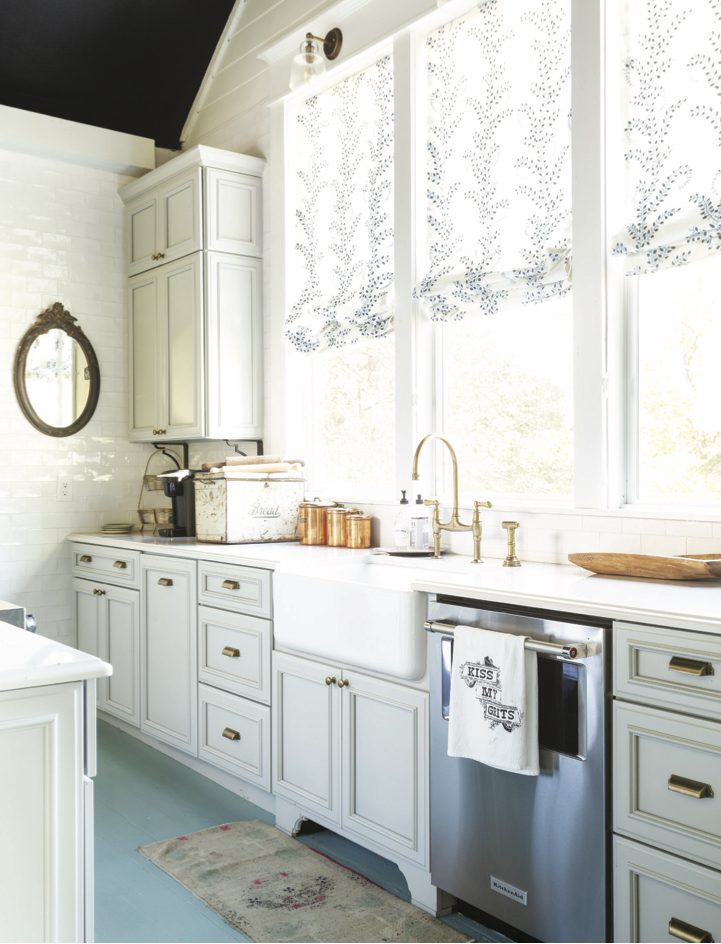 Swing time with Holly and Arlo:
Holly and her youngest child, son Arlo, are happy to take a break on the front porch, outfitted with an extra deep porch swing from The Home Depot.
Bathing beauty:
The character-rich mix of wallpaper and tile patterns in the bathroom is "a happy accident," says Holly. "People who knew what they were doing, like professional designers, would probably have a plan in place for the perfect pairup. But then I would have never, ever taken the chance—and I love how it turned out." A soaking tub is one of Holly's must-have luxuries.