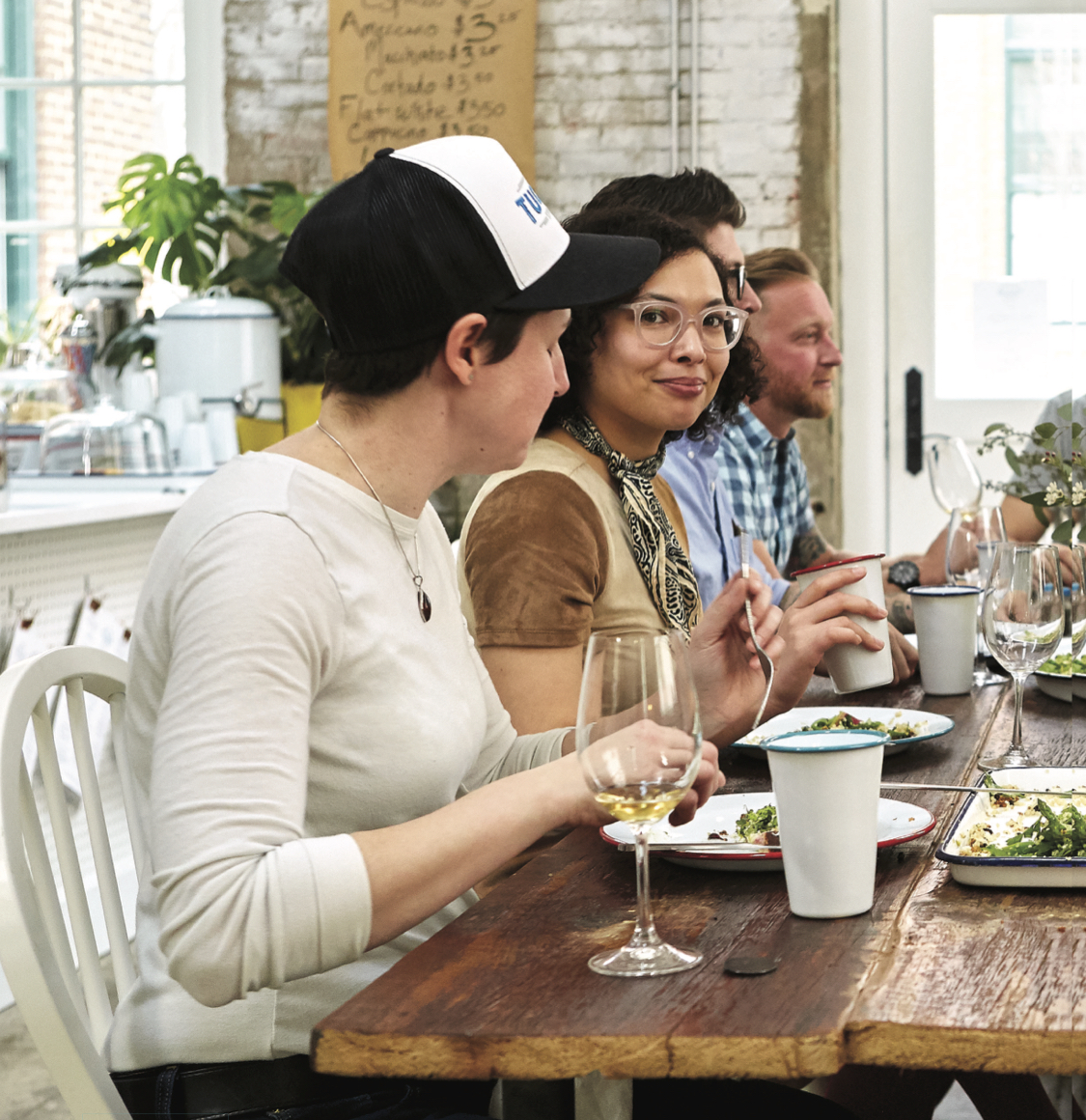 STORY BY JANET MOWAT Photos by Biz Jones FOOD STYLING BY JULISSA ROBERTS
It was a big dream and a conscious, 10,000-mile leap of faith that brought Australian duo Melanie Hansche and Jason Hoy from Sydney to New York just a few short years ago. Leaving behind successful careers (hers in food media, his in the wine industry), the pair settled in Brooklyn and started to put down roots as they investigated the local food scene. But it didn't last. Melanie's skill as an editor—back home, she'd worked with award-winning food stylist and cookbook author Donna Hay—soon landed her the plum position of editor-in-chief of a food and lifestyle publication…in Pennsylvania. They packed, again, though the moving mileage was much more manageable this time.
But now the road wasn't as clear for Jason, who, after 25 years selling fine wine, found himself in the position of, he says, "underemployed househusband." Determined to pursue his dream of opening
a wine bar, he began to explore the new area. The river-split town of Easton, about 90 minutes north of Philadelphia, turned out to be a favorite. Trading car for bike, he did a closer inspection that landed him at an interesting old silk mill site (you know, the kind of place that you fantasize about turning into super-cool residential and commercial loft spaces) that was about to be restored in keeping with the strict provisions of a heritage building. And guess what? He turned it into super-cool residential and commercial loft spaces. Finding it was the first real step toward what would become Tucker Silk Mill. "Tucker is our cheeky nod to Australia," says Melanie. "It's a slang term for 'good food'."
"THEY BOTH HAVE SUCH A PASSION FOR FOOD AND WINE, AND SHOWING PEOPLE A GOOD TIME."—DONNA HAY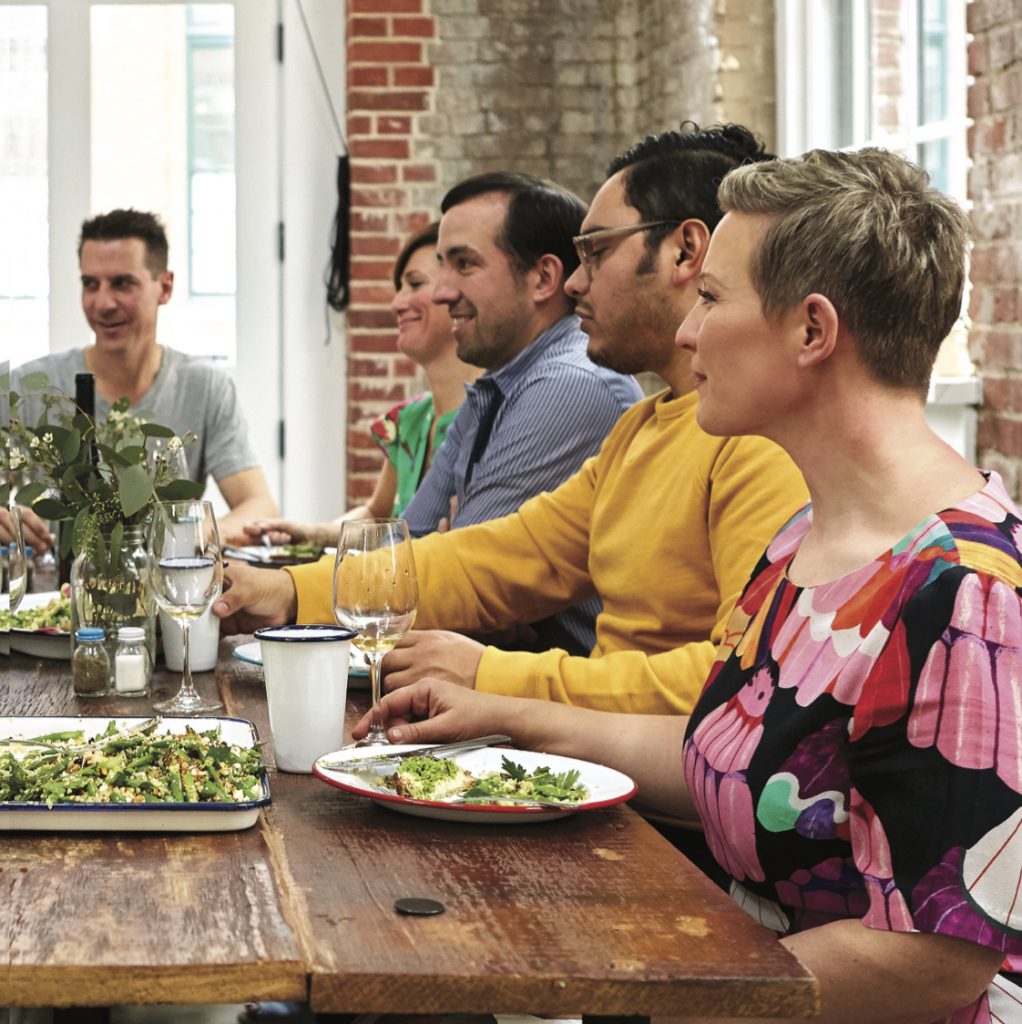 Once the raw space was ready, Jason, taking cues from architect and sustainable design guru Ben Uyeda, created an airy, industrial-chic vibe in keeping with the surroundings. He crafted wall-sized shelves from gas piping and recycled hemlock barn wood (some planks still have bullet holes in them, hopefully from hunters), along with reclaimed white pine tables that have come-as-you-are, everyday appeal. The tables can be lined up neatly to create a dramatic long runway for special events. Most of the decor is repurposed. "The only new things are the coffee machine and items used for serving," Jason says. The remaining mix features collectibles that the couple has gathered over the years. Perhaps the most impressive, and well-traveled, example is a vintage jewelry display case from Egypt they scored at an auction house in Australia. The massive counter sits beneath shelves by day, but has hidden casters so it can be rolled out to become a bar when it's time for wine glasses to take the place of coffee cups.
And the fare is equally thoughtful, with ingredients chosen because they're organic, sustainable, or ethical—or all three. "Our food comes from Lancaster Farm Fresh, a cooperative that ties together a bunch of local farmers who grow organic produce," Jason explains, adding that they also use goods from the Wayfare Baker, an artisanal bakery in nearby Bethlehem that makes use of ancient grains. In fact, every little thing they use, sell, or provide has a good-guy story behind it. Sugar? It's raw and comes from a field where instead of burning the sugar canes, which releases pollutants, they use the pre-harvest castoff in place of gas to fuel machinery. Tea? It's from Russian tea house Kusmi, makers of beautiful detox and organic blends. "Before they let you stock it, there's a long interview process to make sure you that you are committed to serving the product correctly," says Jason. Wine? Mostly organic, sustainable and hand-selected by Jason, who Donna Hay describes as her personal wine oracle who has helped her discover many, many delicious bottles. "Running a fine wine store requires you to pair what you sell—which is largely handcrafted wines—with food, and that means paying attention to the details of how things are grown," Jason says. Not surprisingly, organic or biodynamic wines go well with foods that have a similar pedigree. So you could say that synergy's on the menu.
Melanie's vast experience with recipes helped to shape Tucker's offerings, as did their partnership with local organic chef and caterer Erin Taylor, who runs the kitchen. The menu shifts according to availability of seasonal goods and naturally includes some favorites from down under, including Pavlova (a meringue-based dessert named after the Russian ballerina Anna Pavlova), Anzac cookies (coconut-oatmeal biscuits,) and scones created from recipes by none other than Donna Hay. Melanie and Jason also took inspiration from blogger, author and "salad queen" Hetty McKinnon, a Sydney transplant and former neighbor who built a community around sharing her healthful veggie concoctions and now lives—and salad-shares—in Brooklyn.
"We all like food collaboration," says Jason, who notes that evening dishes are richer and more wine-friendly than their daytime counterparts, but still healthy. In an area where casual dining-out options often meant pizza or, well, pizza, Tucker's fare is a breath of fresh air that synchs with the up-and-coming healthy food movement the couple has witnessed in the region. "They both have such a passion for food and wine, and showing people a good time," says Donna, who tells us that their dinner parties in Sydney were legendary.
Indeed, visitors have been delighted to discover a cool place where they can hit pause and just sit down to relax with great coffee and healthy food. "Our driving force is really simple," Jason says."Whether it's wine or food or conversation, it's about having good things in our mouth."
For more on Tucker Silk Mill, visit tuckersilkmill.com.
ZUCCHINI AND WALNUT SPELT BREAD
SERVES 10-12
GATHER
3 eggs
11⁄2 cup coconut sugar
1 cup olive oil
2 cups spelt flour
1⁄2 teaspoon baking powder
2 teaspoons baking soda
2 teaspoons ground cinnamon
1 teaspoon table salt
2 cups grated zucchini (from 2 medium zucchini)
1 cup coarsely chopped walnuts
2 teaspoons vanilla extract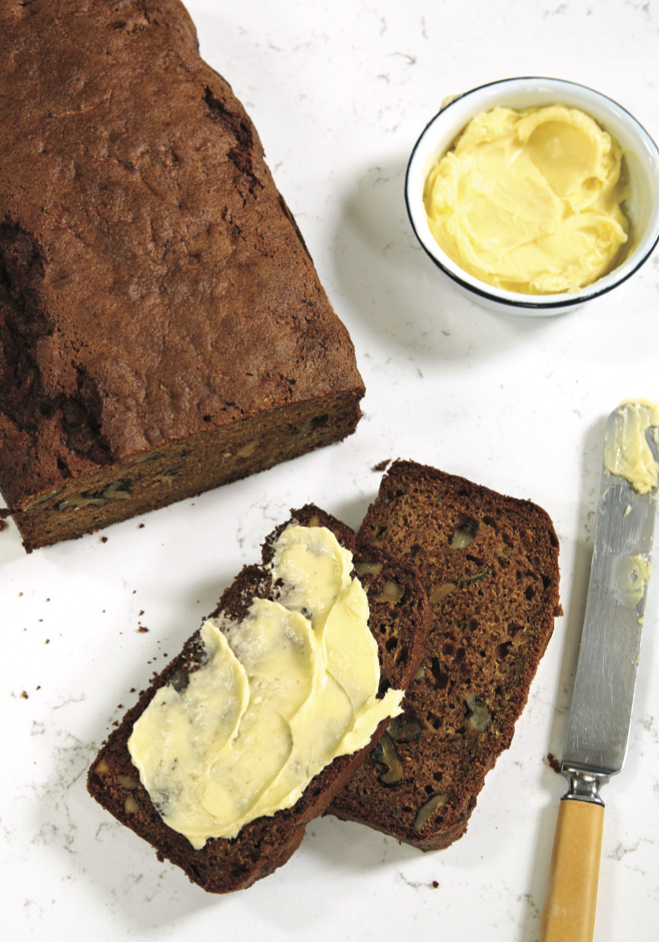 MAKE IT
Heat oven to 350°F. In the bowl of an electric mixer, beat the eggs, coconut sugar, and olive oil until light and smooth, about 5 minutes. Stir in the flour, baking powder, baking soda, cinnamon, and salt until combined. Add the zucchini, walnuts, and vanilla; mix well to combine.
Pour the mixture into 1 large 101⁄2 x 41⁄2-inch or 2 small 51⁄2 x 3-inch greased and floured loaf pans.
Bake for 50-60 minutes or until a skewer inserted into the center comes out clean. Cool on a wire rack.
PEA AND LABNE SMASH
SERVES 4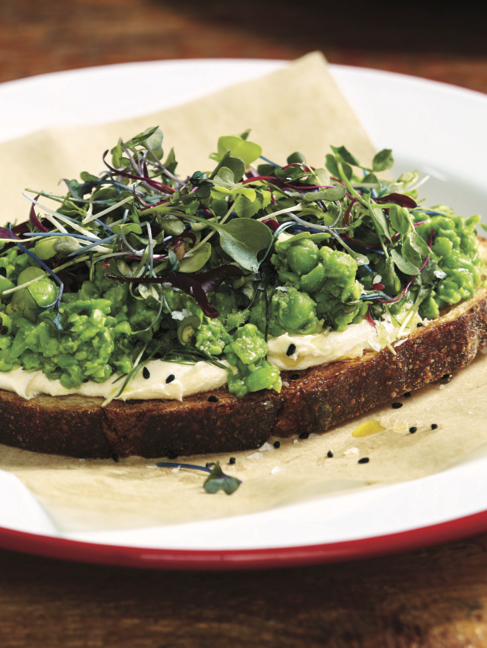 GATHER
2 cups frozen peas, blanched
1⁄2 cup mint leaves, chopped
1 tablespoon lemon juice
4 slices sourdough, toasted
1⁄2 cup labne (or cream cheese)
Extra virgin olive oil, for drizzling
Flaky salt and freshly ground black pepper Dill sprigs, microgreens, and nigella seeds, to garnish
MAKE IT
In a medium bowl, add the peas and roughly mash with a fork. Add the mint and lemon juice and mix to combine.
Spread each piece of toast with labne. Top with the mashed peas, drizzle with the oil and season to taste with salt and pepper. Top with dill and microgreens and a sprinkle of nigella seeds to serve.
CRUNCHY SPRING TABBOULEH
SERVES 4
GATHER
3 cups cooked and refrigerated quinoa (1 cup uncooked quinoa)
1 teaspoon ras el hanout (or equal parts paprika, coriander, ginger and a pinch of saffron)
1 bunch asparagus, blanched and cut diagonally into thirds
2 cups roughly chopped flat-leaf parsley leaves
1 cup roughly chopped mint leaves
4 scallions, thinly sliced
1⁄2 cup unsalted shelled pistachios, chopped
1⁄4 cup dried currants
7 ounces feta, crumbled
Lemon wedges, to serve
LEMON DRESSING
2 tablespoons lemon juice
1 teaspoon pomegranate molasses
3 tablespoons extra virgin olive oil
Sea salt and cracked black pepper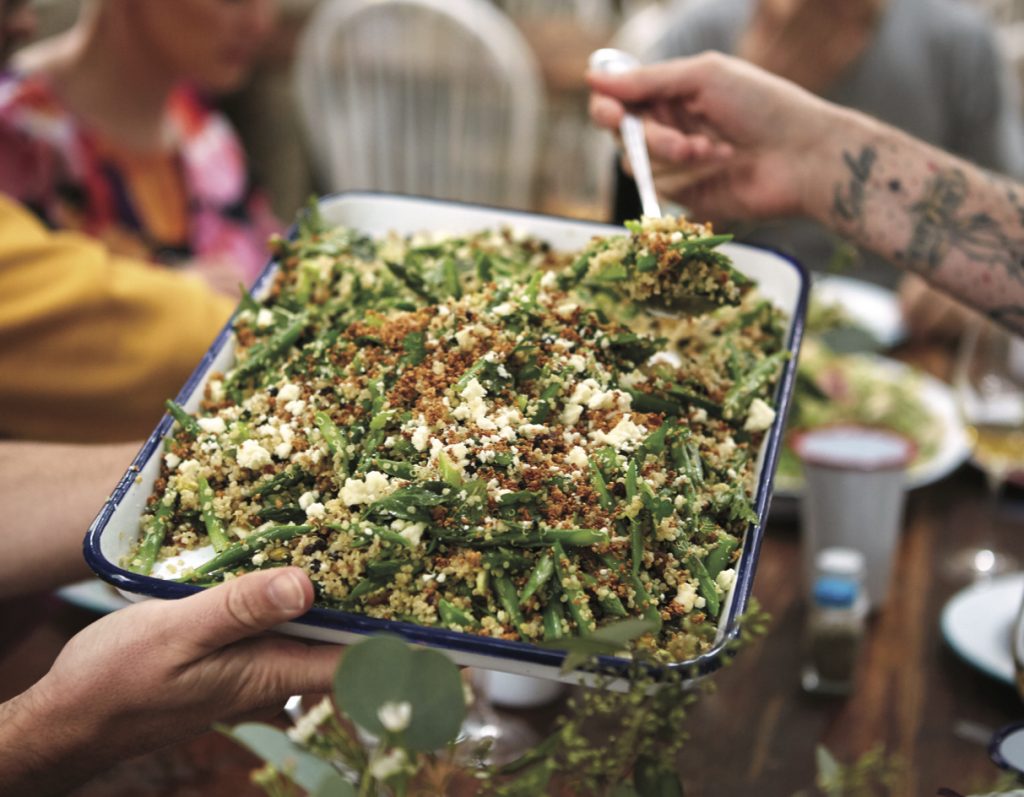 MAKE IT
Heat the broiler and set rack to upper third position. Spread 1 cup of the cooked and chilled quinoa on a baking sheet, sprinkle with the ras el hanout, and roast for 5 minutes, stirring and rotating the baking sheet occasionally. Roast for a further 3 minutes until golden and crisp. Set aside.
To make the dressing, in a small bowl, mix the lemon juice, molasses, oil, salt and pepper until well combined.
In a large bowl, add the remaining quinoa, asparagus, parsley, mint, scallions, pistachios, and currants and toss to combine. Add the dressing and gently toss. Top with crumbled feta and crunchy quinoa, and serve with lemon wedges.
Poached Chicken And Barley Salad
SERVES 4
GATHER
1 cup pearl barley
1 quart chicken stock
2 boneless skinless chicken breasts (about 1 lb.)
4 cups baby arugula leaves
1 cup frozen peas, blanched
4 watermelon radishes, thinly sliced on a mandolin, quartered if large
1⁄2 cup raw sliced almonds
LEMON-MINT YOGURT DRESSING
1 cup mint leaves
1 cup flat-leaf parsley leaves
2 scallions, chopped
1⁄3 cup Greek yogurt
1⁄4 cup lemon juice
Sea salt and cracked black pepper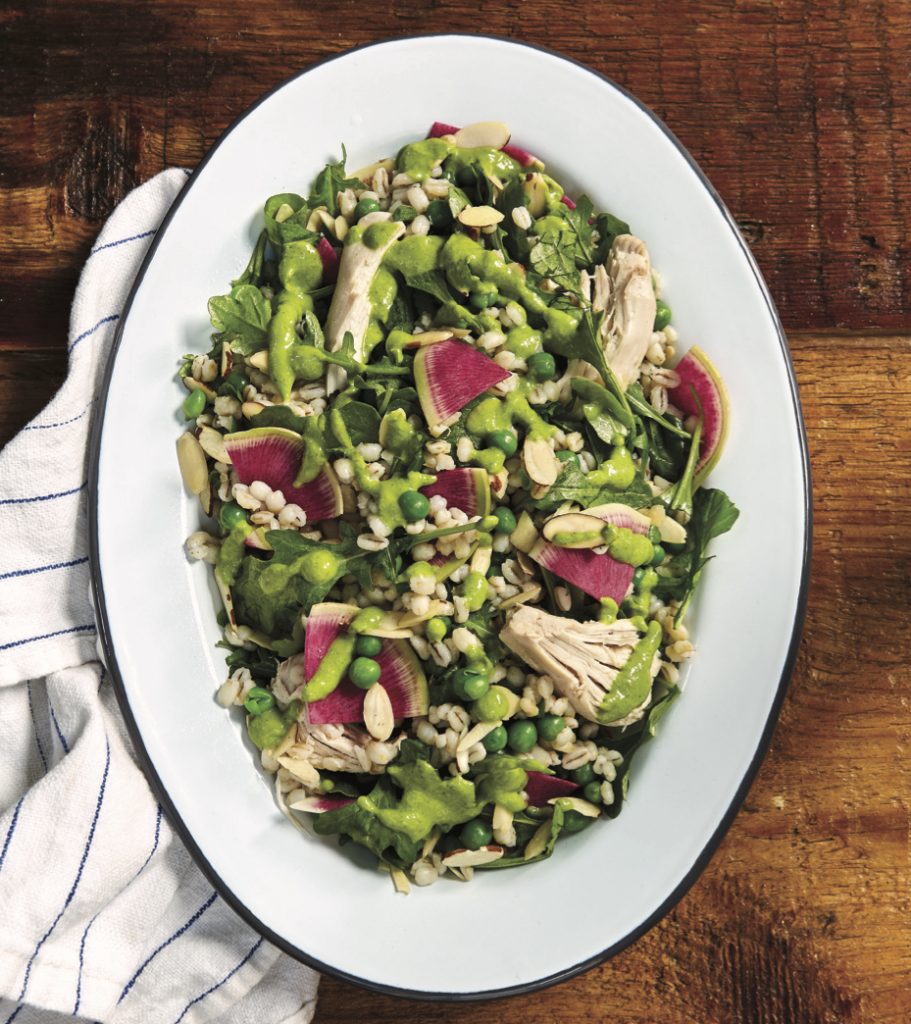 MAKE IT
In a medium saucepan, combine the barley and 21⁄2 cups water over high heat and bring to boil. Reduce heat to medium, cover and simmer for 20–25 minutes, or until tender and liquid is absorbed. Remove from the heat and set aside to cool.
Meanwhile, in a medium saucepan, bring the stock to a boil. Add the chicken, reduce the heat to low and cook for 3 minutes. Remove from heat, cover and let stand for 10 minutes until the chicken is cooked through. Remove the chicken, set aside and reserve the stock for future use.
To make the dressing, place the parsley, mint, scallions, yogurt, lemon juice, and a pinch of salt and pepper in a small food processor and pulse until smooth.
Shred the chicken using two forks and place in a large bowl. Add the barley, arugula, peas, and radish and toss to combine. Divide between 4 plates, drizzle with the dressing and scatter with the almonds to serve.
So You Want to Open an Organic Cafe?
HERE ARE 5 THINGS TO CONSIDER: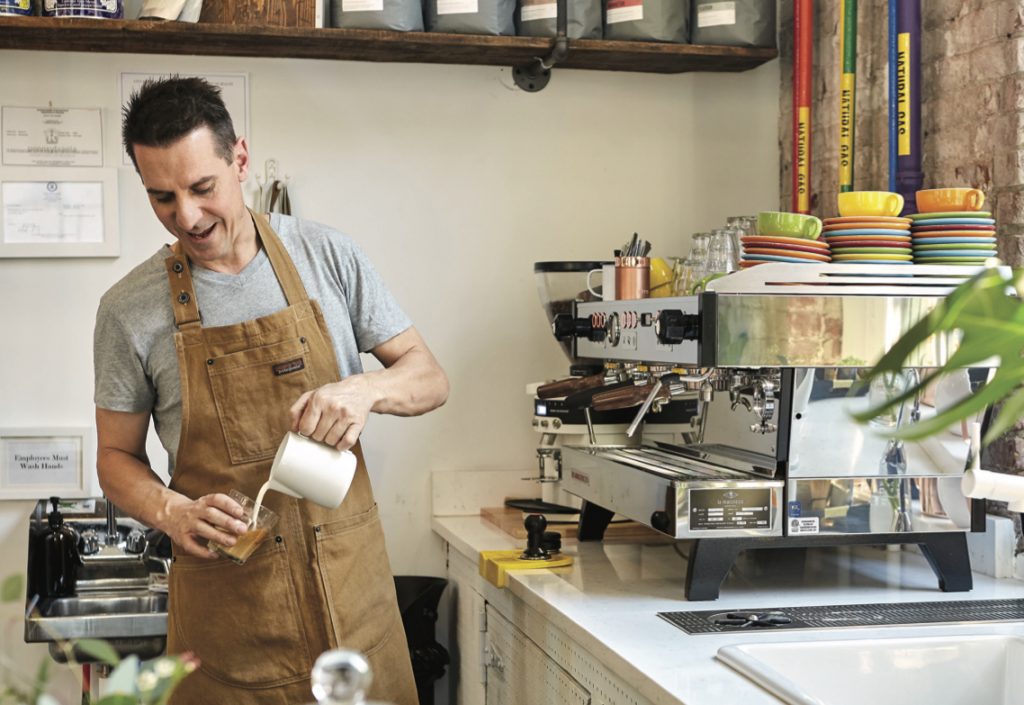 1. COUNTING BEANS
Write a realistic budget and then add at least 30 to 40 percent for unexpected expenses. Your endeavor is always going to cost more than you think. Roll up your sleeves and get your hands dirty—and ask friends for help. "Prepare to be humbled by their generosity," say Melanie and Jason.
2. GET YOUR DUCKS IN A ROW
Don't try to do the technical stuff yourself. Make sure you're working with an architect and contractor who understand your city's codes and regulations. The last thing you want to do is a build-out and then have to change things at great expense. The duo invited the city's health inspector in before they opened to flag any potential issues.
3. TEAMWORK MAKES THE DREAM WORK
You will need great staff and partners to bring your vision to life. "You can't be an expert in everything, so you bring on people who are," Melanie says. "Our chef Erin is a case in point. We have a food vision, but she brings it to life with her technical and creative skills and her ability to run a kitchen like a boss."
4. SOURCING COUNTS
If your philosophy centers around local or organic or ethical food, you have to put your money where your mouth is. You need to find your suppliers well in advance and make sure they can source the products you need, and to do it consistently.
5. STICK TO YOUR GUNS
Be prepared for a million people to come in and try to modify your menu or demand off-menu items or simply order what they're used to. ("No, we are a small business; we don't have flavored syrups to put in our coffee" is something you may find yourself saying a lot, for example.) "If you have a model, stick to the model," counsel Melanie and Jason. "It's the unique offering and the fact you are different that will win out in the end. Be flexible but don't bend backwards."