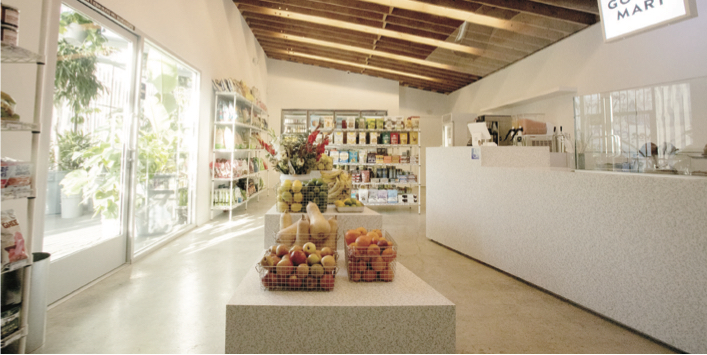 Story by DANNY SEO
Shopkeep #1: Rachel Krupa
STORE: THE GOODS MART (@THEGOODSMART)
In a nutshell: Rachel Krupa is one of the hardest working publicists we know. As the owner of Krupa Communications, she's helped countless health-conscious brands launch from dream state to mainstream success. Now it's her turn to create something. Say hello to The Goods Mart! Rachel says, "If 7-Eleven and Whole Foods had a baby, it would be The Goods Mart!"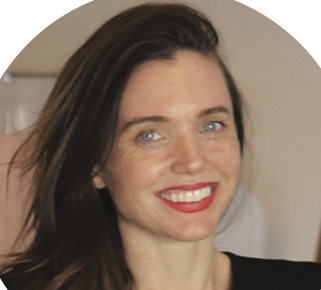 Her "aha" moment: Rachel says it was a comment from a customer who felt that health-food stores were still considered only for the affluent. She listened, and made her stores accessible to everyone by accepting food stamps.
What keeps her going? It's simple: Happy customers. "I love when people come in and comment on how good our prices are and when they say they are obsessed with our store. It never gets old!" she says.
What's a secret to your success? Rachel firmly believes that a store needs to be part of the community to thrive. She's done it by donating two percent of every sale to charity. The more people shop, the more it supports the community. "Since we've opened, we've raised over $10,000 for local non-profits," she says.
How do you keep customers coming back? Be friendly and fair. Rachel knows customers can easily check prices on their phones, so she keeps prices real. Also, when you strike it hot on popular products, always make sure it's in stock so you don't disappoint your loyal customers when they come back for more.
How do you compete with Amazon? The behemoth doesn't worry Rachel. "We do something completely different. We're looking to fill a void—finding a healthy snack/meal when you don't have time to go online and order it. It's also about creating an experience inside our stores and in the community," she says.
Three Best Tips:
1. Find a niche that makes you a standout.
2. Assemble an amazing team—you can't do it alone.
3. Be authentic to what you're doing and selling.
Three Things to Prepare for:
1. Set your budget, but create a buffer; some things will cost more than you had planned.
2. Don't simply sell goods; create an experience.
3. Trust your gut. It will lead you in the best direction.
Shopkeep #2: Lily Kunin
STORE: CLEAN MARKET (@CLEAN.MARKET)
In a nutshell: We love Clean Market because it's stocked with supplements, clean beauty products, and unusual spa services (think infrared sauna and cryotherapy) all under one roof. This former cookbook author wanted a new challenge and decided retail was the next step when she realized nobody was putting the best-of-the-best wellness products and services together. Lily says, "Our mission is to connect the community with products and services that make you feel good and elevate health and overall well-being."
Her "aha" moment: Keep it focused. Even though some small companies may invest heavily in things like building massive email/newsletter lists or paying for Instagram advertising campaigns, the bottom line is creating a store environment that's fun and interesting.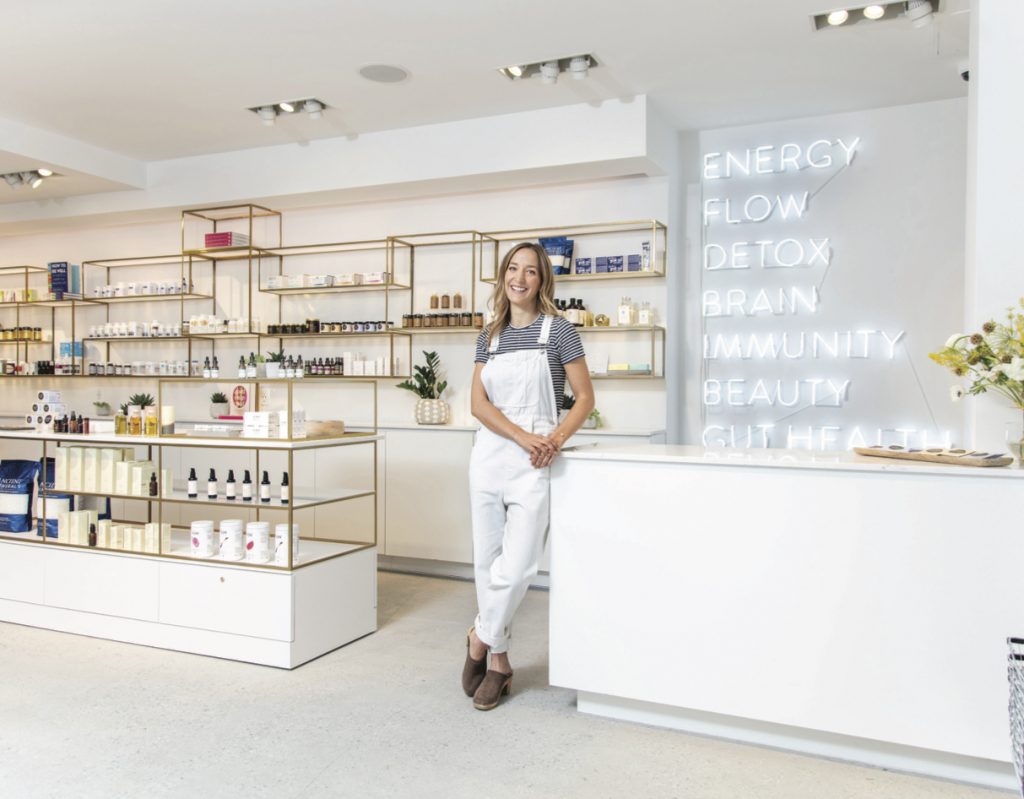 What keeps you going? "I love when I am a fly on the wall and overhear customers talking about the store," Lily says. "My recent favorite comment was from a guy who simply said, 'This is the best place ever.' I got so excited hearing that!"
What's a secret to your success? Lily practices what she preaches by being "a guinea pig for quality assurance, like ordering drinks at the bar and testing products." She also takes her own weekly treatments to make sure infrared saunas and whole-body cryotherapy are up to her standards.
Three Best Tips:
1. Do market research to see what is out there and to discover the void you are going to fill.
2. Hire an amazing team—know your strengths and find someone who has the skills you don't.
3. Create an experience that draws people into the store—a place they feel good in.
Three Things to Prepare for:
1. It's probably going to be expensive and things are going to come up that you aren't expecting. Be prepared with the cash flow.
2. Employees are your biggest strength. Learn how to support them, and allow them to grow and reach their own goals.
3. Prepare to be under-prepared and be able to roll with the punches. Every day is unique, and often brings the unexpected.
Shopkeep #3: Alyson Jones
STORE: SHOP VINTAGE ALLEY (@SHOPVINTAGEALLEY)
In a nutshell: We love popping our heads into Alyson's store because her mix of home goods, vintage finds, and fashion is always changing—and always irresistible. Alyson describes Shop Vintage Alley as "a bohemian lifestyle goods store. It's a combination of old, new, handmade, and green goods for a modern lifestyle."
Her "aha" moment: It's all about good pricing. "My prices aren't really typical boutique prices," she says. "I work really hard so that this shop is affordable. It's no fun when things are untouchable—I want anyone and everyone to be able to feel like they can get something of great quality for a good price." (And we totally agree that she nails it!)
How'd you get started? Alyson started small and didn't go all-in at first. She began as a small vendor in a co-op that had multiple mini shops under one roof, Until, she says, "I maxed out all my square-footage options." This organic growth helped her figure out what product mix worked best. And when she literally outgrew the space in the co-op, she says, "I knew I could move forward with leasing a brick-and-mortar storefront."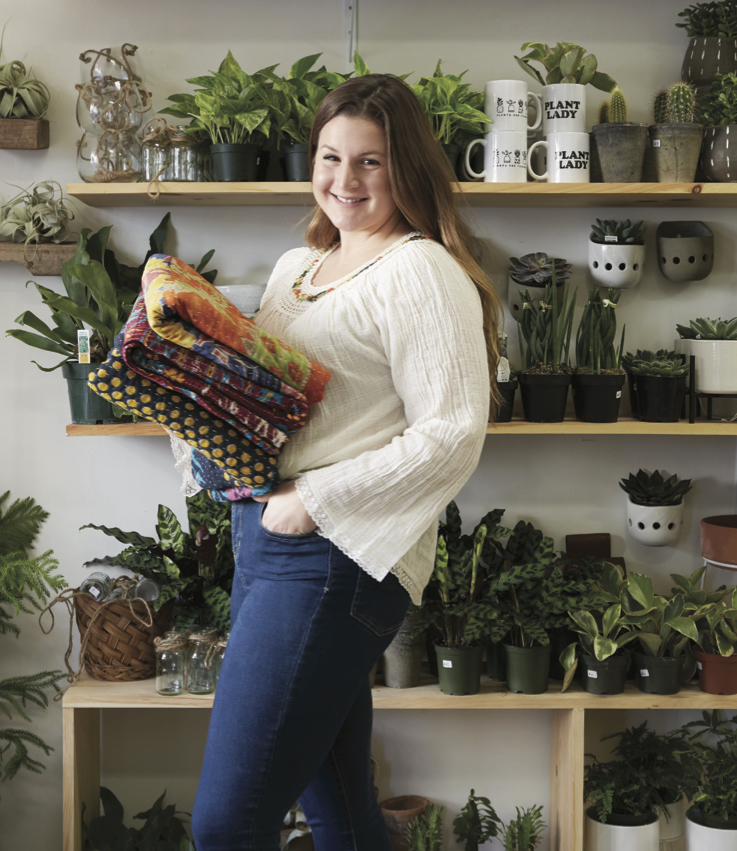 What was your biggest mistake? "My friend and I bought 10,000 "butter beer" sodas for a Harry Potter event the town was hosting," she says. "The previous year we sold out of what we purchased for the event so we decided to double our order. Not only did we completely overestimate what we could sell, a lot of other people had jumped on the bandwagon of selling the same thing." Stuck with thousands of unsold sodas, Alyson came up with an altruistic solution: "We donated them to a local school that was hosting a Harry Potter celebration later that year and would use the soda as a fundraiser. So it all worked out for the best!
What's your favorite customer moment? A woman left a note that read: "Yourshop is exquisite!" When they met, Alyson says, "She had tears in her eyes, because she just 'loves this little shop.'" It reassures Alyson she did the right thing. "THIS type of feedback is what makes all the blood, sweat, and tears so worth it!"
Is it fun? For Alyson, the answer is yes. Her store is brimming with unique vintage and antique finds—and Alyson loves to hunt for them. "I really enjoy the buying," she says. "Getting to travel a bit and see what's out there." But it's more than just finding inventory for her shop: "I think it is crucial to your brand development to constantly introduce new things. It is so important to have your finger on the pulse of things, too."
Three Best Tips:
1. Start small and build from there. Don't be afraid to change direction if one thing works better (or sells better!) than another.
2. Get a job in retail to see if you really like the customer service aspect. It takes a lot more then just putting things on a rack or shelf.
3. Be as resourceful as possible. Rally friends and family to help you when you need it. Be frugal when starting out because stocking a store definitely gets expensive.