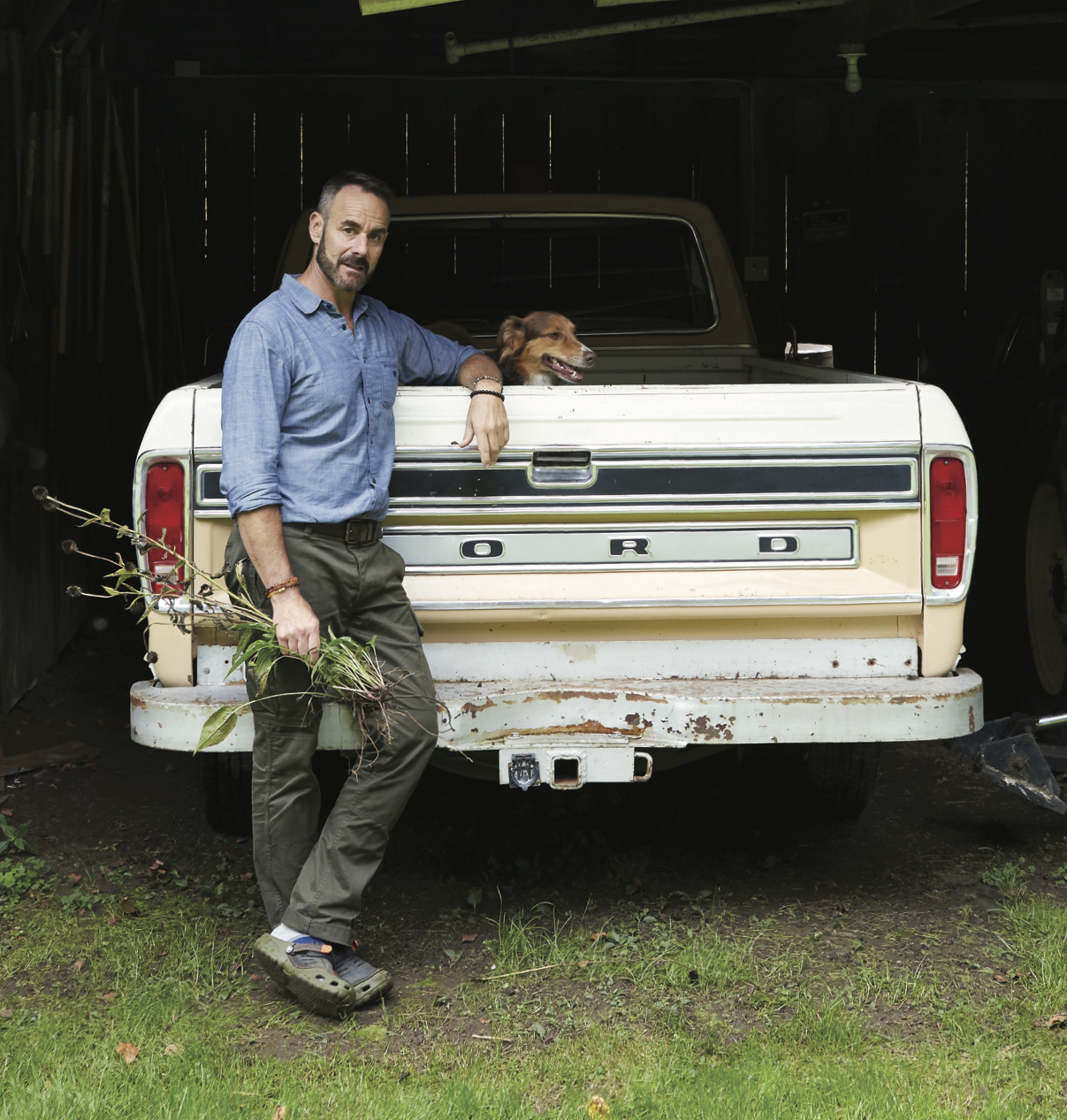 STORY BY CLAIRE CONNORS PHOTOGRAPHS BY DAVID ENGELHARDT STYLING BY KRISTINE TREVINO
ABOUT THREE HOURS northwest of Manhattan, next to the great Bush Kill stream and a stone's throw from the scenic Delaware Water Gap, sits the seven acres of land that Mark Veeder, his husband Cooper Boone, and their twin daughters, CeliaRose and Crosby, call home. Surrounding the area are old-fashioned Catskill camping grounds (think Kellerman's Resort where Baby spent her idyllic summers in Dirty Dancing) and one of the oldest hunting lodges in the country, The Heartwood Club. It's also where Mark, an avid horticulturist, made a breakthrough discovery in both the gardening community and the beauty world. But more on that later.
At the top of a hill, miles away from their closest neighbor, sits the main house—a 19th century stone building. It's surrounded by a couple of barns, a working greenhouse, and a cedar-shingled barn-turned-guesthouse. The estate is literally Mark's fantasy home. "I met with a real estate agent who said to me, 'Tell me what your dream house is,'" recalls Mark. "I said I wanted a stone house with no neighbors, a pond, some barns. I described this place almost exactly! And this was the first house we looked at. I walked in and it felt right. What's funny is it had the same wallpaper, curtains, and appliances as my parents' home. It was a little weird."
Several times a month, Mark, who is the co-founder of VP+C, a public relations and marketing firm, commutes between his New York City apartment and business offices and this country estate in Sullivan County, New York, where his family resides full-time. The 100-mile drive takes him away from his hectic life in the big city to the bucolic farm. "As soon as I leave the city and go through the Holland tunnel or over the bridge, I start to calm down," says Mark, who bought the land in 1992.
Mark had originally planned to use the property as a weekend refuge from city life, with a working garden to grow produce and flowers. Little did he know his getaway spot was going to turn into a life-changing beauty business benefiting not only his family, but the farming community surrounding his home.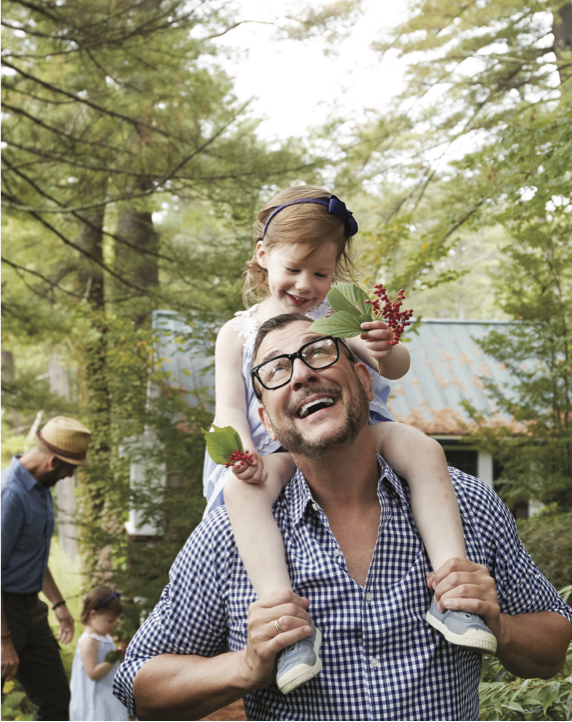 Start Small, Dream Big
MARK WAS BORN and raised on a working farm at the top of a mountain in Greene County, New York, about 75 miles away from his current home. "We grew up pretty poor," he explains. "We had animals and farmed for food. My dad was a hunter so everything that was shot was eaten." Mark's job was caring for the cows, horses, and chickens, and overseeing the large garden in the summer. He also became an accomplished baker and belonged to the 4-H Club. If it sounds a little like Charlotte's Web, you're not too far off.
When he was in his early teens, Mark would attend New York state and county fairs, entering the various downhome contests. One year a prized Hereford cow that he raised from a calf won State Champion, and another year, he won the Apple Pie Baking Contest. "Raising cows and baking pies. There's a real dichotomy there," he says, laughing. His father, who had his own Christmas tree farm, instilled a lifelong passion for farming in his young son. "I would look through plant catalogs and dream about having my own garden," says Mark. "Instead of ordering toys, I would order plants."
It was that knowledge of vegetation that helped the amateur botanist recognize, or rather not recognize, a strange plant growing in the garden near his new home. "I had planted a big swath of Echinacea," he recalls. "And there blooming in the midst of the plants was this mutant." His natural curiosity drew him to the unusually tall plant with a strangely beautiful green power.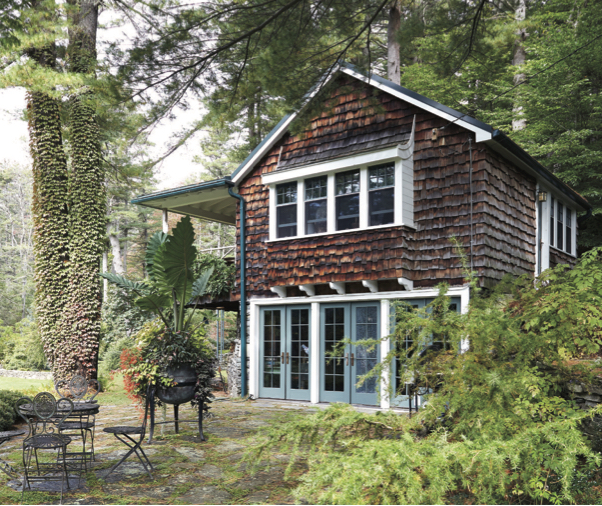 A Miracle Plant
UPON CLOSER STUDY, Mark realized he had a mystery plant on his hands: a green flowering Echinacea purpurea, with a cone center and bright, jade green petals (typically Echinacea plants have purple flowers). But, was it truly special or simply one odd flower with a disease? As he notes, "there is a disease that can cause Echinacea to bloom green."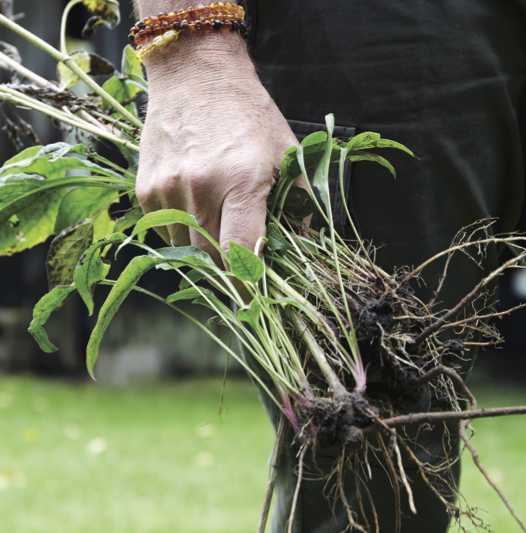 Mark called Dan Hinkley, a botanical expert who owns a collector nursery in the Pacific Northwest, for his advice, and sent him the plant. "In the meantime, I took pictures of it to the Chelsea Flower Show in London," says Mark. "I stopped by this little booth called, Stump the Expert, and showed it to the guy working there. He guessed a Dahlia, I'm like, 'Nope,' then he guessed a Zinnia, and I said, 'No, it's Echinacea.' He bellowed, 'Impossible!' That's when I knew I had something really rare."
Before the 19th century, echinacea was the # 1 herb used by doctors because it's such a powerful anti-inflammatory.
Back in the United States, Dan confirmed that Mark's plant was in fact a superhero strain of the modest Echinacea, with a 300 percent stronger concentration of the phytochemical cichoric acid—a potent anti-inflammatory and antioxidant. This was exciting news, considering common Echinacea is already famous for its healing properties. In fact, before the 1900s it was the number one herb used by doctors. Mark quickly patented the plant, christening it Echinacea GreenEnvy.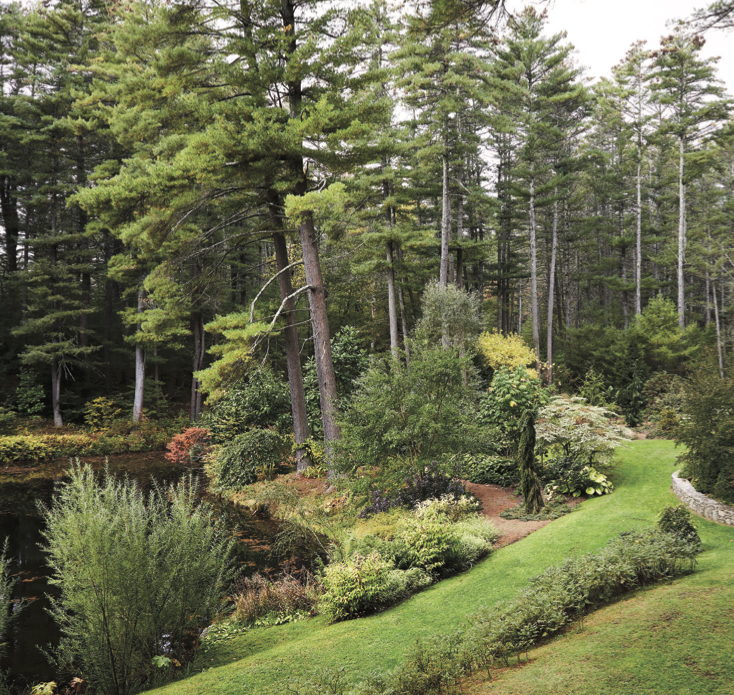 A Challenging Start
FOR THE NEXT FEW months, Mark dreamed of using his plant discovery as genesis for his own organic, healing skincare products, at one point attending a cosmetic trade show, with his friend and Bliss Spa owner, Marcia Kilgore. "I carried around my little plant like a freakin' homeless person," he laughs. "I'd say, 'I have this Echinacea plant and it's really strong.' And everyone was like, 'Yeah, right, come back when you have the ingredient.' No one took me seriously and then, well, life happened. I got busy with work and adopting the twins so I abandoned the idea for a few years."
In the meantime, he and Cooper bought a building in nearby Port Jervis, and Cooper started a rustic home furnishing boutique called Foundry42. In fact, Cooper is the creative mind behind the countrified interior design of their home and guesthouse. "I always say, I'm the department of exterior and he's the department of interior," says Mark. It was Cooper who finally convinced Mark to revisit GreenEnvy. "He said, look, you own the plant, just do something with it!"
In 2014, Mark's New Year's resolution was to reignite his dream. He ordered 10,000 plugs of the plant—but where would he plant them? As luck would have it, he found Robert Beyfus, the same fellow who had helped his father start his Christmas tree farm so many years ago. And he had the perfect piece of land—not far from where Mark grew up in Greene County.
The planting of the plugs began in January. By February, Mark met his now-business partner, David Chung, proprietor of Englewood Lab, which formulates cosmetics for 90 different brands, including La Mer and Estée Lauder. David wanted to create his own all-natural brand of beauty and recognizing the potential that Mark's secret ingredient had, they shook hands on the concept of a farm-to-skin brand integrating the latest scientific knowledge. All they had to do was figure out how to extract all of that anti-inflammatory goodness.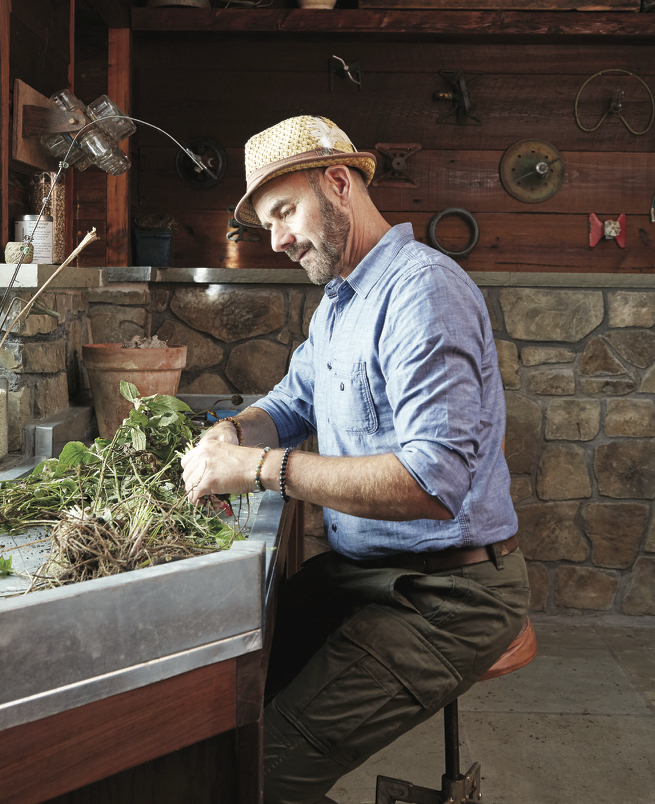 The Farmer Meets The Scientist
ECHINACEA IS STERILE, so it doesn't grow from seeds, but from the root. Mark sends his plants to get tissue-cultured in a lab in Oregon, where they take a microscopic piece from the plant's root and put it in argon algae gel. It begins to grow roots and leaves, then it's placed into a little plug that gets shipped to Mark's farm in New York. "We plant them by hand," says Mark, "and two years later we dig them up and send them to a lab at Stonybrook University." There, the roots undergo a cold pressing process, which consists of macerating the roots and then filtering the liquid. That liquid gold gets extracted into a tincture, which goes into all of Farmacy's products.
The Farmacy Skincare System
OFFERING THE BEST natural ingredients in a skincare line, Farmacy has got you—and your face—covered. The product range includes cleansers, exfoliators, anti-aging serums, moisturizers, masks, sunscreens, and lip balms. The most popular among women is Green Clean ($34), a make-up melting cleansing balm. "It's pretty awesome," says Mark. "It acts like a double cleanser. It removes waterproof makeup and then when you add water to it, there's a papaya enzyme in there for a gentle exfoliant." For the guys, there's New Day Gentle Exfoliating Grains ($30). "It's a great cleanser and it doesn't strip your skin," he says. "I use it every day." By far the most popular item is the Green Screen, Daily Environmental Protector. "It not only is a great sunscreen," says Mark, "it also has extract of marigold which protects our skin from the blue light that shines from all of our digital equipment. We still don't know the hazards of blue light because it's so new in our lives, but we're protecting against it."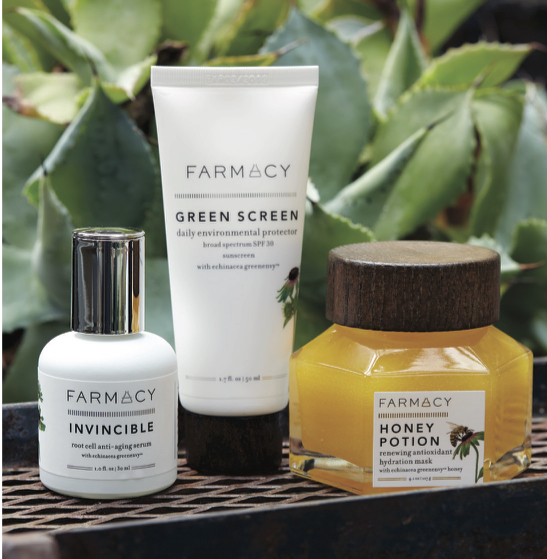 Spreading The Health and Wealth
SINCE DEBUTING IN 2015, Farmacy is growing as quickly as, well, a weed. Mark is partnering with local farmers to grow more of his Echinacea plants and he's currently working with Farmer Greg Schwartz and beekeepers Megan Denver and Jorkik Phillips to make Echinacea honey which goes into many of the Farmacy products. Even the oddly beautiful flora of the plants are being used by the flower maven of the nearby Willow Wisp Organic Farm. Her bouquets are available in regional markets as well as farmers' markets in New York City and Brooklyn.
As for the future, Mark plans to continue expanding. "The company is always looking for new ingredients," he says, "so if we find a plant that's in Southeast Asia, let's say, we'll employ farmers there to grow for us. It's a brand that can easily grow into a global market." But for now, Mark is happy living in Sullivan County in his dream home, with his husband and kids, growing his miracle plant with the help of his neighbors. "Part of my mission is to support local farmers in upstate New York," says Mark. "I want to help revitalize the surrounding community by utilizing the local natural resources as well as the expertise of the farmers to create more jobs and ensure a prosperous, healthy future for all."