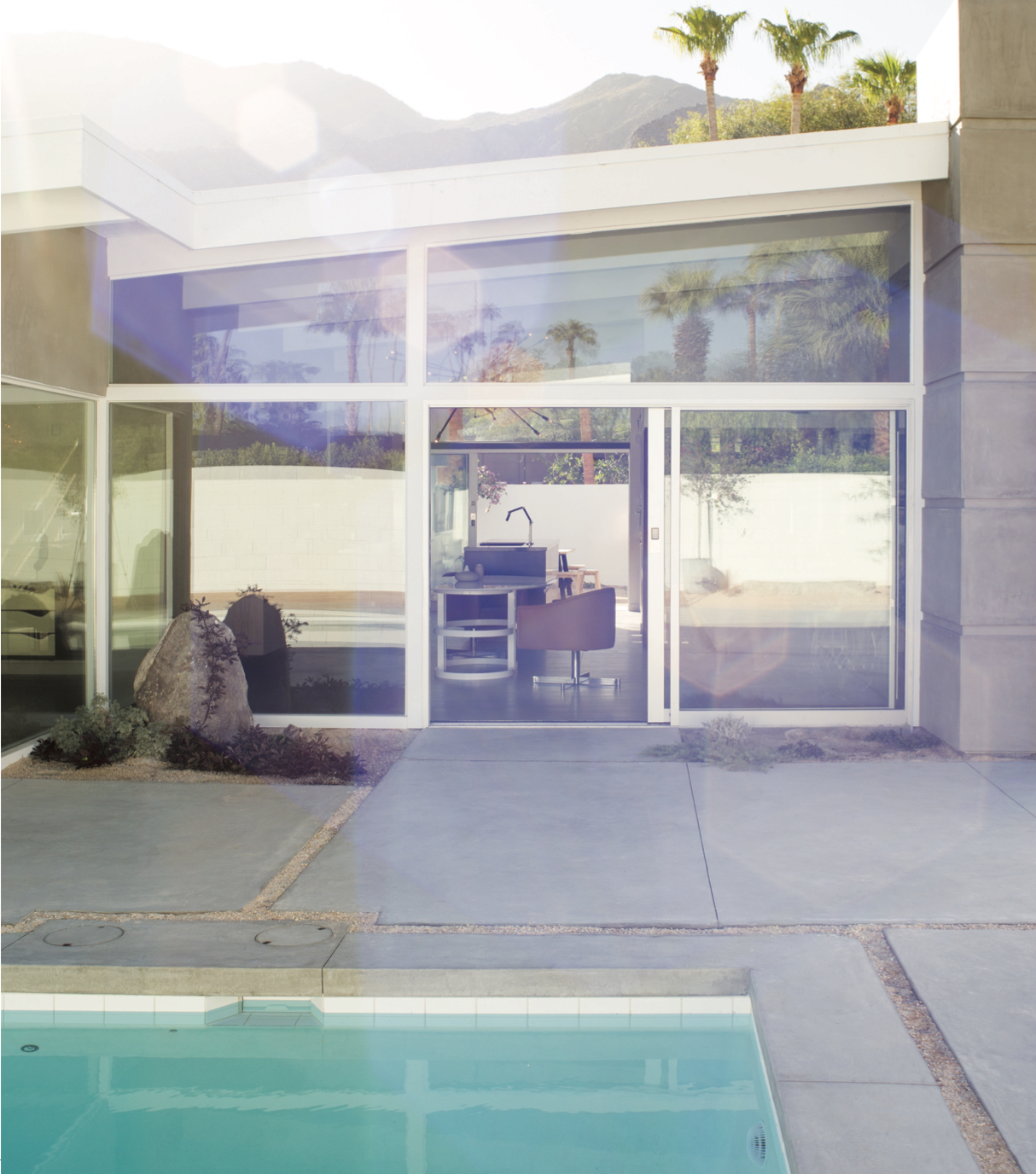 Fresh off a tour and a chat, the Naturally team thinks that possibly the only thing more green than Jules Moore's renovated home is our envy. It's impossible not to be impressed by just how damn chic she is. First of all, she styles photographs for top magazines and designs sets for Hollywood. She reimagines the interiors of private residences from Thailand to Oakland. As if that weren't enough, she's also tall, willowy, naturally beautiful—and nice.
After a career spent putting her beauty mark on places and sets around the world, Jules is happily putting roots down in Palm Springs. The famed desert city has become a kind of mid-century modern design mecca, thanks to junk shops and estate sales known for harboring mid-mod treasure as well as neighborhoods considered open-air museums of classic architecture. Given its intense desert climate, it's also a hotbed of innovation in sustainable style. It's no wonder, then, that Jules feels right at home. "My background guided me here and I'm super, super happy about it," she says. "All points were leading to this place, right here."
We asked Jules to share her design insights, creative ideas, and favorite green home products.
Q: What lured you out to the desert?
A: I visited Palm Springs for 15 years while I was living in San Francisco and then in Los Angeles. I'd haunt the junk stores because they were full of mid-century pieces from the estates of people who retired here and then, well, expired here. I would stay in funny little hotels because nothing had really been done out here. Then I just fell in love with all the houses. I was crazy about the mid-century modern houses. I've watched this little town evolve and embrace its uniqueness. These mid-century neighborhoods had become a ghost town in the '80s and '90s when people went off and built grandiose houses. Now people want to recapture the Palm Springs of yesteryear.
Q: Many of that style of home were originally inexpensive tract houses, but completely cocktail-era cool. Is that the history of your house?
A: The house is a 1959 George Alexander home designed by William Krisel [two of the top dogs in Palm Springs mid-century modern home design and construction]. It was in total disarray. It had been bastardized with many complicated additions, so taking it all back to the studs, reworking the floor plan and giving it new life was vital. But I kept the outline of Krisel's architecture. I didn't want to harm that because as you drive the neighbor-hood, all of these houses have beautiful mid-century rooflines. I held onto that and then just really redid the inside to create more flow and undo the awful things that had been done to it. A lot of people have said to me 'Why didn't you keep the original?' I would have if it had been there.
Q: What design crimes had the previous owners committed?
A: I bought it from the original owner and it was pretty hilarious, really. Every single wall had been plastered with wallpaper and the floors were covered in nasty old shag carpet. He was all about harvest golds and lime green. He'd boarded up some windows. It was like a tomb for 1959 with bad updates that he had obviously done himself. On the other hand, it was also full of his original furniture. I recovered many of these pieces with recycled leathers.
Q: What was your vision on the redo?
A: I worked alongside David Herrlinger of Hot Purple Energy. Together we foraged for an eco way to make this house take on more substance and strength from the inside out. Every wire, pipe, wall and door became solid and of quality materials. Cast concrete and beautiful woods and sustainable surfaces give it a solid dramatic feel now. The home felt like it could blow away in the wind—now it feels like it will be standing for hundreds of years.
"I wanted to show people who are living in the desert what they could be doing to design with style and the environment in mind. That's where it all started."
Q: It's also quite minimalist. How do you manage that as a stylist and interior designer, not to mention a traveler?
A: I maintain it by having a big storage unit! I'm very much a rotating decorator. I change my house constantly. It's the stylist in me. I definitely have a looseness and a flexibility to my look. I like things that are changeable. Basically every single thing in my house is a treasure that I come across and they all have a backstory. They all have meaning to me. I bring home the stuff that moves me so much I can't leave without it—but still I don't want to see them all at once.
Q: Have you always been a proponent of sustainable style?
A: Yes. I come from New Zealand, which is an incredibly green country. We definitely live organically, without having to think, "Oh, this is organic." I think it's a pure and natural country. America really has made it a marketing thing, whereas in New Zealand that's just the way we are. Over there it's like, 'Who would think of putting a chicken in a freaking cage?' Chickens are supposed to run around and eat off the ground. I grew up that way so I keep thinking that way. To keep living that way is important to me. Now the exciting thing in design is you can do high-end, beautiful things and they can be green, too. There's so much choice!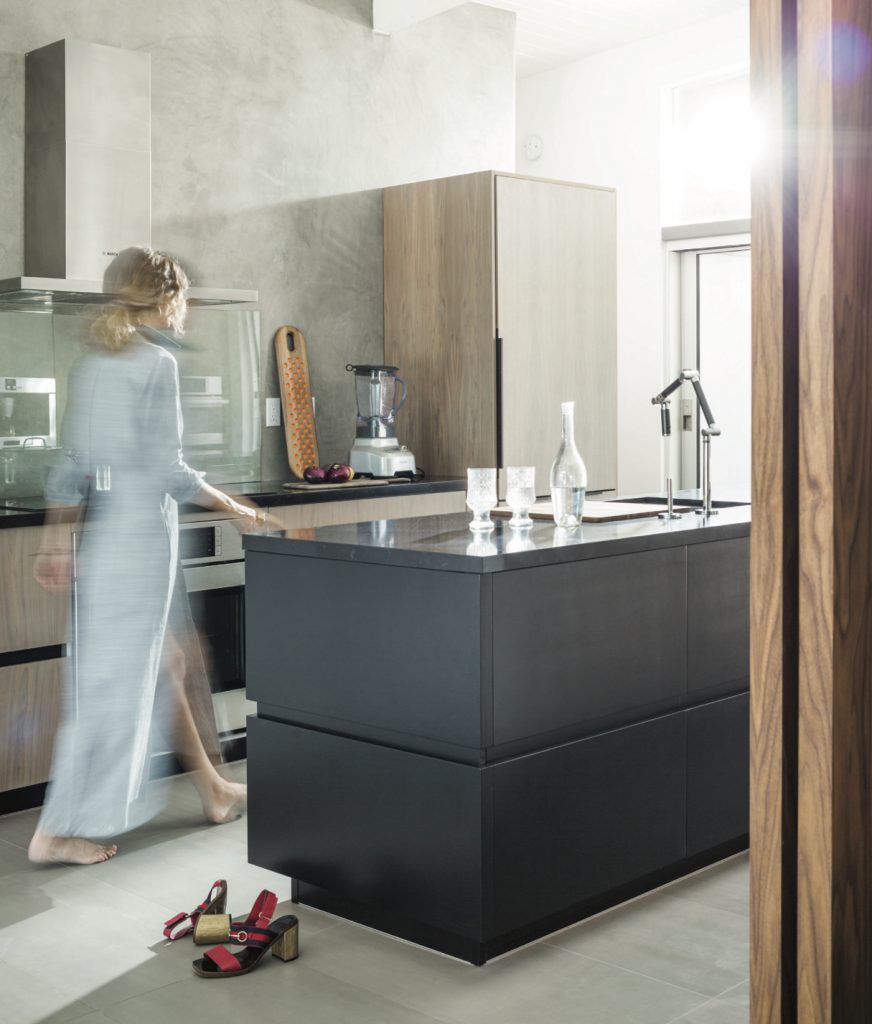 Q: Where is your favorite place to hang in the house?
A: I design wanting every single pocket of the home to be used. Function and flow are vital to me. So I'll hammer out a design in many different ways, acting it out until the balance and flow are just right. I do the same in the outdoor spaces. Every corner has to be inviting.
Q: This house truly blurs the lines between inside and out. How important was that to you?
A: Now every single room is opened up with walls of glass to get a good view of the surrounding mountains. I held onto all the original roof line and architecture but definitely now, no matter what room you're in, you're viewing the great big San Jacinto Mountains right outside. The desert palette inside makes way for the natural connection to the outside. You feel like you are truly IN the desert here.
Jules Moore's Green Heroes
This mid-mod makeover is the nexus of style and sustainability. Here are the products that make it low impact and high functioning: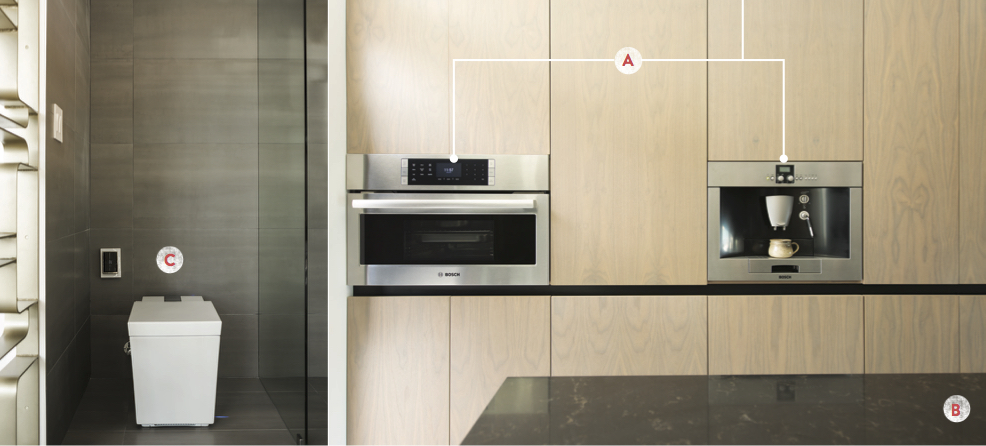 Bosch kitchen appliances
[A] The Bosch superstars of Jules' kitchen include: an induction cooktop that uses an electromagnet to heat and cook food faster and with more precision using less energy; a steam oven that preserves more of your food's nutrients, colors and flavors; a speed oven that cooks faster than a traditional convection oven and can be used as a microwave; and a super quiet dishwasher.
Wilsonart surfaces
[B] Jules is a longtime fan of Wilsonart for its commitment to sustainable products and manufacturing processes. She used their innovative, super- chic metal surfaces on walls, counters and custom-designed furniture. Sustainable quartz countertops give her kitchen a natural look.
Kohler Numi toilet
[C] This is one tricked-out toilet. It looks like a cubist sculpture, cleans itself, lights up in the color of your choice, plays music, washes and dries your nether regions, uses 20 percent less water than standard toilets—we could go on. Did we mention it CLEANS ITSELF?
Back Nine Greens faux grass
Forget that ugly plastic fake grass. This company makes soft, durable, realistic turf that needs no watering, mowing, or chemicals. For grass-allergic Jules, it's better than real.
Pentair Everpure water filtration system
This commercial-grade water filter is used by the food-service industry to turn tap water into the freshest, cleanest, sparkling clear H20.
Hot Purple Energy 10 Kilowatt solar system
Using the most advanced technology, HPE is a design- oriented company that will tailor its solar systems to provide the greatest energy return without offending your property's pre-existing aesthetic.
Saline pool
When you want a swimming pool that feels silkier and goes easier on the planet, explore a saline pool system. With fewer harsh chemicals, a saline pool is clearer, softer—and healthier for both you and the planet. Plus it doesn't trash your hair.
Sunbrella indoor/outdoor fabrics
The unrivaled leader in fabrics that withstand the elements, this company operates on a zero-landfill policy. Their popular Renaissance line uses 50 percent recycled fabrics.
Bosch electric car charger
With its minimalist, compact design and user-friendly operation, this home-based car charger is a no-brainer for those interested in style plus sustainability.