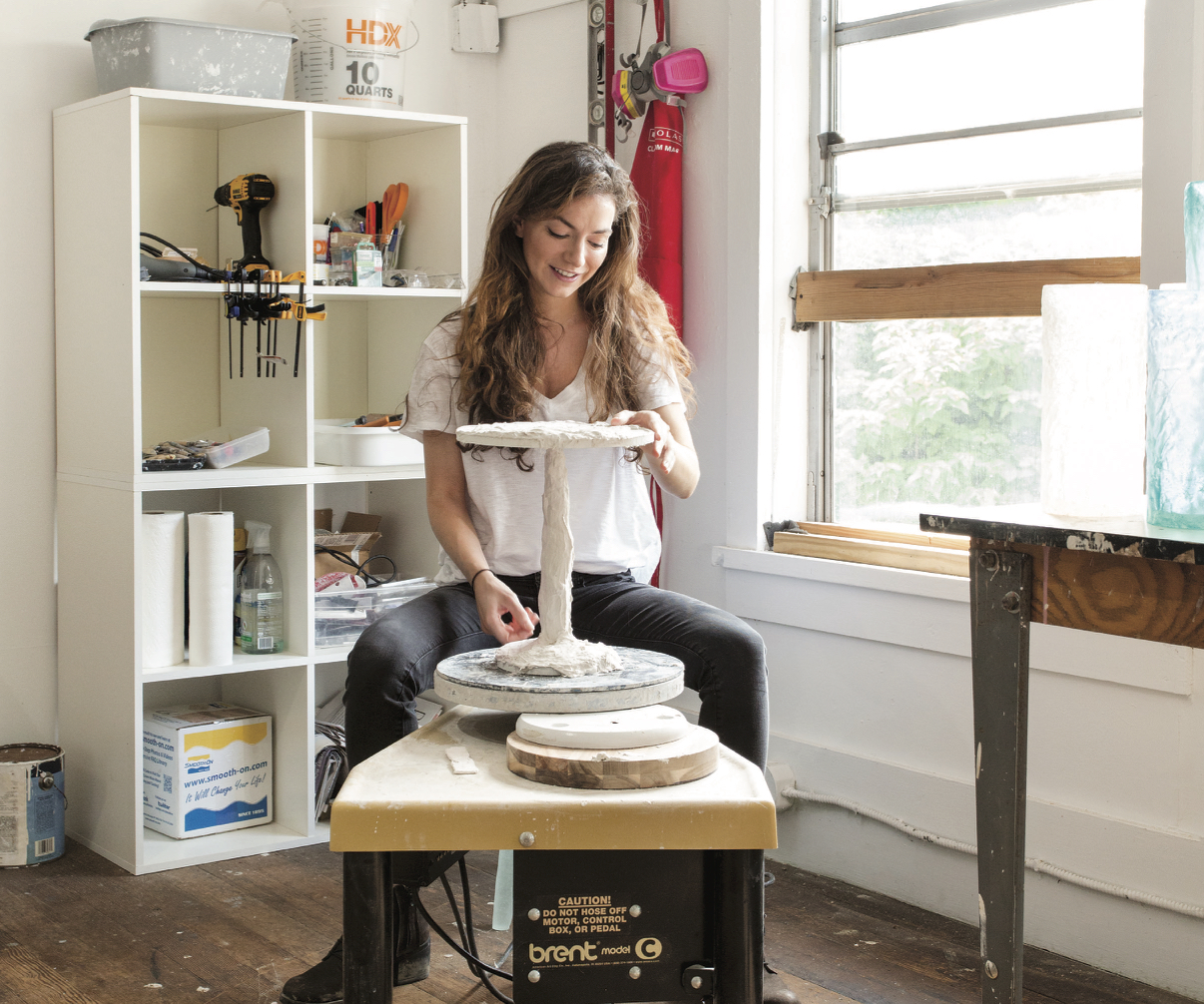 STORY BY SANDRA S. SORIA
We couldn't wait to get our hands on Kim Markel's fantastical furnishings. Literally, the pieces that make up her "Glow" collection compel you to touch them, if only to figure out what you're really dealing with here. For one thing, the tables, chairs, and vases look like they might melt before your eyes. And they appear to have their own light source—like an activated glow stick. For sure, the pieces have a kind of gummy-bear aesthetic that makes them look good enough to eat.
The reality is, these are sturdy pieces that live in an adult world but retain the smile-factor of a Seuss illustration. And that mix of fun and function is exactly what Kim was after. "I wanted to have the pieces be evocative of a childhood feeling," she says. "They are really reminiscent of a lot of the toys that I had as a kid and other things that remind you of childhood, like popsicles and candies."
"I want to make beautiful objects that people react to and fall in love with, but I want to use old materials to do it."
The fact that Kim has the drive and ability to make uniquely beautiful pieces isn't surprising, and least of all to her parents. Her mom has been a painter and an art teacher; her dad a gifted craftsman. As a result, she says, "Art and making things has always been a part of my life."
But it wasn't always her life's focal point. Kim earned a master's degree in public policy from Carnegie Mellon University. At first, she packed up the research skills and global outlook she'd gathered there and headed to D.C., working in sustainable energy development and health care. When her father fell ill, she moved home to the Hudson Valley and her career path veered toward art, landing her at the famed fine art foundry of Dick Polich, who has cast metal sculptures for big-name artists such as Jeff Koons and Isamu Noguchi. "It was like Santa's workshop for me," Kim says. "I learned how things were made on a giant scale, and how artists worked to bring their visions to life. I started using the foundry like a playground; I'd go in on the weekends and start making my own work there."
"My mom is an artist and my biggest supporter. She thinks everything I make is great even if it's not. Plus, she's the only person I know who is happy to let me use her basement to store 1,000 pounds of old plastic."
Research, experimentation and those happy childhood memories led her to plastics as a medium. "You don't see plastic in a handmade form, so you don't really appreciate it as a material," Kim says. "It's so disposable, but in reality, it can be pretty beautiful. I delved into that world where I collected samples of different plastics and I learned more about their chemistry than I had known before. I found through a lot of experimenting what could actually work and be a beautiful and functional piece."
She eventually hit on a formula—that involved mixing ground-up plastics with stabilizing resins and hints of pigment—that she could put into molds she designed (an art in itself, she says) and bake them in an autoclave. Once cured, she sands and polishes the pieces to a smooth surface. Kim began posting pictures of her translucent beauties on Instagram. "When I first started making things," she says, "I was using only new plastic products because the pieces were for me and I wasn't creating on a big scale—or any scale really. Then someone expressed interest in buying one of the pieces and then another person did—and surprisingly it just kept going."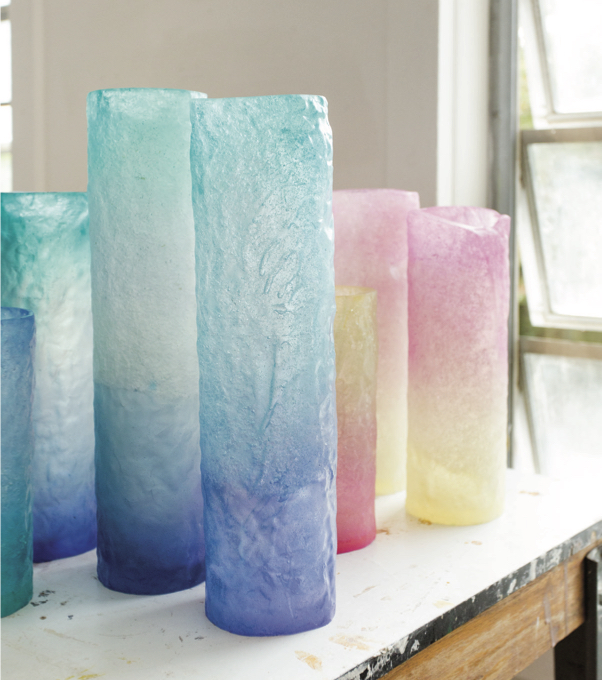 Before long, Kim's handcrafted creations started picking up design awards and a lot of attention. As interest in her pieces grew, though, so did her anxiety about how they were made. "I began to think 'I can't responsibly put more things into the world that are made of entirely new material,'" she says. "I mean, I really lost sleep over it. I knew I had to figure out a way to do this in a more sustainable way."
Again, she put on her research hat, delving into the world of plastic scrap and experimenting with different types of recovered products, from soda bottles to eyeglasses. "It was fascinating to me, which sounds weird I know, and the amount of available materials even surprised me," Kim says. "So a lot of what goes into the chairs are actually eyeglass lenses that were defective; they couldn't be used because they lacked the right optical clarity. It doesn't sound like there would be that many of those, but if you're talking about a factory that produces lenses for the world then it turns out to be a lot of materials."
Also remarkable to Kim is that she's gained so much interest in her work that she now falls into the category of professional artist. "Every morning I wake up and I'm like 'Can I still get away with this for a little while?'" she says. "Honestly, it was just sort of a fun project that was really just a hobby. So the idea that I can transition into doing this for a living is still a little surreal for me. I think I'm incredibly lucky, and I'm not taking it for granted. I don't know how long it'll last, but right now it's really fun."
Find out more about Kim Markel's pieces and where to get your own hands on them at kimmarkel.com.