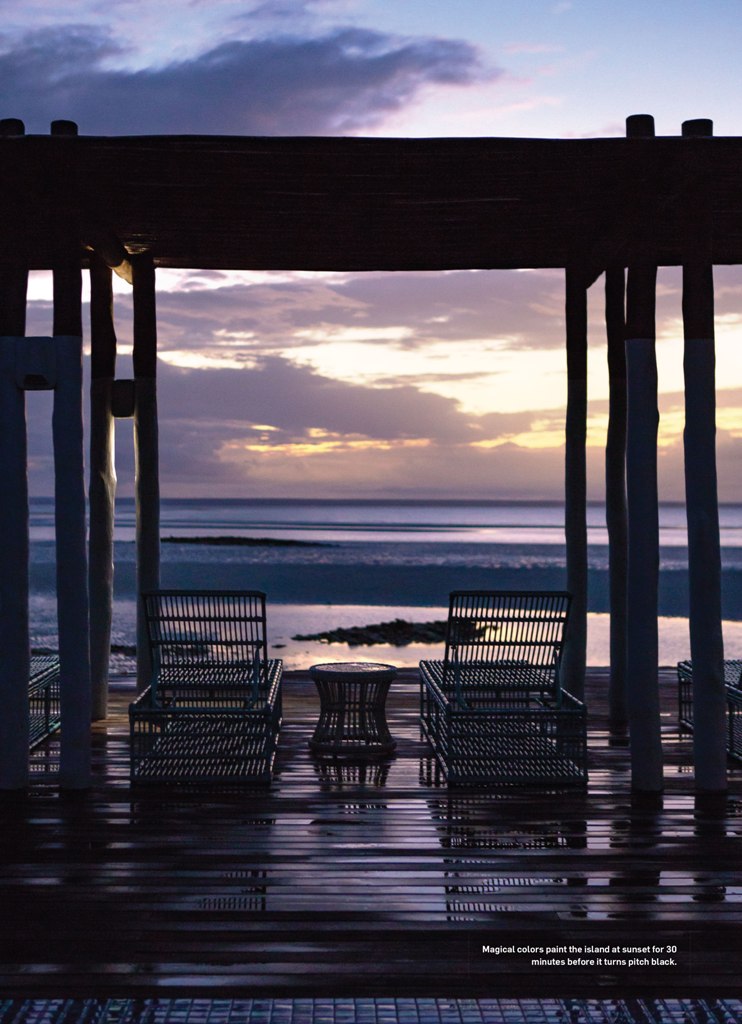 104_113 South Africa SHIP.indd
Day 1
"GIN AND TONIC, please. Make it a double." In Southern Africa, this is how and what you order at the bar. In itty, bitty airports. On water taxis. Just about anywhere. If there's anything you learn from this story, live like a local on G+Ts in South Africa. But, you might ask, where am I and why? It all starts at JFK, where my barelypacked checked bag and a carry-on tote are all I have for a week of adventure halfway around the world. I wanted to leave plenty of room for shopping in order to fi ll my new home with African accessories. I've been to Africa before, to Kenya and Tanzania where it was glamping in "Out of Africa" worthy tents. But this trip would be a totally different taste of Africa.
It's a haul to get to Mozambique, where we'll start our journey. Fifteen hours from JFK to Johannesburg then another three hours to a tiny town called Pembo. And it's extremely hot and dripping with humidity. Once you land you'll feel absolutely in dire need of a shower, sleep, and—yes—a gin and tonic.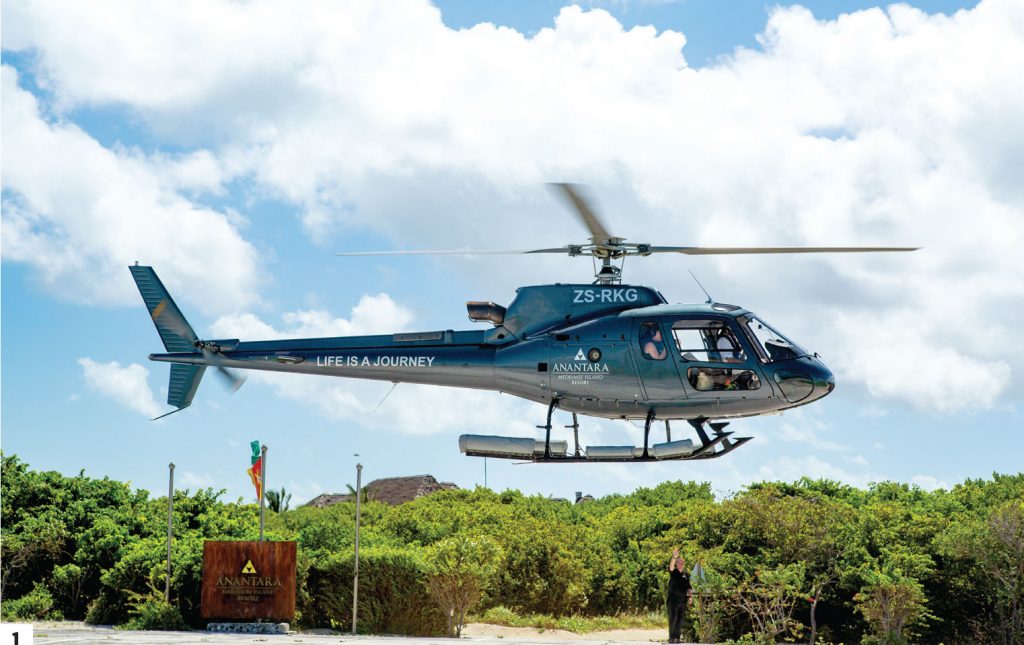 It's late afternoon when a helicopter drops us off on a private island that's a marriage of Survivor and Lifestyles of the Rich and Famous. The Anantara Medjumbe Island Resort is basically a white-sand island with a spattering of villas. This is not a resort with water parks, gift shops, or—heck—even WiFi. It's literally a milelong deserted island surrounded by the Indian Ocean, where all you can do is wine, dine, nap, and leave the world you know far behind.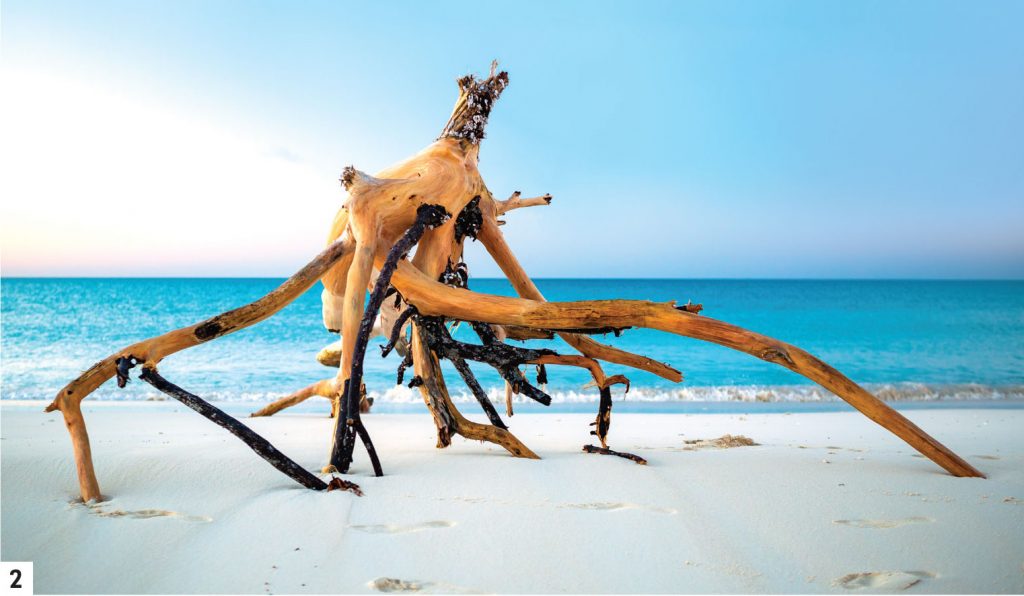 The sun sets at 5 p.m., first setting the sky aglow and then—POOF!—it's pitch black. Enter a cool breeze, an island BBQ of fresh seafood, and a smattering of solar powered lanterns. With tummies full, it's an early night to prepare for an early rise.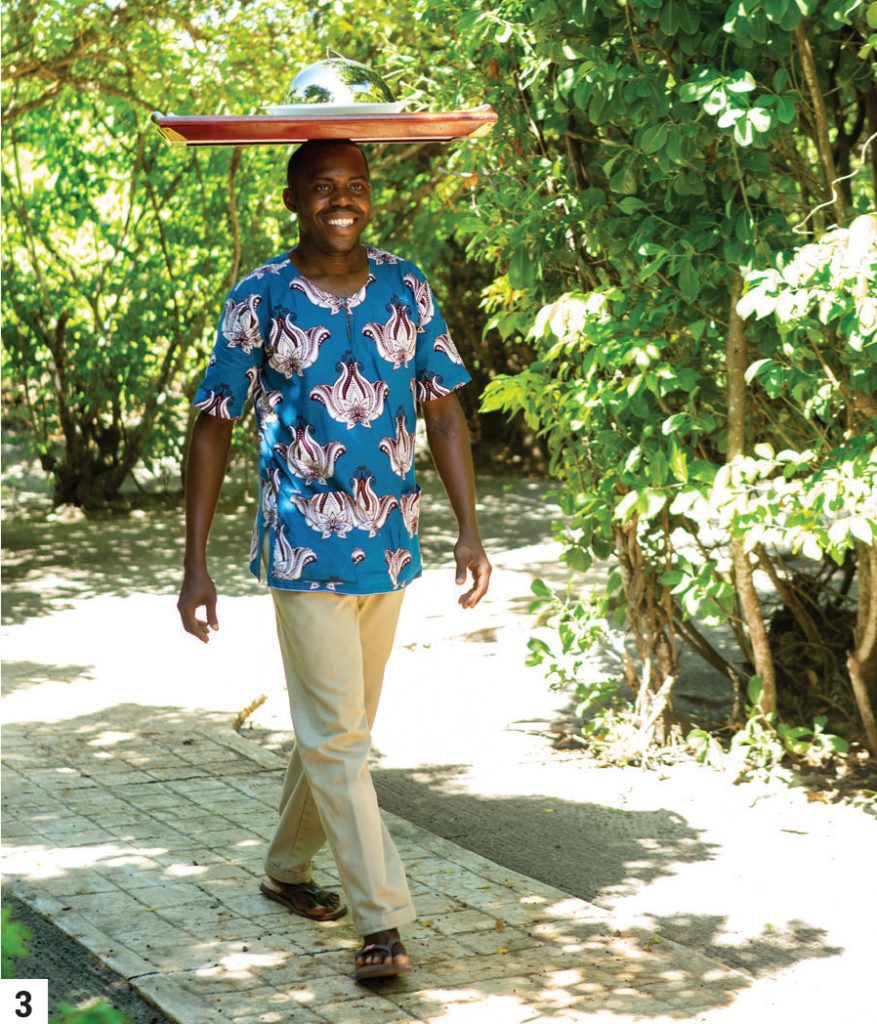 DINNER: Two plates of food from the grill station.
DRINK: One gin and tonic.
SLEEP: 8 hours.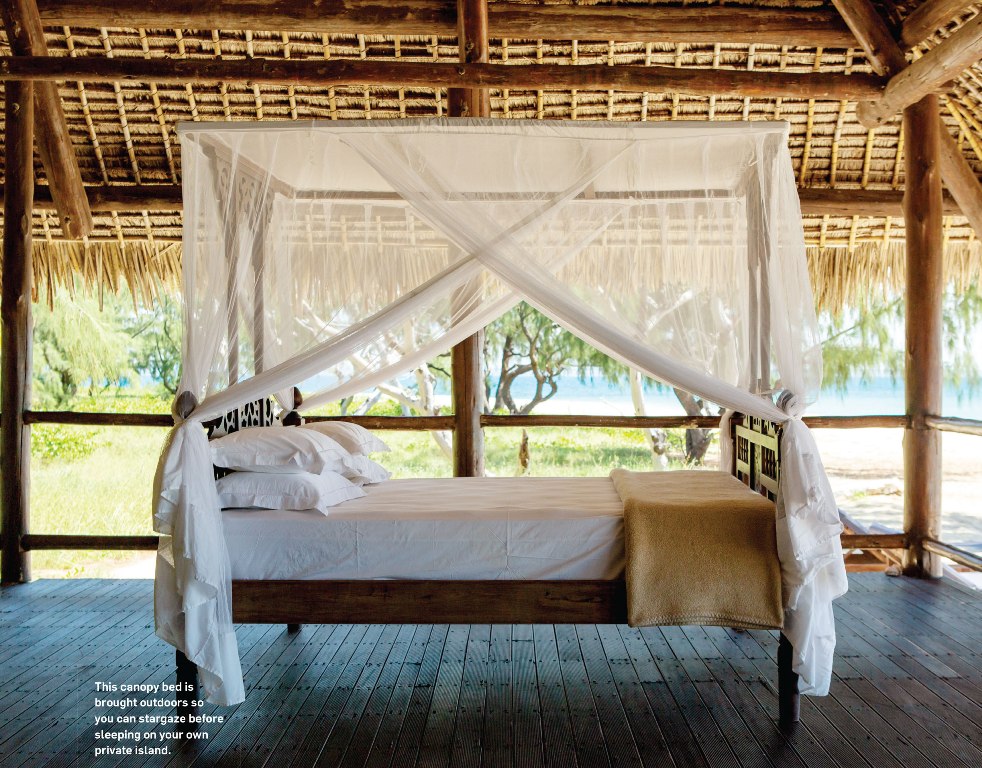 ---
Day 2
SIPPING A CUP OF coffee, I peel open the curtains to see a pink-tinged sunrise. There's no gym here. Instead, the best way to start your day is to run barefoot on the sandy beach, running from one end of the island to the other. Bonus: As the tide comes in, your feet will splash in the water and cool ya right down. Today, the itinerary includes three things: an excursion, eating, and swimming. I can definitely handle that.
Breakfast: Island Eggs Benedict with a curried hollandaise sauce. Steamed milk with hot coffee. Fresh-squeezed juice. Excursion: The crew sets up a ride around the island in a dhow boat, a handmade wooden vessel that uses just a sail to push you through the water. And—surprise!—they serve gin and tonics as you soak up the sun's rays. Swimming: The warm, salty water is crystal clear and beautifully blue. Hours will pass before you realize you've done nothing but indulgently soak in the salty and detoxifying Indian Ocean.
Dine: Anantara's signature "Dining by Design" is like no other. The staff has used nothing but sand and water to create a sunken dining room, complete with a table and chairs molded entirely out of sand and draped in fabrics. Yes, it's totally practical. And as fresh food is brought out to dine under the stars, you realize how insanely outrageous this is. But even better: The pitch-black night, illuminated only by barely-there lanterns, prevents everyone from photographing every detail with their phones like addicts. We actually just talk to each other.
DINNER: I forget. I just know it was delicious.
DRINK: Tons of water (I blame the dhow boat G+Ts).
SLEEP: 9 solid hours.
---
Day 3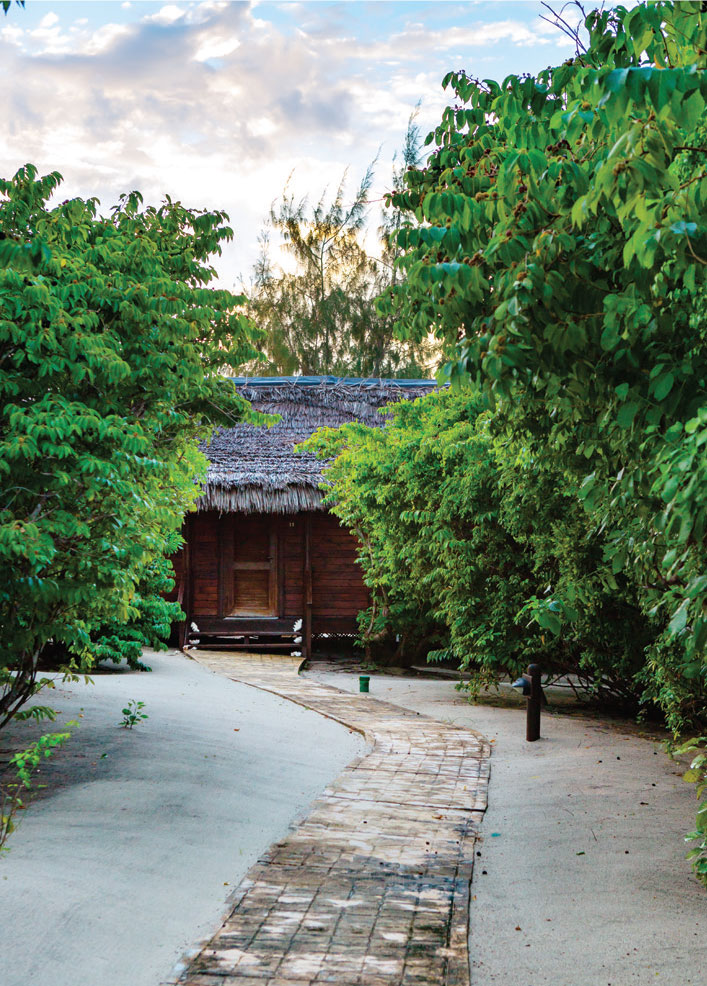 I GOTTA ADMIT IT: Doing nothing is great until doing nothing drives you insane. Today, we hop on a motorboat and we're off to an even smaller nearby island. The plan is have lunch, swim, and explore an island that is designed to give you that feeling of total isolation (but with a semiluxurious twist, of course).
For guests who visit Medjumbe, you can actually spend the night on this island for just $200. Here's what that means: A hotel crew brings a tented four-poster bed outdoors, where you can literally lay and stare at stars. Flashback to your childhood when you had those glow-in-the-dark star stickers all over your ceiling. Except these stars are real and you hear real waves crashing. A salty breeze is in the air. And maybe your bed includes a significant other. Total Bachelor in Paradise moment.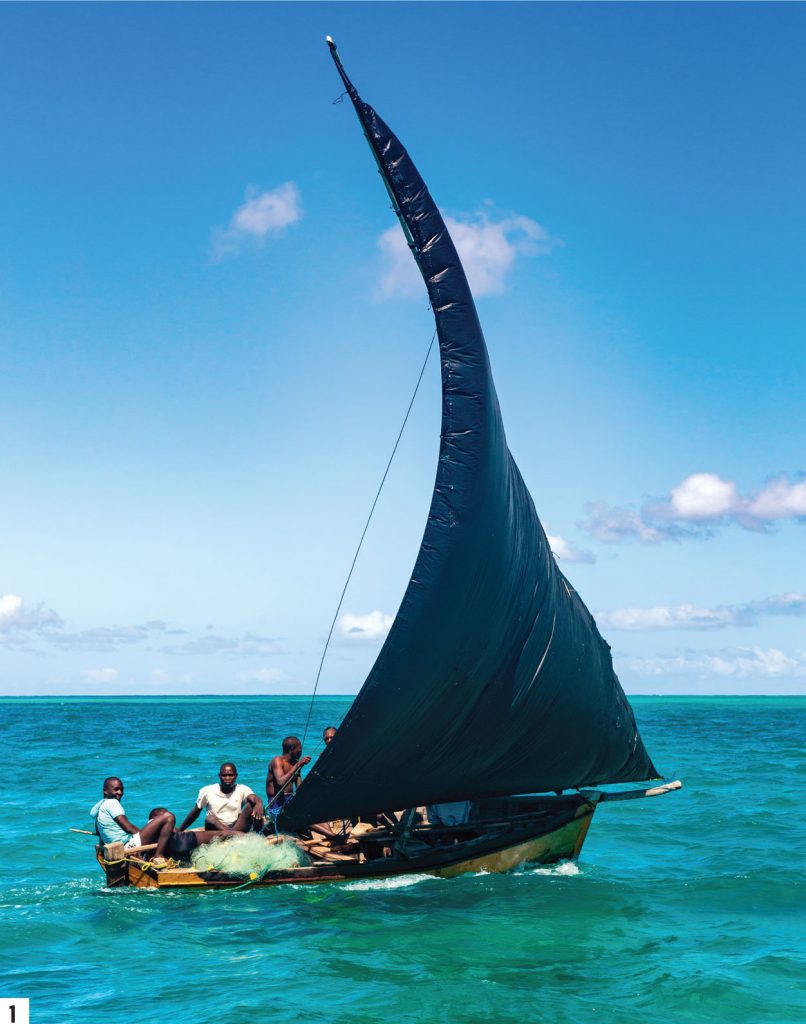 Deserted island living also has a perk— easy access to snorkeling. All the gear is provided, so you just hop in, stick your face in the water and take in delightful coral reefs, colorful fish, and the occasional shark. There's no danger of accidentally running into a piña-colada -swilling tourist here. You're "Finding Nemo" all by yourself.
Once you've worked up an appetite from swimming, lunch is served on the island. A beautifully set table under the palm trees reveals a gourmet lunch, chilled wines, beer, and sticky-sweet treats.
We spend the next few hours leisurely killing time—napping, swimming, and foraging the island for small treasures. A third day is just right for this kind of exploration and relaxation. Another day and your skin will start to resemble a mid-century leather chair. Good thing we're going from Island Living to Safari Lodging tomorrow.
DINNER: Freshly caught shrimp linguini.
DRINK: Icy cold gin and tonics with fresh lime.
SLEEP: 8 hours. SPF WORN: 50.
---
Day 4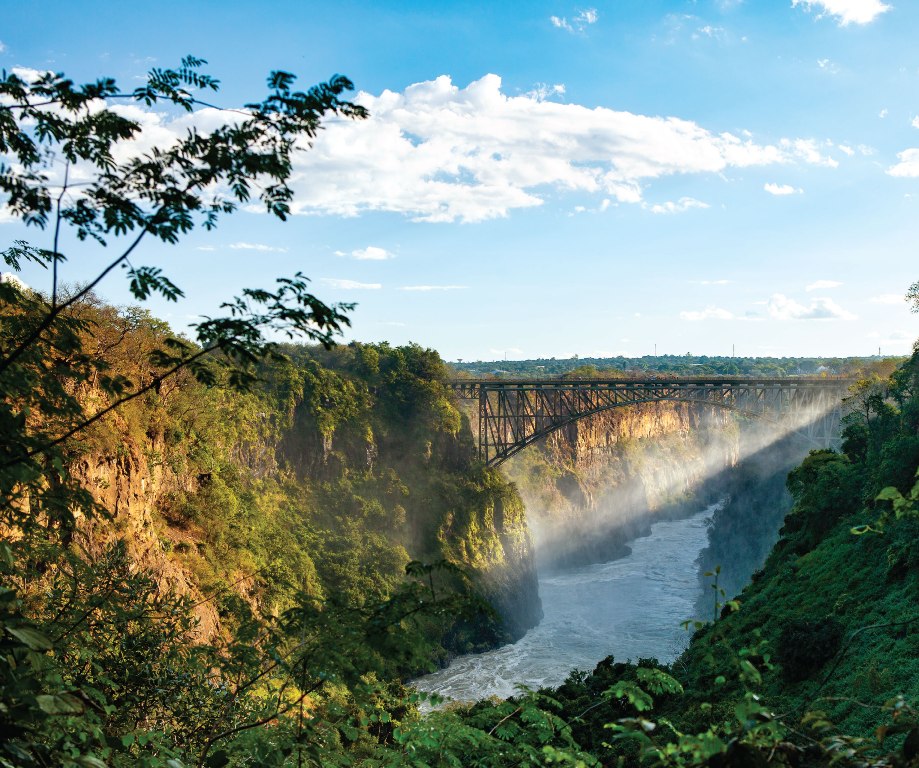 THE LAST FEW days on an isolated island felt nothing like Tom Hanks in "Cast Away." If anything, it felt like Gilligan's Island and I was the adopted Asian child of the Howells. And I'd imagine the Howells would be rescued the way I left: on a chartered private helicopter to the airport.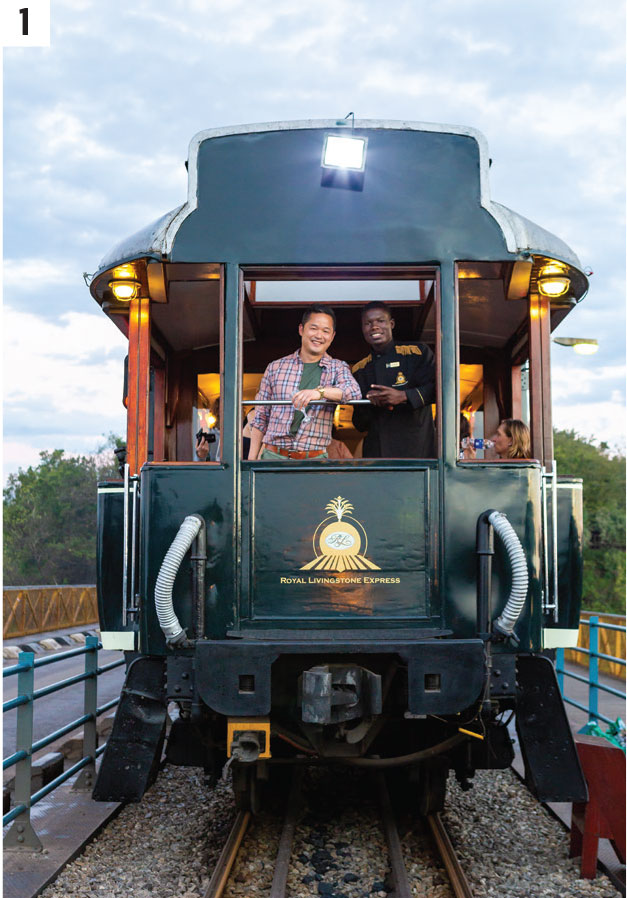 Thirty minutes later, I'm back in Pemba and my Spidey shopping senses tell me to venture into a little airport shop. There, I find some gorgeous hand-carved wooden boxes that—to be blunt—I think are very Nate Berkus. Of course I buy all of them (sorry, Nate).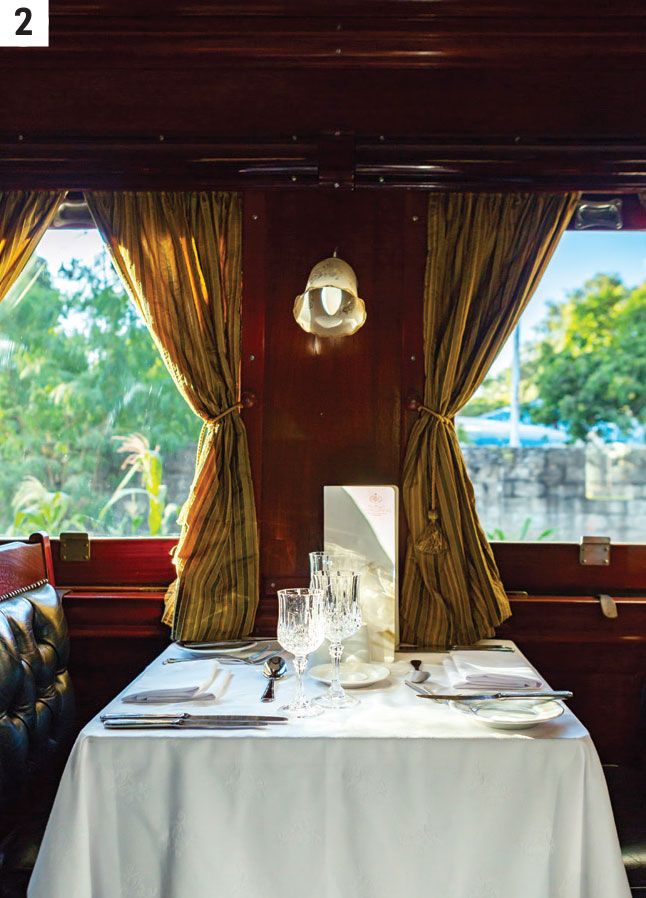 Today's a travel day, by 'copter, planes, and water taxis. But our final destination is worth the journey: It's a luxurious hotel literally adjacent to one of the Wonders of the World—Victoria Falls.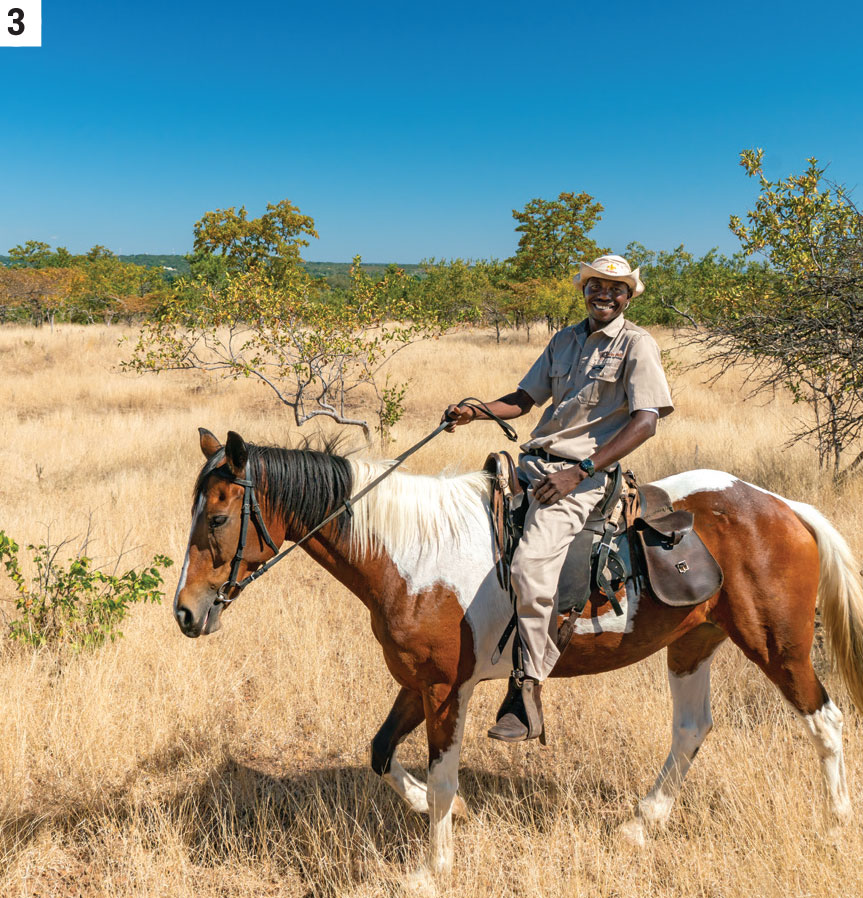 FOOD: Snacks, sandwiches, and fish and chips.
DRINK: Airport beers.
SLEEP: 8 hours.
DOLLARS SPENT ON SHOPPING: $120.
---
Day 5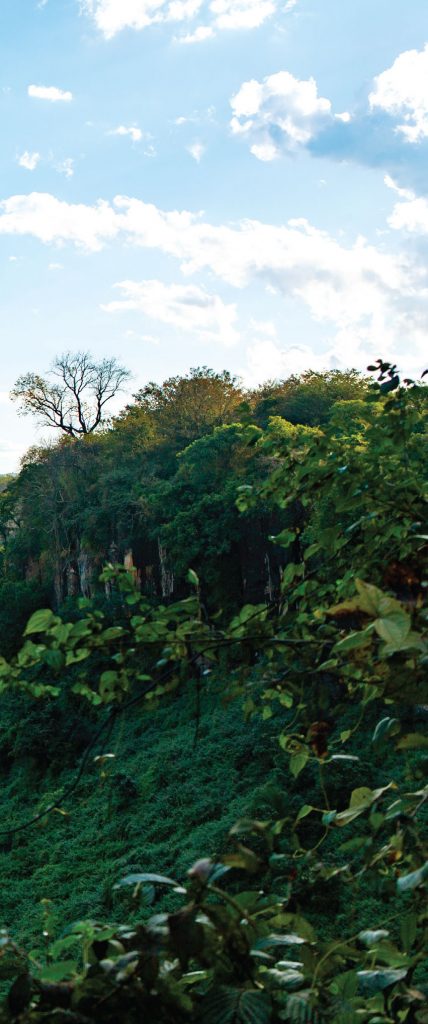 WHERE I LIVE IN New Jersey, it's common to see deer and squirrels in your yard. Here, at the Anantara Royal Livingstone Resort, you get zebras, monkeys, and giraffes. Luxurious British Colonial design, impeccable service, a piano bar, and an unbeatable location make this a winner. But the big perk? Your hotel key card gets you unlimited access to Victoria Falls, which is a breezy 10-minute walk from the hotel. Here's a tip: Head out wearing what you'd wear to a water park. You will get drenched. Any moment at any time is the perfect time to see these breathtaking waterfalls.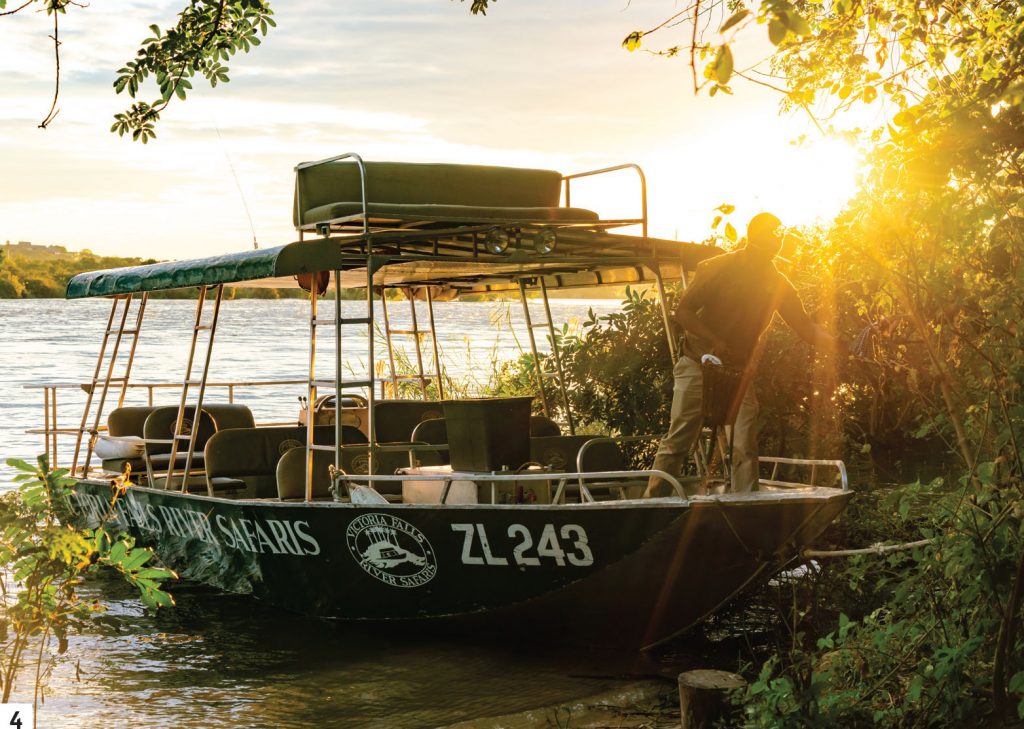 Tip: Bring cash. (U.S. dollars are desired.) Outside the entrance is a charming craft market chock-full of handmade bowls, trays, antiques, jewelry, and carved sculptures. Pros: There are beautiful pieces to be found here at decent prices. Cons: The vendors can be rather pushy and know how to lure you in. My advice? Go for the unintentionally beautiful pieces that aren't for sale, like the sun-bleached wood trays used to display beads, charms, or unpolished minerals and gemstones. They're the best finds and the dealers will be slightly thrown off their game.
DINNER: A local vegetarian Zambian dish.
DRINK: South African white wine and sparkling water.
SLEEP: 8 hours.
BOWLS BOUGHT: 6.
---
Day 6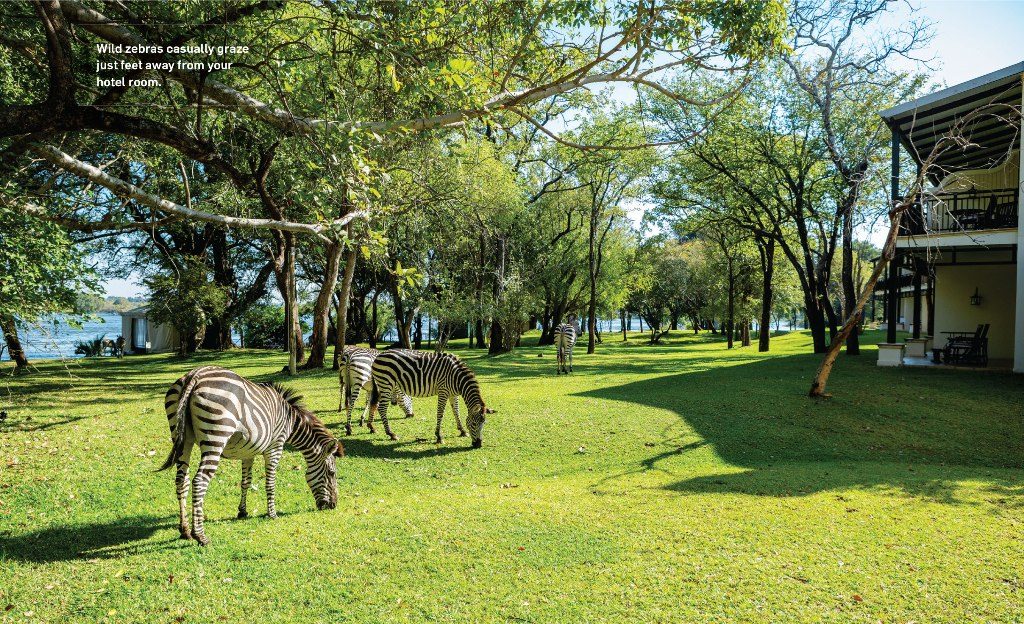 I WAKE UP, head to the gym, and work out for exactly fi ve minutes. It's not a stamina issue; I simply feel ridiculous running on a treadmill in an air conditioned room. I hop on the trails that run from the Royal Livingstone to the neighboring sister property, the Avani Hotel. After a brisk 10-minute jog (where I run past graphic zebras and curious monkeys), I come across an outdoor gym. Ropes, pull-up bars, and a TRX station are perfect for working up a sweat. And having a random giraffe wander by as you huff and puff is both surreal and fantastic.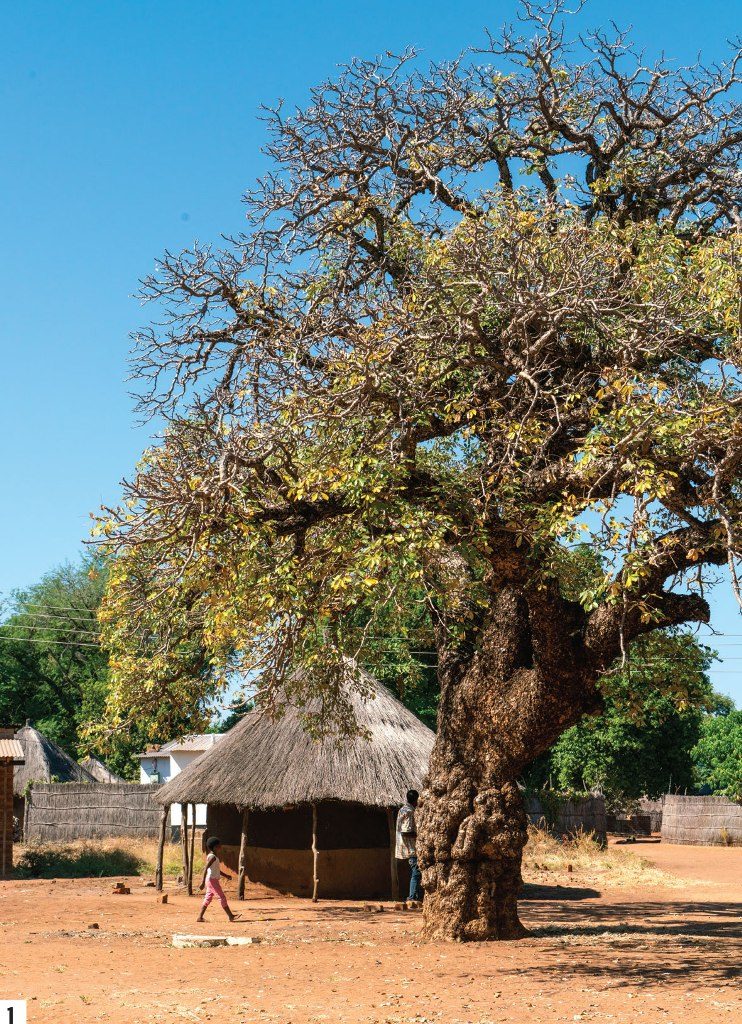 At the Royal Livingstone, you can tap your inner cowboy and stalk wildlife on horseback. The key word to remember is wild, which means there's no guarantee in spotting the Big Five. My advice? Go into it thinking the horseback ride is the highlight and if you spot any hippos, elephants, or giraffes…it's a bonus. And yes, even novices will have no problem galloping their way through the African outback.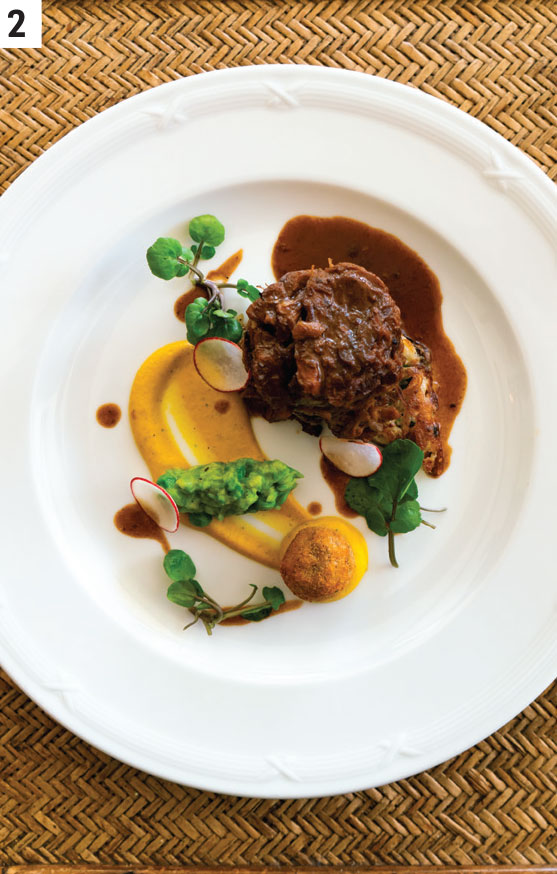 Later in the day, a local guide arranges for a visit to a modern-day village—that was established in the 13th century. Here, you can see how locals live and even go straight to the source of all the handmade wares you see at the tourist sites. Over at a makeshift market, I dart away from the tables laid out with goods and point to unfinished wooden bowls. "How much for the bowls?" I get a surprised reaction because they aren't ready for sale since they need to be stained and polished. I love the roughhewn look of them. I insist on buying them as-is and get a stack for $40. I spy a white sparkly mineral and find out it's a mere $20. I'm against hunting wild animals; I'm all for hunting for treasures.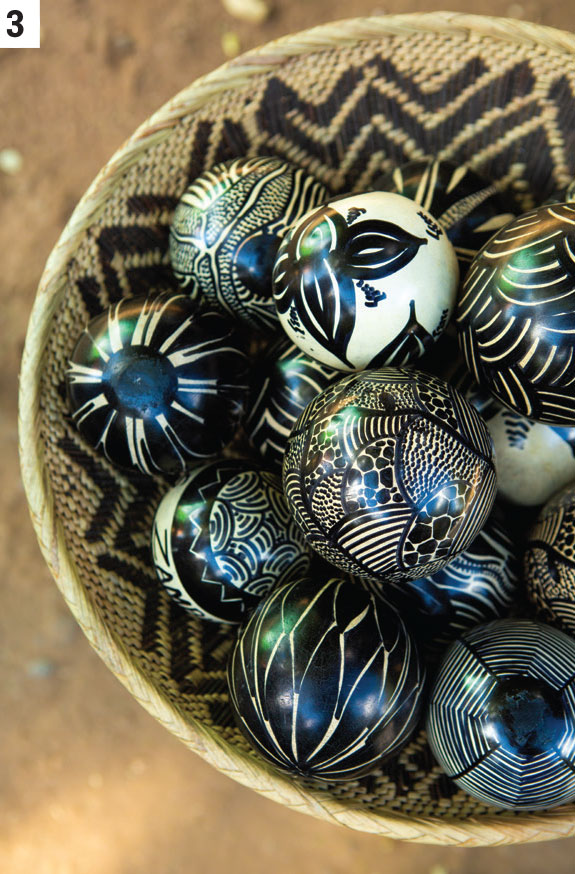 As the sun sets, we board a riverboat to whiz us up and down the Zambian River. Gin and tonic in hand (really, that's what they offer!), I notice the river guide whips out his phone to take a photo. How unusual, I think, for someone who knows these waters to suddenly want to capture a snapshot. It's a baby elephant. Frolicking in the water. Near a hippo who looks like he's yawning. Under a deep blue and pink sunset sky. With a cool breeze, icy drink in hand. This is what we call peak sensory perfection. Victoria Falls may be one of the wonders of the world, but I'm experiencing some kind of out-of-body wonder…halfway around the world.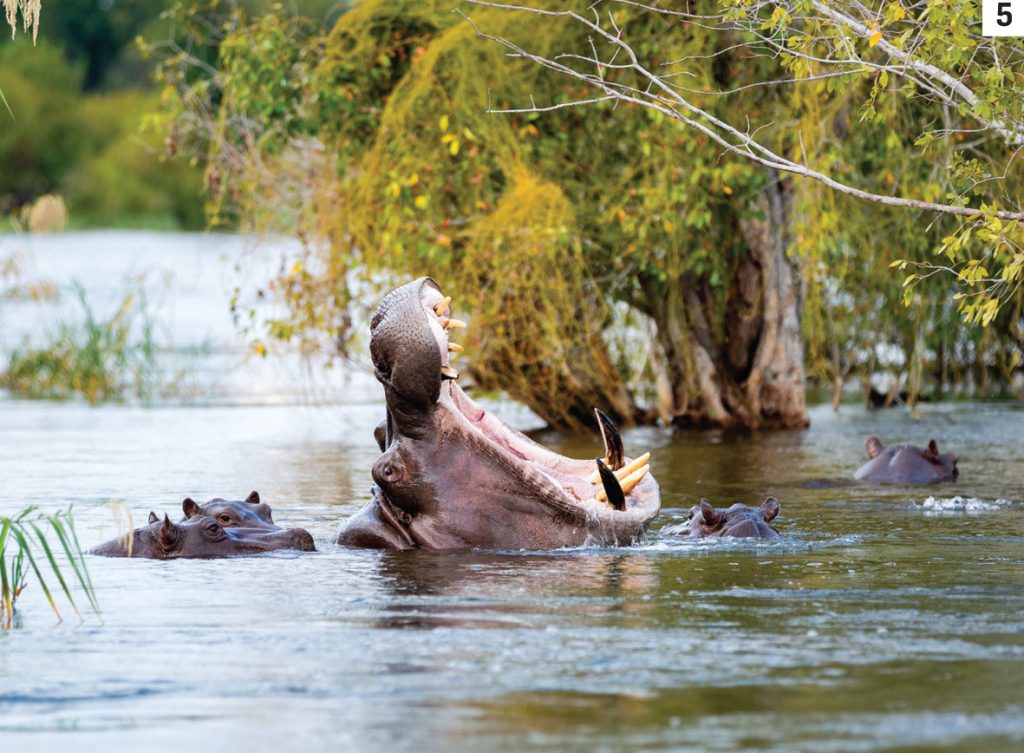 DINNER: A freshly caught fish and veggies dish.
DRINK: South African wine flight.
DINNER COMPANION: A cat and her kittens (yes, I fed them).
SLEEP: 8 hours.
FLIGHT HOME: 15 hours.
SUITCASE WEIGHT: 75 pounds.
STAMPS IN PASSPORT EARNED: 4.
WEIGHT GAINED: None of your business.