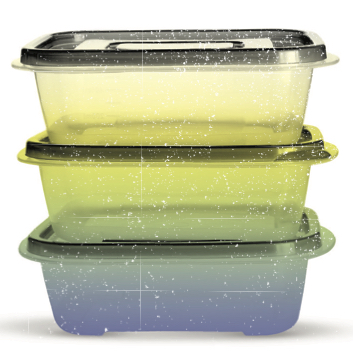 Every day, I pen a syndicated column called "Do Just One Thing" that appears in newspapers across the country. Over the past several years, I've accumulated thousands of tips that not only help people live a little bit greener each day, but are smart ways to cut waste and save money as well. In each issue of this magazine, I'll round up my all-time favorite tips. They're clever, fun, and simple enough that I think you'll Naturally love to try them. –Danny Seo
HAIRY SITUATION: Does pet hair seem so permanently trapped into your carpets that no amount of vacuuming will free it? While a vacuum can do a great job at suctioning up dirt, the weight of the vac can actually compress the fur deep into the carpet fibers. To loosen ensnared pet hair, grab a squeegee. Running the squeegee across the rug creates static electricity that draws up the fur. As it lifts, it'll clump and make it easy to collect.
WAX ON, WAX OFF: Wax paper can do more than just wrap food. Tired of spotty bathroom fixtures? Give them a shine with the coated paper; the residual wax buffs the metal and creates a barrier to prevent new spots from forming. It also acts as a lubricant to free a stuck zipper—simply rub wax paper over it. And save used wax paper to use as a fire starter; the paper-and-wax combo is perfect for creating a slow burn to ignite your fireplace or grill in no time flat.
NO SUCH THING: When shopping for party goods, you may be tempted to get balloons marketed as "biodegradable." The reality is, although these latex balloons do degrade, it can take up to four years for them to completely decompose. In those four years, the small pieces of latex can still end up as "food" ingested by wildlife. Plus, if these balloons were released with nylon ribbon strings attached, the strings can entangle and strangle animals.
SIP ON THIS: Some of the most stubborn things to clean away from coffeepots and teakettles are calcium and lime deposit stains on the inside. Getting a sponge or scrubby brush inside can be impossible, so try this nontoxic solution instead. Simply fill the pot with equal parts very hot water and white vinegar, and let it sit overnight. The mild acid in the vinegar will break down the deposits. Then, thoroughly rinse it out the next morning. Your pot or kettle will look as good as new.
SUNNY DELIGHT: Plastic food storage containers are a good reusable solution to keep leftovers fresh, but they can often stain. Even with a thorough hand-scrubbing in the sink or a cycle through the dishwasher, stubborn stains and odors can remain. Instead, on a hot day when the sun is beating down, let the rays deodorize and brighten the containers. First wash them clean then place them on top of a towel in the brightest pocket of your yard. The UV rays will take it from there, performing their cleaning magic.