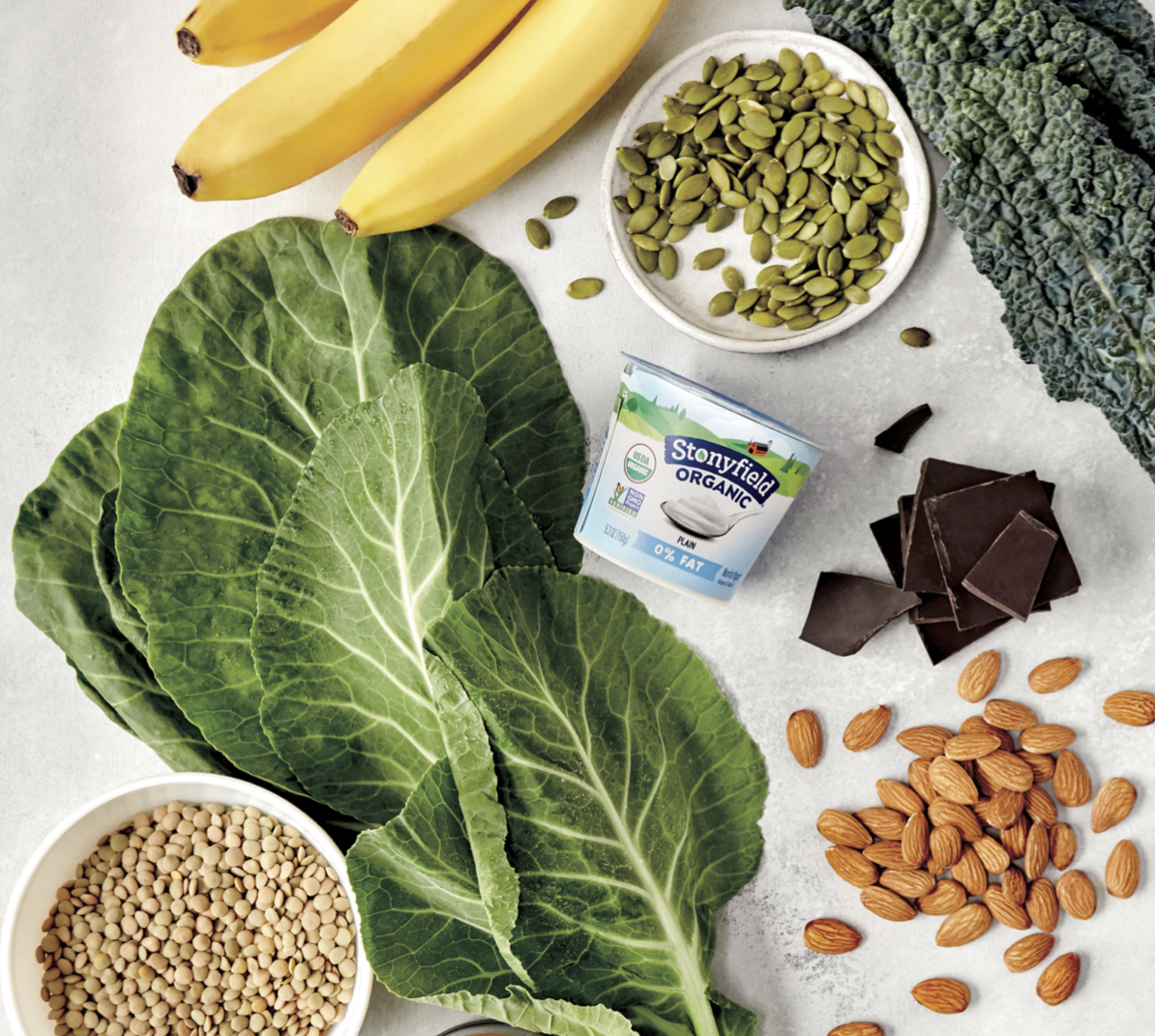 IT'S NOT SURPRISING THAT magnesium is often called the miracle macromineral—it can help you sleep, tamp down anxiety, and keep headaches at bay. It also plays a vital role in bone formation, digestion, relaxation, and energy production. Unfortunately, most of us fall short of getting enough of it.
"Our modern lives put us particularly at risk for magnesium deficiency," says Gretchen Lidicker, health editor at MindBodyGreen. "As a general rule, if you're eating the standard American diet, you're not getting the proper vitamins and minerals."
Start by seeking out green leafy vegetables, legumes, nuts, seeds, and whole grains. Dark chocolate, avocados, and tofu also pack healthy doses. "Pumpkin seeds are one of my favorite foods in the world and they just so happen to be very high in magnesium— providing about 150 milligrams of magnesium per cup," Lidicker says.
Lidicker, who holds a master's degree in physiology and biophysics, has been a fan of the power of magnesium for a long time. In her new book, "Magnesium: Everyday Secrets," she shares 30 ways to incorporate this awesome nutrient in our self-care routine, including smoothies, detox baths, and trail mix.
Of course, you can also find the mineral in supplements. If you do pop a pill, keep in mind that dosage and even time of day matter, as does what else you're taking with it. The recommended daily allowance (RDA) for women in their 30s is around 320 milligrams. Lidicker says she takes her magnesium every night before bed. "It's the relaxation mineral."
And know that one of the most satisfying ways to get the full benefits of magnesium is by taking an Epsom salt bath. Scoop two heaping cups under running water and soak for at least 20 minutes. "For me, an Epsom salt bath really cuts off that anxiety cycle," she says.
While the science on topical applications of magnesium is still "shaky," according to Lidicker, she's found that using magnesium oil or cream helps her destress. "If I put magnesium cream on my feet before bed, I sleep like a total baby," she says.
You can find a whole new sense of calm, too, by following any of her magnesium-rich recipes. "Magnesium is one of the hundreds of things I've tried," she says, "that I felt has really made a noticeable difference."
Beet Hazelnut Latte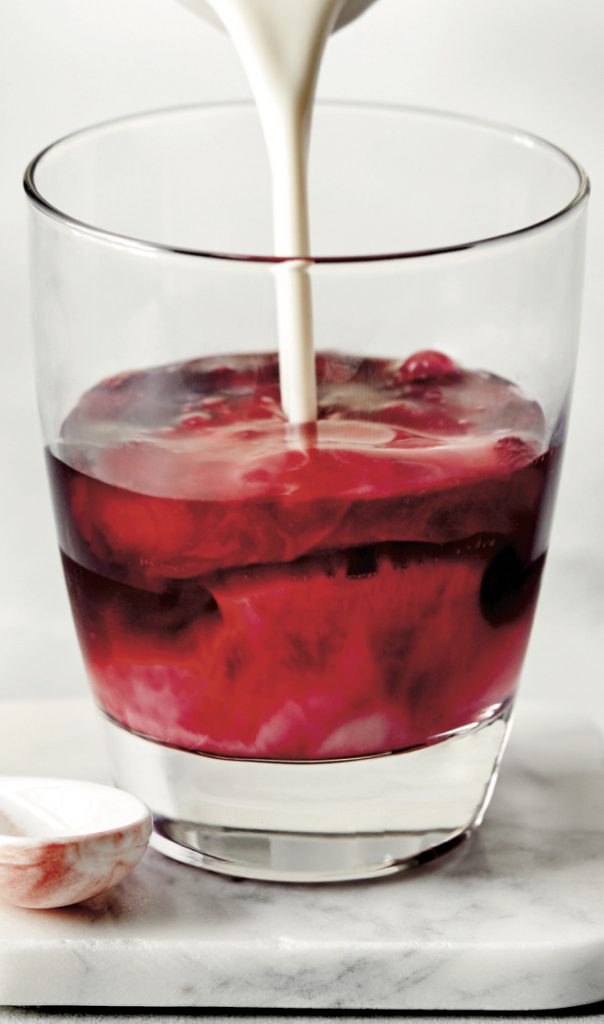 Serves 1
GATHER
1 beet or 2 to 3 ounces of fresh beet juice
1⁄8 teaspoon almond extract
1 cup hazelnut milk (preferably Elmhurst's milked hazelnut)
1⁄4 teaspoon cacao powder, plus more for sprinkling
MAKE IT
• Cut off stems and chop beet in half; add each half to a juicer, one at a time, and collect beet juice, making about 3 ounces. Pour into a mug or clear glass.
• Heat hazelnut milk in a small saucepan on low heat until steam rises. Add cacao powder and almond extract and stir until fully incorporated.
• Pour milk over beet juice and sprinkle with cacao powder.
Good To Know:
Sprinkle a little bit of cacao powder on top off the latte and it becomes an amazing (caffeine-free) afternoon drink that tastes ever-so-slightly like Nutella.
Beets have a very impressive nutritional profile, making them a great choice for getting some essential vitamins and minerals—especially magnesium and iron.
Nut-Free Trail Mix
Serves 2
GATHER
1 cup shelled edamame (defrosted or raw)
1 cup pumpkin seeds
1 tablespoon Madagascar vanilla bean ghee
1 teaspoon cinnamon
2 pinches Himalayan pink sea salt
1⁄2 teaspoon organic brown coconut sugar
1⁄2 cup dried cranberries (no sugar added)
MAKE IT
• Preheat oven to 350°F and line sheet pan with parchment paper or foil.
• In a large bowl, toss edamame, and pumpkin seeds in ghee, cinnamon, salt, and coconut sugar.
• Spread the mixture on the pan and bake for 10 minutes or until edamame looks toasted and you can smell the pumpkin seeds wafting from the oven. Add cranberries and bake 5 to 7 more minutes.
• Remove from oven and allow to cool a few minutes before enjoying.
Good To Know:
This nut-free trail mix is a great go-to snack. Plus, it's easy to make and embodies that irresistible mix of salty and sweet.
Nuts are a great source of magnesium, but they can also be difficult to digest for some people. This recipe incorporates edamame and pumpkin seeds, both of which are high in magnesium.
Detox Bath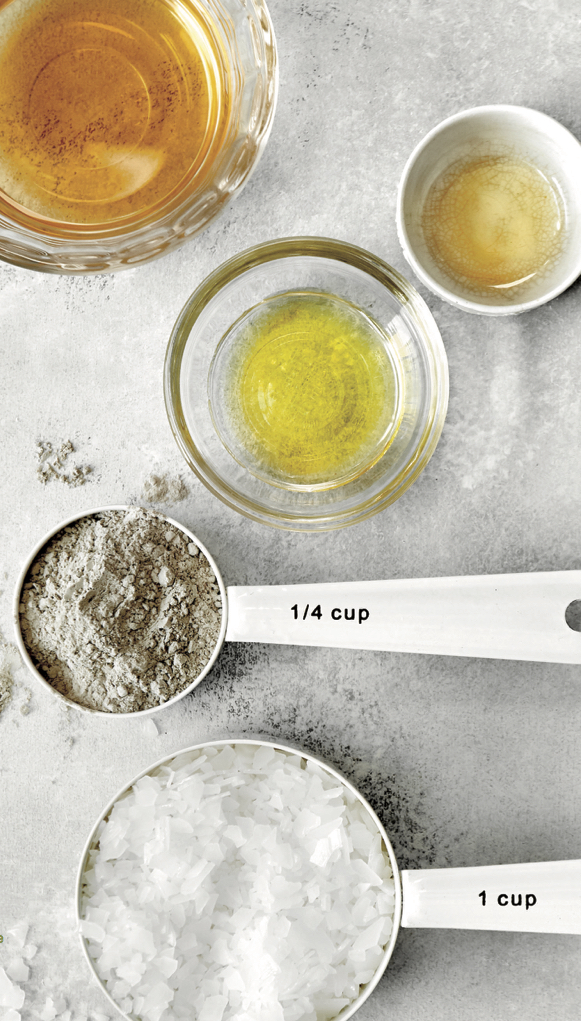 Makes 1 Bath
GATHER
1 to 2 cups of Epsom salts or magnesium chloride flakes
1⁄4 cup Aztec clay 1⁄2 cup apple cider vinegar
5 drops lemon essential oil 1 tablespoon carrier oil (such as jojoba oil or coconut oil)
MAKE IT
• Run a warm bath and add Epsom salts while the faucet is still running—this will help them dissolve.
• Add clay, vinegar, and essential oil in carrier oil. Mix with your hand or a large wooden spoon until fully incorporated.
• Swish water around with your hand until ingredients are fully incorporated and salts are totally dissolved.
•Soak for 20 to 30 minutes.
Good To Know:
Aztec clay and apple cider vinegar are both famous for their detoxifying properties.
This detox bath is a great way to cleanse after vacation, during a stressful time, or in the winter when you're not getting to the gym as often as you'd like.
Magnesium Spritz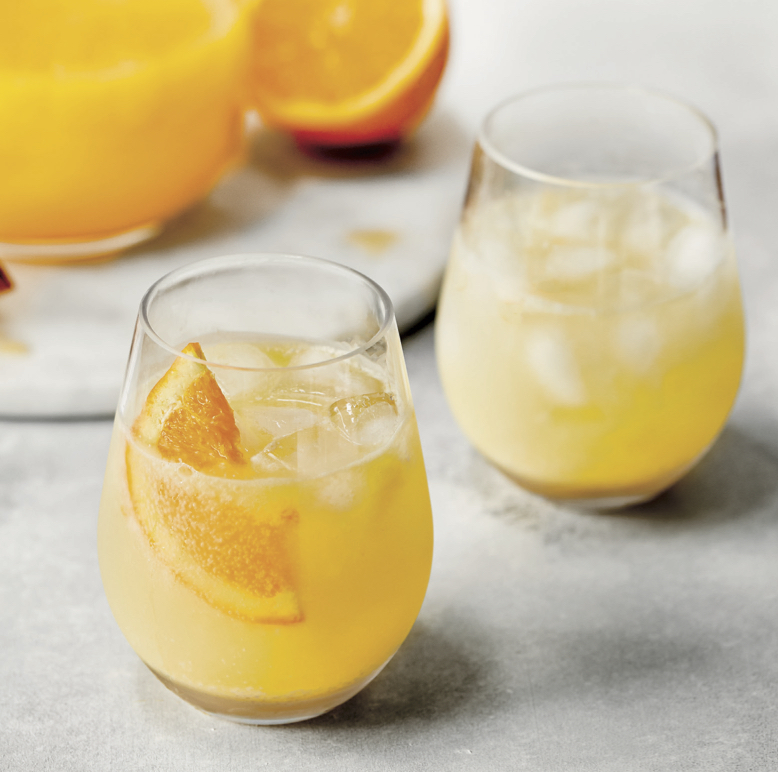 Serves 2
GATHER
1 orange, juiced
5 shakes grapefruit or orange bitters
16 ounces sparkling water
1 dose (typically around 350 mg) of powdered magnesium (I like Natural Vitality Natural Calm in orange flavor or, try Thorne Magnesium Bisglycinate powder, which is sweetened with monk fruit concentrate) Pinch of orange zest
MAKE IT
• Pick out your two favorite wine glasses and fill them with ice.
• Squeeze the juice out of half of the orange into each glass.
• Add grapefruit bitters, sparkling water, magnesium, and orange zest.
• Stir until all ingredients are fully incorporated and enjoy chilled! If you're feeling fancy, top with an orange slice.
Good To Know:
If you're adding the orange zest, make sure to buy an organic orange, and wash and rinse the rind thoroughly.
Because even one alcoholic drink can zap energy levels, low-sugar mocktails satisfy the desire to have something colorful and delicious.
Post-Workout Bath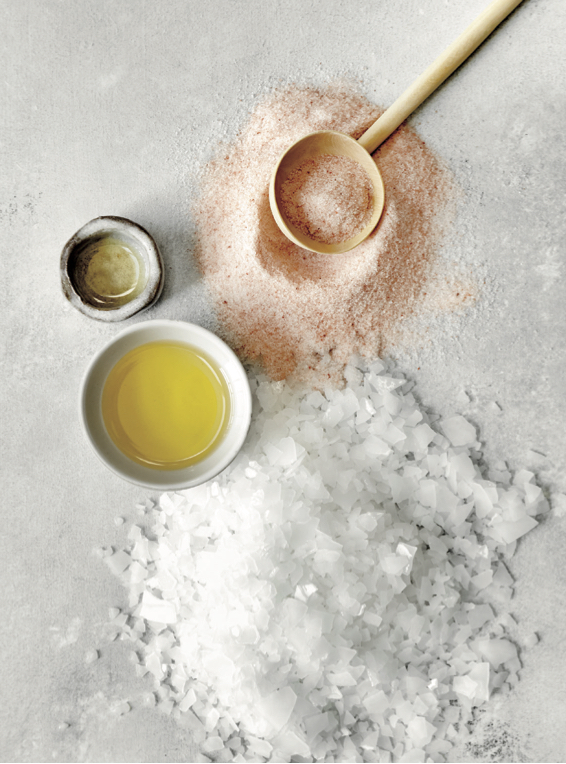 Makes 1 Bath
GATHER
1 to 2 cups magnesium salt (preferably Ancient Minerals Magnesium Bath Flakes)
5 drops lemongrass essential oil
1 tablespoon carrier oil, such as jojoba oil or coconut oil
1⁄4 cup Himalayan pink sea salt
DO IT
• Run a warm bath and add salts while the faucet is still running; this will help them dissolve.
• Add lemongrass essential oil and sea salt.
• Swish water around with your hand until ingredients are fully incorporated and salts are totally dissolved.
• Soak 20 to 30 minutes.
Good To Know:
If an electrolyte drink isn't your thing, this post-workout bath might be for you. Use it in the evening or to help relieve tiredness.
If you're feeling really brave, dissolve the magnesium salt and sea salt in a little bit of hot water at the bottom of the tub, and then fill the rest up with cold water and ice. It won't be quite as relaxing as other baths, but it'll get the job done. Soak for no more than 6 to 8 minutes.
Homemade Pumpkin Seed Milk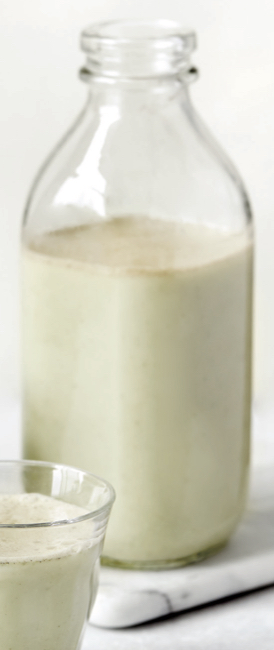 Serves 4
GATHER
1 cup pumpkin seeds 1 teaspoon salt
4 cups warm water 1 large date
1⁄2 teaspoon nutmeg
1 teaspoon vanilla extract
MAKE IT
Place pumpkin seeds, salt, and water into a large mason jar and soak overnight (do not refrigerate).
The next day, strain the pumpkin seeds and rinse gently. Transfer seeds to blender and add 4 cups of fresh water, the date, nutmeg, and vanilla.
Blend on high until the milk is clump-free and frothy. Store in a mason jar with a water-tight lid for up to 4 days; shake well before enjoying.
Good To Know:
You can use any nut or seed in this recipe. Other nuts high in magnesium include almonds, cashews, and hemp seeds.
Pumpkin seeds provide about 150 mg of magnesium per cup.