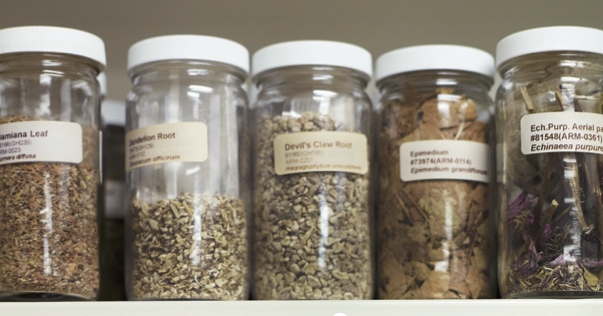 CONEFLOWERS have been a staple in nearly every garden Thomas Leonard has ever planted. The daisy-like flowers, with droopy purple leaves and giant orange centers, are pretty to look at, easy to grow, and support a lot of wildlife, from birds to butterflies.
"It's a solid native pollinator plant to have in your landscape on the East Coast," says Leonard, farm operations manager at Gaia Herbs in Brevard, N.C.
But Leonard had never thought about growing an acre of it, much less the 20 striking acres he now oversees at Gaia Herbs. The coneflower—better known to herbalists by its scientific name, Echinacea—is the main ingredient in more than a dozen Gaia Herbs products, mostly focused on immune system health. It's just one of the dozens of herbs grown on the 350-acre organic farm each year, a natural product story brought to spectacular life, with hawthorn, ginkgo and valerian among the other well-known herbal remedies that are harvested annually.
Gaia Herbs has been growing herbs on this plot of land for more than two decades, when company founder Ric Scalzo desired more control over the raw ingredients for his burgeoning herbal business. Scalzo started out as a medical herbalist in Cambridge, MA, in the 1980s and found that he was having a hard time finding preparations to recommend to his patients. So he started blending his own "rejuvenating elixirs." In the beginning, he was just making enough for his practice, but as the original eight formulations gained popularity locally, he started supplying them to a few area stores. Eventually his side business outgrew his practice, and he established Gaia Herbs in 1987. Scalzo moved the business to Brevard, in the foothills of the Blue Ridge Mountains, about a decade later, for the specific purpose of growing the herbs himself for his preparations.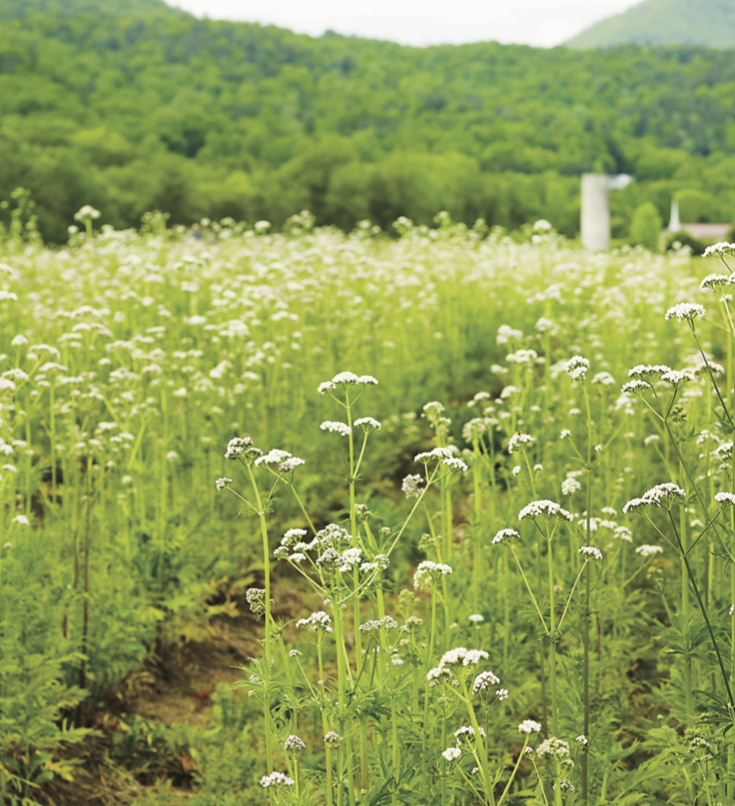 "The more people that jump on that transparency train, the better for the whole industry and for consumers."
It's a pretty great office, admits Angela McElwee, who took over as president from Scalzo in 2016. "My friends and my family watch my Instagram and they're like, Are you actually working there?" McElwee says with a laugh. "Or are you just frolicking about in a field, taking photos of herbs?"
McElwee, who has been with the company since 2008, grew up on a farm, so Gaia Herbs feels like home in a way that other supplement companies don't. McElwee's fascination with herbal supplements reaches back to when she was a teen, stocking shelves in a health food store, and led her to leadership roles at other natural products companies. But she didn't experience the connection she was seeking until she arrived at Gaia.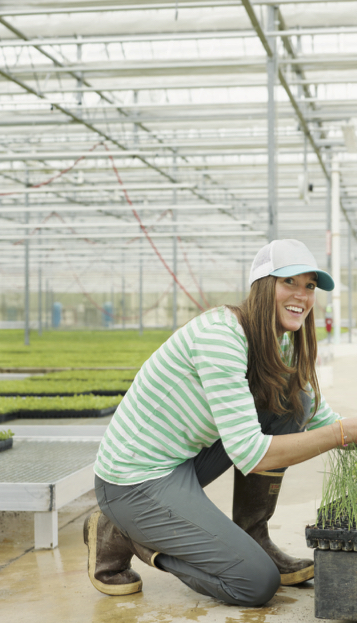 "The industry is so diverse in the way that people get their raw materials," McElwee says. "For some companies, the starting source really looks like a 15-gallon drum of powdered extract that shows up on a dock. That can still produce a quality product, but for me, I felt like I didn't have enough of a connection to where the product started. Here, I'm walking through these fields, which will in turn give rise to roots that go into our products to help people."
Of course Gaia's business, which saw 75 percent growth from 2012 to 2015, goes well beyond frolicking in organic gardens. Gaia takes pains to set itself apart from less transparent companies in the expanding natural supplements space. There's an onsite lab for research and testing quality and a seed-to-shelf traceability program called MeetYourHerbs, which allows consumers to enter a code on each bottle to see where the product came from and what it was tested for.
With little in the way of government oversight of the supplement industry and main-stream medical professionals generally underinformed, it's up to individual companies to police themselves—and consumers to do their homework and make their own decisions.
"Herbs are not something that most healthcare professionals get training on in school," says Cydney E. McQueen, Pharm.D., clinical associate professor at the University of Missouri-Kansas City School of Pharmacy, who specializes in evidence-based dietary supplement information. "Even when those few do make an effort to educate themselves, it can be difficult to do and very, very time consuming."
And education is important. McQueen says the most common misconception about herbal products is that natural is always better and they are 100 percent safe, with no side effects. While she notes that, in general, herbal therapies are less likely to have side effects as severe as prescription drugs, that's not always the case.
"Herbal medicines are medicine and medicines are drugs," McQueen says. "The chemical components that are in herbs, and non-herbal dietary supplements as well, have pharmacologic action." Meaning that they all come with the possibility of side effects and drug interactions that should be considered.
Compounding the herbal industry's challenges is the cyclical nature of supplements—when something new catches the public's attention, companies rush into the space, without the restraints more regulated pharmaceutical companies have. "If demand goes up, you've got companies jumping in to supply the demand," McQueen says, noting that an herb could quickly go from being something that was carefully harvested in small amounts in a rainforest into something bulk produced and handled hurriedly.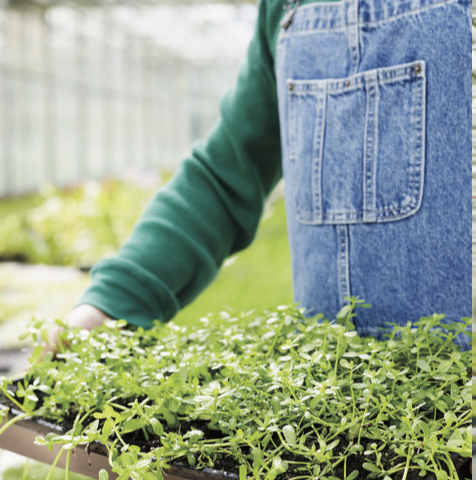 "If you start farming, there's possibly an introduction of herbicides and pesticides," McQueen says, adding that in a rush to fill demand, companies may also include parts of a plant not originally considered medicinal. Which can, of course, alter the effectiveness of the medication, or even cause it to be dangerous.
And that is the challenge for the industry as a whole, says Gaia's McElwee. "There are just not enough controls, even though it is regulated," she says, noting that more companies are starting to be transparent in their sourcing. "And that's a trend that we love. The more people that jump on that transparency train, the better for the whole industry and for consumers."
Chasing raw materials up to the standards at Gaia can sometimes be an adventure, says Dr. Jeremy Stewart, chief scientist and vice president of scientific affairs at the company. Gaia's Brevard farm only supplies 20 percent to 30 percent of the herbs they use, so they work with a lot of outside growers and need to ensure that the plants are up to the same exacting standards. For example, it took the company three years to get quality raw materials for two new products featuring Bacopa—a plant native to Sri Lanka and India that has shown promise in cognitive issues and is being explored as a treatment for Alzheimer's Disease.
"We have been wanting to put Bacopa into a formula for a very long time," Stewart says. "But we were never able to find Bacopa in the market that passed our rigorous quality standards for pesticide levels and heavy metal specifications." Because Bacopa thrives in wet areas, it is notorious for also absorbing the pollutants in its environment. The solution? Gaia is now growing the plant themselves.
"We've got a greenhouse full of beautiful Bacopa plants, certified organic," Stewart says. "We played the patient game and brought it into the fold of our farm."
That kind of devotion doesn't come cheap, McElwee notes, which is why Gaia products sometimes come at a premium. "The cost of running our business is not inexpensive," she says, noting that investing in a fully certified organic farm, a lab and a manufacturing business doesn't leave a lot of money for marketing. "That's part of our challenge. When I'm out in a valerian field at night, and the sun is setting and the bees are buzzing, it's magic. So how do I take that experience to somebody who is on Amazon looking for a product for sleep? This is the plant that's going to go into a bottle and help someone. And that's just so powerful."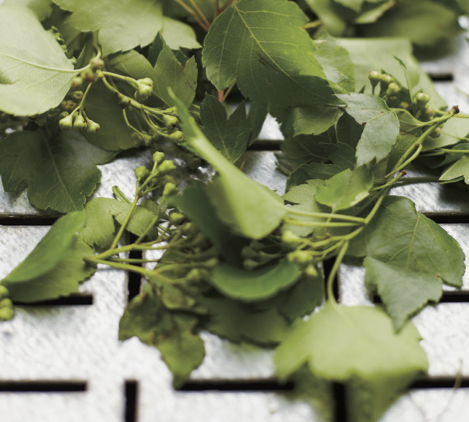 HERBS 101
New to the world of herbal supplements? Cydney E. McQueen, Pharm.D., a clinical associate professor at the University of Missouri-Kansas City School of Pharmacy says be open to the possibilities—but proceed with caution. As she says, with a laugh, "I have a favorite saying that I use with students: Don't be so open-minded that your brains fall out." Here's her advice:
Herbs are not 100 percent safe, just because they are available over the counter. Herbs are medicine, and therefore should be approached with the same rigor as any conventional drug. And unlike pharmaceuticals, which must be proven safe before going to market, there are no clinical trial requirements for natural products.
There is no one-size-fits-all. Don't take herbs unless you are trying to address a specific problem.
Do your homework. Don't trust the label on the back of the bottle or the person at the local health food store to know what is safe for you. Dr. McQueen suggests subscribing to consumerlab.com. She says if you plan to take natural remedies, this "Consumer Reports" for herbs and supplements is well worth the $42 annual fee.
Look for the USP Seal of Approval. The United States Pharmacopeia, or USP, is the standard-setting organization for all medicines in the United States. Their voluntary program for dietary supplements is growing, and holds natural products to the same rigorous standards.
Taking prescription medications? Be sure to consult a physician regarding drug interactions. Some herbs, like St. John's Wort, can decrease the potency of prescription medications. On the other hand, piperine—an active component of black pepper—is included in many herbal preparations because it improves the bioavailabilty of active ingredients, potentially increasing potency. It can have the same effect on prescriptions, meaning that a maintenance dose could suddenly become too strong.
GOOD TO KNOW: CAUTIONARY HERBS
KAVA: The herb is used to treat anxiety and insomnia, but a connection with serious liver problems and even death has caused it to be banned in much of Europe and Canada.
RED YEAST RICE: Used to treat high cholesterol, it is generally considered safe. However, it acts like pharmaceutical statin drugs, so should be completely avoided by pregnant women, as it may interfere with the development of the fetus.
ST. JOHN'S WORT: Often prescribed for mild depression, it interacts with many prescription drugs, including birth control pills, causing them to be metabolized more quickly and therefore diminishing their effectiveness.
YERBA MATE: Regular use at a standard medicinal dose has been associated with the development of a number of types of cancer.