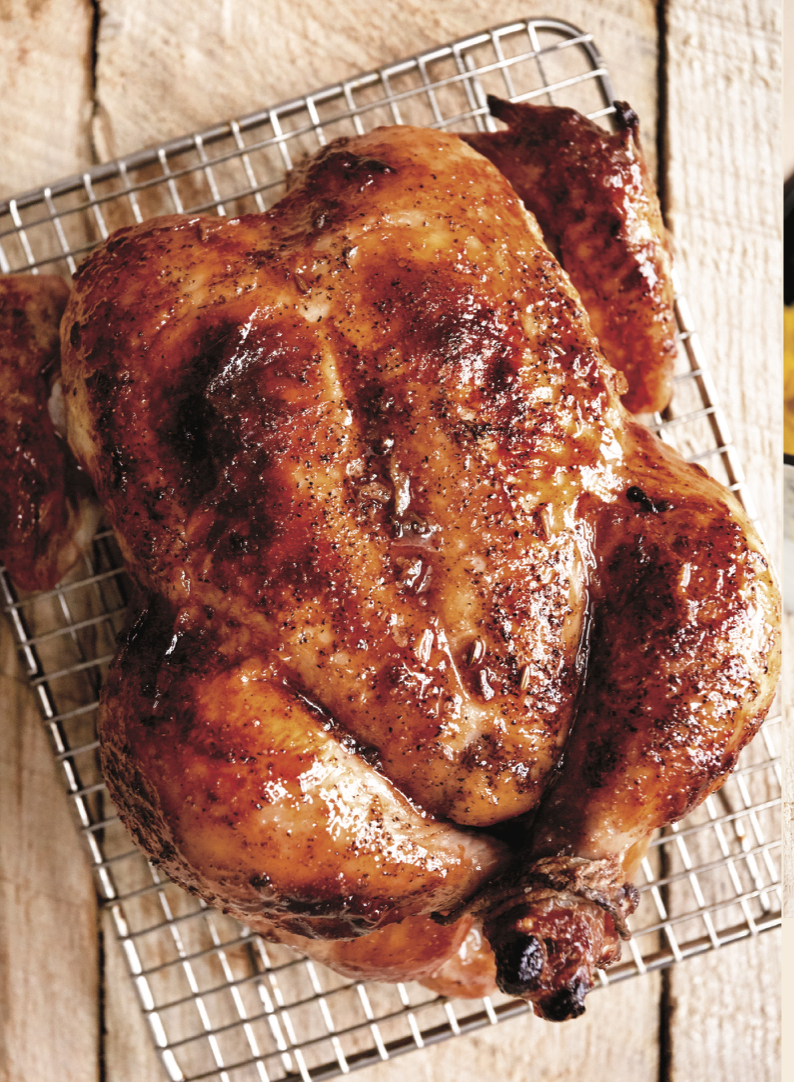 Maple can be used anyplace that normally calls for sugar. It adds a pleasant depth and complexity to everything from coffee to cookies to barbeque sauce.
► Use an equal amount of maple sugar in place of granulated sugar in any recipe.
► To substitute maple syrup for granulated sugar, exchange 2⁄3-cup maple syrup for every cup of granulated sugar, then reduce the quantity of liquid ingredients in the recipe (water, milk, juice) by about 1⁄4-cup and lower the baking temperature by 25° F.
► Maple syrup can be substituted on a one-to-one basis for any other liquid sweetener.
► Try using maple water as a poaching liquid or as a soup base.
FOR MORE IDEAS, VISIT WWW.PURECANADAMAPLE.COM.
MAPLE BOURBON BRINED ROASTED CHICKEN
GATHER:
FOR BRINE 1 whole free-range chicken
1⁄4 cup bourbon
1⁄4 cup maple syrup
2 tablespoons apple-cider vinegar 2 tablespoons sea salt
TO ROAST 3 tablespoons olive oil
1⁄2 teaspoon sea salt
1⁄4 teaspoon ground black pepper
GLAZE 1⁄3 cup maple syrup 1⁄2 cup filtered water
2 tablespoons bourbon
1 teaspoon ground cinnamon 1⁄2 teaspoon ground coriander
1⁄4 teaspoon ground fennel seeds
1⁄4 teaspoon sea salt
FOR BRINE: Rinse the chicken and pat dry. Place in a large durable plastic bag. In a medium bowl, stir together the bourbon, maple syrup, apple-cider vinegar, and salt. Pour into bag with chicken, seal and refrigerate over- night or for at least one hour. Drain off brine and pat chicken dry.
FOR ROASTING: Preheat oven to 400 ° F. Rub the chicken with olive oil, salt and pepper. (Optional: tie the legs together for more even cooking.) Turn the bird over every 15 minutes, and roast for 35 to 45 minutes, or until the skin is crisp, juices run clear, and internal temperature reaches 165 ° F.
FOR GLAZE: Add maple syrup, water, bourbon, cinnamon, coriander, fennel and salt to a small pan. Bring to a simmer and cook for 10 to 15 minutes, or until mixture has reduced and thickened. Lacquer the cooked bird with the glaze and cook for additional 1 to 2 minutes (glaze is quick to burn). Let the cooked chicken rest for a few minutes before carving for the juices to redistribute.
TURMERIC MAPLE GOLDEN GELATO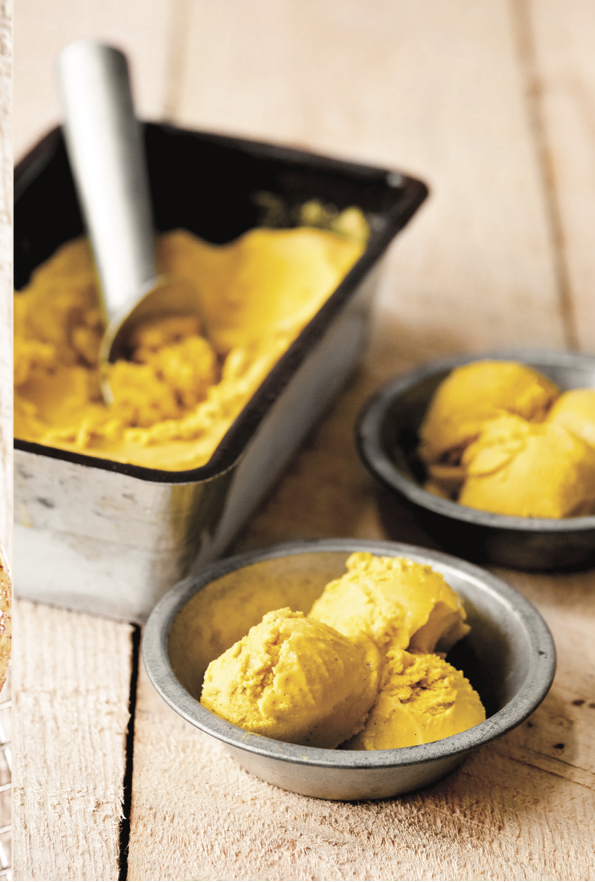 GATHER:
3 cups organic milk
1 cup organic heavy cream 1⁄2 cup maple syrup
2 teaspoons turmeric powder 1 tablespoon vanilla extract 1 vanilla bean, scraped
Pinch sea salt
1⁄2 cup maple sugar 6 large egg yolks
In a small pot, slightly warm the milk, heavy cream, maple syrup, turmeric powder, vanilla extract, scraped vanilla bean and salt. Set up a double boiler, using a separate pot.
In a medium bowl, whisk together the maple sugar and egg yolks for 2 to 3 minutes, or until light and fluffy.
Place bowl with egg mixture over double boiler and slowly stream in lightly warm milk mixture, stirring vigorously until mixture thickens.
Cool and churn in ice-cream maker for 20 minutes, or until it reaches soft-serve consistency. Transfer to freezer to firm up.
TOASTED SESAME & MAPLE CARAMELIZED TOFU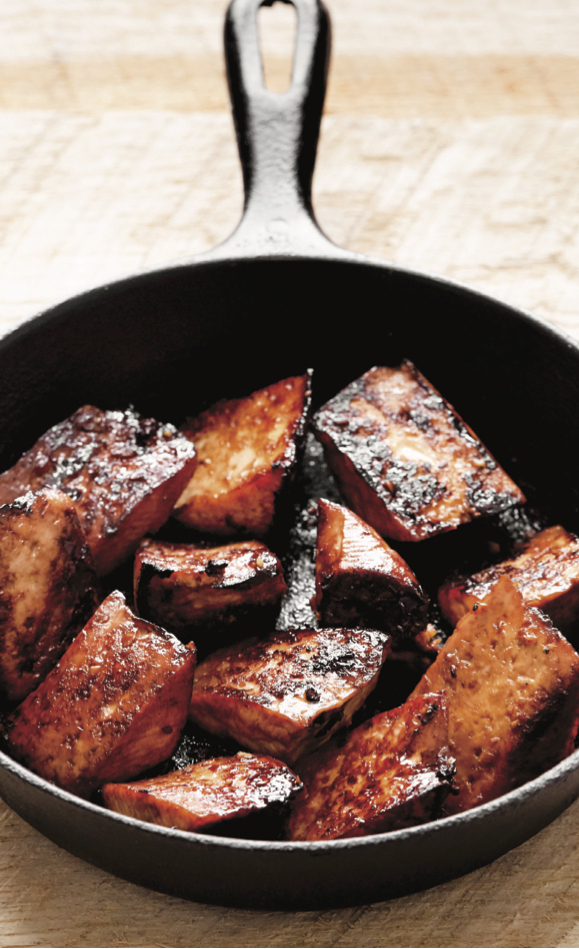 GATHER:
1 block firm tofu, pressed
2 tablespoons toasted sesame oil 3 cloves garlic, finely chopped
3 tablespoons maple syrup
1⁄2 cup apple juice
2 tablespoons tamari
1 1-inch piece ginger, peeled and minced 2 scallions, sliced
Preheat oven to 375° F.
Cut the pressed tofu into three even slabs, width-wise. Quarter each third to form 12 triangles in total.
Arrange tofu in a single layer in a baking dish.
In a medium bowl, whisk together the toasted sesame oil, garlic, maple syrup, apple juice, tamari, and ginger.
Pour mixture over tofu, and allow to marinate for 15 to 30 minutes.
Bake uncovered, for 30 to 40 minutes, turning once. Tofu should absorb most of the liquid and turn golden.
Garnish with sliced scallions.
MAPLE BRINED SEASONAL PICKLES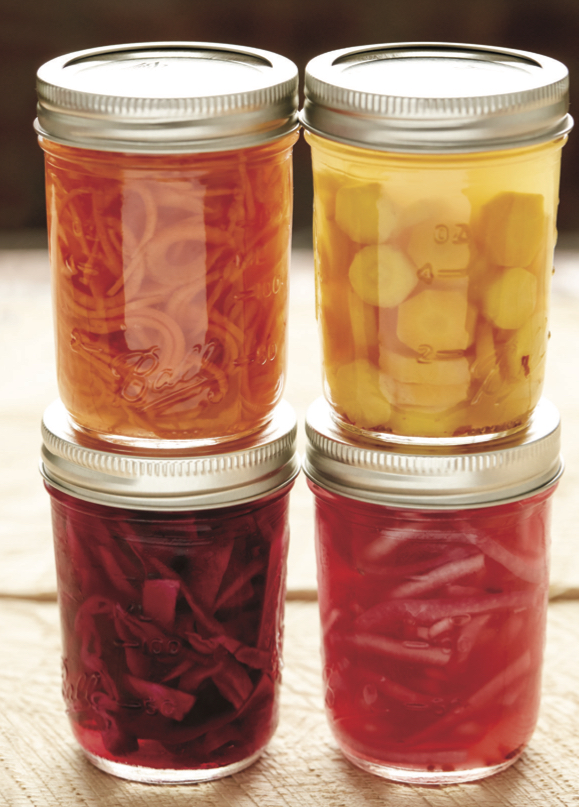 GATHER:
BRINING MIXTURE
(Note: you will need this amount for each vegetable.)
2 tablespoons maple syrup 1⁄4 cup filtered water
1⁄4 teaspoon mustard seeds
pinch red chili flakes, or to taste 3⁄4 cup apple-cider vinegar
SEASONAL VEGETABLE SUGGESTIONS
1 red onion, sliced
1 large carrot, spiralized
1 yellow carrot, cut into rounds
1⁄2 small purple cabbage, sliced (approximately 3 cups sliced)
1 very rm avocado, peeled and diced
Add the maple syrup, water, mustard seeds, and red chili flakes to a small pan and bring to a simmer.
Cook for 1 to 2 minutes; turn off heat. Stir in the apple-cider vinegar.
Place desired cut seasonal vegetable into a jar and pour the pickling brine to cover. Refrigerate for at least 1 hour, or overnight.
MAPLE JALAPENO CORNBREAD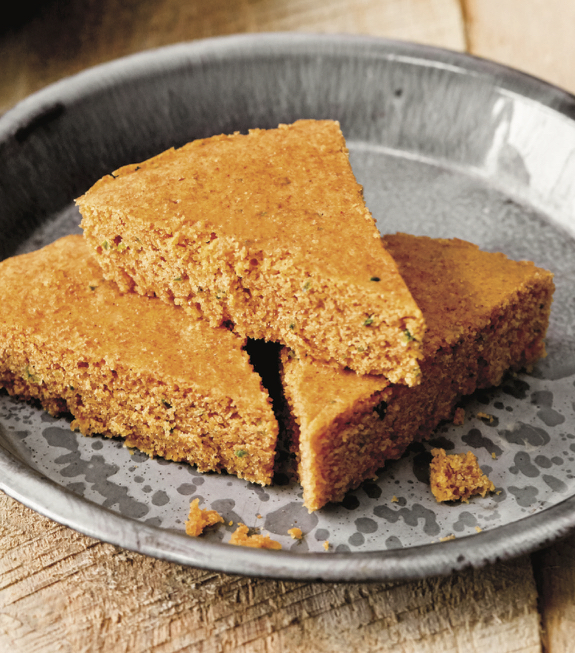 GATHER:
DRY
1 cup cornmeal
1 cup whole wheat flour
1 tablespoon baking powder
1 teaspoon sea salt
3 tablespoons nutritional yeast 1 teaspoon smoked paprika
WET
2⁄3 cup maple syrup
2 jalapeño peppers, seeds removed and finely diced 1 cup coconut milk
1 tablespoon miso
1⁄3 cup refined coconut oil, melted
Preheat oven to 350 ° F.
Add dry ingredients in a large bowl, whisking to combine. In a separate bowl, whisk together the maple syrup, diced jalapeño, coconut milk, miso, and melted coconut oil.
Gently fold wet mixture into dry, just until incorporated. Pour batter into a medium cast iron skillet and bake for 25 to 35 minutes, or until golden and a toothpick comes out clean.
READY-TO-EAT MAPLE CHOCOLATE CHIP COOKIE DOUGH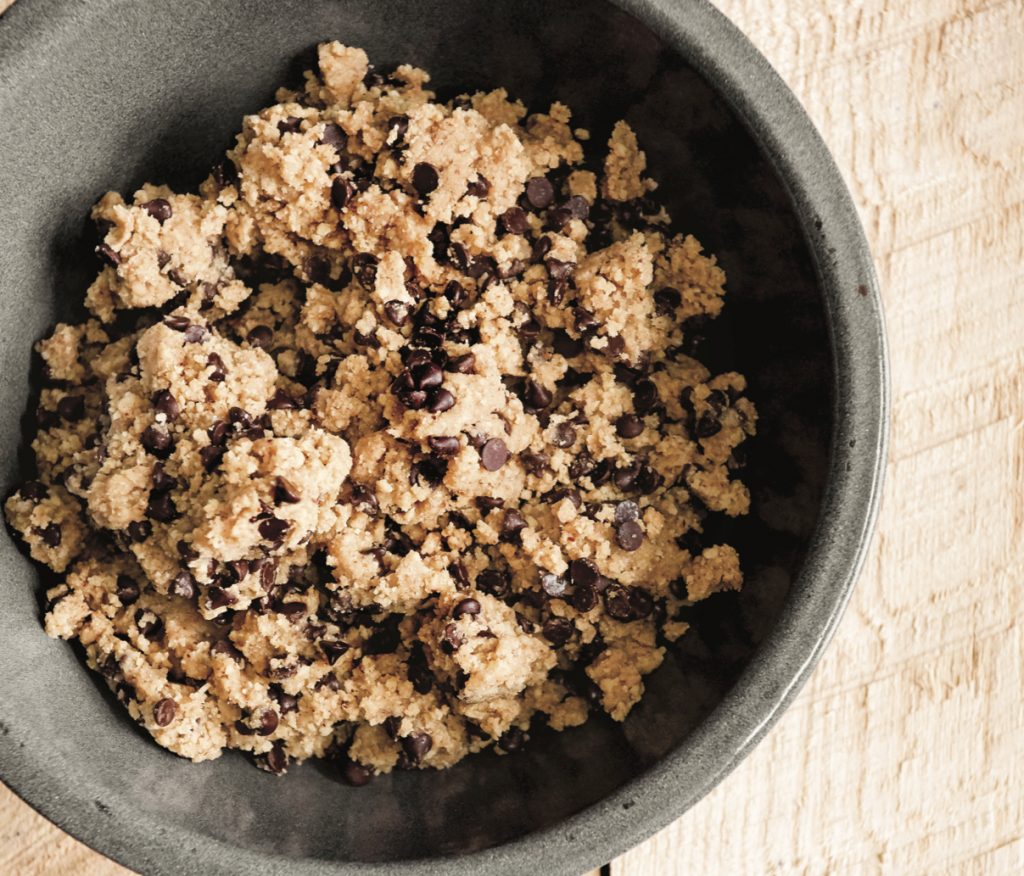 GATHER:
2 cups almond flour
1 cup oat flour
1⁄4 teaspoon sea salt 1⁄2 cup maple syrup
2 teaspoons vanilla extract 1⁄4 cup almond butter
1 cup miniature dark chocolate chips
Sift the almond flour, oat flour, and sea salt in a medium bowl, and set aside.
In a separate bowl, whisk together the maple syrup, vanilla extract, and almond butter.
Add the maple mixture into the flour mixture, stirring until evenly combined.
Fold in chocolate chips. Refrigerate dough for 10 to 20 minutes, for a firmer texture.