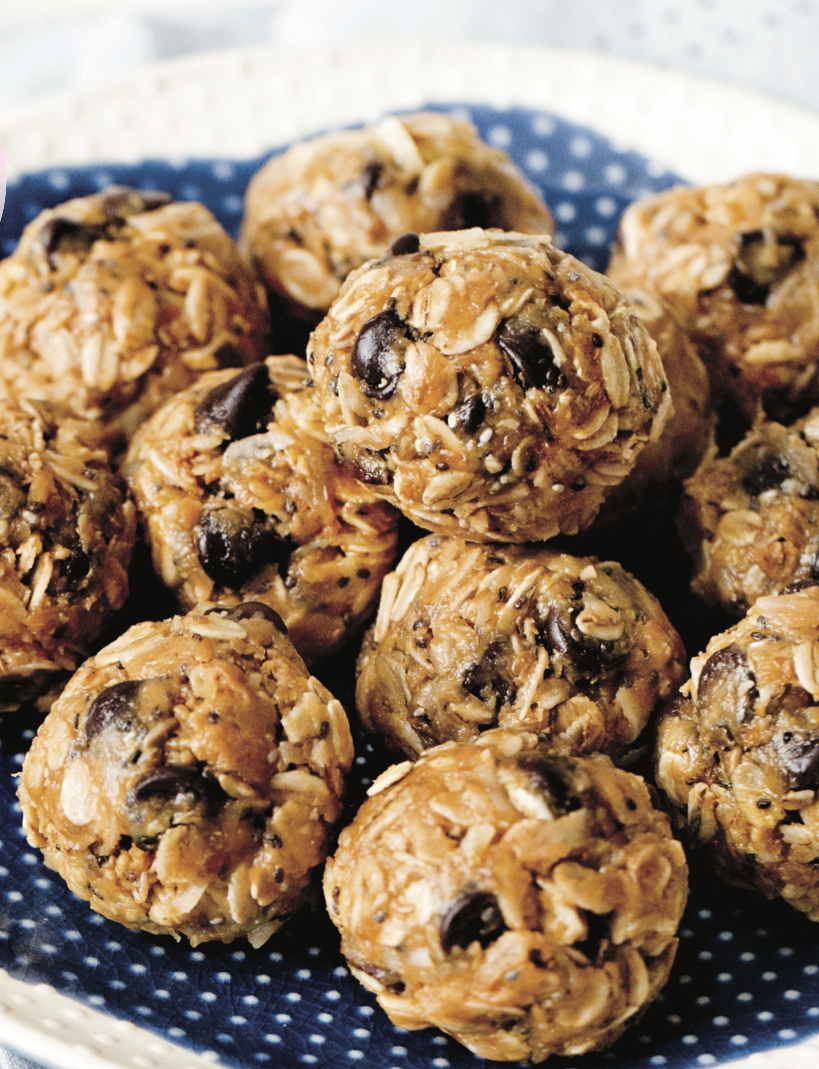 IF YOU regularly skip breakfast, consider ways—fast ways—to work it into your routine. Studies have shown that eating breakfast boosts brain power and energy levels and helps prevent overeating the rest of the day. We asked Caroline Kaufman, MS, RD, a nutrition expert who writes on healthy eating at carolinekaufman.com, for quick and easy ways to make the first meal of the day an integral part of your daily diet. Then, we serve up some fabulous breakfast recipes from our favorite foodies that can be ready on the fly.
Prepare grab-and-go breakfasts in advance. "If you prep ahead of time, it's easier to eat something healthy and wholesome, even if you're rushed," says Caroline. In addition to the recipes we show here, make-ahead breakfasts include whole-grain fruit muffins, quiches, breakfast burritos, baked oatmeal cups, overnight oats, hardboiled eggs, and frozen smoothie packs. You can make and freeze most of these items. "Freezer-friendly meals are a breakfast-skipper's best friend." says Caroline.
Sneak in some extra breakfast time. Wake up 15 minutes earlier. This doesn't require a major adjustment at bedtime, but it can mean the difference between rushing out the door on an empty stomach or sitting down for a healthy breakfast.
Rely on quick combos of protein, fiber, and healthy fat. "This energizing mix will give you the energy you need to start your day, and help you stay
full until your next meal," says Caroline. Think whole-grain toaster waffles with nut butter and berries or sliced bananas, or high-protein Greek yogurt with fresh fruit (choose yogurt with a low-sugar percentage and add nuts or seeds for healthy fat). Another fast option is whole-grain toast with part-skim cottage cheese and berries, or a small amount of low-sugar preserves.
For extra health benefits the Mayo Clinic suggests adding flaxseed (high in fiber and omega-3 fatty acids) into cereal or yogurts. If you're opting for packaged cereals choose those with at least 3 grams of fiber (5 is better) and less than 13 grams of sugar per serving.
Have a breakfast back-up plan. Keep healthy staples at the office for those days you might skip breakfast. Natural peanut butter, whole-grain crackers, granola, and apples are good choices.
From Amanda Cohen, chef and owner of Dirt Candy in New York.
Carrot Granola
YIELD: 3 CUPS OF GRANOLA
GATHER:
2 cups oats
1⁄4 cup pumpkin seeds 1⁄3 cup whole almonds 1⁄4 cup sun ower seeds 1 tablespoon poppy seeds
1 tablespoon sesame seeds
1⁄4 teaspoon cinnamon 1⁄4 teaspoon cardamom 1⁄2 teaspoon ginger
1⁄4 teaspoon salt
1⁄3 cup brown sugar 1⁄3 cup agave syrup 1⁄3 cup maple syrup 1⁄8 cup canola oil
1⁄8 cup carrot juice 1⁄2 cup grated carrots
Bring brown sugar, agave syrup, maple syrup, canola oil, and carrot juice to a boil in a pot over medium heat. In a separate, heat-proof bowl, toss the oats with nuts, seeds and spices.
Pour the hot syrup into the bowl and stir to coat everything. Add the grated carrots and stir a few more times to make sure it's all mixed. Spread on a cookie sheet and bake at 300 degrees F. Every 10 minutes, stir well. Bake until a deep golden brown (about 30 minutes).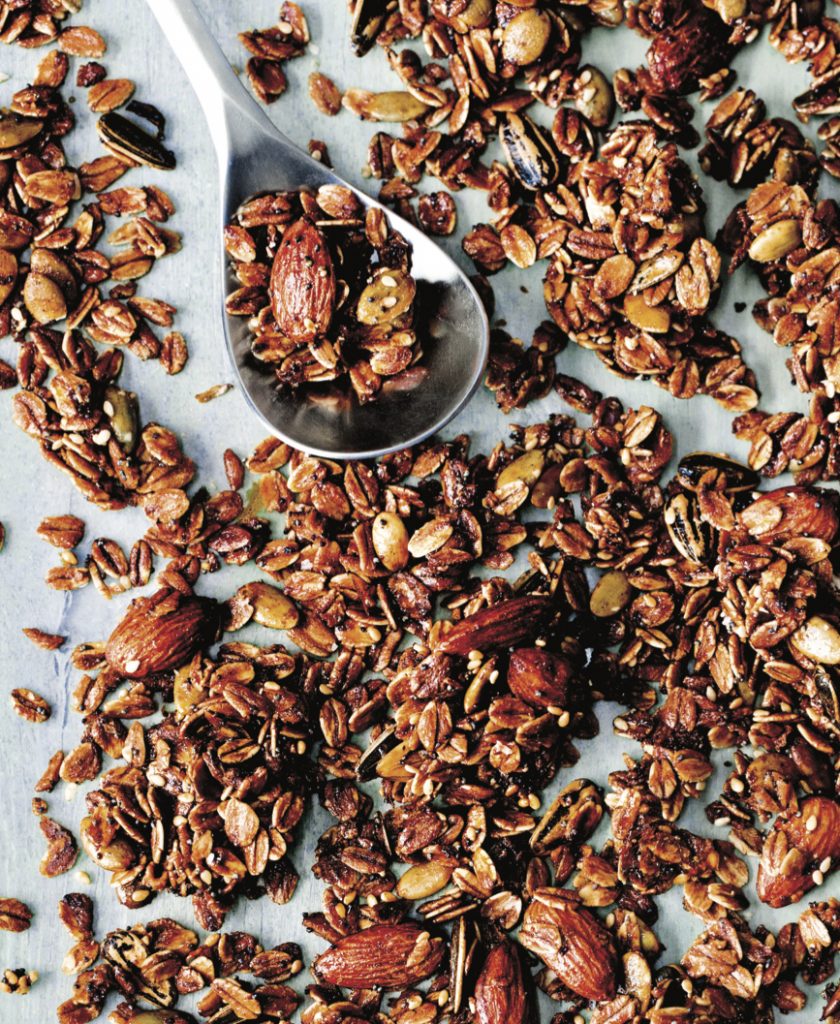 GOOD TO KNOW:
Make ahead of time for a fast morning treat.
"I love granola and I'm always surprised that no one makes it with carrots, which have a sweetness that's perfect for it," says Amanda Cohen, chef and owner of the buzzy Dirt Candy, an award-winning vegetable restaurant in New York.
Three recipes from Molly Siegler, Food Editor for Whole Foods Market.
Mango Oatmeal in a Jar
MAKES 6 SERVINGS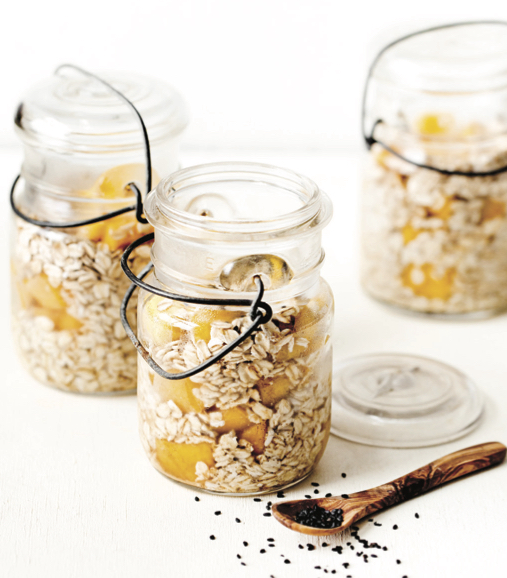 GATHER:
3 cups rolled oats
1 teaspoon cardamom
1 teaspoon ground ginger
3 cups fresh, diced mango
2 tablespoons black sesame seeds for serving, divided
In a medium bowl, combine oats, cardamom, and ginger; stir in mangoes. Evenly divide oat mixture among six lidded jars (or other containers) and top each with 1⁄2 cup water. Cover the jars and place in the refrigerator overnight. (Oatmeal will keep for 5 days.) When ready to serve, heat the prepared oatmeal or enjoy it cold. Top with black sesame seeds before serving.
GOOD TO KNOW:
Make a big batch of these oatmeal jars on Sunday night to have on-the-go breakfasts for the whole week.
Peach-Basil Green Smoothie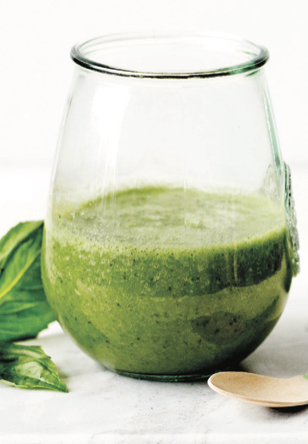 MAKES 2 SERVINGS
GATHER:
2 cups baby spinach or roughly chopped spinach leaves (about 2 ounces)
11⁄2 cups frozen peach slices 1 cup ice cubes
1 cup unsweetened coconut milk beverage
1⁄2 cup lightly packed fresh basil leaves
1⁄4 cup lime juice
Purée all ingredients in a blender until smooth. Serve immediately.
Creamy Pistachio Rye-Flake Oatmeal
MAKES 4 SERVINGS
GATHER:
4 cups plain unsweetened almond milk
1⁄2 cup rye flakes
1⁄2 cup steel-cut oats
1 tablespoon Grade B maple syrup
1⁄2 cup toasted pistachios, roughly chopped
2 navel oranges, zested
2 cups orange flesh, divided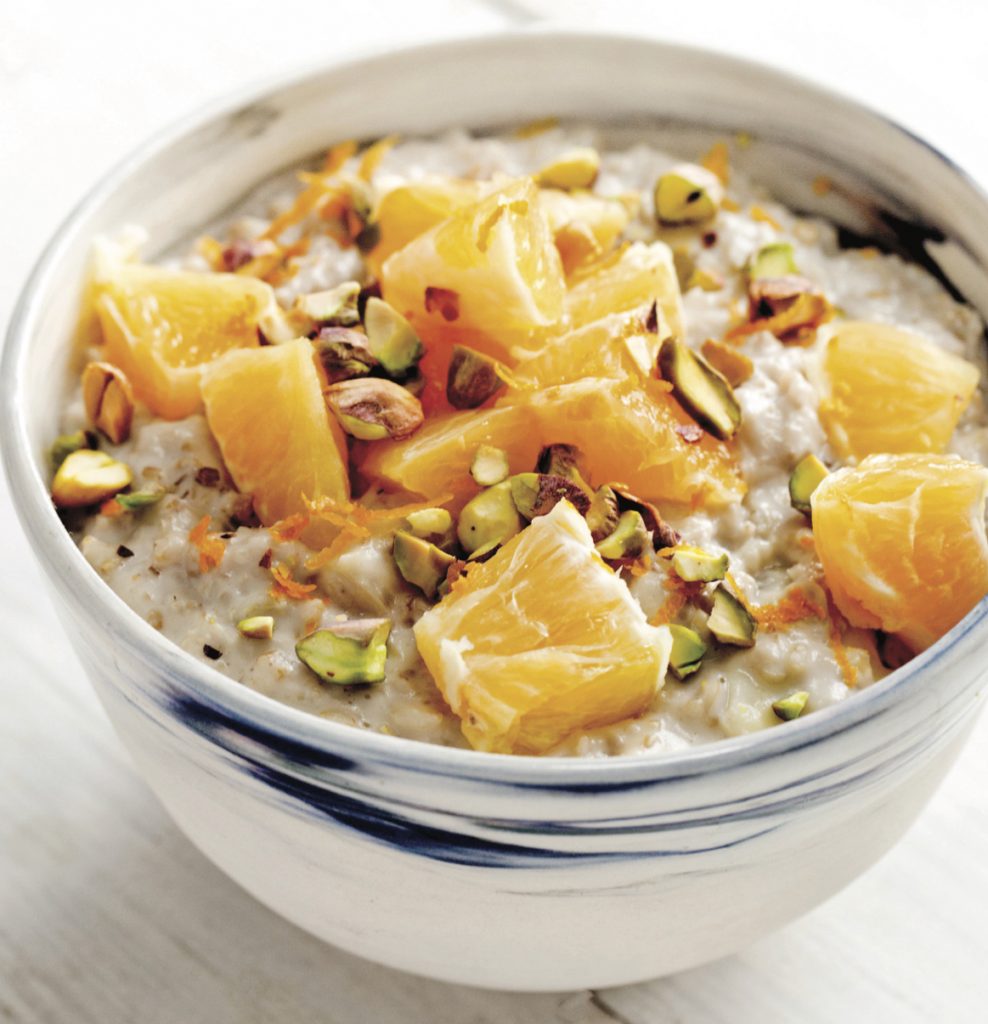 Bring almond milk to a boil in a medium saucepan. Stir in rye flakes and oats. (Cooking rye flakes with steel-cut oats lends creaminess to this typically chewy oatmeal.) Reduce heat to medium-low and simmer about 20 minutes or until creamy and tender, stirring occasionally.
While oatmeal cooks, zest one of the oranges; set zest aside. Peel and chop both oranges. Remove oatmeal from the heat and stir in maple syrup, pistachios, orange zest, and half of the chopped oranges. Serve topped with remaining oranges.
Fresh ideas from Executive Chef Ben Pollinger, Oceana Restaurant, New York
Avocado and Dill Toasts
MAKES 4 SERVINGS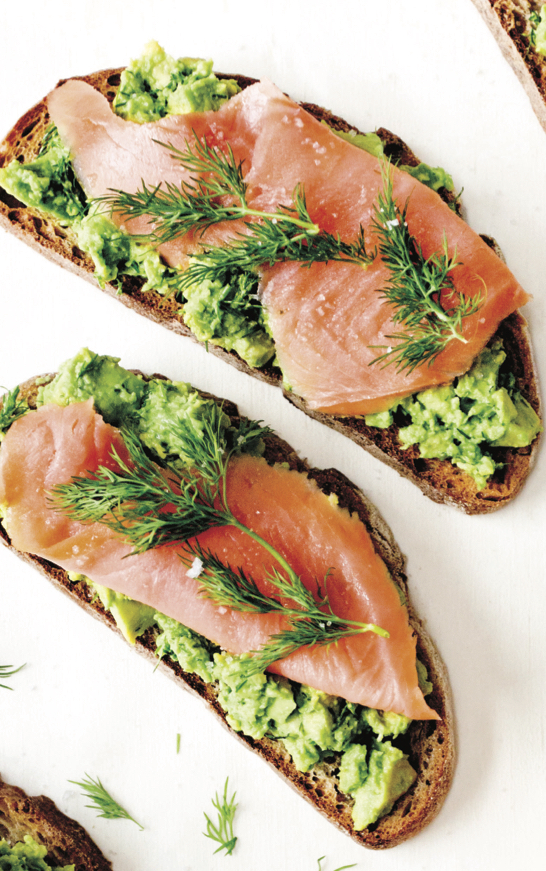 GATHER:
8 slices grilled or toasted sourdough 2 avocados
8 sprigs dill
2 tablespoons EVOO
1⁄2 lemon, zest and juice 1⁄2 pound thinly sliced, cold-smoked salmon
Pick dill from 6 sprigs and chop coarsely. Mash avocados coarsely with fork. Mix in chopped dill, EVOO, lemon zest and juice, and salt and pepper to taste. Divide evenly among toasts. Portion salmon evenly over avocado. Top salmon with picked dill from the two remaining sprigs.
Buckwheat Bowl
MAKES 4 SERVINGS
GATHER:
1 cup buckwheat
1 cup water
1 cup coconut milk
2 tablespoons honey
2 cups packed baby spinach, coarsely chopped
1⁄2 cup goji berries, soaked in warm water 15 minutes, then drained
1⁄2 cup pistachios, soaked overnight in cold water at room temperature
4 eggs, poached
1⁄2 teaspoon coarse sea salt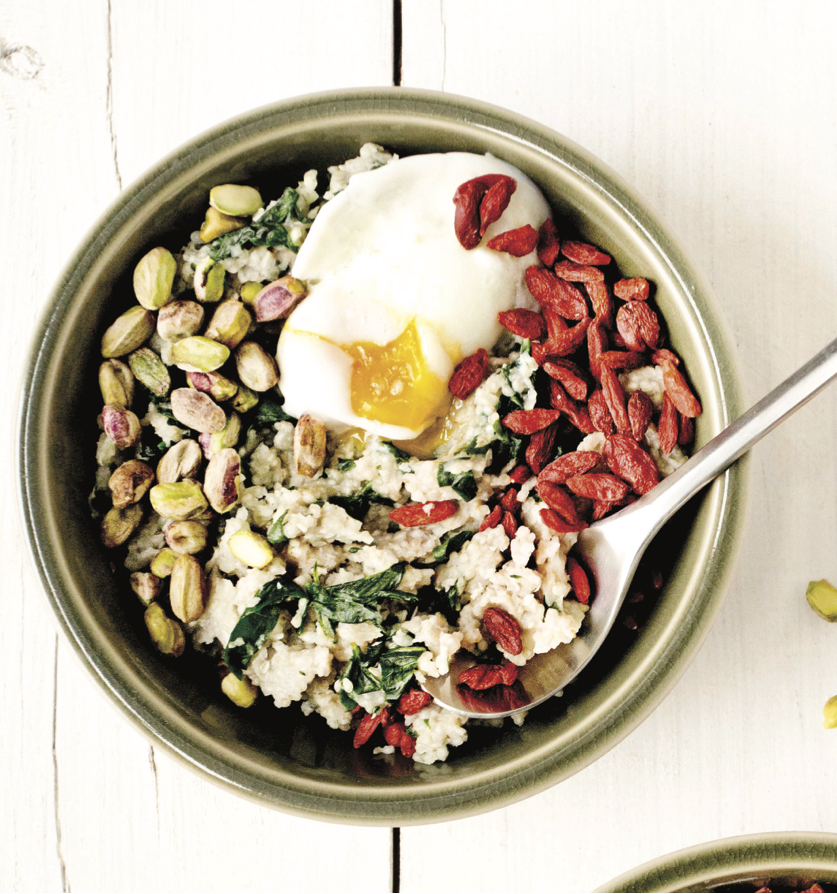 Put buckwheat in a small pot, add water, coconut milk, and pinch of salt. Bring to a boil, cover, and simmer until liquid is absorbed, about 12-15 minutes. Fold in honey and baby spinach. Divide among 4 bowls. Portion goji berries and pistachios over buckwheat. Top each bowl with poached egg. Sprinkle coarse sea salt over each egg.
Peanut Butter Poppers
MAKES 12 SERVINGS
GATHER:
1 cup oatmeal
2⁄3 cup unsweetened coconut
1⁄2 cup peanut butter
1⁄2 cup ground flax seed 1⁄2 cup semi-sweet chocolate chips
1⁄3 cup honey
1 teaspoon vanilla extract
1 tablespoon chia seeds
Combine all ingredients and refrigerate until firm. Form into two ounce balls.
GOOD TO KNOW:
Natural peanut butters include peanuts as the only ingredient. Products that include anything else, like oil or flavors, must be labeled as peanut butter spreads.
Fresh ideas from Chef Cindy Hutson of Zest in Miami and Zest at The Cliff in Negril, Jamaica
Tropical Whey Protein Breakfast Shake
MAKES 2 SERVINGS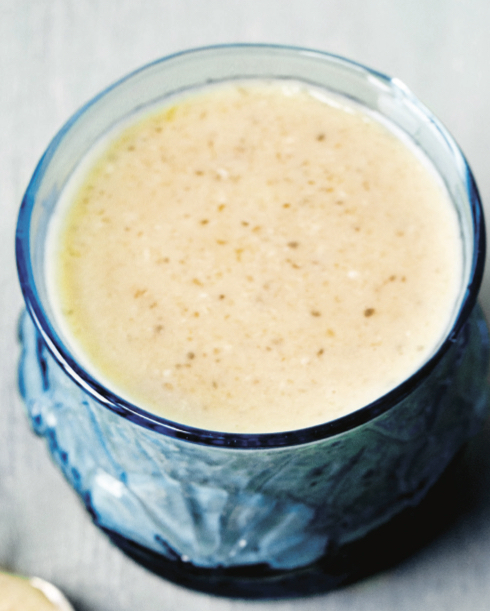 GATHER:
1 teaspoon black chia seeds 1 teaspoon ground golden flax
2 tablespoons quick-cook oatmeal
1 scoop whey protein powder (low carb vanilla flavor)
1⁄2 ripe banana, chilled
1 cup diced mango or any other fresh tropical fruit
4 ounces chilled water
4 ounces kefir drink (plain or flavored)
4 ounces ice
Chill the fruits before starting to mix. (Save time by placing in the fridge the night before.) Add all the ingredients into a blender and blend thoroughly. Pour into glasses and enjoy.
Two recipes from Chef Barbara Rich, Natural Gourmet Institute.
Pumpkin Waffles
MAKES 6 SERVINGS
GATHER:
1⁄2 cup unsweetened pumpkin puree
3 eggs, separated
1 cup whole milk
4 tablespoons butter, melted
1 cup whole wheat pastry flour
2 tablespoons fine cornmeal
2 teaspoons baking powder
2 tablespoons maple crystals, or organic granulated sugar
1⁄2 teaspoon sea salt
Plain yogurt, to serve
Fresh fruit, to serve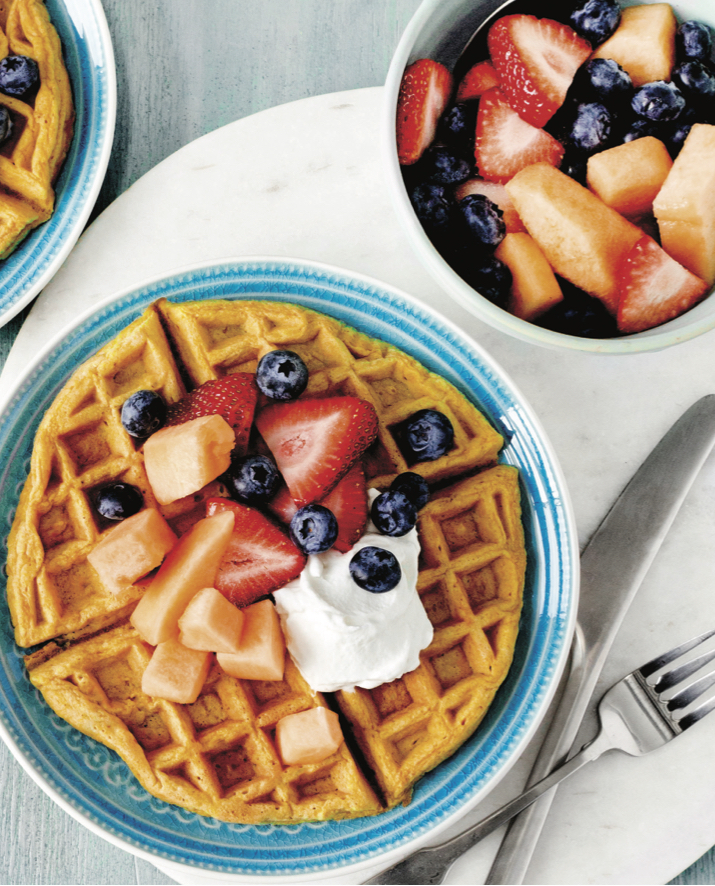 Preheat a waffle iron according to manufacturer's directions. In a large bowl, whisk together pumpkin, egg yolks, milk and butter. In a separate bowl, combine flour, cornmeal, baking powder, maple crystals and salt. Pour the wet ingredients into the dry, and mix with a rubber spatula, just until combined.
Whisk the egg whites with a hand mixer or whisk to soft peaks. Fold whipped whites into the mixed batter. Cook waffles according to waffle iron manufacturer's directions.
Serve warm, with yogurt and fruit. Note: Freeze cool waffles to enjoy throughout the week. To re-heat, place frozen waffle into toaster oven for 5-7 minutes.
Miso Soup
MAKES 4-6 SERVINGS
GATHER:
1 tablespoon neutral-flavored oil, like canola or sesame
8 ounces shiitake mushrooms, stems removed, caps thinly sliced
6 cups filtered water
1 small piece kombu
4 tablespoons red miso 2 tablespoons white miso
1 tablespoon rice wine vinegar
1 tablespoon shoyu
4 ounces firm tofu, cut into small cubes
4 scallions, thinly sliced on an angle
4 ounces rice noodles, cooked according to package directions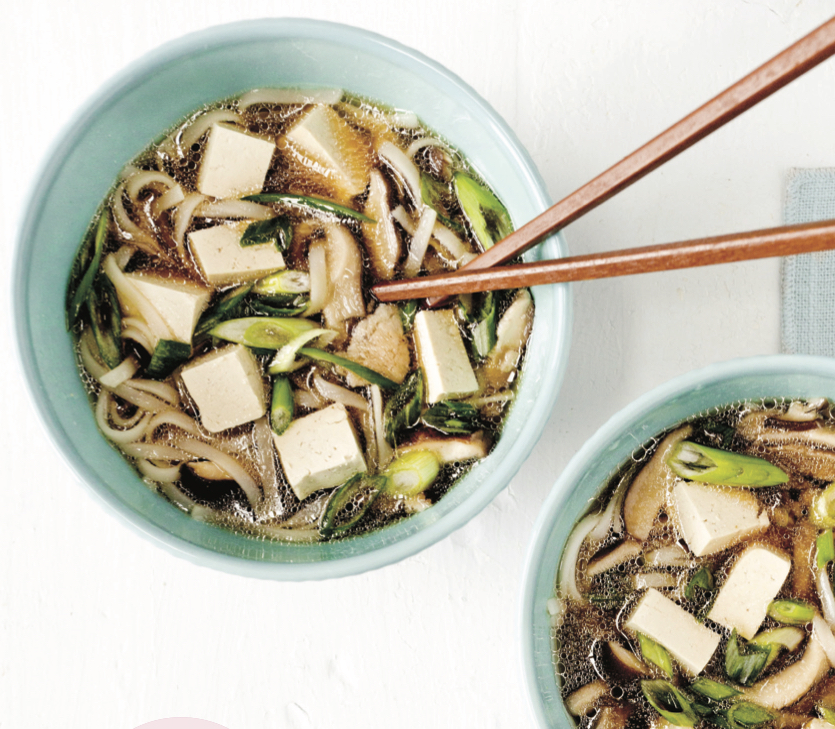 Heat the oil in a medium sauce pot over medium heat. Add mushrooms and sauté until lightly browned, 4-5 minutes. Add water and kombu. Bring to a boil and let simmer for 5-7 minutes. Add red and white miso and whisk to dissolve. Season with vinegar and shoyu. Add tofu, scallions and cooked noodles, and heat through.
GOOD TO KNOW: Soup will hold in the refrigerator for up to one week.