The Food
It's an island nation, so fish and seafood play heavily into Japanese meals, as do seasonal ingredients that can be enjoyed at their peak. Many kitchens in Japan don't have an oven and rely mostly on the stovetop, so dishes make use of fresh ingredients that need mini – mal cooking. Similarly, while you may be used to roast – ing or braising to achieve depth of flavor, Japanese cuisine gets a similar effect from fermented products like miso, natto (fermented soybeans), soy sauce, rice vinegar, and umeboshi (basically pickled plums), many of which are available in the ethnic foods aisle of gro – cery stores, at health food stores, or online.
The Flavors
Traditional Japanese dishes are delicate and light overall but gain a depth of flavor from umami, aka the "fifth flavor." The first four famously found on the tongue are salty, sweet, bitter, sour. Although inherently savory, umami—a term coined by a Japanese chemist but experienced in virtually every cuisine—engages the whole tongue for a pleasing overall experience that you might clock as generally rich and satisfying. Dashi broth, a stock whose ingredients vary but typically com – bine dried kelp, fish and mushrooms, is a classic source of umami, as is soy sauce. Accent this fifth flavor with condiments like vinegar-pickled vegetables or add heat from wasabi, shichimi pepper or hot sesame oil. For a final note, season food with gomasio (crushed sesame and seaweed) the way you might with salt and pepper.
Mochi Gnocchi with Shimeji Mushrooms & Snap Peas YIELD: 4 CUPS, OR 2 SERVINGS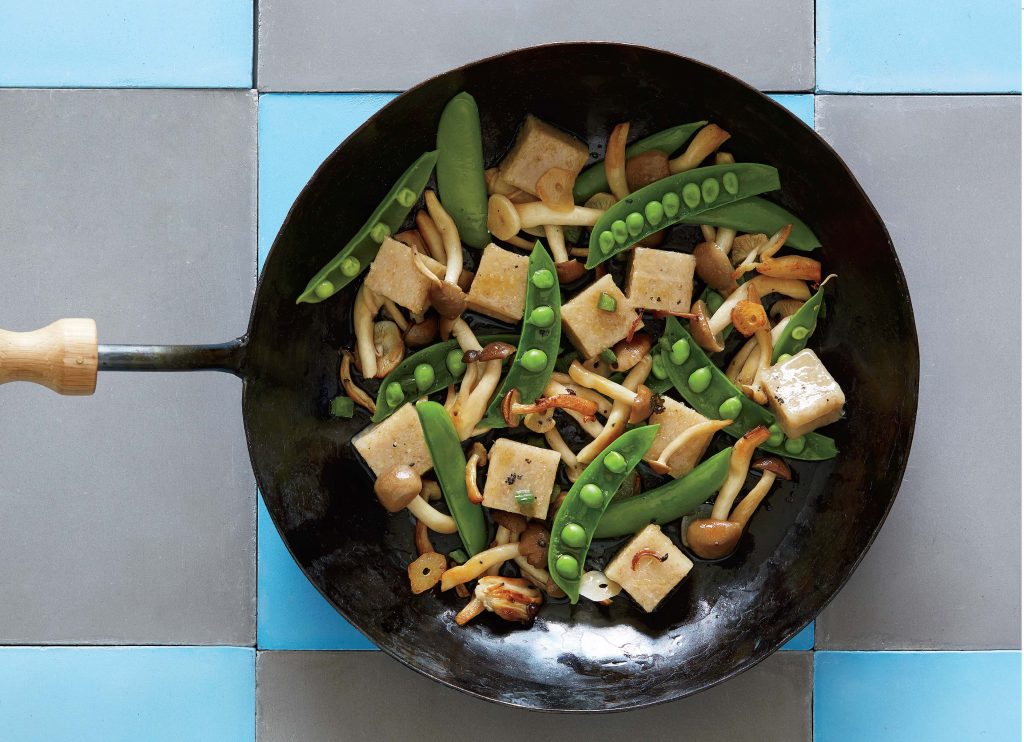 Gather
6 glutinous rice cake blocks (We like Eden Foods Sprouted Brown Rice Mochi)
½ teaspoon sea salt, more for boiling water
3 cloves garlic
1 jalapeno
1 bunch shimeji mushrooms
1 cup snap peas
3 tablespoons toasted sesame oil
Make It
1. Bring a medium pot of water to a boil and season with a generous sprinkling of salt.
2. Cut rice blocks into ½- inch squares and, working in batches, drop into boiling water. Cook for 90 seconds and transfer to plates.
3. Slice garlic and mince jalapeno.
4. Cut bottoms of mushrooms. De-string snap peas and cut in half lengthwise.
5. Warm sesame oil in a large pan and add snap peas and mushrooms. Cook for 3 to 5 minutes. Season with sea salt.
6. Add jalapeño and garlic slices and cook for additional minute.
7. Top mochi gnocchi with vegetables and serve warm.
Savory Seaweed & Kinako Rice Krispies YIELD: 16 BARS
Gather
1 teaspoon avocado oil
1⁄3 cup white sesame seeds
6 cups brown rice cereal
1 cup shredded nori
¼ cup kinako (soybean flour)
1 ¼ cups rice syrup
½ teaspoon sea salt
Make It
1. Line an 8 x 8 pan with parchment paper and brush with avocado oil.
2. Add sesame seeds to a pan and toast for 1 to 2 minutes or until fragrant and they begin to pop.
3. Transfer sesame seeds to bowl along with rice cereal and nori.
4. Add kinako, rice syrup and salt to same pan and warm for 1 minute over medium heat until molten, stirring frequently.
5. Pour syrup mixture over cereal mixture and stir until evenly distributed.
6. Press evenly into pan and allow to sit for 10 minutes to firm before cutting into squares.
7. Store in an airtight container for up to one week.
Crispy Gomasio-Crusted Mushrooms YIELD: APPROXIMATELY 2 DOZEN PIECES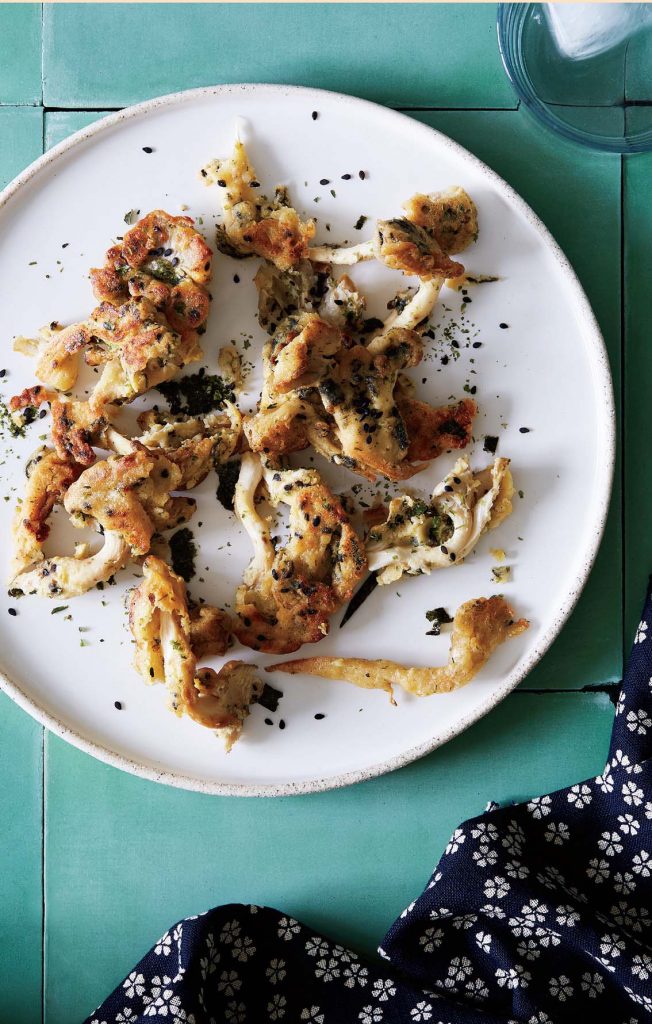 Gather
1 cup chickpea flour
¼ cup shredded nori, more for garnish (We like Eden Foods Sushi Nori Sheets)
¼ cup multi-color sesame seeds, more for garnish
2 teaspoons garlic powder
½ teaspoon sea salt, more for garnish
2 large oyster mushrooms 1 cup avocado oil
Make It
1. In a bowl, add and stir together chickpea flour, shredded nori, sesame seeds, garlic powder and salt. Add 3/4 cup of filtered water to form batter.
2. Trim mushrooms into matchbox-sized pieces and dip into batter.
3. Heat oil in a large nonstick pan and fry mushrooms for 2 minutes per side, or until golden and batter is cooked through.
4. Sprinkle with additional sea salt, sesame seeds and nori and serve warm.
Miso Caramel Popcorn YIELD: 8 CUPS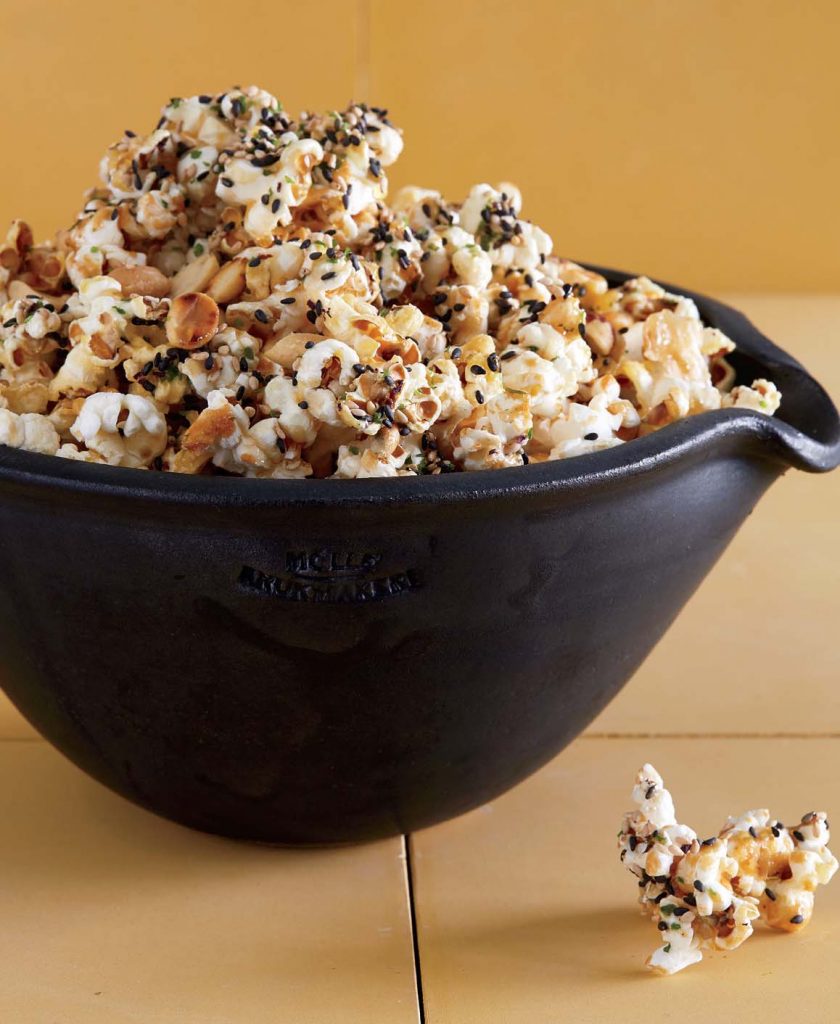 Gather
½ cup organic popcorn kernels
2 tablespoons refined coconut oil
½ cup maple syrup
1 can coconut cream 1 tablespoon miso (We like Eden Foods Genmai Miso)
1 cup roasted salted peanuts
2 tablespoons furikake (We like Eden Foods Furikake)
Make It
1. Add kernels and oil to a medium pot and stir to coat each kernel with oil.
2. Cover tightly with foil and cook over medium heat for 3 to 5 minutes, or until kernel popping slows down, carefully shaking every 30 seconds.
3. Spread into a single layer onto a large parchment-lined baking pan and preheat oven to 325°F.
4. Add maple syrup and coconut cream (approximately 1/2 cup) to a small pan and simmer for 10 minutes. Turn off flame and stir in miso.
5. Drizzle caramel evenly over popped corn.
6. Bake mixture for 10 to 15 minutes, stirring once.
7. Sprinkle peanuts with furikake and cool completely.
8. Store in airtight container for up to one week.
Chef's Tips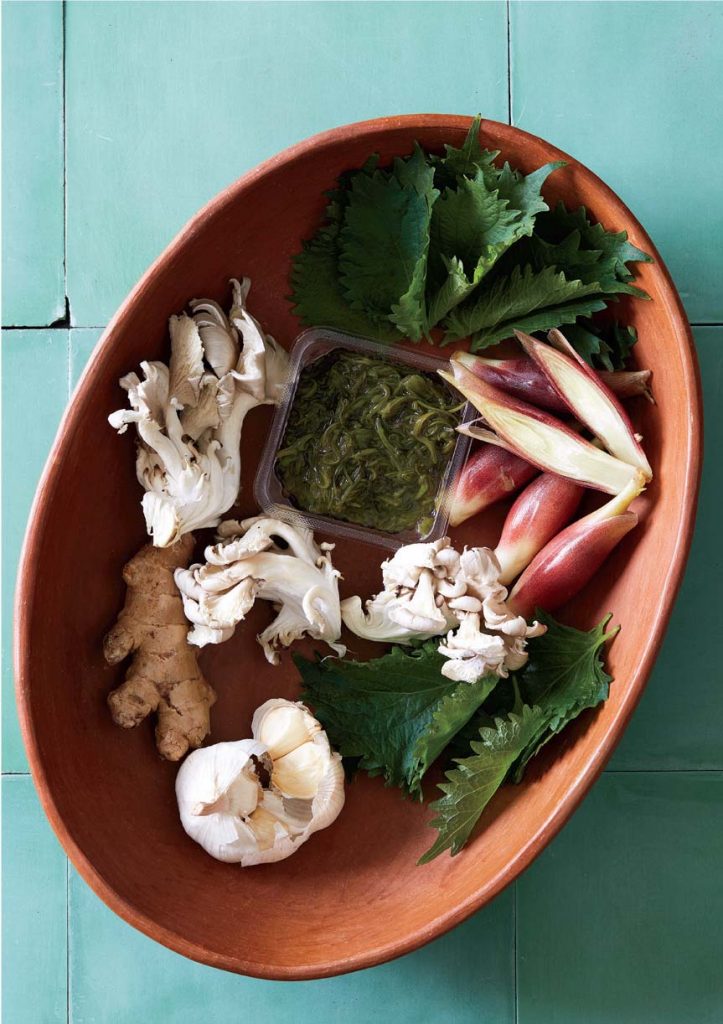 – Always rinse rice before cooking to remove any debris or starch from the surface so it doesn't get gummy as it cooks.
– No tongs handy? Use chopsticks to flip food in the pan.
– Make a quick stock out of dried shiitakes, kombu, and hot water to add depth of flavor to rice or other recipes.
– Season dishes with ginger juice for a bold brightness.
– Make substitutions when needed: Use any mild vinegar when rice vinegar is unavailable; try a more common mushroom when you can't find shiitake.
– What should be in every Japanese kitchen? Chef Olivia says to stock up on nori, miso, umeboshi vinegar, rice vinegar, sesame seeds, pickled ginger, seasonal vegetables, bonito flakes, shichimi togarashi, yuzu juice, rice, sake, tamari, kombu, and dried shiitakes.
Edamame Dumplings with Soy Vinegar Sauce YIELD: 2 CUPS FILLING; 32 DUMPLINGS
Gather
1 package frozen shelled edamame
1 two-inch piece ginger 3 scallions
¼ cup tamari
1 tablespoon rice vinegar
¼ cup toasted sesame oil
1 package dumpling wrappers
Make It
1. Defrost edamame (approximately 2 cups) in a bowl of cold water.
2. Peel and rough chop ginger (approximately 2 tablespoons).
3. Cut the white parts of the scallions into slices (approximately ¼ cup). Slice remainder and reserve for garnish and dipping sauce.
4. Place edamame, ginger, ¼ cup scallion whites, 2 tablespoons toasted sesame oil, and 2 tablespoons tamari to food processor and pulse for 30 seconds or until mixture comes together.
5. For dipping sauce, add remaining tamari, vinegar, 1 tablespoon filtered water and 2 tablespoons of scallions to a small bowl.
6. To form dumplings, fill each wrapper with 1 tablespoon of filling, brush edges with water, and fold over pressing to seal.
7. Working in batches, warm a thin layer of oil in large nonstick pan and add 12 dumplings in a single layer. Cook for 2 minutes or until golden and flip over. Add 3 tablespoons filtered water, cover and cook for 2 additional minutes.
8. Repeat with remaining batches and serve warm with soy vinegar sauce, garnished with extra scallions.
Green Tea Baked Sustainable Fish with Shichimi Bok Choy YIELD: 2 SERVINGS
Gather
2 sustainable fish filets
2 teaspoons miso
2 teaspoons toasted sesame oil, more for garnish
3 ginger green tea bags (We like Eden Foods Sencha Ginger Green Tea)
1 bunch baby bok choy
½ teaspoon sea salt
1 teaspoon shichimi togarashi, more for garnish
Make It
1. Preheat oven to 400 °F.
2. Place fish in single layer on a parchment lined baking tray.
3. In a small bowl, mix together miso and toasted sesame oil.
4. Brush onto fish and bake for 5 to 7 minutes or until fish is golden and flakes easily.
5. Bring 1 ½ cups filtered water to a boil in a small pot. Add green tea bags and brew for 5 minutes.
6. Cut bok choy into lengthwise pieces.
7. Remove tea bags, and add bok choy, salt and shichimi togarashi.
8. Allow bok choy to soften for a few minutes, and ladle mixture into bowls.
9. Top with fish and garnish with additional shichimi and toasted sesame oil.
Purple Plum & Shiso Gazpacho YIELD: 6 CUPS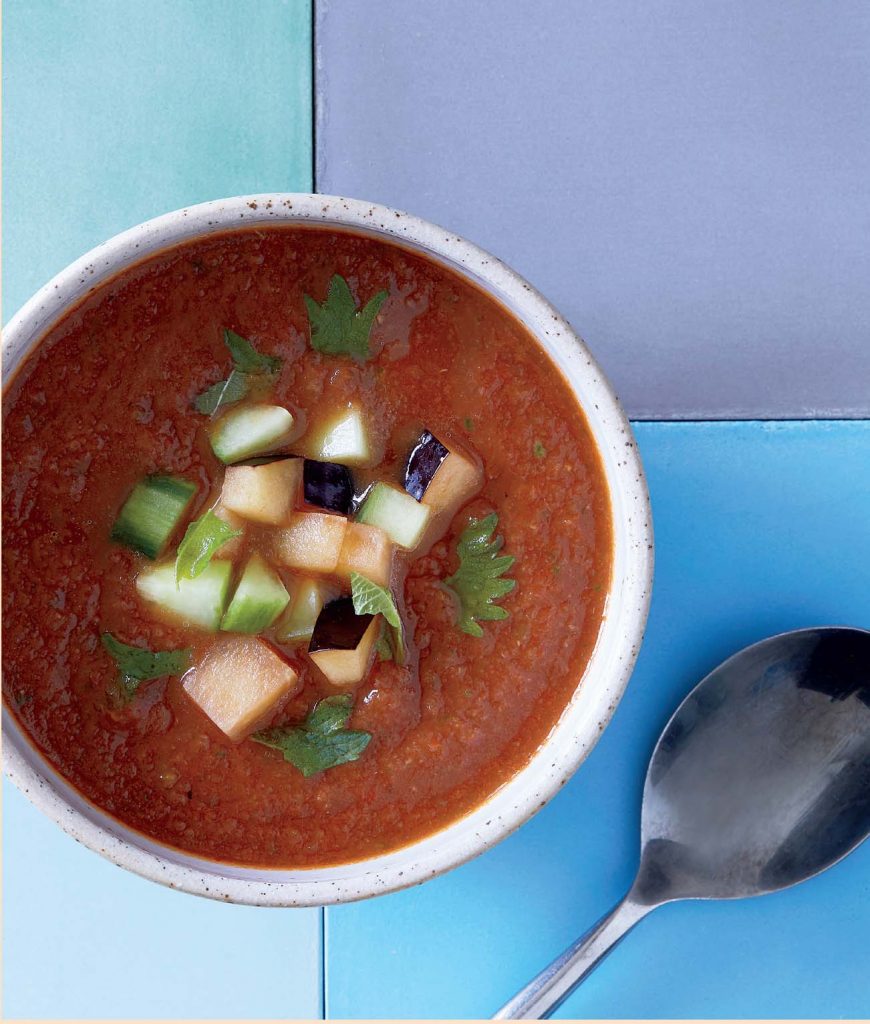 Gather
2 English cucumbers
1 jalapeno
3 garlic cloves
1 teaspoon sea salt
1/4 cup yuzu juice (or Eden Foods Ponzu Sauce)
8 large purple plums
1/4 cup shiso leaves
Make It
1. Peel and deseed cucumbers. Chop into a rough dice, along with jalapeño and garlic into a medium bowl.
2. Toss vegetable mixture with salt and yuzu juice and allow to marinate at room temperature for 20 minutes.
3. Peel, pit and rough chop plums, reserving any juices, and add to cucumbers.
4. Reserve a few handfuls for garnish, blend remaining mixture until smooth. Note: If plums are not ripe, add a few teaspoons of agave nectar, to taste.
5. Chill and serve gazpacho in bowls with chopped plums, cucumbers, and shiso leaves as garnish.
Paleo Black Sesame Milkshake YIELD: 2 CUPS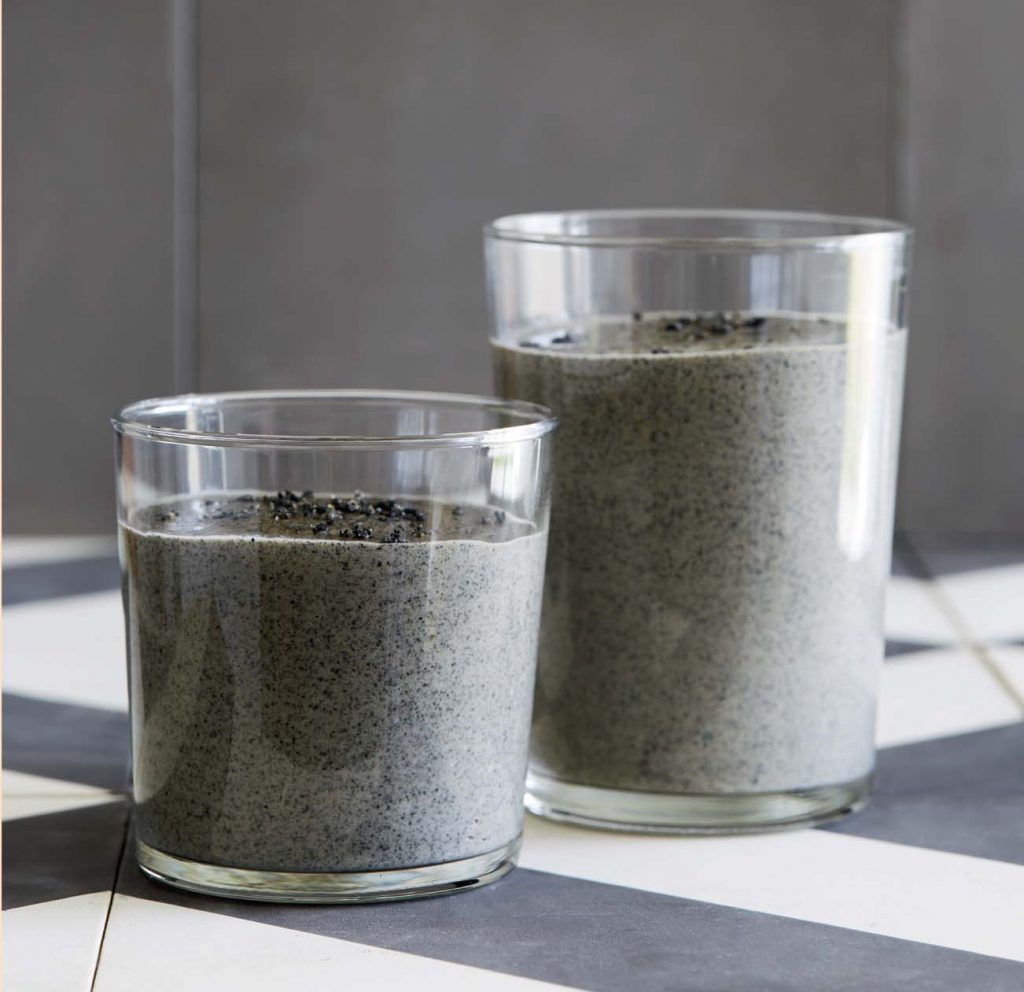 Gather
1⁄3 cup black sesame seeds
1 vanilla bean
¼ cup tahini
2 frozen bananas pinch sea salt
2 pitted dates
1 tablespoon refined coconut oil
Make It
1. Chill glass in freezer.
2. Toast sesame seeds in pan over medium heat for 1 to 2 minutes or until fragrant.
3. Place sesame seeds into a blender and process until ground. Reserve 1 tablespoon of ground seeds for garnish.
4. Scrape vanilla bean and add to blender along with tahini, frozen bananas, sea salt, pitted dates, coconut oil, and 3/4 cup filtered water.
5. Blend until smooth.
6. Pour blended milkshake into chilled glass and top with reserved ground sesame.