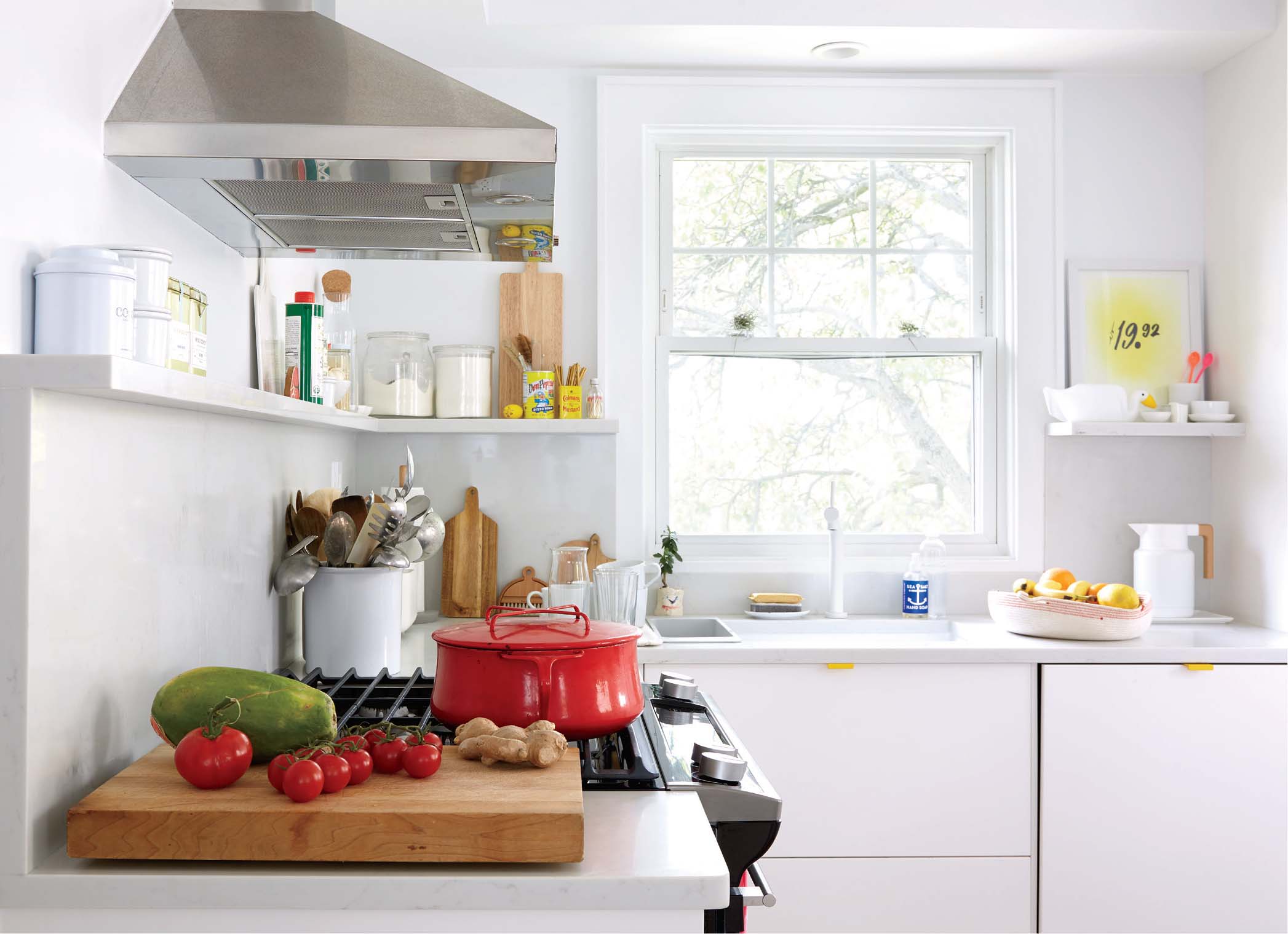 Jodi Levine was born in Queens and migrated to many addresses in Manhattan and Brooklyn through her adult life—a real-life city girl through and through. Truth be told, she didn't really want to leave Brooklyn, where she most recently lived with her husband, Fred, and their two teenage sons, Sammy and Lionel. But there was one thing she coveted, just one thing. "All I wanted was an open kitchen," she says.
Then they fell for this 1920s Dutch Colonial, located just one hour north of Manhattan. "It had lots of things going for it," Jodi says. "There's this kind of soaring view out the windows and it had the soul and character of an older house. But the kitchen was, unfortunate."
The kitchen is the undeniable hub of the house—hosting cooking, round the-clock dining, homework sessions, coffee talk—and that's how this family rolls, too. For Jodi, it also serves as an extension of her workspace. She's a lifelong crafter and creative genius, one J who held down the post of crafts editor for Martha Stewart Living magazine for two decades, and led the editorial charge for the super-popular Martha Stewart Kids. Now an author and blogger (if you want to brighten your day or completely make your kid's day, check out her blog, Super Make It), her kitchen is also her lab for experimenting with creations such as cupcakes shaped like giraffes or veggie trains.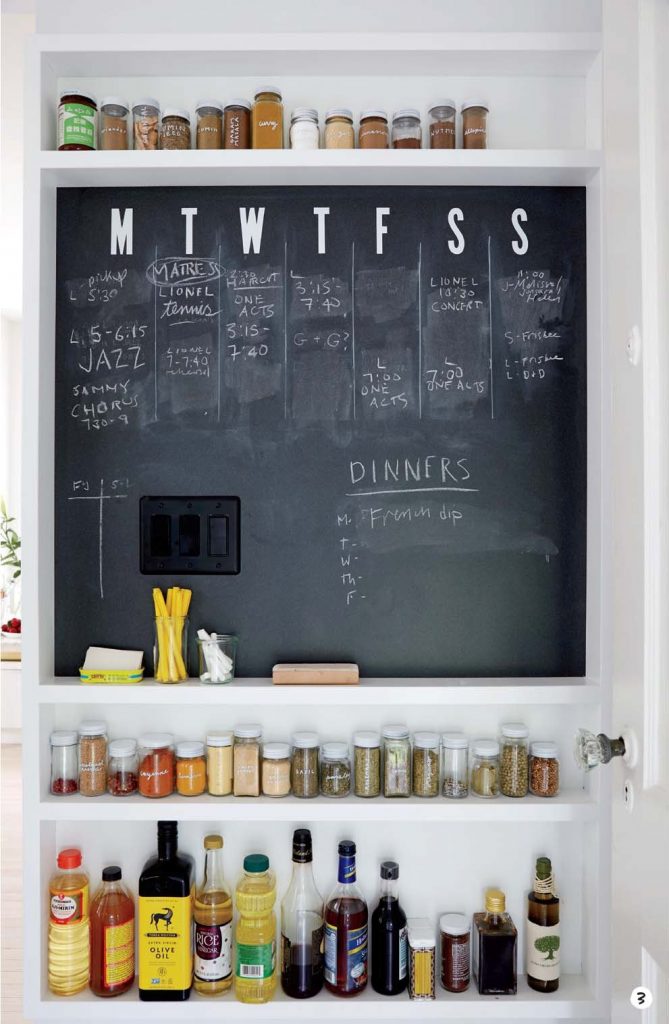 But in her first freestanding home, Jodi found herself with a kind of hybrid L-shaped galley kitchen, a small, chopped up room that was closed off from the living and dining areas and had zero workspace flow. "We have a friend and my brother in law who ended up being our architects," she says, "and they would come over, and a few other friends who are architects would come over, and they'd all think this was a real puzzle. We had no idea what to do here." To solve the head-scratcher, the team came up with some clever and quirky solutions:
Knock down a wall and visually define the space with a hard-working peninsula.
• Remake the dining room built-ins to create a window seat that serves the dining table. The table can now slide close to the wall to allow for more kitchen space.
• Trade in the imposing, topheavy cabinetry for flexible IKEA cabinetry with accessible drawers instead of darkhole cupboards.
• Calm the visual chop with a sleek, practical Wilsonart quartz countertop/backsplash/shelf combination.
• Tuck the fridge into a dead space by the back entry.
• Make use of every little niche, slipping in practical extras like cookbook shelves and a message center/spice rack.
Boom. Solved. Now the kitchen is a true player in the home's lower level—great-looking enough to be open to the modern living room. And it's hard-working enough to host mad project experiments (like those bright bird bottles) and mealtime prep. The spacious peninsula is perfect for rolling out dough or spreading out homework. And the cook doesn't get walled off from the fun when preparing food for family and friends.
In the process, Jodi edited out her kitchen's flotsam jetsam. Items not used on a regular basis were banished to basement shelves and items not used at all were given away. "During a renovation, you live with so little," she says. "We had one good knife, a couple bowls, some spoons and forks, and a can opener, you know? We just had the essentials and we did a lot with the essentials. So I realized how much I could put into my basement pantry and just live more efficiently. We Marie Kondo'ed our stuff, and it really does feel great."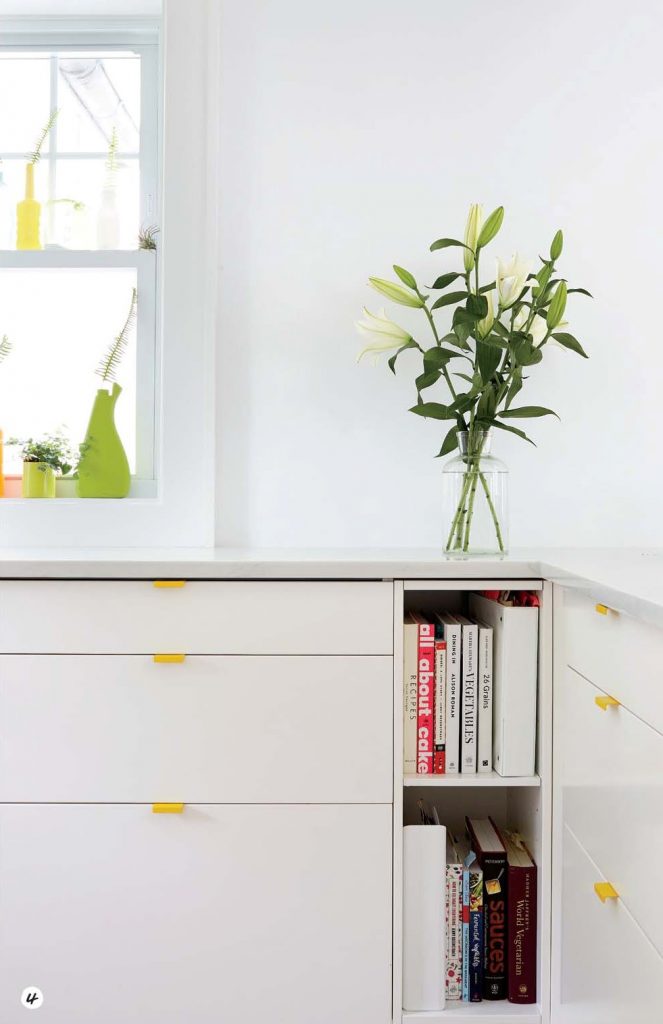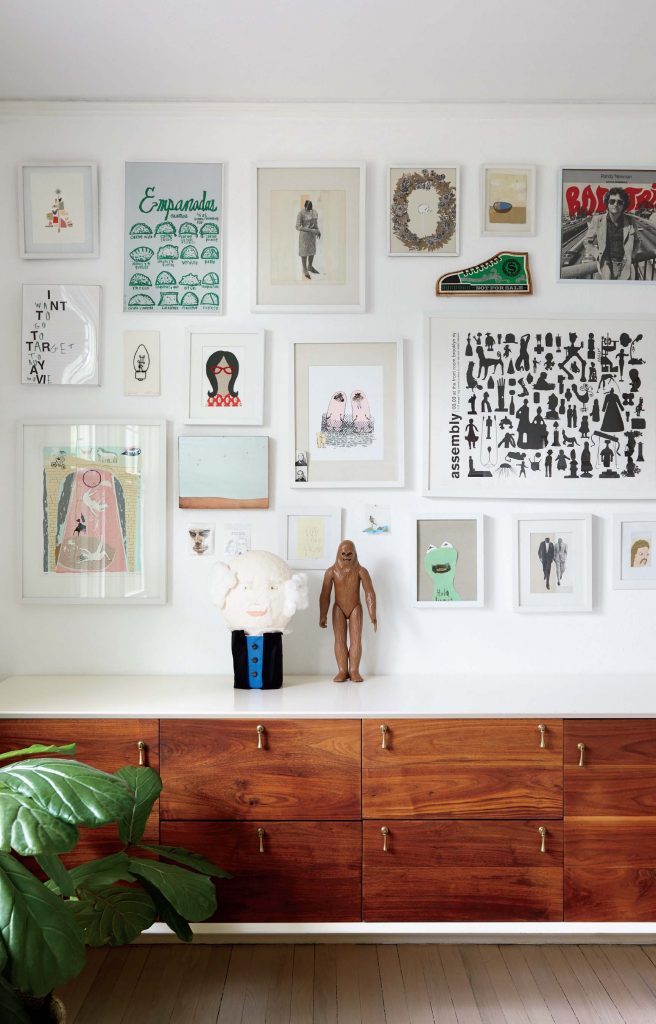 Buy inexpensive acrylic box frames so you can easily swap out the art for new creations. They not only al – low you to have a rotating art exhibit, they also keep the overall look of the wall arrangement clean and modern. Select 9×12-inch frames, which is constructionpaper size. You won't need to worry about matting.
Don't limit framed pieces to drawings or paintings, add variety by framing funny notes and lists that showcase a child's young handwriting.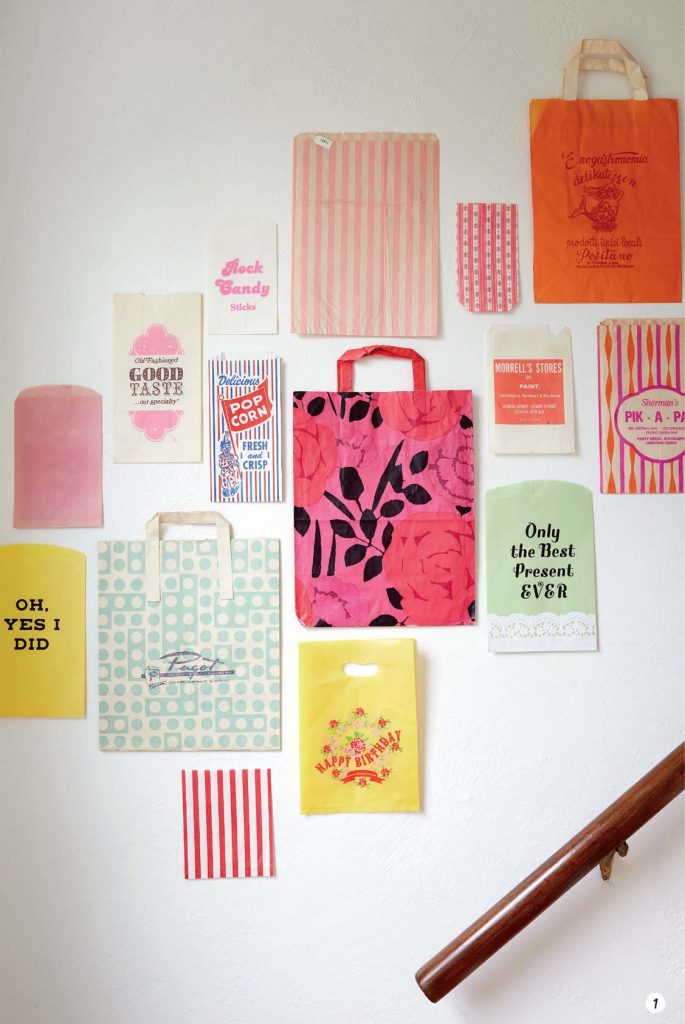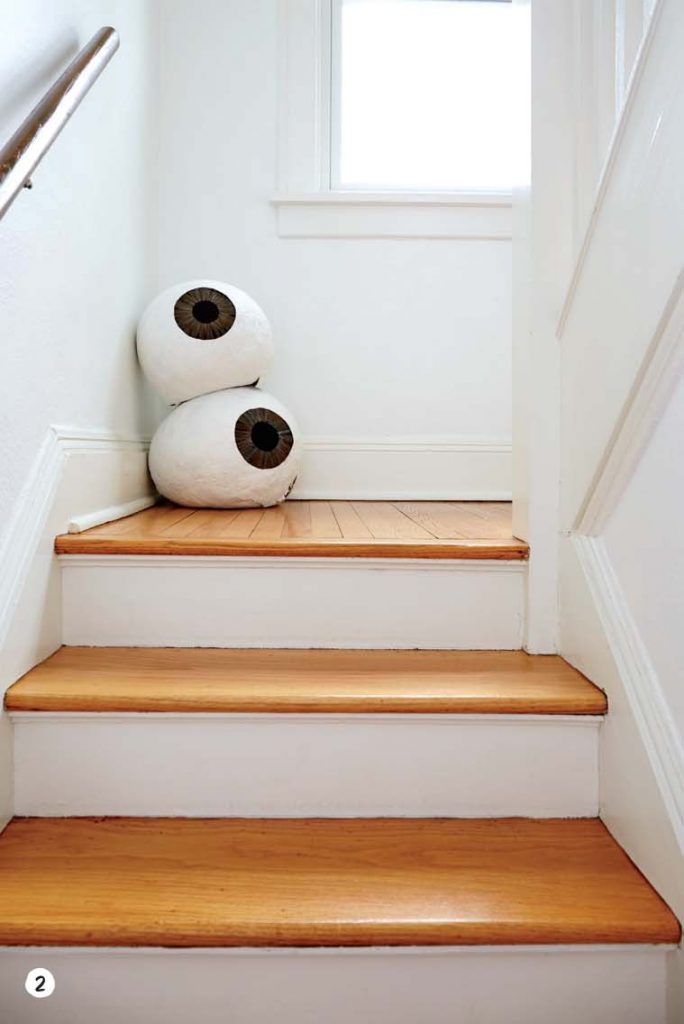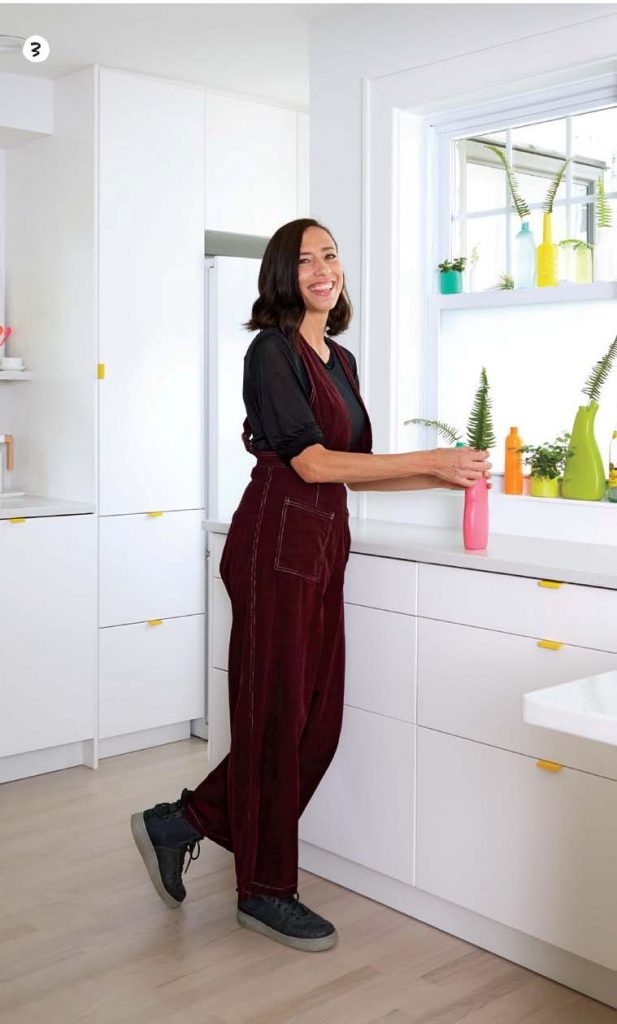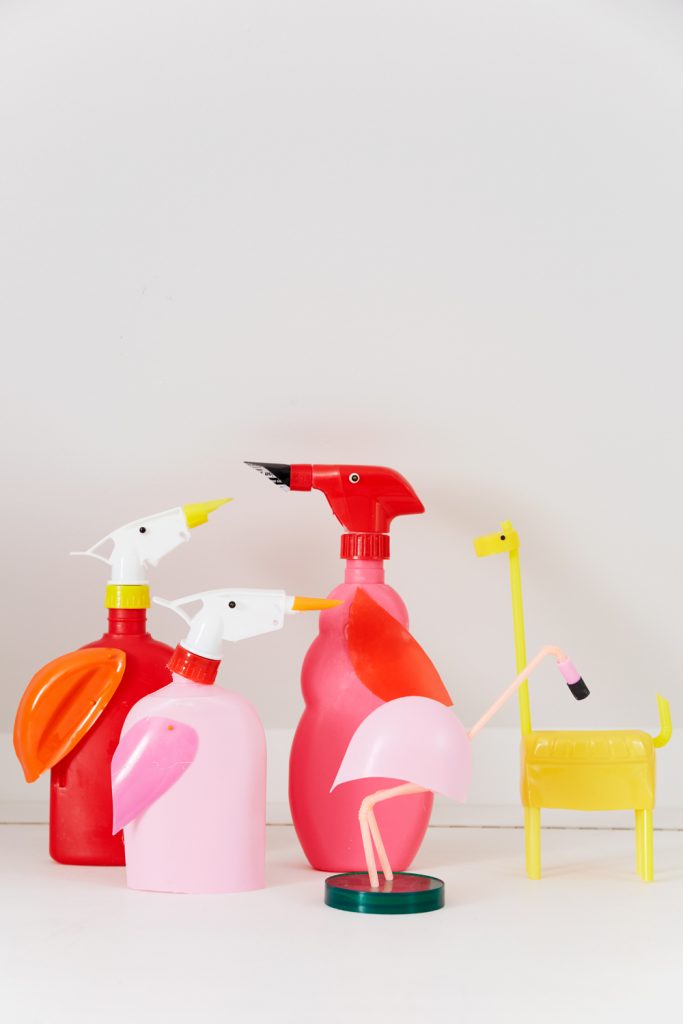 Try this! We love Jodi's crafts—they're bright, graphic, and make use of potential landfill. These funky birds are a fave, so she gave us the how-to rundown:
I came up with this idea for a New York Times article. They were doing a feature about the problems of plastic and wanted ideas for their monthly kids' section to teach about the issue. So I did a little dumpster diving in back of the laundromat (ok, I really pawed through their recycle bin) and found all these colorful laundry-product bottles. Then I laid them all out by color and just played and played, moving stuff around—like a bottle cap from one thing became the lid of something else. The bottles themselves kind of suggested what they wanted to be. I just cut out pieces for wings or whatever, then used hot-glue or colorful ball-head pins to tack everything together.