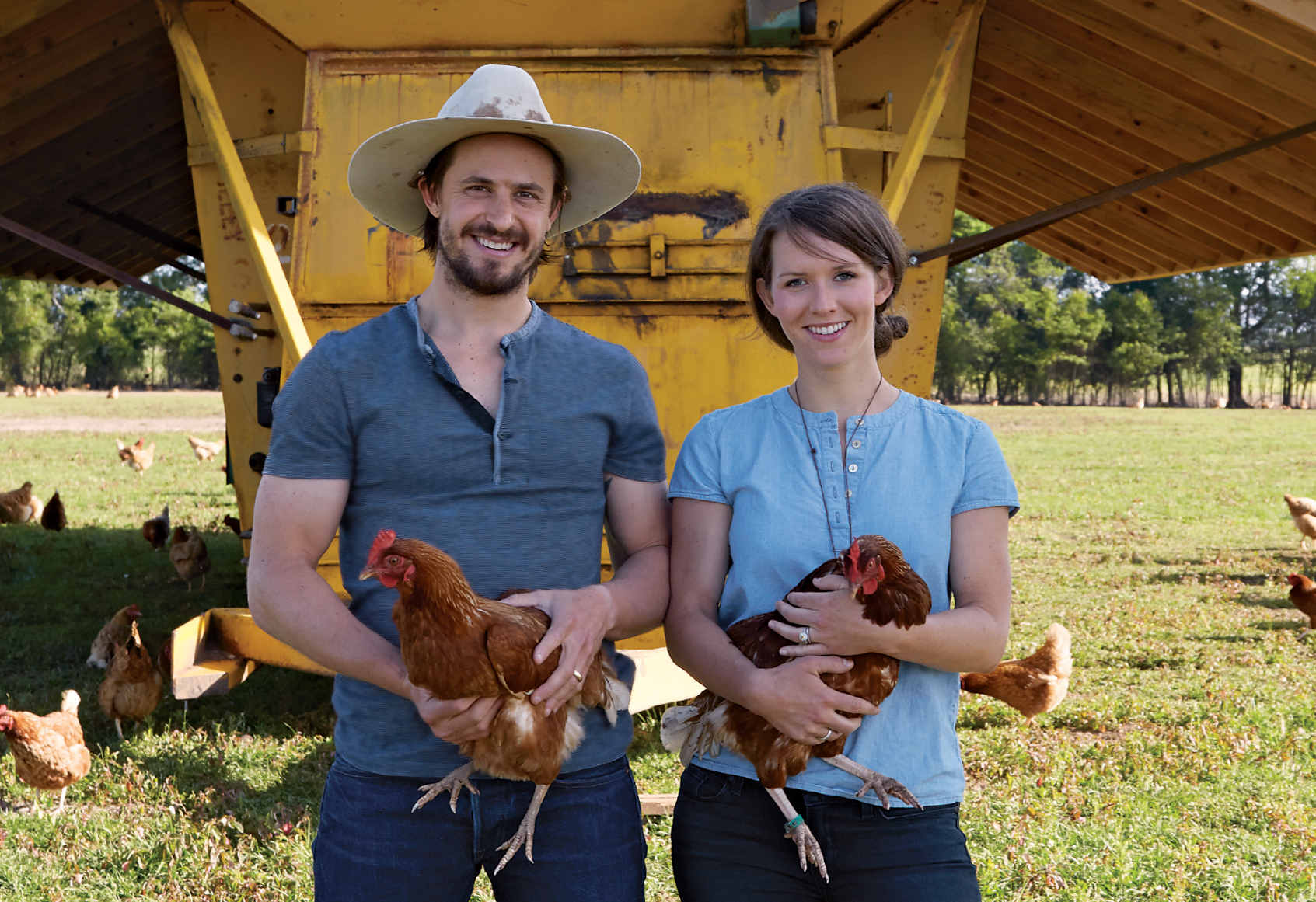 They had THIS WRITER at "Hello, how are you?" "We're awesome," blurts Epic co-founder Taylor Collins. "We just got done with a kick-ass workout and we're ready to dominate."
From the get-go, I knew I was way out of my league energy-wise. Taylor and his life/work partner Katie Forrest are elite endurance athletes who compete in triathlons, Iron Man competitions, marathons and century bike rides. I should have carb-loaded for this interview. I could have eaten my Wheaties.
But that, I'm about to find out, would have been dead wrong.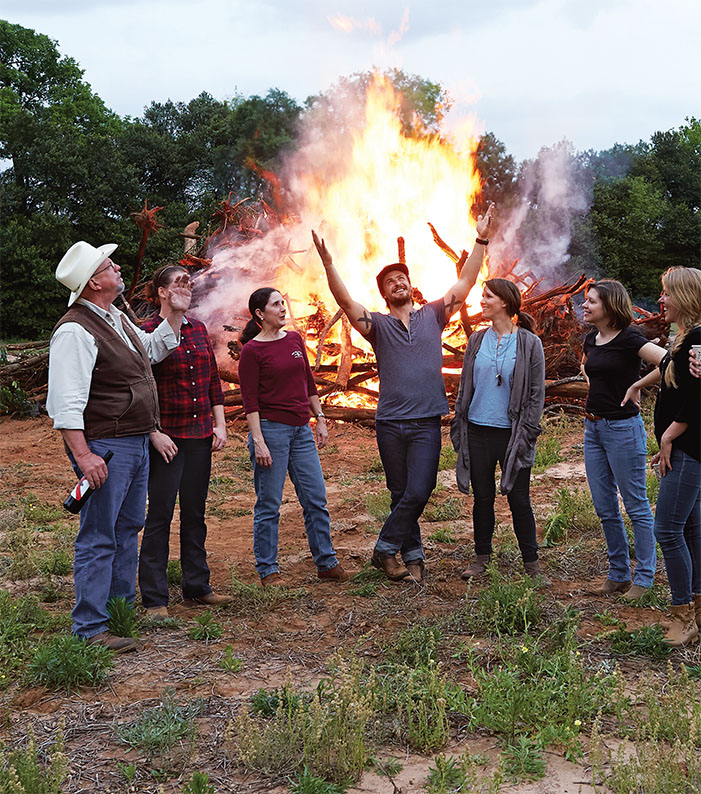 Before they founded Epic Provisions, Taylor and Katie fueled their bodies by carb-loading. To recover from their workouts, they shoveled in plant-based foods and complex soy proteins. Hell, they were rawfood vegans. "We were under the idea that eating clean meant avoiding animal byproducts," says Katie. But they started to notice that their energy levels were dipping and not rebounding. Then Katie's body staged a revolt. "I was having stomach and inflammatory issues," she says. "Then my knee became super huge and I literally couldn't bend it. I couldn't even get on my bike."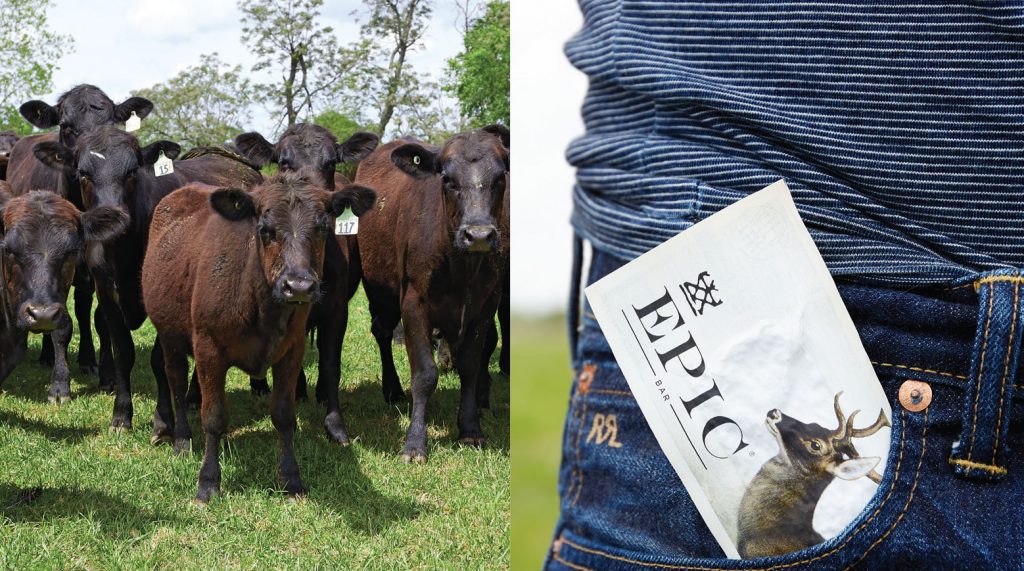 Katie went to five doctors. One called it arthritis and got out his prescription pad. Another suggested a knee replacement. It wasn't until she went to a holistic neuropath that she got advice that helped—switch to a diet high in whole-animal protein and fat. "We transitioned literally overnight from vegan to full-on paleo," says Katie, " and we felt better immediately."
That was a complete game changer for the couple. Entrepreneurs since they met in college and started a commercial recycling business (as a way to "hang out together more and make some money," according to Taylor), the two had already cooked up a line of vegan energy bars under the Thunderbird label. "It was radical," he says. "They were energy bars with an aphrodisiac kick. We were having fun and we thought if we sold it to two stores we'd be set."
"We want to expand the animal kingdom so consumers can enjoy the whole range of what Mother Nature has to offer. We eat chia seeds and all these cool foods but when it comes to protein it's like chicken, pork, beef and that is it." —Taylor Collins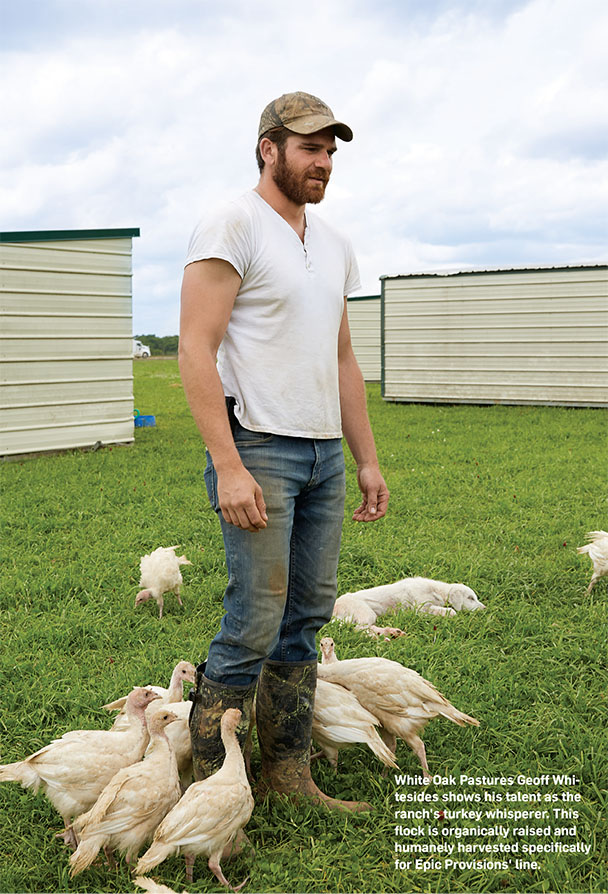 Then, the craziest thing happened. Whole Foods Market found their bars and invited them in for a chat. "Literally one month after we launched the bars we were meeting with their higher-ups there," says Taylor. "We went in wearing flip-flops and exercise gear. We were totally unprepared." And they were unprepared for the response. Whole Foods put them into 30 stores. "It was a crash course in what not to do," Taylor says. "We made way more mistakes than good decisions. But it was a platform to becoming more professional and trusting our instincts."
So when their guts (and Katie's knee and that neuropath) told them to shift to a whole-foods diet, they discovered that there weren't good paleo options in convenience foods. Apparently, no one was making a meat bar. Maybe because it sounds like a bar of meat.* But they were determined to develop the animal-based protein bar while sticking to a philosophy that puts a premium on high-quality, organic ingredients and humane livestock practices that are good for both people and the planet. In 2013, their Epic line of meat, fruit, and nut bars was born, carrying this mission statement: "We call our product Epic because it improves the lives of animals, regenerates our bodies and helps heal the land."
The problem was—no one was biting. "We even had push back from Whole Foods," says Taylor. "The decision makers at the time thought it was the worst idea they'd ever heard." Even their Thunderbird customers had strong opinions. "Our loyal customers were so pissed off," he says. "We got so many breakup calls and emails…it was like we had ruined their lives."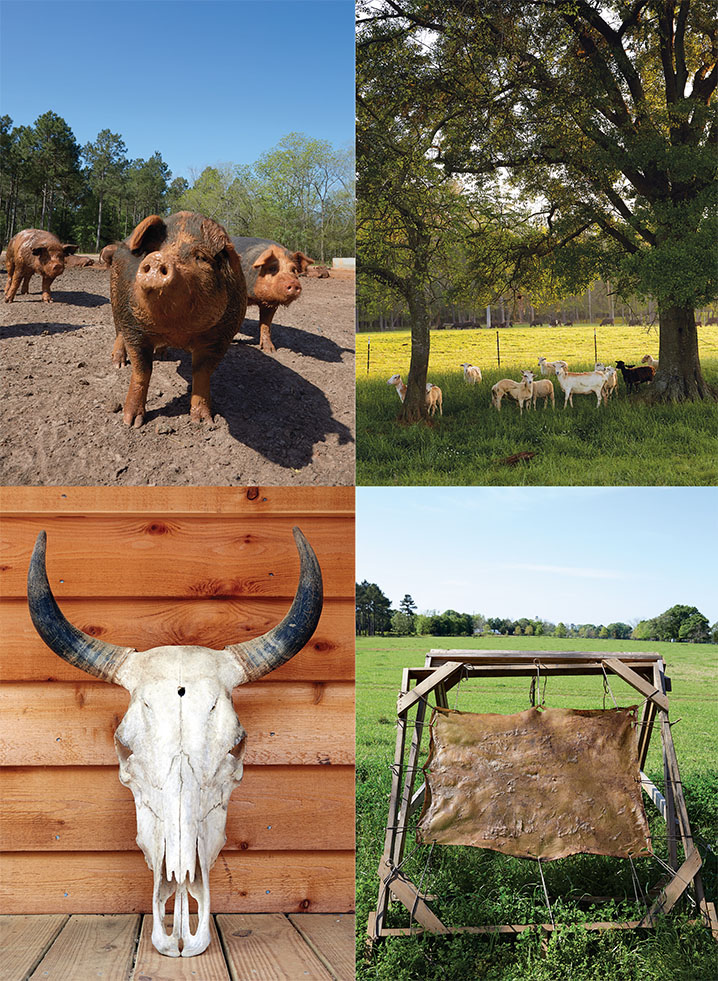 But they felt that they were onto something and persevered with the Epic line. "We knew it was what we wanted to do so we trusted our gut," says Katie. "We saw a void in the marketplace for high quality animal proteins. Common sense told us that you should have a protein bar with real proteins not soy protein isolate powder or whatever."
As interest in the paleo diet grew, so did the demand for their protein-dense, gluten-free, low-sugar offerings such as Beef Habanero Cherry and Chicken Sesame BBQ. Consumers were beginning to gobble them up. Then when they took their wares to the Natural Products Expo, larger companies began to court them—apparently also with a desire to gobble them up. They welcomed the interest as long as there was also buy-in to their philosophy of using quality, sustainably and humanely produced ingredients. "We were actually growing the company to sell it," says Taylor. "We started thinking that if the right company came along to accelerate our growth, we could have more influence in the way food is produced in this country. Three large multinational companies approached us who wanted to buy Epic. They just wanted to write a check but clearly didn't care about what we cared about. So it was very easy for us to tell them to fuck off."
Then General Mills, one of the biggest food brands of all, came to call. And they kept calling—even when the two were playing hard to get. "We were pretty scrappy at first," says Katie. "And we were skeptical. We almost dared them to buy our products." But they kept calling, finally convincing them in January of this year to ink the deal, operating under General Mills' natural food brand, Annie's. "We went to the GM mother ship," says Taylor, "and talked about the importance of holding onto our core values as an operating principle. And they got us excited with their ideas about creating innovative change with food and livestock production. They appreciated that our brand is authentic and saw that as valuable."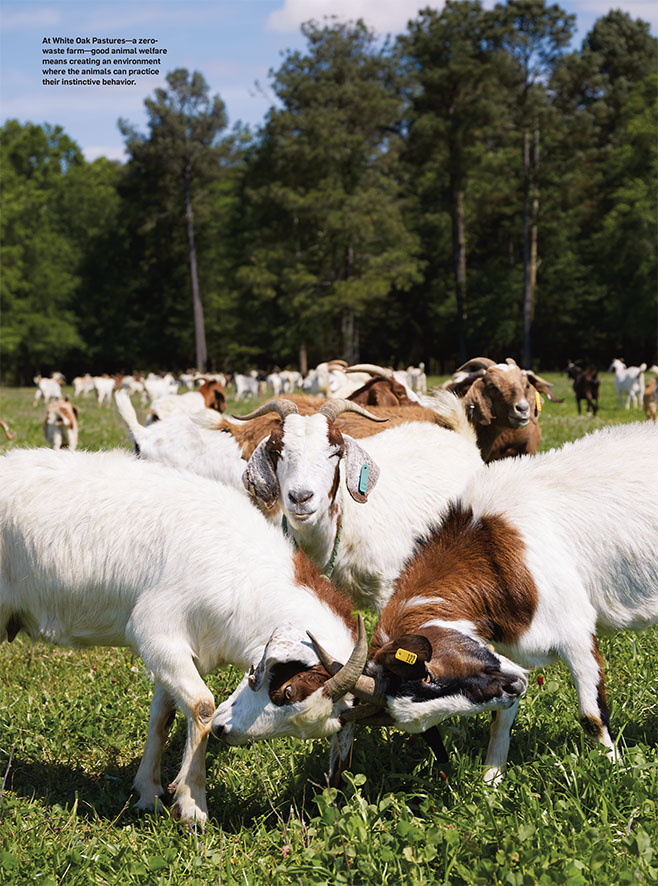 "When you use your own life and body as a lab test you can dial in to some amazing experiences." —Katie Forrest
The influx of capital has already meant influence. For one, it furthered a partnership with White Oak Pastures—a 150-year-old multispecies ranch in Southern Georgia that prides itself on pasture-raising their animals to keep their livestock happy and their land healthy. Will Harris now runs the ranch, tending the same land that his great grandfather settled in 1866. And following many years of industrialized animal production—which didn't quite sit well with Will—he returned it to the more bio-diverse practices of his grandfather.
Taylor and Katie visit the farm often to tap into Will's hard-earned "cowboy common sense" and to witness their core values come to life. At the farm, cows graze on chemical-free pastures, pigs are allowed to root and wallow, and chickens never see a cage. At the end of their happy lives, they are slaughtered humanely on site. It's just the kind of animal Nirvana that the two had dreamed of supporting with Epic Provisions. The range of artisanal animal products that Will and his team produce—from cow testicles to chicken feet— also inspires the two to expand the boundaries of their line. "We want to stay innovative and push the comfort level of what people consume," says Taylor.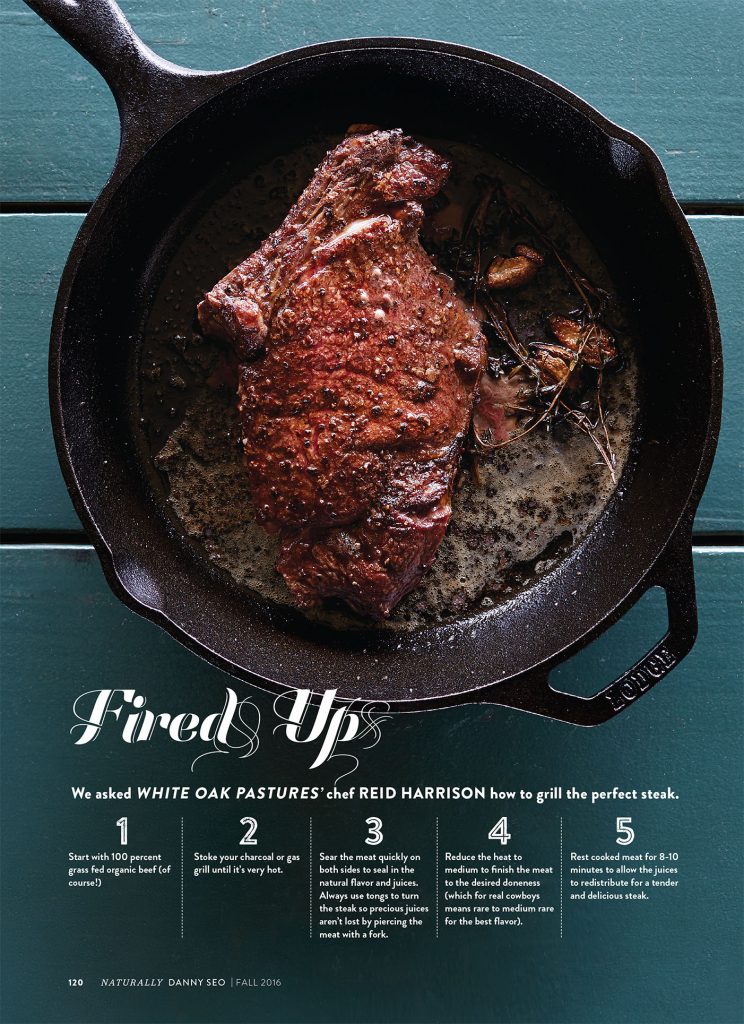 So with a mix of corporate capital, cowboy wisdom, solid ethics and sheer chutzpah, the Epic team is growing the line to include more than the standard beef, chicken and pork but to include bison and game, such as wild boar and venison as well. They make their signature bars, but have added trail mixes and jerkylike bites. And they've included more nutrient-dense organ meats to the lineup. Starting in March, they added ready-to-serve bone broths and animal fats packaged for use as cooking oil. It's part of a new effort called the Epic Whole Animal Project. "Most jerky uses one cut of meat but that creates a lot of waste," Katie explains. "We want to honor the whole animal and incentivize ranchers by committing to buying the entire animal."
The idea of packaged bone broths and animal oils might seem brand new, however, it is anything but. "We've gone full circle back to the original diet," Taylor says. "It's one that is consistent with how we have evolved. For the greater part of 250,000 years this has been our diet. The new proteins have only been consumed in the last few decades. Our bodies don't really recognize soy powder as a source of protein and have a hard time processing it."
So when Epic's Duck Fat Cooking Oil pulled down the NEXTY award for innovation out of 500 entries at this year's Natural Products Expo, the two were thrilled but also amused. "I love winning and we happily accepted the award," says Katie, "but I kept thinking 'How are animal fats innovative?' It's a super basic thing that our great, great, great grandparents were doing. It made me realize that we are so far detached from real food that bringing it back is a new thing."
*Editor's Note: To our fellow omnivores—it turns out, Epic meat bars are delicious!
---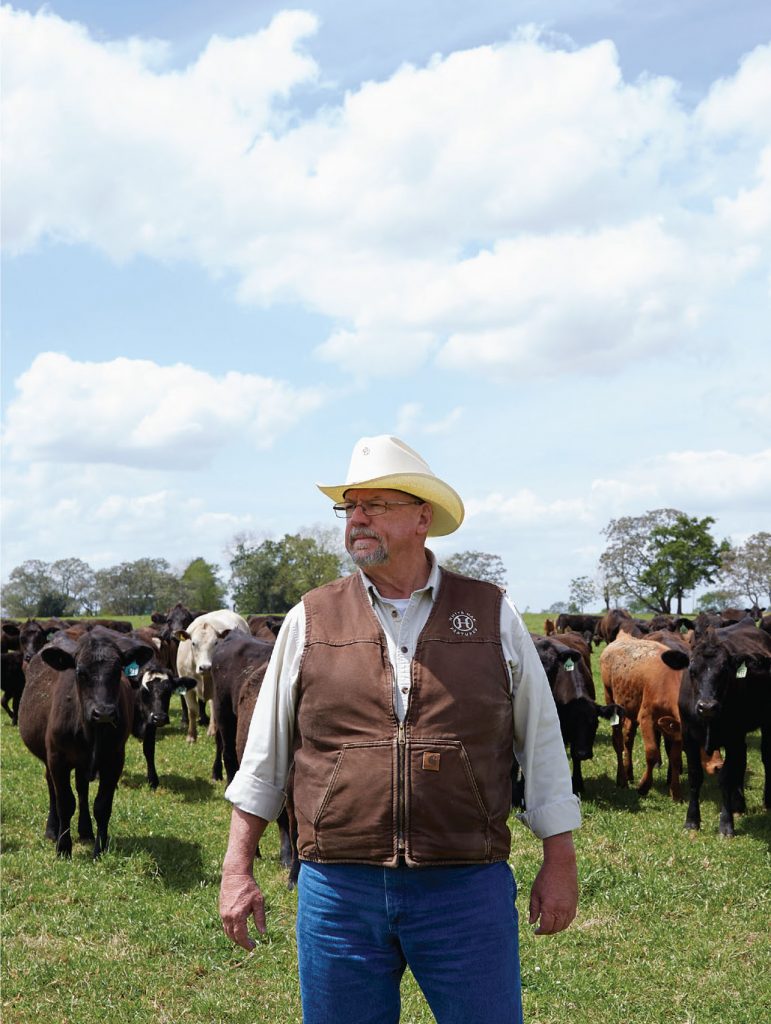 TAYLOR COLLINS DISHES ON WHITE OAKS PASTURE:
WILL HARRIS IS A 4TH GENERATION FARMER AT WHITE OAK PASTURES IN SOUTHERN GEORGIA AND ONE OF OUR FAVORITE PEOPLE ON THE PLANET.
His wisdom transcends time. Katie and I visit his farm as much as we can. White Oak Pastures is a 150-year-old multispecies operation that has seen every form of agriculture on the planet. They currently raise cattle, hogs, sheep, goats, rabbit, turkey, chicken, ducks, geese, and guinea fowl; all sharing the same pastures and working symbiotically to enrich the land. White Oak Pastures focuses on emulating the biodiversity found in Mother Nature and operates within a holistic context, always striving to create a net positive effect on the earth, local communities, human health, and animal welfare.
➡ To learn more about White Oak Pastures (including how you can stay in one of the guest houses at the ranch), www.whiteoakpastures.com
---
Rosemary Garlic Duck Fat Sweet Potato Fries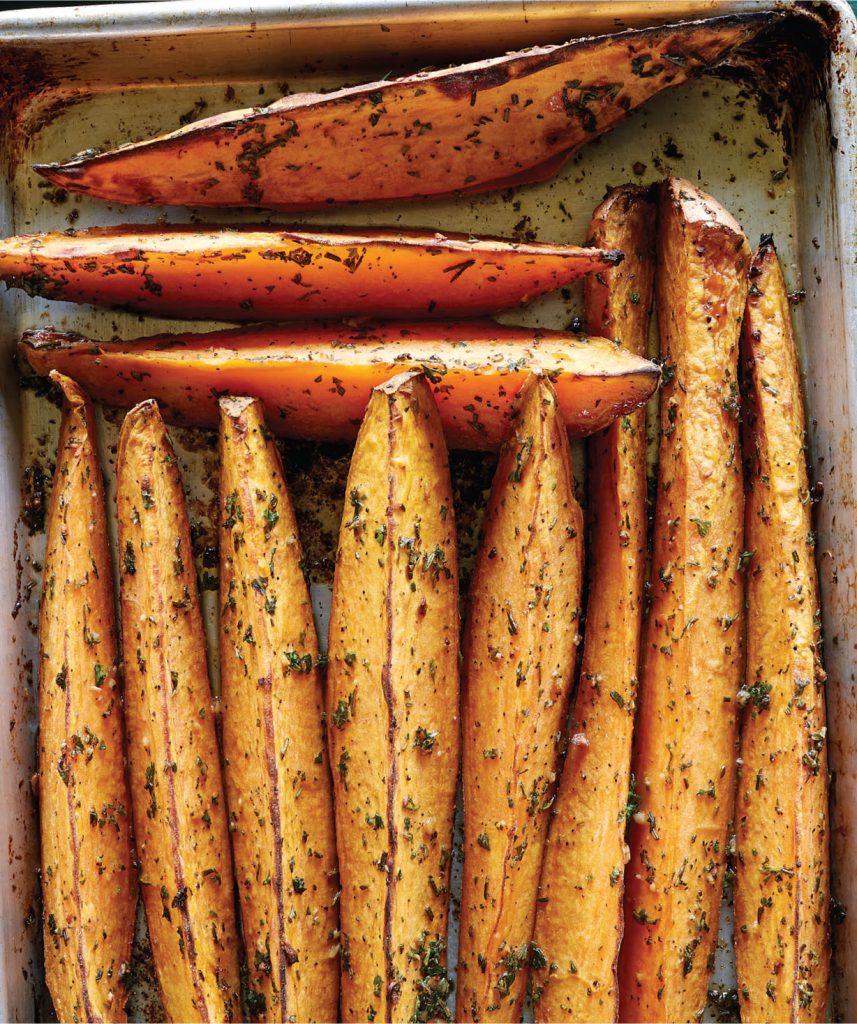 GATHER:
3 large sweet potatoes
1 generous handful of fresh rosemary
3 tablespoons fresh parsley, chopped coarsely
3 cloves of garlic, sliced
3 tablespoons duck fat (EPIC makes one) salt and pepper to taste
MAKE IT:
1. Preheat oven to 425 degrees.
2. Cut the sweet potatoes into thick wedges. Pro tip: Cut sweet potato in half length-wise. Cut each half into quarters, length-wise.
3. Place sweet potato wedges into a mixing bowl.
4.Cover sweet potatoes with oils, salt, pepper, garlic, and herbs. Mix together, making sure the wedges are covered in oil. Let rest for 15 minutes.
5. Spread wedges (with all the herbs) evenly over a foiled baking sheet.
6. Cook for 30 minutes, or until they reach desired softness or crunchiness.
Grandmother's Chicken (Poulet au Grand-Mère)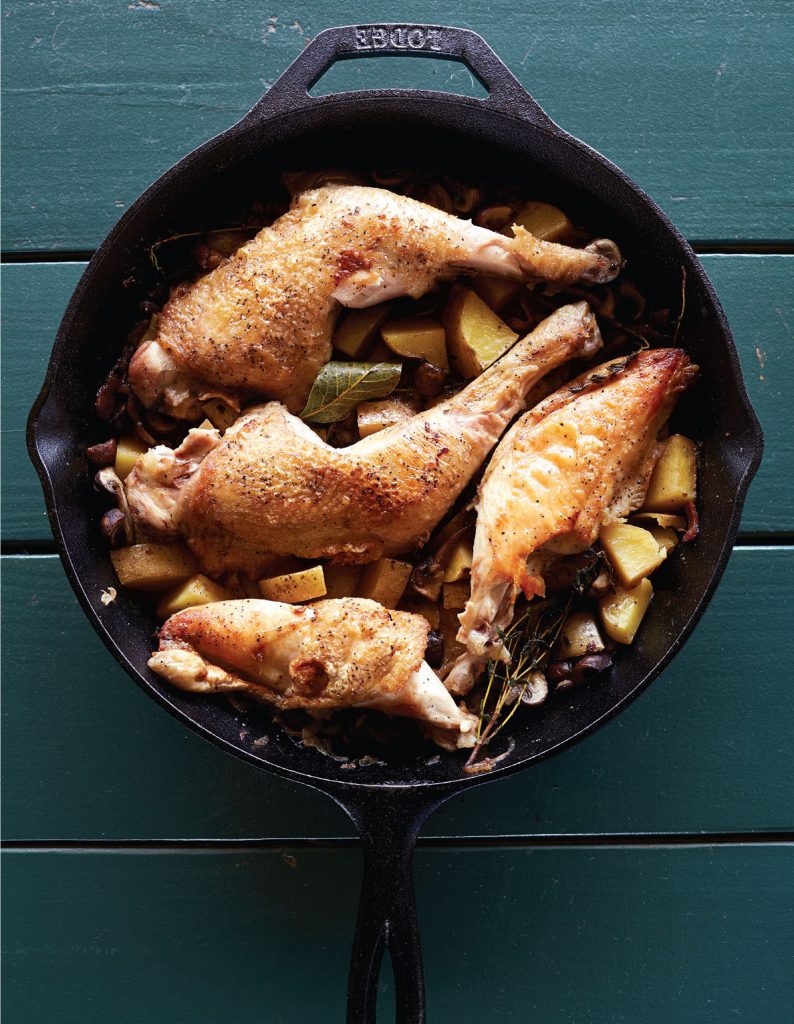 Courtesy of Virginia Willis ( Serves 4 to 6)
GATHER:
1 tablespoon coconut oil
1 tablespoon unsalted butter
1 (4-pound) chicken, cut into 8 pieces or 6 bone-in, skin on breasts or thighs Coarse salt and freshly ground black pepper
4 slices bacon, cut into lardons
6 shallots, peeled and trimmed
2 heads garlic (about 20 cloves), separated, peeled, and tough ends removed
3 sprigs thyme
2 bay leaves, preferably fresh 18 bite-size fingerling potatoes, or 6 yukon gold potatoes, cut into 1" chunks
12 white button or cremini mushrooms, stems trimmed
1/2 cup dry white wine
1/2 cup homemade chicken stock or reduced-fat, lowsodium chicken broth
MAKE IT:
1. Heat the oil and butter in a large, heavy pot over mediumhigh heat. Season the chicken with salt and pepper. Cook covered without moving the pieces or crowding the pan, in batches if necessary, until well browned on all sides, 5 to 7 minutes. Transfer the chicken to a platter and keep warm while you cook the vegetables.
2. Pour off all but 1 tablespoon of the fat from the pan. Lower the heat to medium. Add the bacon, shallots, garlic, thyme, and bay leaves. Cook, stirring occasionally, until the bacon starts to render and the vegetables start to take on a little color, 3 to 5 minutes. Add the potatoes and mushrooms, season with salt and pepper, and return the chicken to the pan. Pour over the white wine and stock. Cook until the vegetables are tender and the juices of the chicken run clear when pierced with a knife, 20 to 25 minutes. Taste and adjust for seasoning with salt and pepper. Serve immediately.