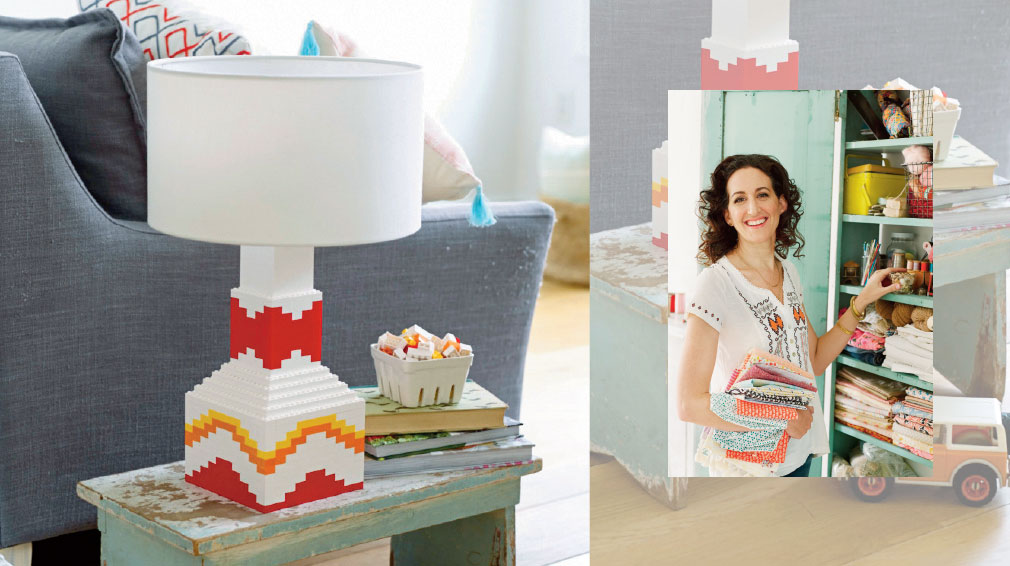 Projects by AMANDA KINGLOFF / Photos by ALEXANDRA GRABLEWSKI
Some people are great cooks, others are natural-born organizers. But when it comes to domestic geniuses, pro crafter Amanda Kingloff has a unique knack…for transforming junk and clutter (water bottles, paper towel holders, cupcake wrappers) into home and entertaining accessories, both functional and chic. Her latest upcycling feat: fashioning the toys her kids have outgrown into fun and personal accessories. The result looks extraordinary, but follow her lead and you can do it, too.
Pulling off DIY home décor when you have two kids and a second book in the works is impressive enough—but making that décor totally sustainable and elegant? Amanda Kingloff swears it's easier than it sounds. "Crafting is all about taking whatever you have an excess of and giving it new life," she says. "You learn to look around and think of everything as having potential—paper towel holders, water bottles, GI Joe figures. There are crafts in everyone's home waiting to happen."
To be fair, Kingloff is somewhat of a crafter by nature. After completing an art degree, designing her own jewelry line and penning her recently published craft book Project: Kid, Kingloff realized that she wanted to focus full-time on kid-friendly creating. We can see why. Some of her projects are less time-consuming than shopping for new stuff, plus they save money, spare objects from the dumpster and, her favorite part, are an amazing way to bond with family.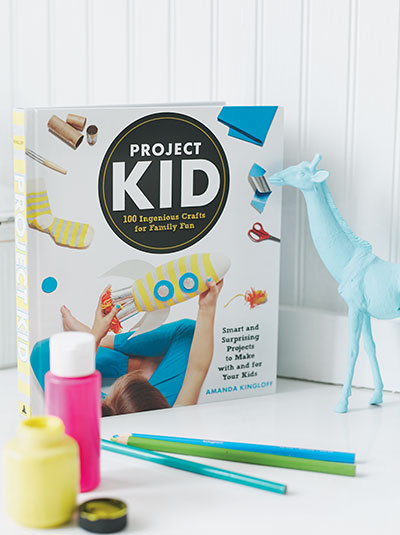 "Everyone's talking about unplugging and how to spend more meaningful time with our kids. I say, just put a bunch of stuff on a table with some glue and some tape and paint and see what happens. I think kids really love it and respond to it. And we adults need a break from the digital world, too."
While Kingloff, her husband, son Oliver (4), and daughter Sommer (2), may not have a backyard in their Brooklyn home, Kingloff says they do a crackerjack job of playing with what they do have around. "The projects on these pages are collaborative and you can do them right then with your kids. Together you can come up with ideas, arrange things, paint things and more. That said, I think you could sit down with a glass of wine and make these projects on your own and not be embarrassed about that! You're making something really beautiful, decorative and one of a kind."
"I thought about how you can transform something for a kid and make it cool enough to live with on a daily basis."
When asked what inspires her designs, Kingloff muses that the kids deserve much of the credit. "Having them really influenced my imagination in such an amazing way. I love to take something that they have played with a gazillion times and say to them, 'You love this, and I love it because you love it, let's make it a part of our lives in a different way.' There's a message there for your child that you can be sentimental. There's great pride in that for kids, and a real permanence to these things you make together." A happy family and inspired home are the nucleus of the projects, she says. The eco part is just a brilliant, accidental bonus.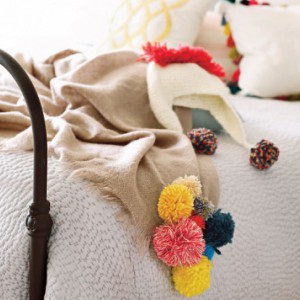 Pompom Blanket
"Everyone gives your kid a hat, because babies are never warm enough. And the hats with pompoms are just the cutest," Kingloff says. "This Design by Conran for JCPenney blanket is just a fun way to hang on to them, without any sewing or knitting required. If you don't have quite as many pompom hats as I have in the house, make or buy more to improvise. The finished blanket looks great draped over a couch or chair. It's great for naptime, which we're all really into at our house!"
UPCYCLE IT
Remove the pompoms from kids' knit hats. With a needle, thread a piece of yarn through each pompom and knot it a few times on one end. Pull through, leaving a 5-inch tail. Pull yarn tails through the knit blanket and knot together on the underside.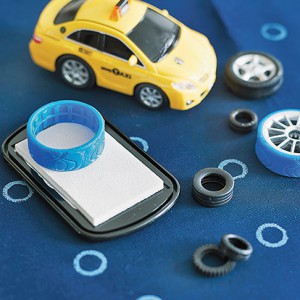 Home-Stamped Table Runner
"I think every parent ends up with the bucket of broken toys," Kingloff says. "I have that quintessential boy who loves vehicles. There are wheels upon wheels, and tires everywhere. I bought a piece of fabric—just canvas that had a raw edge, no sewing involved—but you can use a plain table runner that you have. I thought, 'What if I take these wheels and stamp them as circles?' It looked batik."
UPCYCLE IT
Dab the side of a rubber toy tire into a fabric-friendly inkpad (Kingloff's favorite brand for this is VersaCraft). Stamp the wet wheels onto a cotton runner. Once dry, run a hot iron over the fabric to help set the paint.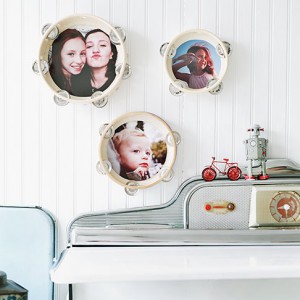 Tambourine Photo Frames
"Musical instruments are huge from birth. You get so many gifts of maracas and tambourines through the years. I had one sitting on my table and it kind of became like a bowl, and I started collecting stuff in it, which led to the idea of putting photos inside. It instantly became a cool, round frame with a kind of tribal, drum circle feel to it."
UPCYCLE IT
Print photos to fit inside of your tambourines, and then tape or glue the photos into its recessed part. Hang on the wall with adhesive mounting squares. Alternatively, string a ribbon through the thumbhole and use that to hang.
Check out more DIY home décor projects from Amanda Kingloff in the premiere issue of Naturally, Danny Seo. Out now.