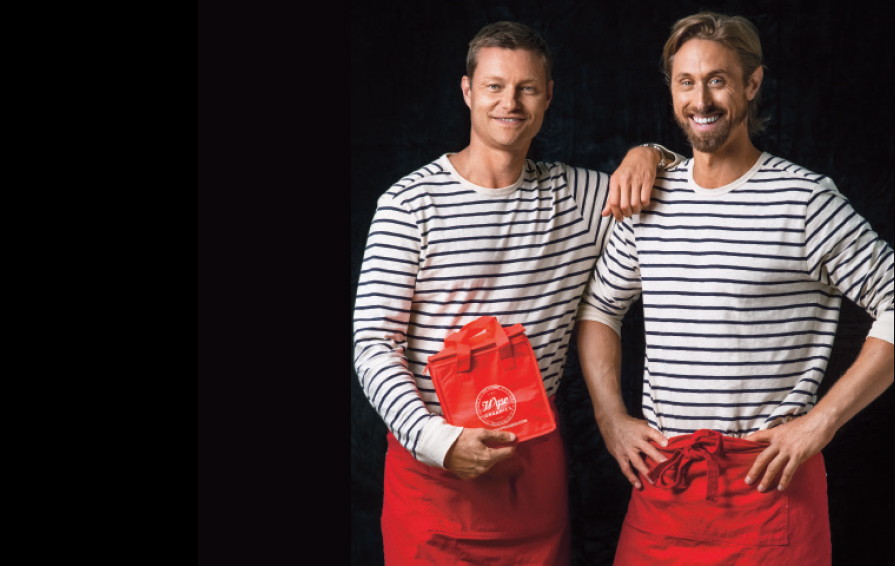 Photographs by Helen Norman
The books had barely been closed on the '70s when the first Natural Products Expo kicked off at the Anaheim Convention Center in 1981. As the story goes, founders of heavyweight brands like Stonyfield or Bob's Red Mill would load their products in a hatchback and drive down. They camped on the grounds, where their cars often were converted to sleeping quarters. These organic trailblazers were there to hawk their products to about 3,000 attendees—then mostly owners of dusty, mom-and-pop health food stores. But they also were looking for their peeps—and with that they gave rise to a passionate, progressive community. Unlike at other trade shows, these entrepreneurs aren't just selling stuff but also are solving problems for people and planet alike with offerings that have meaning, purpose and a sustainable philosophy. Naturally, these are our peeps, too.
Recently we took a spin through the Natural Products Expo East and had our minds blown. What started out in a small convention hall in the land of Disney has spawned a mob scene, with annual expos on both coasts and attendance reaching close to 100,000 people and sales in the billions of dollars. The health industry is as healthy as can be—and we couldn't be happier. Brands with a similar passion, like Seventh Generation, PowerBar and Honest Tea, are just a few who got a leg up at this show. And those power brands are still present here, with mega-booths the size of small houses. Next to them are the teeny-tiny stands of start-ups pulling in the same amount of attention from small shops and big-box retailers alike. This Expo is the great equalizer. It's the place to meet new vendors we wanted to discover as we, too, ventured into the scene—newcomers who have big ideas but products in the early growth stage. Here are a few that we thought you'd like to meet.
---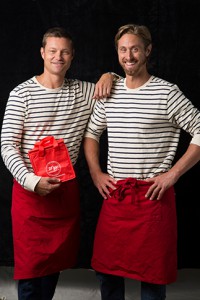 WHAT: Wyse Organics frozen gourmet dishes wyseorganics.com
WHO: What happens when a celebrated private chef (Allan Wyse, near left) and a global organic food entrepreneur (Erik Bruun Bindslev) join forces? Life-altering frozen food.
WHY WE LOVE IT: Okay, what's not to love about a gourmet-quality meal that goes from freezer to table in about 10 minutes? Not. A. Thing. Wyse Organics brings the sous-vide cooking method used in gourmet restaurants around the world to the family table. The process consists of sealing prepared food in airtight plastic bags and freezing it. When needed, the BPA-free bags are then submerged in simmering water until the food is cooked completely. The technique and packaging not only preserve the food but naturally seal in both the flavors and essential fats of the fresh, organic ingredients found in Chef Allan's recipes. Though currently only available to the New York City and Long Island areas, our money is on these two to expand their reach.
THE A-HA MOMENT: "Three years ago Allan had given a sample prototype to a friend," says Erik. "One evening his friend got home late (no food, too late for takeout or delivery) and saw it in the freezer. He called up the next day and said, 'This is amazing! It's like I just cooked it! You have to sell these!'"
---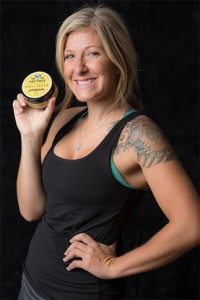 WHAT: FFAT FACE Skincare fatfaceskincare.com
WHO: Founder Cassandra Burnside went from being a mechanical engineer to a skincare engineer, creating nourishing tallow-based cleansers and lotions based on the philosophy that, "If you can't eat it, you shouldn't put it on your body."
WHY WE LOVE IT: FAT FACE opened our eyes (and our pores) to a simple fact: Oil dissolves oil. So for truly clean, nourished and balanced skin, simply replace the toxin-laced grime on skin that's faced the day with clean, healthy oils. Yes, they use animal byproducts in their formulas, as defenders of the "nose to tail" philosophy (as in, if you take an animal's life you should use every single part of it). The tallow they use is from grass-fed, organic, happy pasture-raised cows.
THE A-HA MOMENT: "I had made oil-cleansing products for my own use, and they had made amazing improvements in my skin," says Cassy, "but one day I started looking online and found nothing like these products elsewhere. I knew they could be helpful for others."
---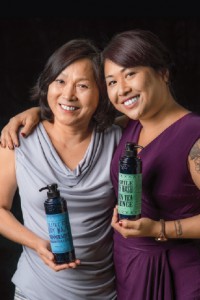 WHAT: Virginia First Tea Farm Co. virginiafirstteafarm.com
WHO: Joanna Ramos and her Korean-born mother, Unchon Ramos, learned to make green tea soap from a master soap-maker in Korea. Now they grow their own organic tea in Virginia and infuse the
super-antioxidant into personal-care soaps and household cleansers.
WHY WE LOVE IT: This mother-daughter duo uses a formula new to the American market featuring an ancient ingredient well-known for its superpowers—green tea. Here's a fun fact: Its antioxidant and anti-inflammatory properties work whether you drink it or rub it on your body. But the Ramos ladies saw beyond that, harnessing its antiviral and antibacterial benefits for natural household cleaners. To add to that, Virginia First Tea Farm's products are American made, all natural, fully vegan and never tested on animals. Philosophically, that's just our cup of tea.
THE A-HA MOMENT: "We realized that green tea is massively popular in America, yet pretty much all of it is imported," says Joanna. "So we wanted to make American-grown green tea products and also teach that green tea has many other benefits than just as a drink, so why not let it out of the kitchen cabinets?"
---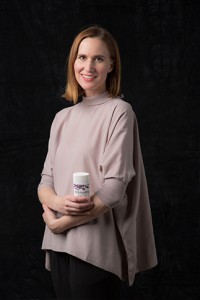 WHAT: Schmidt's Natural Deodorant  schmidtsdeodorant.com
WHO: Jaime Schmidt began to concoct a chemical-free, cruelty-free deodorant that really, really works from her Portland, Oregon, kitchen.
WHY WE LOVE IT: Natural deodorants might skip the harmful aluminum, but they also famously fall short of expectations…not good when the expectation is a stink-free day. This one not only keeps that promise, it ups the game even further with ingredients that are nurturing to the sensitive underarm area and fragrances that are as intriguing as they are intoxicating. Instead of vague "powder fresh" or "sport," choose from "Lavender + Sage" or  "Ylang-Ylang + Calendula."
THE A-HA MOMENT: "I was able to perfect a formula that cut no corners in outperforming not only other natural deodorants," Jaime says, "but also the conventional antiperspirants and deodorants that have saturated the market for nearly a century."
---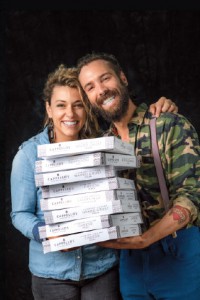 WHAT: Cappello's gluten-free, grain-free gourmet foods cappellosglutenfree.com
WHO: Friends Stacey Marcellus and Benjamin Frohlichstein have been heating up the high-end packaged food industry since 2011 with their desire to put clean ingredients into our favorite eats—pasta, pizza and even cookie dough.
WHY WE LOVE IT: Stacey and Ben aren't just out to make paleo-friendly, grain-free packaged foods—their passion is to serve up products that taste better than their traditional counterparts. Nailed it! The two saw a glut in the gluten-free market, but no brand that offered grain-free convenience foods that are clean, yummy, sustainably sourced and non-GMO. So they made their own.
THE A-HA MOMENT: "That moment happened for us when we understood the true potential of the paleo/grain-free movement," says Stacey. "We discovered that it was more than a trend but a true evolution in people seeking out clean products."
---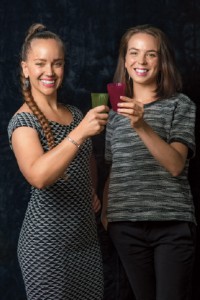 WHAT: Loliware edible cups  loliware.com
WHO: When award-winning industrial designers Chelsea Briganti and Leigh Ann Tucker became fed up with the fact that 25 billion plastic cups per year end up in landfills, they got on it—
inventing this edible, disposable cup that leaves nothing behind.
WHY WE LOVE IT: This ingenious product is a fun response to a serious problem—throwaway plastics that never, ever really go away. But here's the kicker: These bright little single-use cups actually taste good. "People understandably have NO IDEA what to expect," says Leigh Ann, "so it's fun to see them light up when they realize it's actually a really delicious treat made in the form of a cup!" Loliware is made from seaweed, organic sweeteners, and fruit- and vegetable-based colors and flavors. Use the "biodegr(edible)" cup for cold or even frozen beverages, then simply gobble it up.
THE A-HA MOMENT: "We received a 50,000 cup inquiry for a music festival years ago," says Leigh Ann, "when Loliware was just an idea we entered into a contest."
---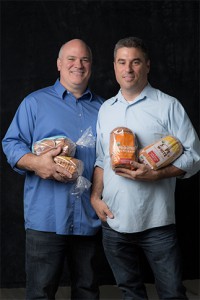 WHAT: Lancaster Food Company organic breads and spreads thelancasterfoodcompany.com
WHO: Longtime friends and foodies Charlie Crystle and Craig Lauer had been dreaming and scheming to start a business with a two-pronged goal: to create nutritious, organic foods sourced from their Lancaster, Pennsylvania, community, and to help ease the area's 30 percent poverty rate with "better-than-living wages."
WHY WE LOVE IT: Charlie and Craig had us at "hiring people out of poverty level." And then we tasted their certified-organic, locally sourced breads with a few schmears of their peanut-free organic seed spreads. Forget dry and tasteless whole-grain breads: These lofty loaves taste like Grandma's homemade concoctions stuffed into a bread bag. Though currently sold primarily in Pennsylvania and surrounding states, we suggest you ask your local grocer to check them out.
THE A-HA MOMENT: When we see people's response to our products at store demos…and hear 'This is the best bread we've ever tasted!'" Craig says. "We're always reassured that we're onto something people love and want to support."
---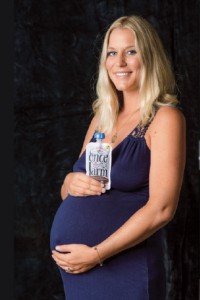 WHAT: Once Upon a Farm baby food uponafarm.com
WHO: When Cassandra Curtis had her first child, she was determined to make her own baby food. When that proved easier said than done, she got cooking on her own brand of organic infant eats that retain the flavor and nutrients of fresh food.
WHY WE LOVE IT: Even organic baby foods are processed using heat to make them shelf stable, a process that strips the food of enzymes, vitamins and minerals, leaving a condensed, sugared-down purée that is far from the real thing. Cassandra and team use a cold, high-pressure process that leaves flavor and nutrients intact while increasing shelf life without preservatives. The organic ingredients are mostly locally sourced and include flavors that go beyond banana and beets to include coconut, butternut and chia.
THE A-HA Moment:
"I found myself at Whole Foods wanting to purchase a fresh baby food and was astonished to see that none existed," says Cassandra. "That was my moment. I immediately put together my knowledge of HPP (High Pressure Processing) with the need for a high-quality baby food…and the rest is history."