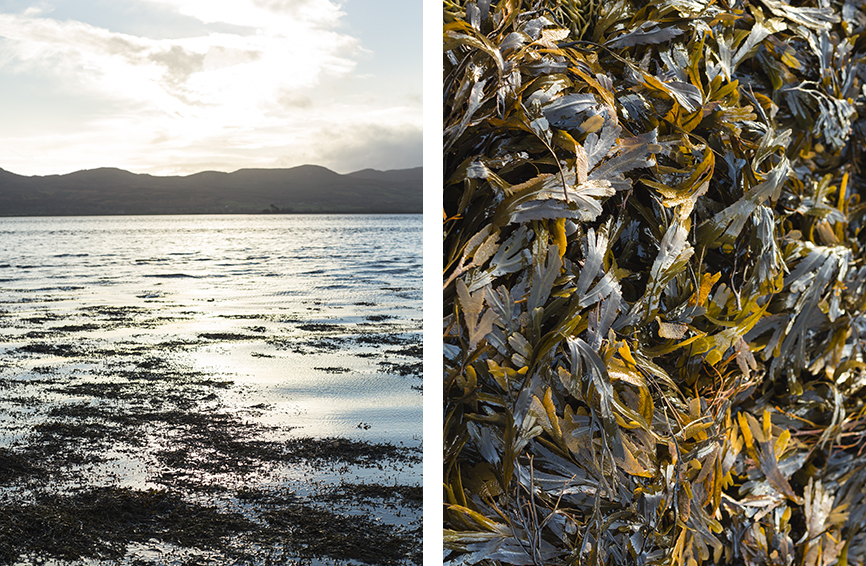 Photographs by Jonas Jungblut
When the Naturally team first arrived in Strandhill, a coastal village in northwestern Ireland, we climbed to the top of the sea wall and gazed out at the rocky, rugged shoreline. A century ago, we would have seen seaweed bathhouses—hundreds of them dotted the Irish shoreline in the early 1900s. But the baths fell out of favor in the '50s and '60s, and all but a few facilities closed. "Society was becoming more modern; people weren't interested in anything that felt old-fashioned," explains Neil Walton, who set out to revive the tradition when he opened VOYA Seaweed Baths in Strandhill in 2000. We toured VOYA to discover the traditional health and beauty ritual for ourselves, then traveled to Dublin to sample local cuisine made with Irish seaweed.
When you take a seaweed bath, you climb into a tub filled with piles of fresh seaweed and heated seawater. The bathwater looks and smells like steeped green tea, and it feels silky, because the fronds release a gooey substance called alginate gel. Devotees swear that it soothes sore muscles, calms irritated skin and leaves hair looking lustrous.

Walton, a former professional triathlete, became interested in seaweed baths as a way to speed up his recovery after training and competing. "They left me feeling great. I said to myself, I need to do something with this," he recalls. When he opened VOYA, it was the first seaweed bathhouse to be built in Ireland in roughly 100 years. Now, 40,000 visitors book treatments there each year, including celebs like Sheryl Crow, local farmers with aching joints, and people with skin conditions like psoriasis and eczema. On Saturday mornings, VOYA is packed with customers hoping to detox after Friday night's fun.
All the seaweed at VOYA is wild and harvested locally by hand, using techniques that protect the plants and the surrounding ecosystem. After the baths are drained, the seaweed is collected and sent to nearby organic farms to be used as fertilizer; there's also a waiting list of local residents hoping to take some home for their gardens. Walton's stewardship of the environment and his deep respect for tradition can be seen throughout VOYA—right down to the huge enameled cast-iron tubs in the treatment rooms. Each tub is unique and vintage; there's even a 250-year-old behemoth that Walton and his dad actually carried out of the middle of a farmer's field.

For customers who can't make it to Strandhill, VOYA sells a product called Lazy Days—essentially a seaweed bath in a box. It's the same organic seaweed, just dried; when you add it to your bath at home, it rehydrates. Lazy Days, as well as VOYA's full line of seaweed-based, certified-organic beauty products, which includes face masks, shampoos and body lotions, can be purchased online at voya.ie. VOYA products are also used and sold in spas and hotels around the world, like the Biltmore in Miami and Canyon Ranch in Tucson.
Walton told Naturally that he uses seaweed at home, too: He and his wife add varieties like dillisk to soups, mashed potatoes and smoothies for their two daughters. (Their favorite smoothie recipe: Blend together almond milk, avocado, seaweed, raw honey and banana.) Feeling inspired, we headed to Dublin to meet chef Justin O'Connor of the Guinness Storehouse and discover other ways seaweed can be used in cooking.
COOKING WITH SEAWEED
Half of all the tourists who travel to Dublin go to the Guinness Storehouse—that's about 1.2 million people each year. There are two on-site restaurants there, and it's the job of executive chef Justin O'Connor ("Joc" to his friends) to create crowd-pleasing dishes that incorporate Guinness and pair well with the stout. Naturally challenged Joc to rework some of his most popular dishes by adding seaweed. "I didn't know much about eating it other than in sushi, so I had to do my research," he admits. "But when I started experimenting, I found that seaweed was a natural fit in my cooking. After all, traditional Irish food is meant to capture the flavors of the sea."
Joc used three types of dried seaweed in these dishes. Carageenan and kelp, which he describes as "mild and chewy," are easy to find in health food stores, and dillisk, which he says is "aromatic, with an intense salty flavor," can be purchased at wildirishseaveg.com (the company ships internationally). He used fresh samphire, too; it's also known as sea asparagus, sea beans or salicornia, and it's pleasantly crunchy and briny. You may be able to find it at your local farmers' market, or you can purchase some at earthy.com (look under "seasonal produce").
---
Irish Boxty Potato & Seafood Pancake
4 servings
Boxty pancake
2¼ pounds raw grated potatoes
1¼ cups buttermilk
1 cup plain flour
Pinch of salt & sugar
¼ teaspoon baking soda
Seafood sauce
1 cup diced onion
¼ cup of flour
1 cup of fish stock
1 cup milk
1 cup cream
Sprig of thyme
1 bay leaf
4 medium potatoes, peeled, diced & cooked
Pinch of cayenne & nutmeg 2½ cups mixed seafood
1 cup fresh samphire seaweed
Method
For the boxty pancakes, make sure that the grated potato is squeezed so that as much liquid as possible is taken out. Add the buttermilk to the grated potato in a large bowl. Add the flour, salt and sugar to the potato to form a batter. Add a little mix to the baking soda and stir this into the potato mixture.
Heat a pan, add a knob of butter and ladle some boxty mix into the pan to form a pancake. Make sure it's not more than ¼ inch thick. Cook each side on a medium heat for 3–4 minutes. Remove the pancakes from the pan and keep warm until ready to serve.
For the seafood sauce, in a medium pot, sweat off the diced onion with a little oil for 2–3 minutes, add the flour and cook for 1 minute. Add the fish stock slowly, then add the milk, cream, thyme, bay leaf and diced potato, and slowly bring to simmer. Season with cayenne and nutmeg.
Add the mixed seafood and cook for 3–4 minutes. Then, add the samphire and cook for a further 2 minutes.
To serve, place the boxty pancake on a plate. Ladle the seafood and samphire into the pancake, then roll the pancake to cover the seafood.
---
Guinness Bread
Makes 2 loaves
2½ cups whole wheat flour
⅔ cup plain white flour
⅓ cup oatmeal
2½ teaspoons baking soda
2½ tablespoons brown sugar
3 tablespoons unsalted butter
⅓ cup dried dillisk (Irish seaweed), soaked
2¼ cups milk
1 cup blackstrap molasses
½ pint Draught Guinness beer
Method
In a mixing bowl, combine whole wheat flour, plain flour, oatmeal, baking soda and brown sugar. Add the butter and rub through the mix. Add the chopped, soaked seaweed, milk, blackstrap molasses and Guinness and mix together. The bread mix should be wet; pour it into a prepared bread pan.
Bake bread at 350°F. for 45 minutes or until the bread is cooked. Test the center with a skewer and if it comes out dry, then it's cooked.
Serve with some dill cream cheese and smoked salmon.
---
Steamed Irish Mussels with Kelp & Guinness Cream Sauce
Makes 1 large bowl
1 small onion, diced
1 pound fresh mussels, cleaned
2 teaspoons dried kelp, soaked & chopped
1 bay leaf
Fresh thyme
1¼ cups fresh cream
⅔ cup extra stout beer
Squeeze of lemon juice
Chopped dill
Method
HEAT A HIGH-SIDED POT, drizzle in a little oil, and add the diced onion, chopped kelp, thyme and bay leaf. After a minute, add your mussels and Guinness and cover with a lid. Cook until the mussels begin to open. Then, take off the lid and reduce the liquid until only a small amount is left.Add the cream and slowly bring to a boil, and then stir until all the mussels are covered with cream and seaweed. Finish with dill and a squeeze of lemon.
---
Guinness Blueberry & Lemon Carrageen Mousse
6 servings
4¼ cups of heavy cream
1 cup sugar
Juice of 4 lemons
1 cup dried carrageen seaweed, soaked
2 pints of fresh blueberries
¼ cup sugar
2 ounces Guinness
Method
Place the cream and sugar in a pot with the carrageen. Slowly bring to a boil, then remove from the heat and leave to sit for 20–30 minutes.
In a small pot, place blueberries, Guinness and sugar and cook down to make a compote.
Place a tablespoon of the blueberry compote at the bottom of each of six 4–5-oz. glasses/jars and let cool.
Strain the cream and carrageen mixture and cool a little. Pour the mix over the blueberry compote until just below the lip of the glasses and leave to set in the fridge.
Top with fresh fruit.
---
EXPLORE IRELAND FIRSTHAND
It's a fairly speedy flight to Dublin from New York City on Aer Lingus (aerlingus.com)—about 6.5–7.5 hours. Once you've arrived at the capital city, you'll have no trouble filling your time with sightseeing, shopping, eating and drinking. Be sure to stop by the Guinness Storehouse (guinness-storehouse.com), where you can learn to pour a proper pint (it takes 119 seconds) and view handwritten brewer's recipe books dating back to the late 1700s. Strandhill, home of the VOYA seaweed baths (voyaseaweedbaths.com), is a 2.5-hour drive from Dublin. A 50-minute treatment costs 25 pounds (about $40), and it'll be the perfect reward after your surf lesson at The Strandhill Surf School (strandhillsurfschool.com). Yes, believe it or not, this part of Ireland has become a mecca for surfers, thanks to consistently beautiful waves. After, grab a bite to eat next door at the cheerful Shells Café (shellscafe.com)—they serve breakfast, lunch and dinner made with local, organic and fair trade ingredients. Finish your day with a pint of the black stuff (what the locals call Guinness) at the Strand Bar (thestrandbar.ie), which has been open since 1913. There are plenty of good lodging options in Strandhill, but it's worth the hour-and-45-minute drive south, through verdant countryside, to stay at the stunning Ashford Castle (ashfordcastle.com)—it dates back to 1220! A bonus: The bathrooms are stocked with VOYA products. The castle is ringed by gorgeous gardens and mossy, magical woods that are begging to be explored. And while at Ashford, don't miss the chance to try your hand at the traditional practice of falconry—it's a breathtaking way to experience the timeless natural beauty of Ireland.