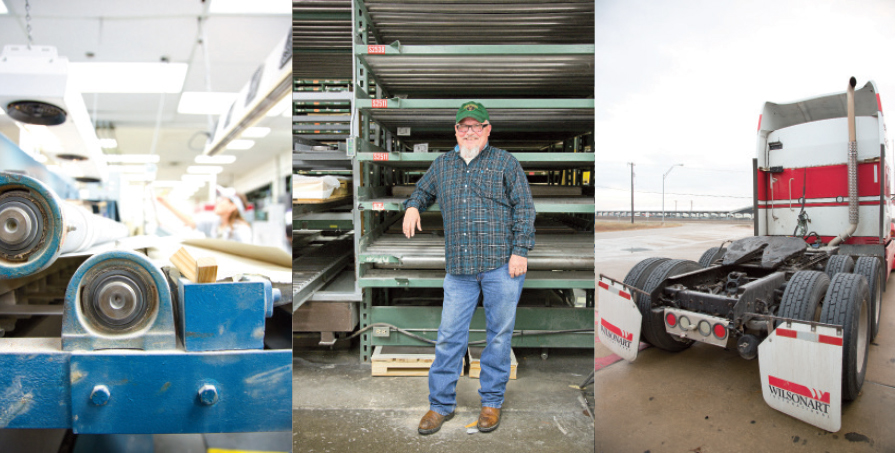 Photographs by Shelly Strazis
We paid a visit to the Wilsonart factory in rural Texas to see how laminate is made—and why you should give it a second look.
When Danny was renovating his 1970s glass box home in PA (seen in the premiere issue of Naturally), he ripped out the tired old orange laminate countertops in his kitchen. What he replaced them with might surprise you: He chose—you guessed it—laminate. The material is having a huge renaissance and, thanks to innovations in how it's produced, is now available in all sorts of patterns and colors, including finishes that perfectly replicate the look of wood and stone. Danny chose their modern woodgrain and used it not just on countertops but also to cover the walls, giving the space a hip mid-century vibe. Laminate is durable, American-made, eco-friendly and affordable. You can use it on countertops, cabinets, bookcases, bathroom vanities, walls, doors and more. "When I found out you could do more than countertops, I covered all of my kitchen walls with it because it looks rich and it's much more durable than paint or wallpaper," says Danny. Now that the design community is embracing the beauty and practicality of laminate, we were curious: How is it made, and how else can it be used?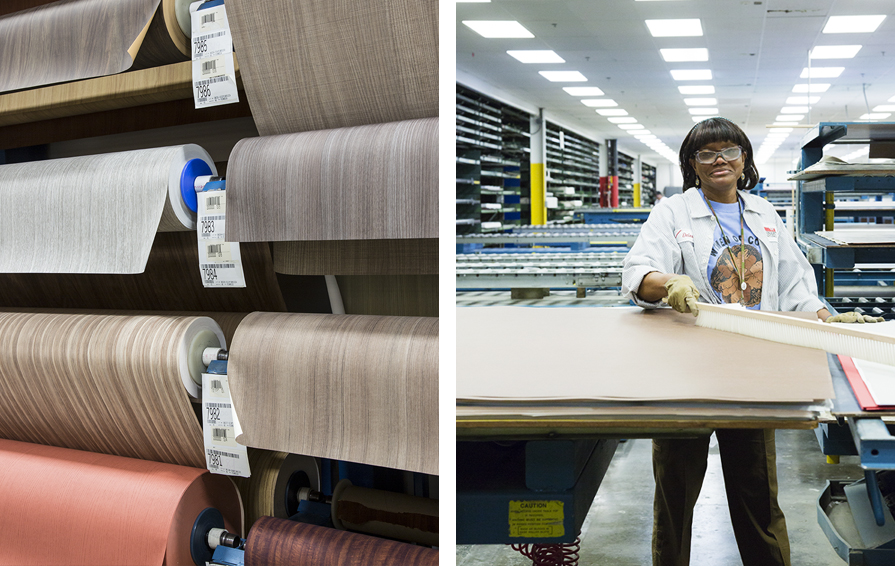 To find out, Naturally headed to Texas. That's where industry leader Wilsonart has been making laminate for nearly 60 years. When Ralph Wilson, Sr. founded the company back in 1956, he and his wife, Sunny, designed a model home where they put laminate to use in every possible place—even the shower. Today, that home is open for tours and used for corporate events. Wilsonart now employs about 1,000 American workers. "Providing strong manufacturing jobs for the community has always been part of our responsibility," says Tim Atkinson, vice president of sales. In fact, the average employee stays with the company for 19 years, and moving up the ladder is encouraged. "Linda Drozd has been an employee here for 35 years and now runs our manufacturing center in Temple, Texas. Her father ran the plant before her," says CEO Timothy O'Brien, citing just one of many examples.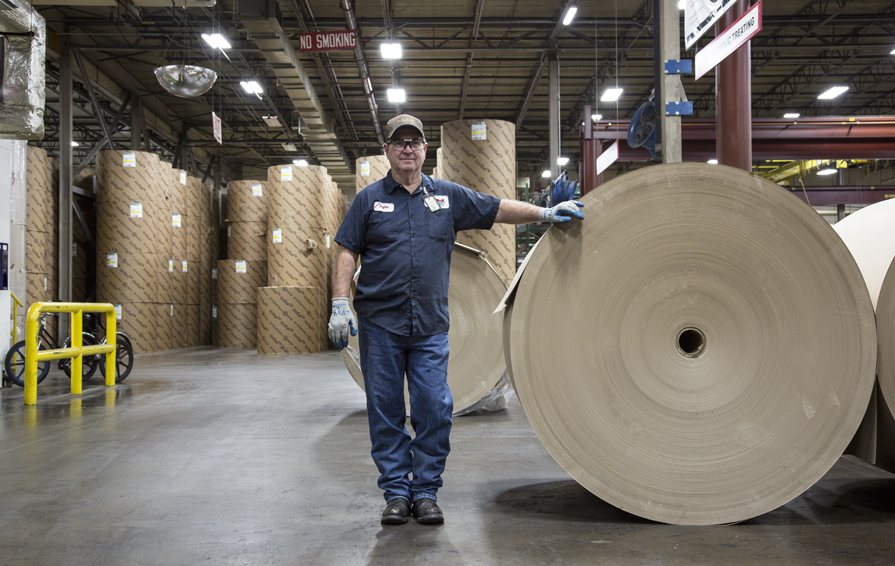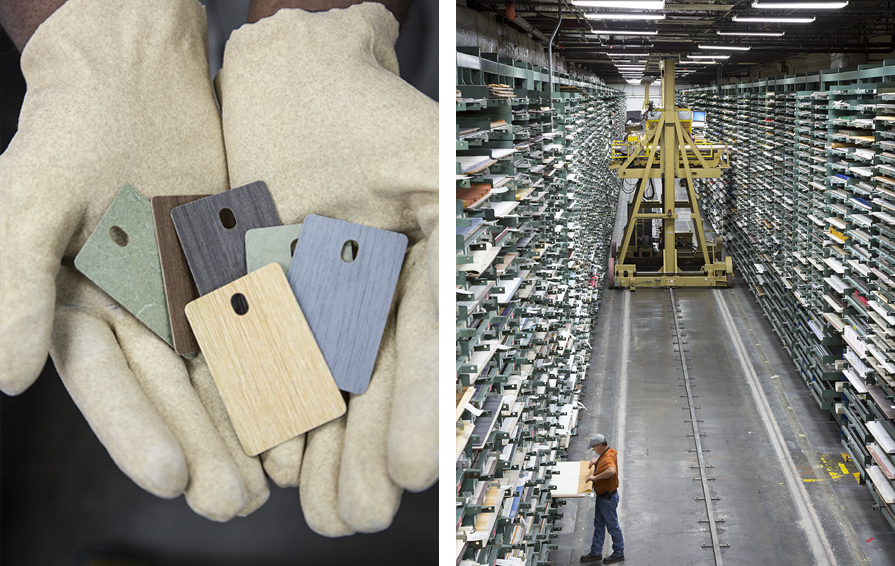 At Wilsonart's two plants (there's one in Texas and another in North Carolina), workers create laminate by first treating sheets of paper with resins that provide flexibility, impact resistance and longevity. The paper is then cured in an oven, and finally it's layered and pressed on stainless steel plates. Wilsonart has more than 500 colors of laminate available but only markets about half that—the rest is made to order. "Advancements in print technology in the past decade or so—especially the ability to replicate texture—are what allow us to create such dimensional and realistic patterns," explains Gwen Petter, director of product design at Wilsonart.
We also love how durable laminate is. And, because it's non-porous, you can prep food on it without worrying it will absorb germs from raw chicken and the like. So, for your next reno project, don't overlook laminate. As Petter says, "People who still think of it as tacky are really missing out."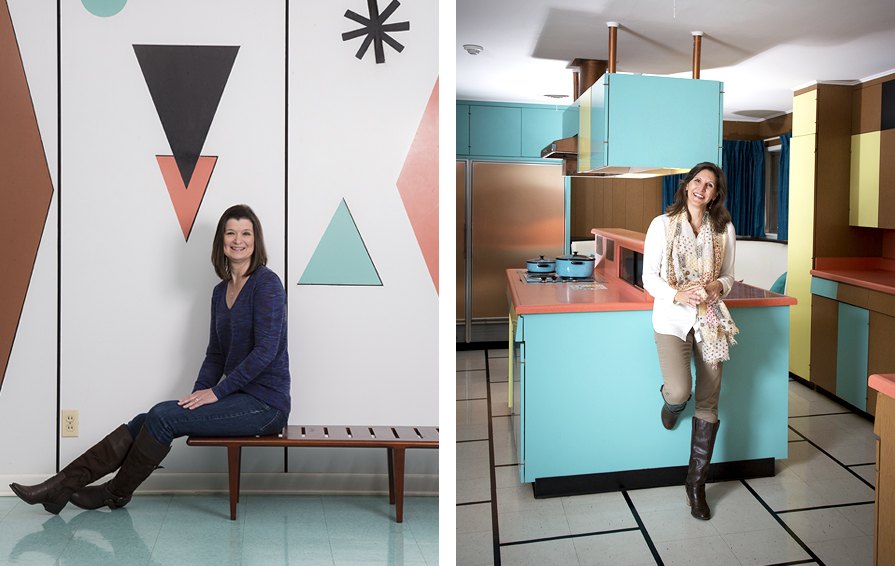 Rethink Laminate: Danny's 5 Design Tricks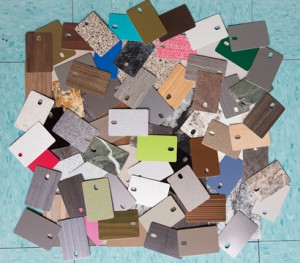 1. Think Vertically. Instead of paint or wallpaper for high-traffic areas (like a kitchen wall with open shelving), cover the wall in contrasting sheets of laminate. This is a great way to incorporate pops of color, pattern, or a darker or lighter shade of their woodgrain pattern on the wall. Laminate's incredibly durable, so you can scrub away without worry of wear and tear.
2. Go Contract. At Wilsonart, they have two types of laminate surfaces: residential and contract. Residential designs are more traditional and designed for today's homeowner. But I like to pick designs from the contract side, because they have bolder colors, beautiful woodgrains and my fave: metallic. These surfaces are traditionally used for boutique hotels and high-end shops, but if you like that look, why not use it in your home? You totally can.
3. Resurface Cabinets. If you have old kitchen cabinets with flat fronts, there's no need to rip them out. A fabricator that makes countertops can also resurface the cabinet doors using laminate sheets. I'm obsessed with Wilsonart's chalkboard laminate—you get the same effect as chalkboard paint without the mess. In other words: You'll have new black cabinets you can write all over with chalk that also wipe clean very easily.
4. Mix and Match. Not all of your kitchen surfaces have to match. If you have a kitchen island, use a butcher block design for that and choose a beautiful stone- or granite-inspired pattern for the other countertops. Or, choose a lighter woodgrain pattern for one area, a darker for another. You'll get a more custom and high-end look this way.
5. take a digital test drive. Not sure what will work in your kitchen? It can be hard to tell what looks good from teeny, tiny sample chips. This spring, Wilsonart.com will let you do a virtual rendering of your kitchen using the company's full library of laminate and solid surfaces. Just pick your cabinet color, wall color and floor to see how their various designs look in your kitchen. You can even e-mail yourself different mock-ups before making a decision.