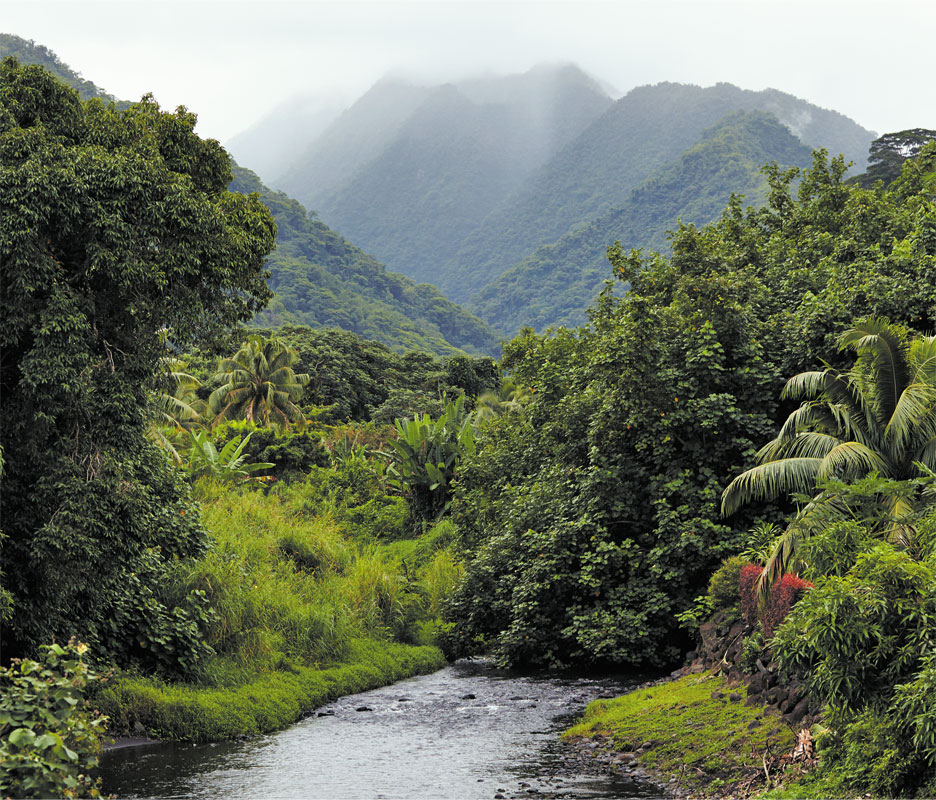 Photographs by David Engelhardt // Art Direction by Kevin Hertzog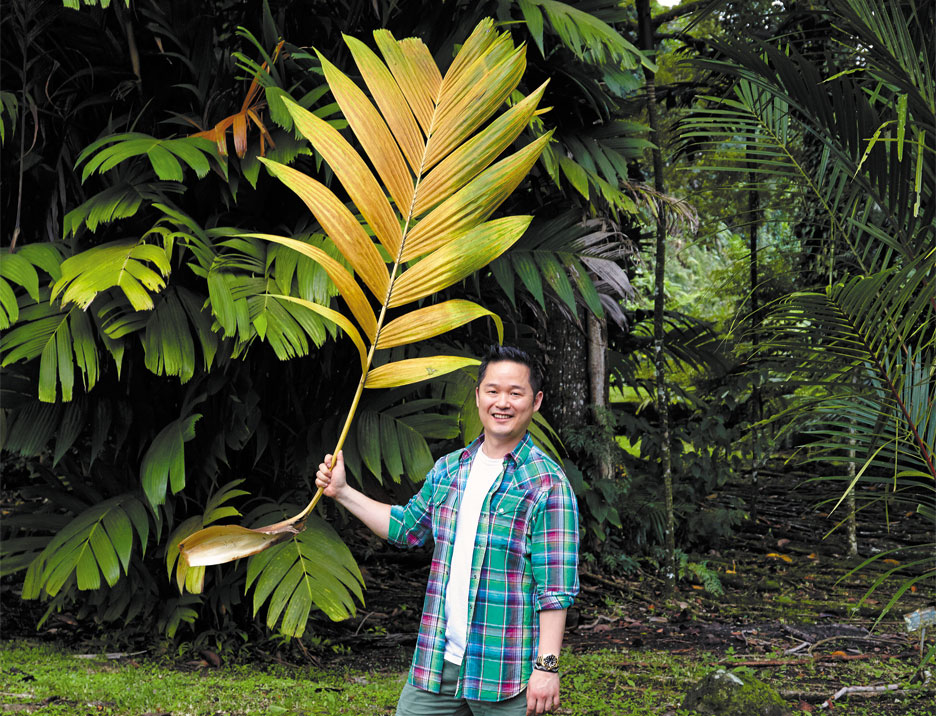 The islands of French Polynesia were one of my "bucket list" destinations. It's an unexpected piece of paradise smack-dab in the middle of the Pacific Ocean—but think less Castaway and more getaway. If you've dreamed of nights tucked into a luxuriously appointed thatched hut built over sparkling clear water—or wanted to eat a sumptuous meal cooked in the sand on an unspoiled private island—you've turned to the right page. So come sail away with me and let's get this adventure started.
MONOI OIL TRAIL:
CUCKOO FOR COCONUTS
The indigenous people of Polynesia have used monoi oil as a skin and hair conditioner for over 2,000 years. It's a simple, straightforward beauty oil: Cold-pressed coconut oil is mixed with crushed Tiare flowers (a type of gardenia and the national flower of Tahiti). The mix ferments together for several months to create a rich, ultra-fragrant beauty oil. Today, monoi oil is a popular ingredient used in major cosmetics all over the world. It's processed under strict standards in Tahiti, which cover everything from how the Tiare flowers are picked to the actual shipping of the finished oil.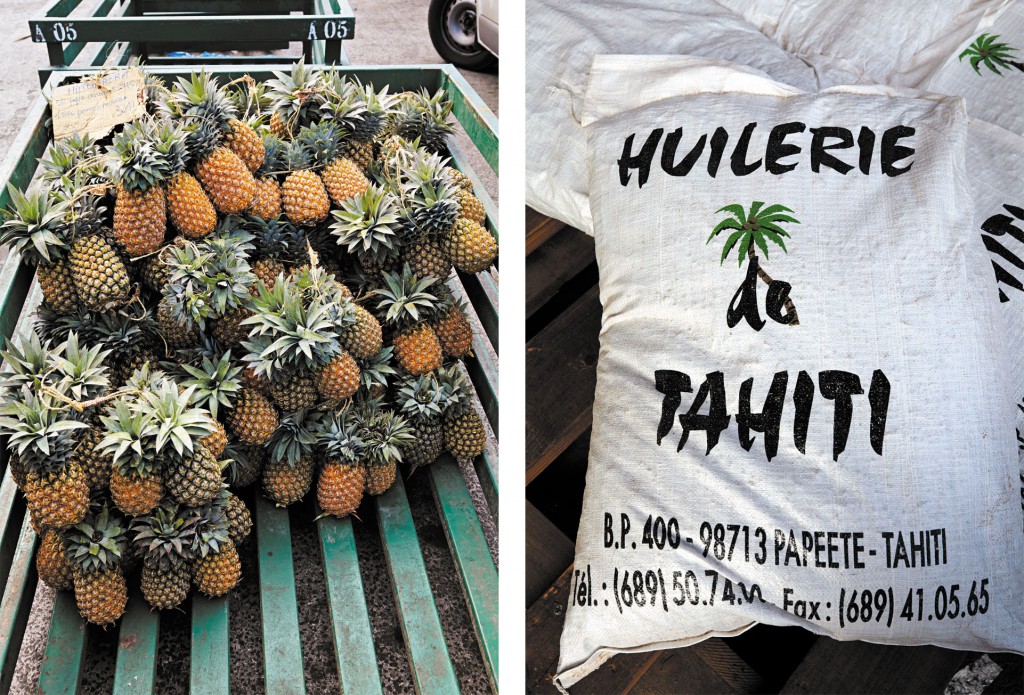 WANDERING
To be blunt…You shouldn't be on the main island of Tahiti for this long. Fly and stay for a day or two, then venture off. It's Day 4, and we're ready to leave for island hopping. But my poor planning means we'll be forced to sit by the hotel's chlorinated faux-lagoon. Getting a little panicky about that, I have a thought: Let's wander.
Since it's impossible to get lost when driving around Tahiti (there are two roads), I suggest we just drive. When leaving the hotel, I turn to David and Kevin and simply ask: LEFT or RIGHT? Right we go.
Driving without an agenda often turns up unexpected local treasures, such as hidden shops, cool restaurants, undiscovered artists, and freshwater swimming spots where you can cool off with the locals. We did a little bit of all of that. Here are some of my favorites from the day: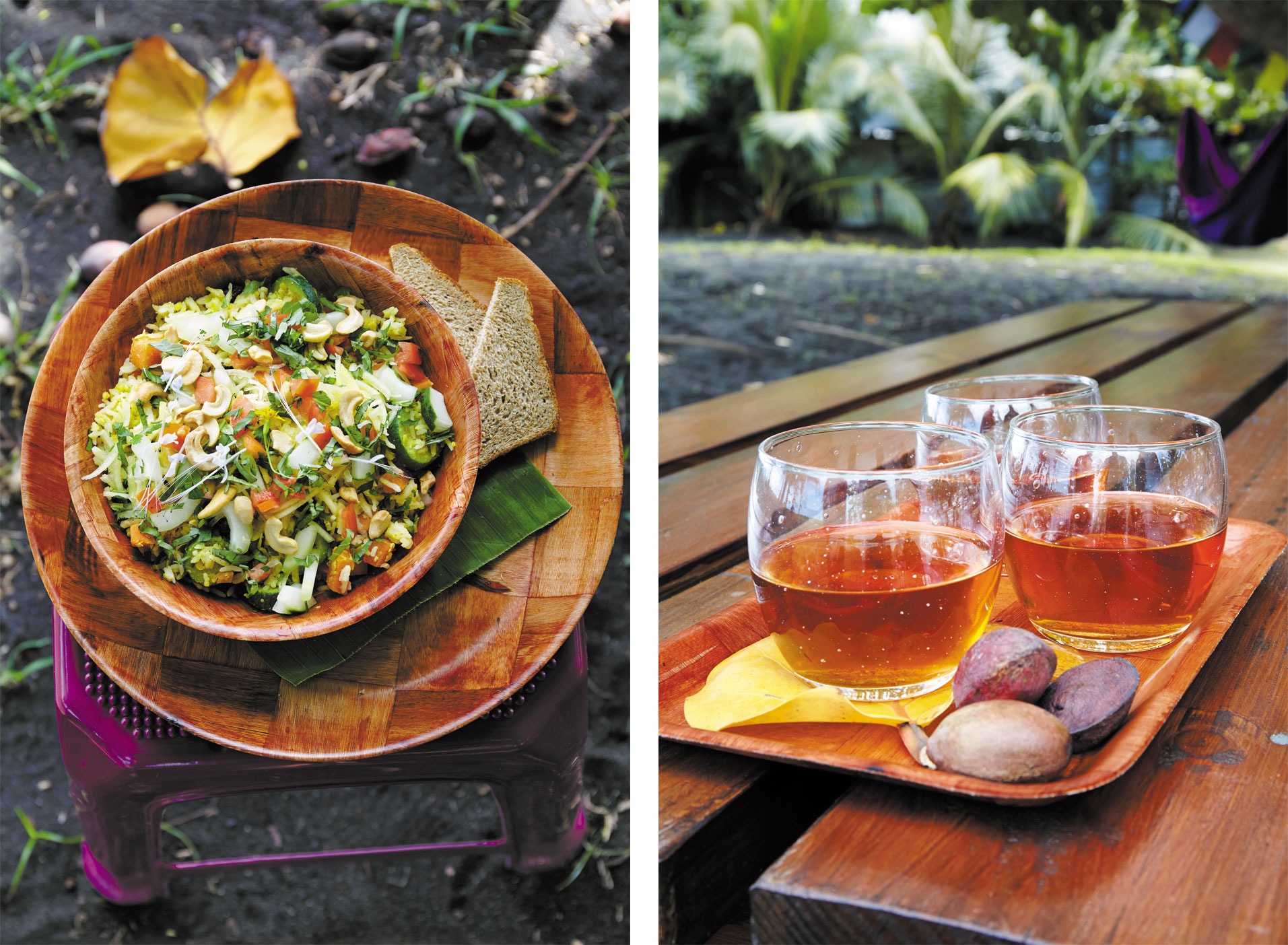 VANILLA FARM
I'm not going to lie: I'm obsessed with vanilla. The island of Tahaa is also known as Vanilla Island, because some of the highest quality vanilla beans are cultivated here—and used by some of the most famous chefs all over the world. None of us has ever seen vanilla growing, so I can tell I'm not the only one who is excited for today.
We board a water taxi from the resort, and in minutes a local guide meets us with an open-air truck and asks: "So, you really just want to see vanilla beans?"
As we drive through meandering roads, he shows us other natural finds I find fascinating: A local fern that, when pressed against the skin, leaves a white "tattoo." Plus, we stop to see cracked coconuts drying in the sun. They, too, will be collected and pressed into oil, fuel, and food.
When we finally get to his father's vanilla greenhouse, I'm met with Jurassic Park-like rows of climbing vines that hold bunches of unripe vanilla. Here we see orchid flowers blooming (the vanilla bean is the fruit of these flowers) and green vanilla beans waiting to be harvested when they turn black.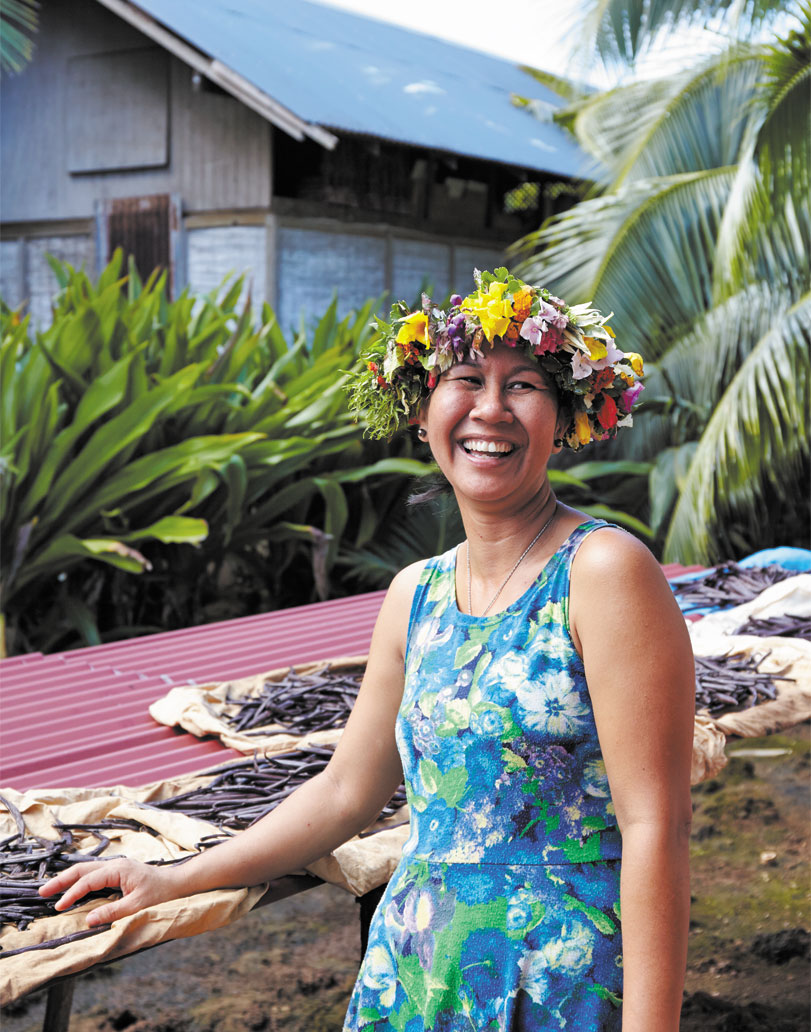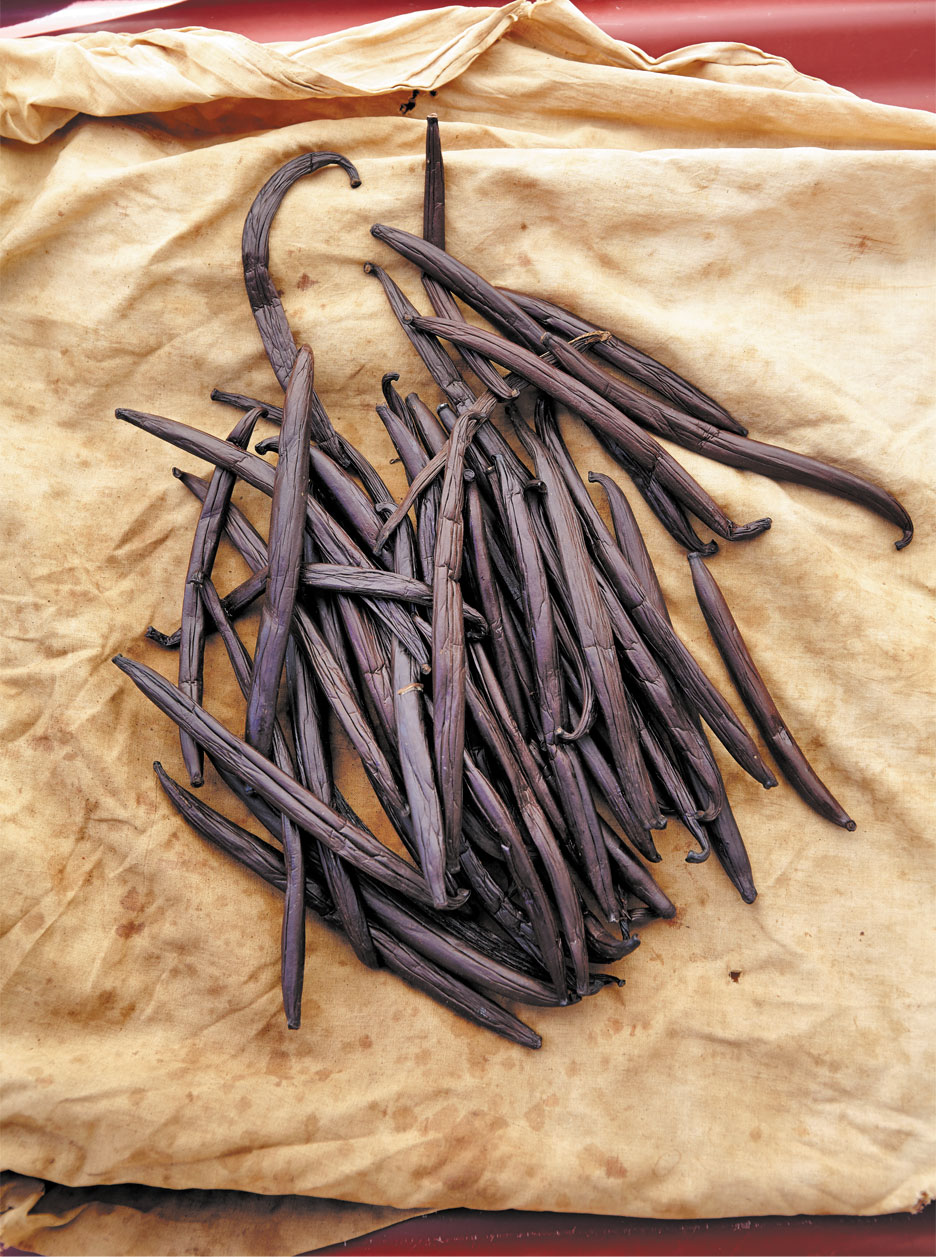 A quick drive later, we stop at a local vanilla bean farm, where they show us how they massage the beans every day to keep them pliable and moist. After several weeks of drying in the sun, they are ready to be split open and scraped for the tiny seeds inside that give you that oh-so amazing vanilla flavor. If you haven't smelled a sun-dried vanilla bean, freshly scraped in your hands…hop on a plane and go. It's intoxicating.
Check out more from Danny Seo's South Pacific trip in the new Naturally, Danny Seo. Out today!